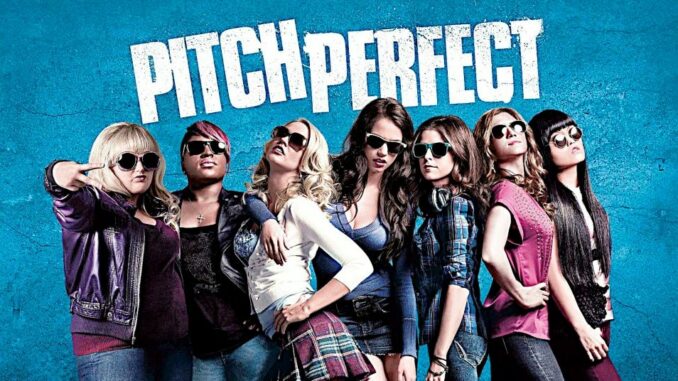 The Sound of Music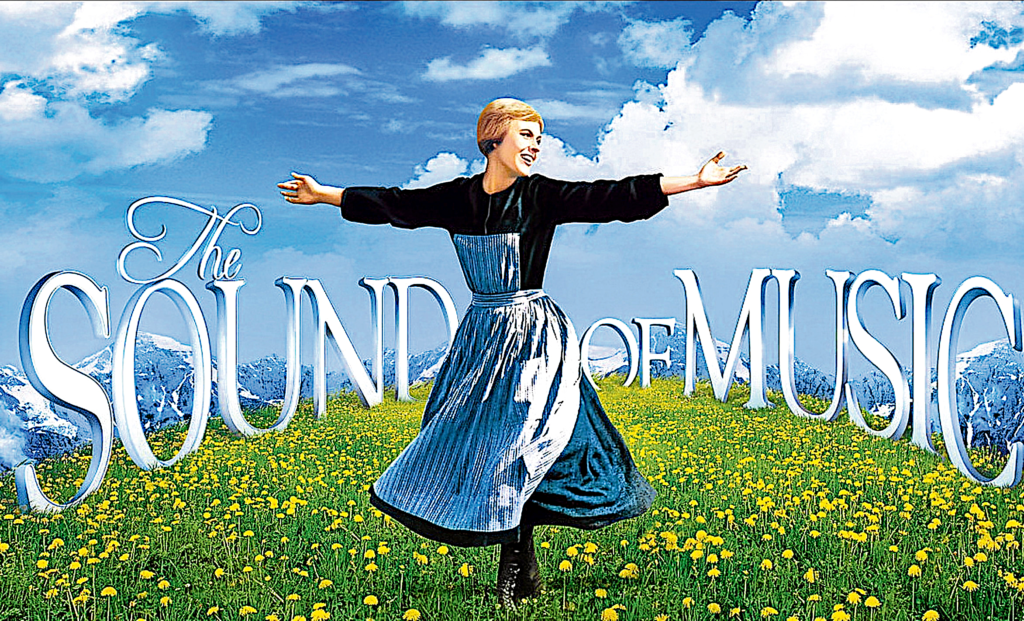 G, 174 min, 1965
The incomparable Julie Andrews makes this movie a blockbuster that won five Oscars in 1966 for Best Picture, Director, Editing, Sound, and Music. Julie makes being a nun and a nanny seem fun. She's unfazed by a humorless captain-boss, seven unruly children, and religious rules. Unforgettable performances for iconic songs "My Favorite Things", "Do Re Mi", "Sixteen Going on Seventeen" and "So Long Farewell". Great story, great cast, great time!
Singin' in the Rain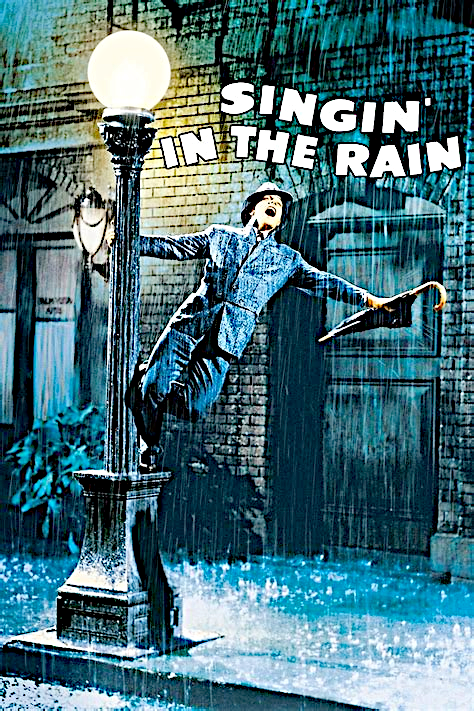 G, 103 min, 1952
Gene Kelly's iconic movie and Debbie Reynolds' breakout debut, who surely inspired many tap dancers. No other actors can outperform these two stars in their roles: Gene as an established lead man and Debbie as an aspiring actress. The continuous shots of complicated choreographies and the catchy tunes of the title song, "Good Morning" and "All I Do is Dream of You" will make you want to jump in puddles and sing! Hollywood at its best for all ages.
Annie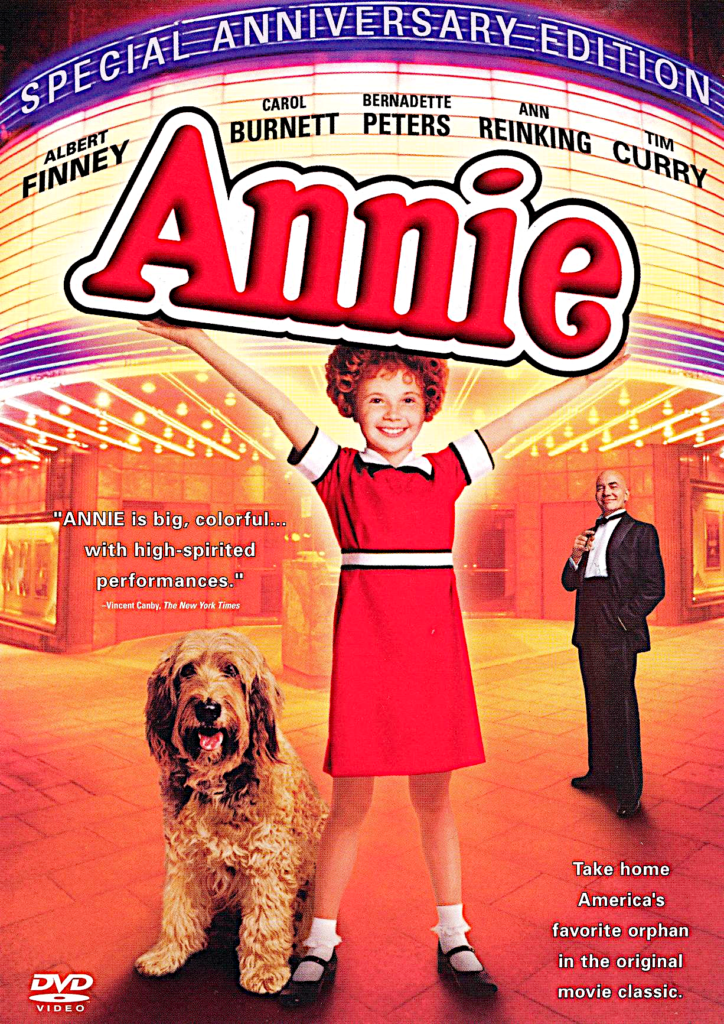 G, 127 min, 1982
Many remakes cannot top this 1982 classic orphan-to-billions story with its spectacular female cast led by Carol Burnett and Bernadette Peters. I never tire of "It's the Hard-Knock Life" and "You're Never Fully Dressed Without a Smile". A family favorite: adults will appreciate the double entendres while kids will emulate the performances. Prepare to belt "Tomorrow".
Yesterday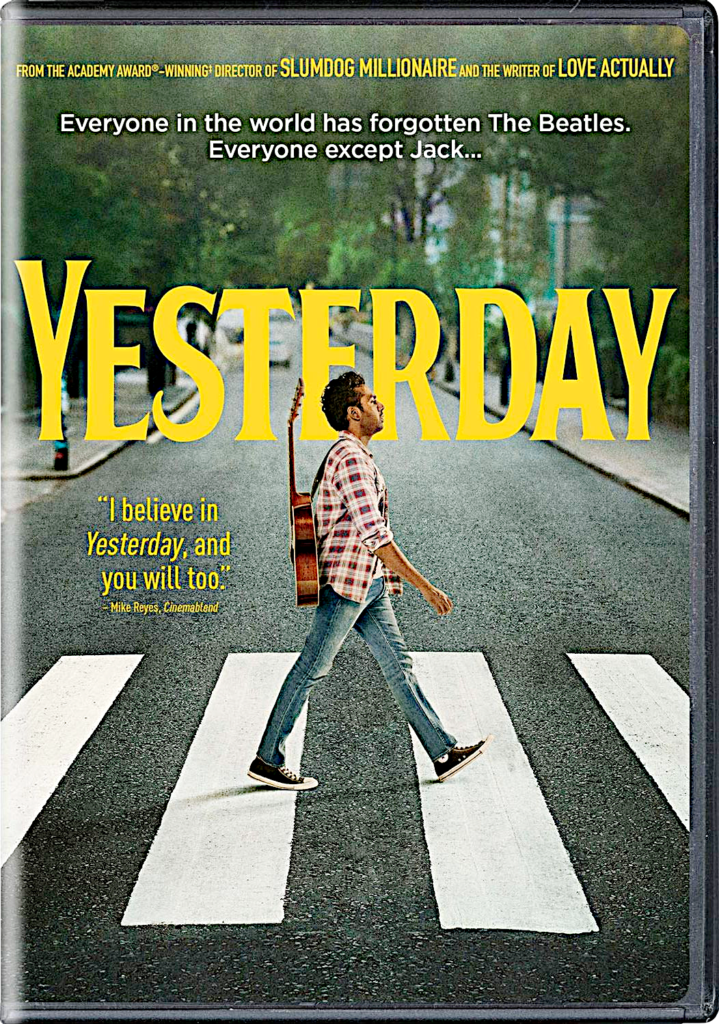 PG-13, 116 min, 2019
A world without the Beatles?! Watch how a struggling musician revives their songs and claims their fame. Superb comic timing, witty dialogue, and a stellar cast, with Ed Sheeran as himself. Master writer Richard Curtis of Bridget Jones's Diary, Notting Hill, and Love Actually brings us outstanding family fun. Great musical performances will make you relish the Beatles all over again "Eight Days a Week".
My Fair Lady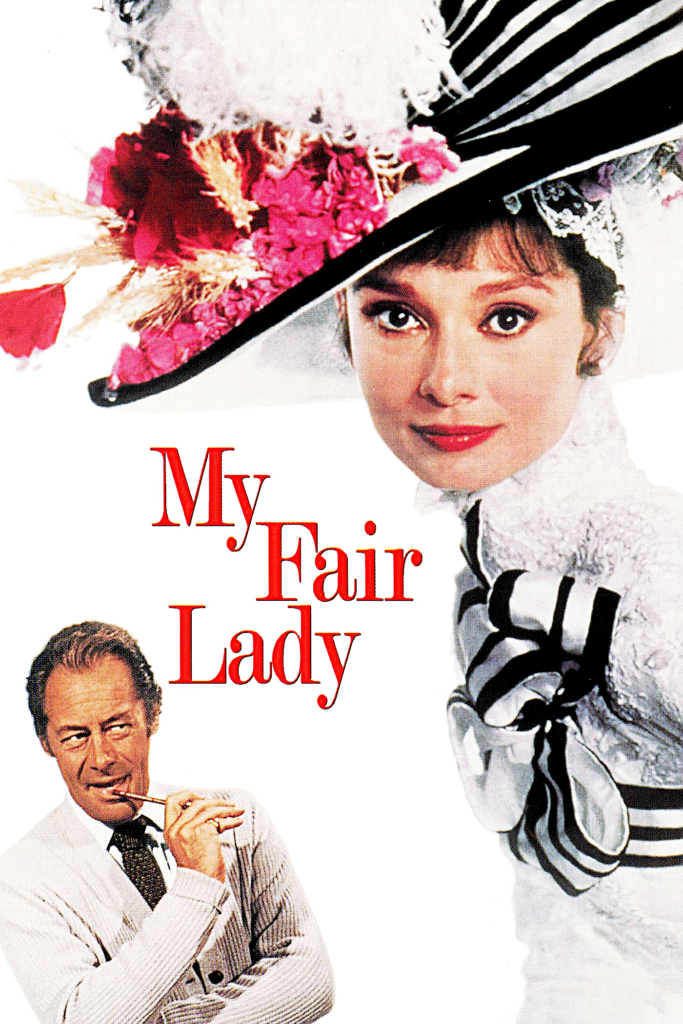 G, 172 min, 1964
Who doesn't love Audrey Hepburn? It's hard to imagine her as an uncouth market seller but, hey, it's Hollywood. There was a backlash against Audrey for being cast in this role instead of Julie Andrews who already epitomized Eliza Doolitle onstage. But once you see Audrey's regal bearing, to Marnie Nixon's lipsyncs, you can't imagine a Fairer Lady. Moving and memorable music: "Wouldn't it be loverly?", "I Could Have Danced All Night", and "The Rain in Spain". We'll wish for grander times when gowns and hats were the norm, and proper English was prized. "Just You Wait"!
Pitch Perfect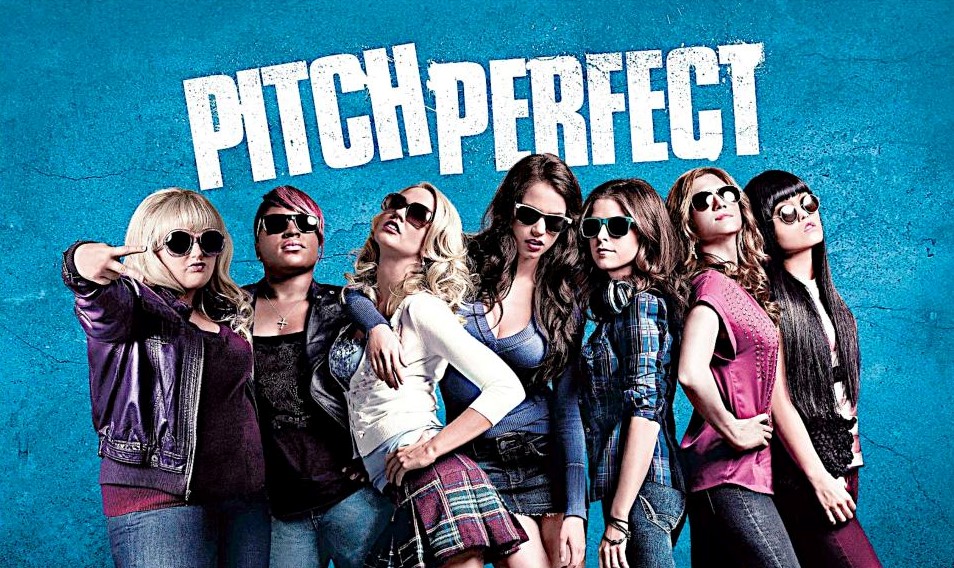 PG-13, 112 min, 2012
No it's not another college comedy. These a capella groups are serious about winning the championship and they make us laugh along the way. Enjoy 80s, 90s, and 2002s pop music by stellar singers led by Anna Kendrick. This movie launched the careers of scene stealers Rebel Wilson, Anna Camp, and Adam Devine. Produced with dry humor by Elizabeth Banks, you can feel that the cast are having a riotous party and you just want to be a part of it. Makes me wish I could sing. Appropriate for teens and up.
Sweeney Todd—The Demon Barber of Fleet Street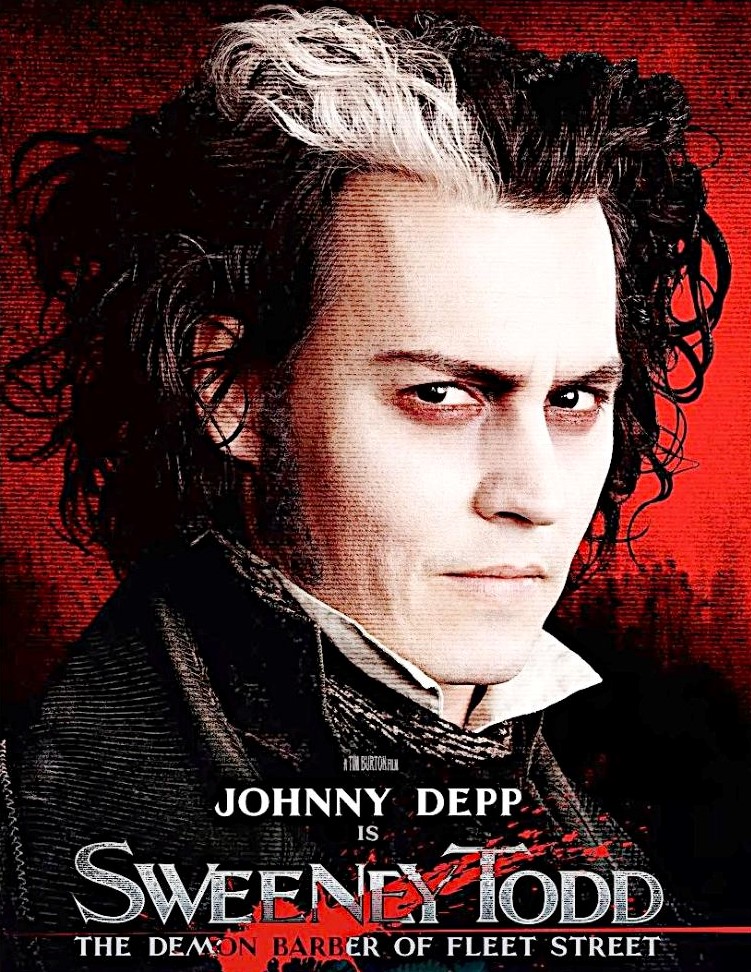 R, 116 min, 2007
Who knew Johnny Depp could sing? In Tim Burton's signature tortured vengeance story, we are shocked by the theatrical gore as much as we are enthralled by the talents of Helena Bonham Carter and Alan Rickman. We know they're dark creatures but we root for them with compassion. Not for kids, it does say Demon in the title, but morbid fun for those who thirst for some payback.
The King and I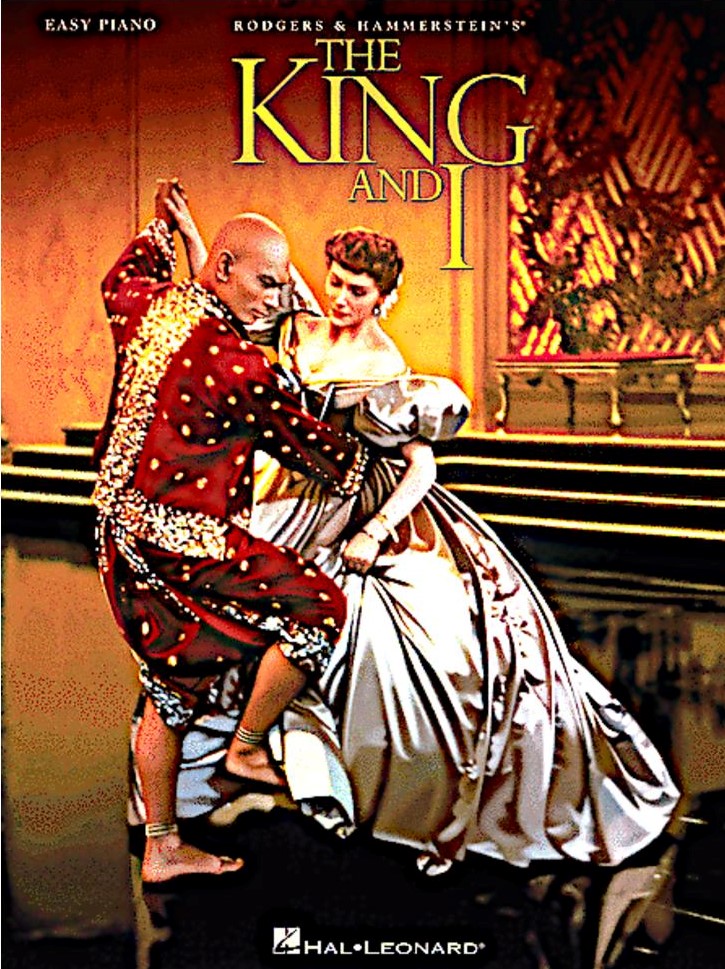 G, 133 min, 1956
Yul Brynner won Best Actor in 1957 as the unforgiving King of Siam (now Thailand). This also won Best Sound, Music, Costume, and Set for its sumptuous royal production and memorable songs like "I Whistle A Happy Tune", "Getting to Know You", and "Shall We Dance". We see some cultural issues through the eyes of an Englishman, but we share the same themes of love, family, hope, and freedom. Lots of children in the cast and fun plot twists for adults.
Into the Woods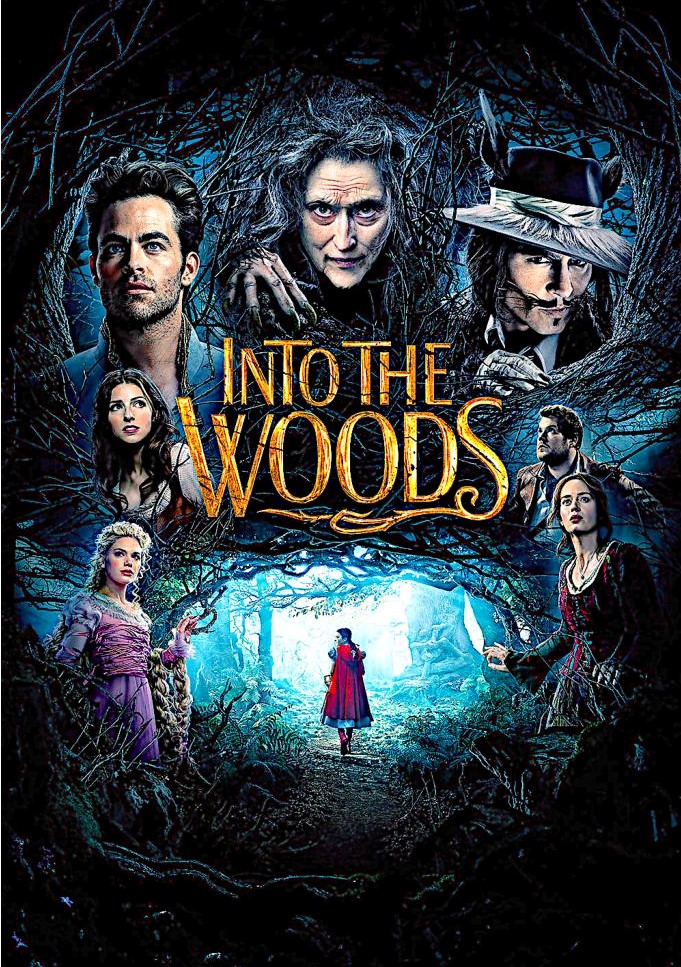 PG, 125 min, 2014
For those who love the stage musical, this is the first film adaptation. It stays true to the original wherein fairy tale characters like Cinderella and Jack (of the Beanstalk) interact in the woods to fulfill their greatest desire: "I wish! More than anything! More than life…"
The first part is fun and cleverly weaves the characters' wishes. But, as in life after the wedding, life turns Grimm. The cast is superb led by Meryl Streep and Anna Kendrick. Emily Blunt shows she can sing, Chris Pine is Prince Charming, and Johnny Depp is a wolf of course. The set production is mysterious and fantastical. As in every tale, we'll get through the darkness and reach a happy ending.
South Pacific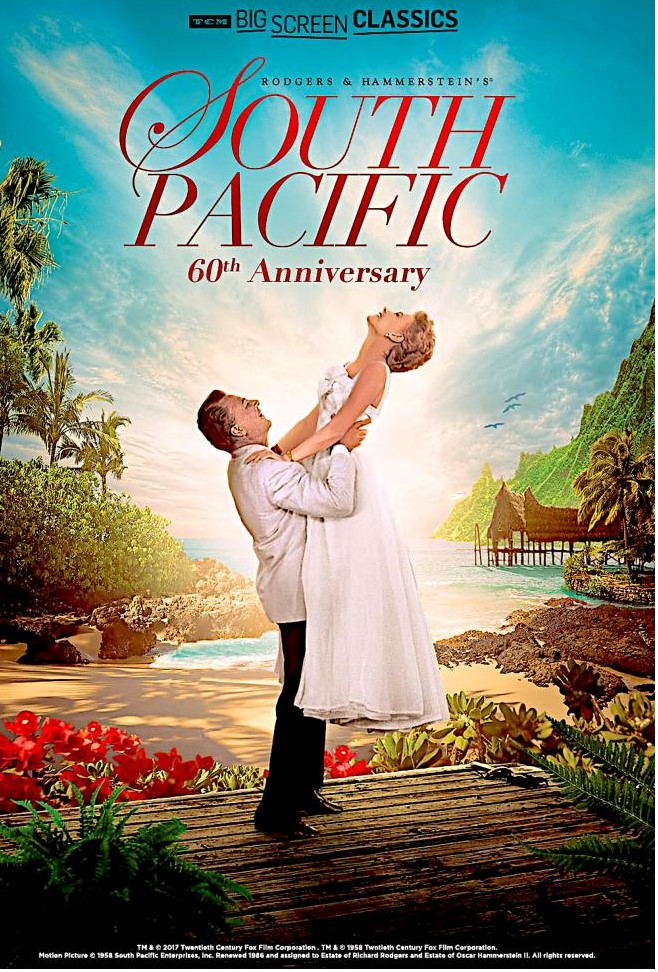 PG, 157 min, 1958 (2018 reissue)
Set during the war, this "Cockeyed Optimist" has catchy songs: "Bloody Mary", "There is Nothing Like A Dame", "I'm Gonna Wash That Man Right Outta My Hair", and "Happy Talk". Like a day in the beach, it runs a bit long. But the cast and dialogue are engaging, and its positivity has some serious undertones. Be sure to watch the 2018 version where the color filters are fixed so you can marvel at the island's beauty.
—-Ivy Lopez
Nonfiction book reviews at Ivy Digest on Instagram & Facebook