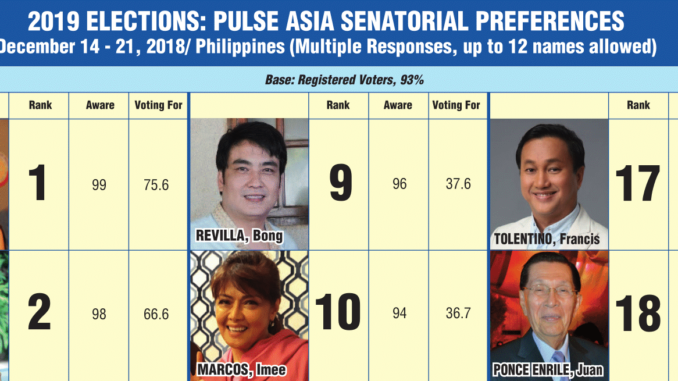 Out of the 70 senatorial candidates included in this pre-election survey probe, 15 have a statistical chance of winning. Virtually all of these probable winners are either incumbent or former members of Congress.
Holding on to the top spot is Senator Grace Poe whose reelection to the Senate is supported by 75.6% of Filipino registered voters.
In solo second place is Senator Cynthia Villar with an overall voter preference of 66.6%. Sharing third to fourth places are Senator Edgardo Sonny Angara (58.5%) and Taguig City Representative Pia Cayetano (55.4%).
Meanwhile, former Senator Lito Lapid(49.8%), Senator Nancy Binay (46.7%), and Senator Aquilino Koko Pimentel (45.5%) find themselves in fifth to seventh places.
Completing the list of probable winners in the May 2019 senatorial elections are:
Former Senator Serge Osmeña (38.8%, eighth to 13th places); (2) former Senator Ramon Bong Revilla, Jr. (37.6%, eighth to 14th places); (3) Ilocos Norte Governor Imee Marcos (36.7%, eighth to 15th places);
Former Senator Jinggoy Estrada (36.3%, eighth to 15th places); (5) former Bureau of Corrections (BuCor) Chief Bato dela Rosa (35.7%); (6) former Department of Transportation and Communications (DOTC) Secretary Mar Roxas (35%, eighth to 15th places);
Senator JV Ejercito Estrada (33.6%, ninth to 16th places); and (8) Senator Benig-no Bam Aquino (32.6%, 10th to 16th places).
Filipinos are presently naming a mean of 9 and a median of 10 senatorial candidates (i.e., out of a maximum of 12) whom they will elect in in May 2019. Mean figures range from 8 to 10 while median figures vary from 8 to 12 across the different geographic areas and socio-economic classes.
On the other hand, 2.2% of registered voters refuse to identify the senatorial bets they will vote for in May 2019, 1.6% are not inclined to support any of these candidates, and 1.1% are still unsure about whom to elect as senator.

A big plurality of registered voters (43%) already have a complete slate for the May 2019 senatorial elections (i.e., they are currently supporting 12 candi-dates).
Across geographic areas and socio-economic classes, it is only in Mindanao where more than half of registered voters (52%) have already identified the 12 senatorial bets they will vote for in the midterm elections.
Several key developments preoccupied Filipinos during the weeks immediately leading up to and during the survey period. These include the following:
The decision of the 5th Division of the Sandiganbayan finding former First Lady and incumbent Ilocos Norte Representative Imelda Marcos guilty of graft and sentenc-ing her to serve six to 11 years in prison for each of the seven counts of anti-corruption law violations arising from the funneling of about $200 million to Swiss foundations she created while serving as the Metropolitan Manila Governor while her husband, for-mer President Ferdinand E. Marcos, was in office.
Revilla acquitted
The acquittal by the Sandiganbayan of former Senator Ramon Revilla, Jr. of plunder in connection with his alleged involvement in the pork barrel scam although it ordered him to return P124.5 million to the National Treasury; on the other hand, Janet Lim-Napoles and Richard Cambe, the ex-lawmaker's aide, were found guilty and given a prison sentence of up to 40 years each.
The approval by the House of Repre-sentatives, via a vote of 224-22-3, on third and final reading of the Resolution of Both Houses (RBH) No. 15 that seeks to shift the country to a federal system of government but does not specify the number of federal states.
The conviction of the three police officers accused of killing Kian delos Santos in August 2017 by the Caloocan City Regional Trial Court (RTC) and the order for them to pay the victim's family P345,000 in damages; President Rodrigo R. Duterte said he will not pardon these police officers because he will only defend law enforcers who fulfill their duties ac-cording to the law.
Martial law extended
– The approval by Congress, through a vote of 235-28-1, of the third extension of the declaration of martial law in Mindanao to Dec. 31, 2019 despite criticisms that the continued implementation of martial rule in the area has resulted in human rights violations.
– The passage by the Lower House on third and final reading of the General Appropriations Act (GAA) through a 196-8 vote; the total budget for 2019 is P3.757 trillion, higher by 13% than the 2018 cash-based equivalent budget of P3.324 trillion; lawmakers critical of the national budget claim it contained illegal pork barrel bunds and cuts on social services; however, the Senate failed to approve the national budget in time and hence, the government will be operating under a reenacted budget until February 2019.
– The questioning of Department of Budget and Management (DBM) Secretary Benjamin Diokno by House Majority Leader Rolando Andaya, Jr. concerning the alleged insertions in the 2019 national budget, particularly the P51 billion worth of projects included in the budget of the Department of Public Works and Highways (DPWH); the DBM Secretary pointed out that the so-called insertion is an augmentation of the P480 billion budget of the DPWH already approved by the Duterte administration and that the amount involved is actually P75 bil-lion and not P51 billion; in this connection, while House lawmakers called on President Duterte to fire DBM Secretary Diokno for "merging" his family's interests with that of the public, their counterparts in the Senate defended the latter by saying he is doing a good job and describing him as "a man of integrity" and Malacañang Palace asserted that he continues to enjoy the President's trust.
– Senator Panfilo Lacson's claim that in addition to the P2.4 billion fund insertions in the budget allocated to the district of House Speaker Gloria Macapagal-Arroyo and the P1.9 billion for the district of House Majority Leader Andaya, several districts in Bohol, Surigao, and other areas in the Visayas and Mindanao whose representatives are close to the House Speaker also received huge allocations in the 2019 budget.
VIEW THE MAGAZINE ARTICLE HERE: