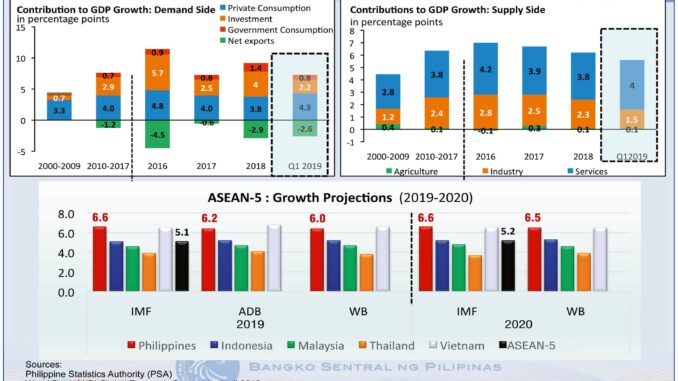 Now the bad news. The Philippine economy is slowing down.  Economic growth (as measured by the gain, less inflation, in the annual value of economic production or GDP ) is headed to its steepest drop in rate since 2011 when GDP grew by a hugely disappointing 3.7%.
GDP growth for 2019 is projected to be 6%, according to the World Bank, down from its previous forecast of 6.5% which itself was down from the original Philippine 6.6% growth expected for the whole year.
The 6% GDP growth will be the lowest rate since the 3.7% growth in 2011. The Asian Development Bank pegs PH growth at 6.2% for 2019, and 6.4% for 2020.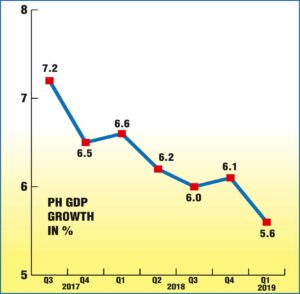 Three factors for the slowdown: One, Trump and his trade wars; two, China's economic slowdown (slowest this year in 27 years); and three, bottlenecks in President Duterte's budget spending and infra program. The 2019 PH budget was delayed for three months. Add to that rampant and incurable corruption. And a very poor infrastructure.
"Global growth remains subdued," cautions the International Monetary Fund in its July 23, 2019 global economic outlook report. "Since the April World Economic Outlook (WEO) report, the United States further increased tariffs on certain Chinese imports and China retaliated by raising tariffs on a subset of US imports. Additional escalation was averted following the June G20 summit. Global technology supply chains were threatened by the prospect of US sanctions, Brexit- related uncertainty continued, and rising geopolitical tensions roiled energy prices."
In Manila, imagine a P3.757 trillion budget of 12 months. You delay spending a fourth of that or P751 billion for three months. Government spending is now close to 20% of GDP.
Hold spending a fifth of the value of the economy and you, in effect, slow down the whole economy.
Quarterly, the Philippine economy has been on a slow-mo nosedive, from 7.2% growth in third quarter 2017, to 6.5% in Q4-2017, 6.6 in Q1-2018, 6.2 in Q2-2018, 6.0 in Q3-2018, 6.1 in Q4-2018, and to a disturbing 5.6% in Q1-2019.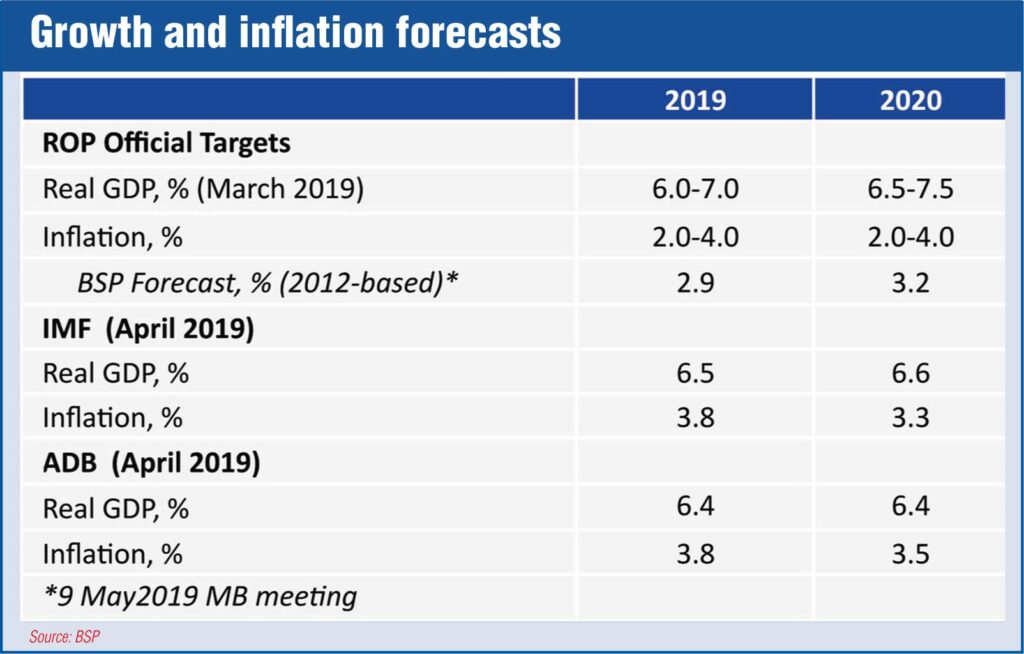 Between the third quarter of 2017 and the first quarter of 2019, a period of 21 months, economic growth has slipped by 1.6 percentage points or by 22%, from 7.2%, to 5.6%.
Usually at 7% annual GDP growth rate, you create two million jobs a year. So a loss of 1.6 percentage points in GDP growth is equivalent to 440,000 jobs that were lost or not created. That's big.  Assuming each job seeker has a family, 440,000 jobs lost would hurt 2.2 million Filipinos.
You could imagine the suffering when economic growth rate was halved, from 7.6% in 2010 to 3.7% in 2011. It was the first full year of President BS Aquino III. He took power on June 30, 2010 and what followed was a sharp cutback in government spending on infra and government services.
He thought money spent would be money stolen. No projects, no releases of funds, no money stolen.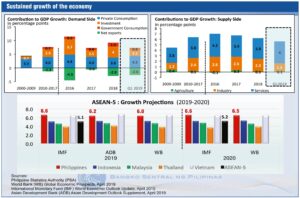 Noynoy did not build a single km of railway. EDSA's heavily travelled MRT3 was allowed to rot, thanks to colossal incompetence and corruption.
BS Aquino, probably the most incompetent of all Philippine presidents, majored in economics at Jesuit-run Ateneo de Manila. So he had his own economic theory for which Filipinos suffered.
So now, the good news. Despite a remarkable slowdown in growth this year, the Philippine economy remains strong and is one of the best performing in the whole of Asia.
In 2019, the economic fundamentals are markedly different. President Rodrigo Roa Duterte studied law. He has little patience with economics.
He leaves the matter up to his economic managers led by Finance Secretary Carlos "Sonny" Dominguez.
The team projects a Golden Era for the Philippine infrastructure and the economy.
Under Duterte, Infra spending is to be ramped up from 4.5% of GDP in 2016 to 7.3% of GDP by 2022, the end of the President's six-year term.
Bangko Sentral ng Pilipinas Governor Benjamin Diokno calls it the Goldilocks economy.
Inflation this year will probably be half of 2018's 5.2%, a ten-year high. Already, inflation hit 2.7% in June 2019, almost half of June 2018's 5.2 % and but still up from June 2017's 2.5%.
At the same time, unemployment rate is down to 5.17%, the lowest since 1986.
Sums up BSP Governor Diokno: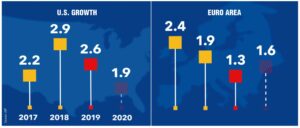 "The general consensus is that the global economy will slow down as the US-China tension intensified, accompanied by worsening Europe, Japan and UK economies. I assign low probability that the US-China trade conflict would be resolved soon; most likely, it would be resolved after the 2020 presidential election, if at all. Even after it's resolved, it will take years to get back to normalcy."
"For the Philippines, studies show that it will be one of the most resilient among emerging economies in the face of global challenges. RP is not a big exporting country. Our best defense is to prepare the Philippine economy for the next global expansion. We have to continue to invest in physical and human resources: to reduce logistics costs; to ease the costs of doing business; and improve the investment environment."       — Tony Lopez