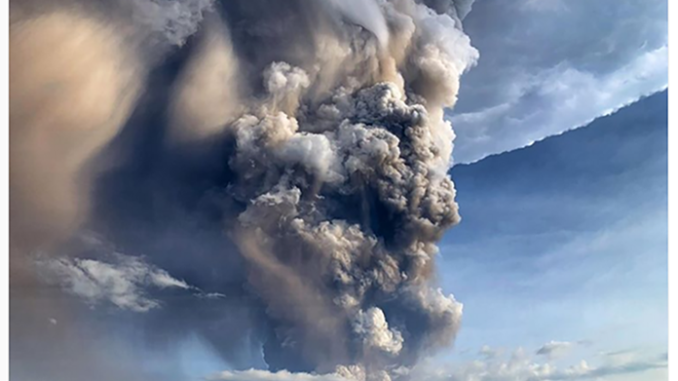 photo credit: DANTE PAMINTUAN/@COFFEE_DANTE INSTAGRAM
By Tony Lopez
January 2020 presages quite possibly a decade of violence, disasters, and uncertainty.
It began with the January 3 drone killing of Major General Qassem Suleimani (Wikipedia spells his name Soleimani).
The early-morning murder of Suleimani was followed by the Jan. 8 early morning Iranian missile attack on Iraq's sprawling al-Asad base which houses American troops fighting ISIS. In two hours of Wednesday last week, at least 11 missiles were fired which killed not a single US soldier. A 12th missile unfortunately hit a Ukraine International Airlines flight six minutes after takeoff from the Teheran International Airport. All 176 passengers and crew were killed.
After denying it had to do with the Jan. 8 crash of the US-made Boeing 737, the Iranian government admitted on Jan. 11 it shot down the airliner by mistake and profusely apologized.
Nearer home, 50 kms south of Manila, while the entire archipelago was enjoying a quiet and sunny Sunday (Jan. 12), Taal Volcano suddenly erupted, at past 2 pm. But it was not until 7:30 p.m. did the state-run agency, Phivolcs acknowledge intense volcanic activity and raised Alert Level 4—hazardous eruption imminent, from the Alert Level 3 (magmatic unrest) issued at 4 p.m. of Sunday, Jan. 12.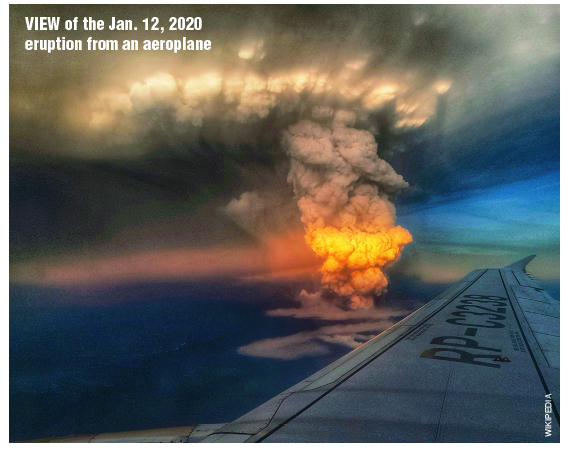 In other words, Phivolcs, to me, was slow to recognize an eruption of Taal that began at 2:30 p.m. of Sunday, Jan. 12. This despite Taal spewing ash, steam, and rocks up to 15 km up into the skies that weekend.
The consequence: Millions of Filipinos failed to prepare themselves from an insidious ash fall that travelled 150 kms to the north and northeast, past Pampanga province. The ashfall could prove deadly in the long run. The ashfall is not just plain dust or ash. It includes rocks (as big as two inches in diameter) and bits of gritty glass which if inhaled could damage one's internal organs.
Says the National Geographic: "Ash can pollute water supplies, damage electronic infrastructure, smother agriculture, and kill off farm animals and pets. It can also kill people if they inhale enough of it; breathing in glassy ash is always bad, but people with pre-existing respiratory ailments are most at risk, as are the very young and the elderly."
Per Phivolcs data, Taal has had several violent eruptions in the past, causing massive destruction and 6,000 deaths.
With its proximity to populated areas and its eruptive history, Taal has been designated a Decade Volcano, worthy of close study to prevent future natural disasters. All volcanoes of the Philippines are part of the Pacific Ring of Fire.
According to Phivolcs, Taal is a complex volcano in the province of Batangas. It is the second most active volcano in the Philippines and has erupted at least 34 times in 445 years.
These eruptions are concentrated on Volcano Island, an island near the middle of Taal Lake. The lake partially fills Taal Caldera, which was formed by prehistoric eruptions between 140,000 and 5,380 BP.
Viewed from the Tagaytay Ridge in Cavite, Taal Volcano and Lake presents one of the most picturesque and attractive views in the Philippines. It is located about 50 kilometers (31 miles) south of the capital of the country, the city of Manila.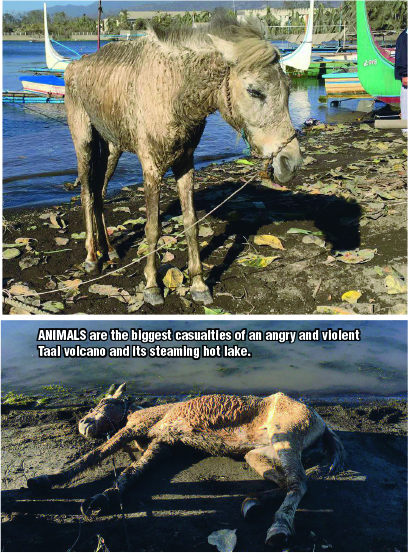 Taal Volcano and lake are wholly located in the province of Batangas. The northern half of Volcano Island falls under the jurisdiction of the lake shore town of Talisay, and the southern half to San Nicolas. The other communities that encircle Taal Lake include the cities of Tanauan and Lipa, and the municipalities
of Talisay, Laurel, Agoncillo, Santa Teresita, Alitagtag, Cuenca, Balete and Mataas na Kahoy.
Permanent settlement on the island is prohibited by the Philippine Institute of Volcanology and Seismology or PHIVOLCS, declaring the whole Volcano Island as a high-risk area and a Permanent Danger Zone (PDZ). Despite the warnings, poor families have settled on the island, risking their lives, earning a living by fishing and farming crops from the rich volcanic soil.
The crater lake on Volcano Island is the largest lake on an island in a lake on an island in the world. Moreover, this lake contains Vulcan Point, a small rocky island that projects from the surface of the crater lake, which was the remnant of the old crater floor that is now surrounded by the 2- kilometer (1.2 mi) wide lake, now referred to as the Main Crater Lake.
Vulcan Point is often cited as the largest third-order island (island in a lake on an island in a lake on an island) in the world, though this is also claimed to be true of an unnamed Canadian island located within Victoria Island.
Taal has an island within a lake, that is on an island within a lake, that is on an island within the sea: Vulcan Point Island is within Main Crater Lake, which is on Volcano Island.
After the 1977 eruption, Taal has shown signs of unrest since 1991, with strong seismic activity and ground fracturing events, as well as the formation of small mud pots and mud geysers on parts of the island.
The Jan. 12, 2020 Taal eruption was described as phreatic.
"Phreatic" (or steam-blast) eruptions are driven by explosive expanding steam resulting from cold ground or surface water coming into contact with hot rock or magma. The distinguishing feature of phreatic explosions is that they only blast out fragments of preexisting solid rock from the volcanic conduit; no new magma is erupted.
Phreatic activity is generally weak, but can be quite violent in some cases, such as the 1965 eruption of Taal Volcano, Philippines, and the 1975-1976 activity at La Soufrière, Guadeloupe (Lesser Antilles).
The most powerful eruptions are called "plinian" and involve the explosive ejection of relatively viscous lava. Large plinian eruptions—such as during May 18, 1980 at Mount St. Helens or, more recently, during June 15, 1991 at Pinatubo in the Philippines—can send ash and volcanic gas tens of miles into the air.
The resulting ash fallout can affect large areas hundreds of miles downwind. Fast-moving deadly pyroclastic flows (nuées ardentes) are also commonly associated with plinian eruptions.
DUTERTE VOWS HELP