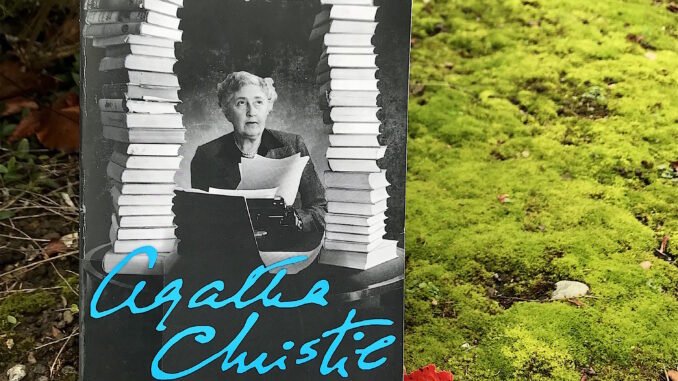 I read Agatha as a child. She was my favorite mystery writer because I can follow her logic and clues. Her style was simple and direct, with little description. Her characters are not as famous as Sherlock Holmes or James Bond, but she outsold them both for the last 100 years.
Agatha's dad was American and her mom British. They were comfortable enough that her dad did not work. She had a happy childhood with her sister and brother in a happy house with servants.
Agatha wrote her first detective novel on a dare. Over the next four years, she created her own Sherlock Holmes in the pompous Hercule Poirot with a similar doctor sidekick. She made him Belgian based on the refugees she saw but regretted that she made him too old. In the meantime, she got married and took the name Christie.
Agatha published her first book at age 30 after three rejections, not 22 as rumored online. Excited to see her book in print, she signed her contract trustingly, unaware she was bound for four more novels and a pitiful royalty. When her contract expired, she quickly went to a trusted publisher.
After she won the bet, Agatha didn't think she would write again. But when she needed money to purchase and fix her house, husband Archie suggested she write another book.
Writing was a hobby, even after she had written ten bestsellers which were serialized in England and the US that afforded her ten houses before the war. She didn't even have a dedicated place to write.
"I don't think, even then, that I considered myself a bona fide author."
Despite her immediate success, Agatha was plagued by the same things as women now. She tried to balance her career with motherhood. She managed multiple households. She was always trying to find a nanny. She worked from home with a demanding daughter.
Agatha didn't think a woman writer would sell. "I had the idea that a woman's name would prejudice people against my work, especially in detective stories; that Martin West would be more manly and forthright."
As a celebrity, she shunned the media and loud parties.
As a writer, she fought for creative control of her works, like the book cover design or the production of her plays. She wondered why Poirot was always cast as a fat man. She did not like to deal with the tax men in two countries.
Agatha was an adventurer. She loved travel and househunting and tried new things like surfing, airplanes, camels, driving, digging expeditions, and drawing. She volunteered as a war nurse and became a poison expert which allowed her to kill off her characters.
Since her first novel in 1920, Agatha remained prolific and published at least one book yearly for 50 years (1922-1977). In some years she published up to four books, for a total of 112, excluding reissues.
In addition, Agatha wrote poems, plays, and short stories. By 1950, just 20 years after her first book, she sold over 50 million books. So she began recording her autobiography for the next 15 years as she continued to write.
After her death in 1976, she published an autobiography, a mystery, and two collected short stories.
The irrepressible Agatha remains profitable till now with over 2 billion books sold worldwide. Her short books and simple prose has made her the most translated writer in the world in over 103 languages. She continues to sell over 3 million books a year.
Agatha writes to please her readers and keeps her work short at 50,000 words. She considers herself a tradesman with the noble task of giving the public a worthy product.
Ever the mystery writer, Agatha omits any mention of her 1926 10-day disappearance after she found out about The Other Woman. It caused such a sensation that Archie was suspected of foul play. Many books offer mere conjectures, but only Agatha knows.
She was reluctant to divorce and held on for a year hoping for reconciliation.
Years after she divorced, she later married a man 14 years younger. Ah! Truly a liberated woman. Archie should be glad Agatha only planned a disappearance–and not a murder.
—More books @IvyDigest on FB & IG