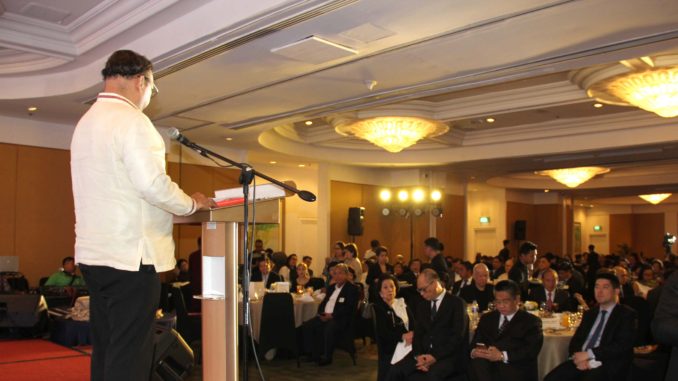 Former Joseph Ejercito Estrada and other awardees; captains of the industry and business leaders; the management, editors, and staff of BizNewsAsia led by its founder and President, Mr. Tony Lopez; fellow workers in government; distinguished guests; ladies and gentlemen: Good evening.
President Duterte wishes to extend his greetings to BizNewsAsia on your 16th anniversary. I am delighted to represent him and be part of your milestone.
Congratulations BizNewsAsia on your 16th anniversary—that's 16 remarkable years of business publishing excellence and fruitful service to the Filipino nation.
Your business news magazine, which is the Philippines' largest weekly business and news magazine, has given us clear insights and new perspectives and helps us understand the current issues prevailing in the economy, industry, and government.
Allow me also to take this opportunity to congratulate our 25 management excellence awardees led by my fellow Cabinet member Secretary Diokno of Budget; business magnates Ramon Ang of San Miguel Corp.; Teresita Sy of BDO and SM; and a whole lot more. Our 25 awardees are the best in their respective fields who, in one way or another, helped in laying down the foundations of our nation. It is an honor to share center stage with all of you.
Our economy, as everyone in this ballroom would agree, is on the roll. Notwithstanding the continued political noise, the rebellion in Marawi, and the declaration of martial law in Mindanao, the economy managed to perform well.
The Philippine economy, under the Duterte administration, remains one of the best performing economies in Asia. The country's spectacular 6.9% gross domestic product (GDP) growth in the third quarter of this year further reinforces its premier status in the Asian region.
With a year-to-date growth average of 6.7%, we are hopeful and confident that we are on track in attaining the full-year target range of 6.5% to 7.5% economic growth for 2017. We attributed this better-than-expected growth to strong exports and industrial output and improvement in public spending.
As the administration starting to roll out projects under its Build! Build! Build! Infrastructure Program, we are now seeing a sustained improvement in public spending. The goal of such massive spending is to support growth.
The government sees infrastructure development as the solution to job generation, transportation and traffic woes, and high prices of goods and services.
The Duterte administration hopes to attract more investments into the country by building more railways, urban mass transport, airports and seaports, bridges and roads, and new and better cities.
On the sidelines of the recently concluded 31st ASEAN Summit, President Duterte and Japanese Prime Minister Shinzo Abe witnessed the exchange of notes between the governments of Japan and the Philippines on the Metro Manila Subway project and four other deals.
This means the details of the project and financing arrangements have been ironed out; and thus, we are a step closer to the finalization of loan agreements.
The Japanese government will provide a P46-billion for the construction of the first phase of the Metro Manila Subway, and another P4-bilion will be given to cover the construction of the Arterial Road Bypass project along the Philippine-Japan Friendship Highway in Plaridel, Bulacan.
Speaking of the ASEAN Summit, the Philippines successfully hosted the 31st ASEAN Summit and the 50th anniversary celebration of ASEAN.
Aside from the multi-million dollar assistance we garnered, we have entered into important agreements with ASEAN Dialogue Partners and established goodwill and rapport among world leaders, which could lead to better ties for ongoing negotiations and future collaborations.
From the United States, we obtained $14.3-million for the rehabilitation of war-torn Marawi City and another $2-million to support the country's ongoing war on illegal drugs.
We were likewise able to push mutual interests such as Generalized System of Preferences and Free Trade Agreement with the Americans.
With China, we signed 14 cooperation agreements on areas such as the economy, infrastructure, transportation, environment, intellectual property, national security, and finance.
With Russia, the Philippine government inked eight bilateral agreements on areas such as criminality, extradition, energy, transport, energy, mass communications, education, intellectual property, and audits and accounts.
Further, Canada will provide $17.8-million for the sexual health and empowerment projects for women in the Philippines.
New Zealand committed three agreements on education, tourism, and geothermal industry, while Australia pushed for cooperation to address the sea piracy threat in Sulu Sea.
As for India, President Duterte expressed his desire to invite Indian pharmaceutical companies to do business in the Philippines, as the President wants to improve access of Filipinos to cheaper medicines.
In addition, the country was able to improve market access for Philippine bananas in Australia, Japan, and Korea.
Thus, we may expect a more riveting growth narrative in the fourth quarter and onwards as the Duterte administration accelerates its efforts to create more opportunities for the Filipino people.
All of these form part of the overarching goal of the President of building an economy that serves everyone and leaves no one behind.
In this regard, let us put more fuel to our economic growth engine. Let us remain steadfast and committed to persisting to achieve our collective goal of a comfortable and secure life.
As we work toward economic progress and stability, we are confident that BizNewsAsia will be there to cover this exciting journey.
Again, happy anniversary and congratulations to all our awardees. Mabuhay po tayong lahat!