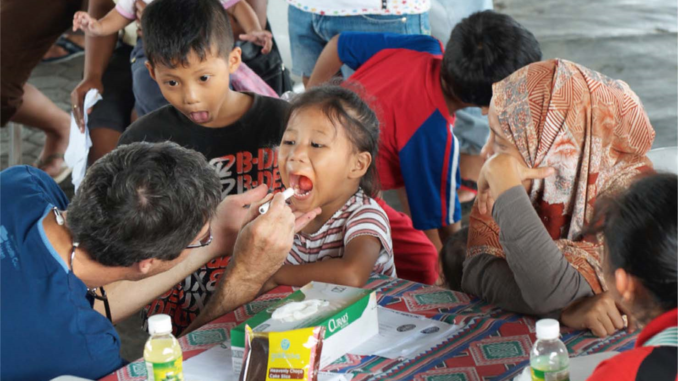 I am a general surgeon in Memphis, Tennessee with the University of Tennessee (UT) Methodist physicians.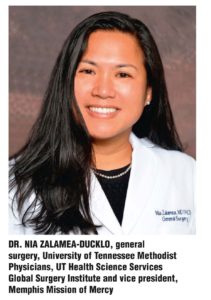 My family and I have been involved in overseas medical and surgical mission work in various parts of the world since 1999. We have conducted short term missions in 27 different communities in the Philippines, and have been asking how we might be able to do things more long term.
After nearly a year of prayer, discussion, brainstorming and applications from various communities, we have decided to build the Memphis Mission of Mercy Surgical Hospital in the sugar cane farming community of Victorias City, Philippines.
Remarkably over the last 19 years, we have been blessed with hundreds of volunteers directly or indirectly connected to our Memphis community. The mission group began when my dad, a Nurse Anesthetist, at what was then Methodist Central, chatted with a surgeon named John Hodges in the recovery room of the Operating Room (OR) about a recent mission trip to Guyana. What followed from there was nearly 20 years of surgical and medical work in small and medium sized communities, mostly agricultural, in the Philippines for the purpose of serving the poor.
We have a mission family of over 150 individuals (nurses, OR techs, Certified Registered Nurse Anesthetists (CRNA), Anesthesiologists, Surgeons, Physical Therapists) that have helped us deliver this work to the poor.
We have Memphis to thank for that. We also have our institutions to thank, as much as for the equipment that we use for our care, comes from places like Methodist, Regional One, Baptist Hospital and much more.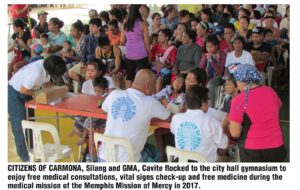 We thought for a while about changing our name, and taking Memphis out of it, as we build our mission hospital, but it actually doesn't make sense. Every time we meet, discuss, work in the Philippines, Memphis, the City, the Community, the Volunteerism and the spirit, is with us.
The surgeons we bring from Washington state are related to our great city because one of them trained here at UT, and now brings his partner, and entire surgical team with us, and has done so now for four years.
The team in California is the team under which I trained as a surgical resident, and now comes as a group, complete with my mentor, his trainee and staff.
The team from Chicago is connected to us because a nurse anesthetist at University of Chicago came with us one year at the behest of a friend in California, related to our family from a different friendship, and now he brings his whole crew when able.
Memphis is special in many ways. The relationships we have via this community of need here at home, relate directly to our care of communities of need abroad. And we are so excited to be sharing this news! When we arrive on mission in the Philippines, we are known in short as "Memphis." They will say, "Memphis" is coming in October, or this patient was cared for by "Memphis." Our city name and identity is undeniable.
Mission facility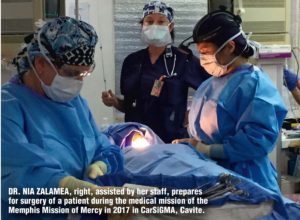 We are in process of building a long-term mission facility in the Philippines to serve the community in and around Victorias City. We are building a 40-bed hospital with six operating rooms, attached dorm for volunteers, all in order to provide free surgical care for the immediate and surrounding islands.
Many poor residents in and around Victorias City find it hard and almost impossible to access safe and affordable surgical care.
The mission seeks to help improve upon their plight by providing free quality surgical care to the community's poor. We intend to collaborate with local healthcare professionals in providing this care in addition to training future surgeons to help sustain this much-needed access and quality of care.
Hundreds of doctors have volunteered their time and talent to carry out his work including General Surgery, Pediatrics, ENT and Plastics. In the future, we plan to invite our partners in Opthalmology, Urology, Minimally Invasive Surgery and any other subspecialty of need.
From the past 10 years of mission work that we took home just as much as we brought to the mission field. These often times involved clinical decision-making, presurgical and post surgical education, as well as the true value of the cost of the care provided
Since 2001, Memphis Mission of Mercy has provided needed medical clinics, surgeries and public health resources to communities in the Philippines at no cost to the patients.
Through colleagues and partners locally and across the United States, we have obtained gifts in kind, salvaged surplus, medications and long-term resources.
Scanlan International has graciously provided high quality instruments for our surgical teams since 2009. Microsoft and Pfizer Corp. are both matching donors and will match 1:1 funds donated by employees.
Since then, the mission has provided $17,722,000 worth of free surgeries. One volunteer surgeon who joined a mission said, "I may not be a better surgeon but I became a better doctor."
Unique position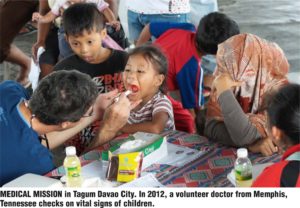 Memphis Mission of Mercy is in a unique position to offer talents and services to the community in and around Victorias City through a long-term and sustainable surgical hospital. Three specific resources to the poor of this community will be offered: surgical healthcare, cancer screening and health education.
These specific services will provide much-needed resources for the poor people in the community. At the same time, it will also provide the much sought-after professional and personal development experiences for health care volunteers, surgical residents and students from Memphis and beyond.
Team leaders of this project have met with the government oficials in Victorias City and healthcare leaders and there is an opportunity that no one is filling. In partnership with the University of Tennessee Health Sciences Center Global Surgery Institute, a long-term access to service, education and system development will develop in the target community.
For the past year, we as a family have been praying and listening and feel that we are being called to collate our resources, our friends, our skills and our relationships. Much of Memphis, Chicago, California, are coming with us. In doing so, we will dedicate our energies into building sustainable infrastructure for our challenged brothers and sisters in the Philippines. Ultimately this will enable us to continue to serve in one place, but also use this as a platform for continued short term work.
We are currently in the concept design phase, which means that we are looking at the shapes and overall sizes of things. We would like to share this story in case you are interested in sharing it as well. We have many people and institutions to thank. If anything, we have the institutions to thank for giving us the jobs that enable us to have resources to do this work.
Victorias City government is providing licensing with the Department of Health. A Memorandum of Agreement was signed by representatives from Victorias City and the Memphis Mission of Mercy committing five acres of land adjacent to the City Center where the hospital will be built.
Fundraising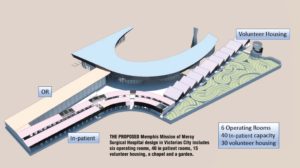 We have more work to do, more fundraising, more meetings, and more thinking and praying. We as a family have always dedicated a significant portion of our resources in order to enable this work, but know that this may be helpful short term, but will not be sufficient long term.
We will need to deepen many relationships in order to do this, and know that it is all for a greater good. I truly believe that bringing our community of givers to a community in the Philippines not only helps the people we serve, but it helps sustain our community here at home as well.
I appeal to you today to consider this question: Would you be willing to donate a portion of your capital for the purpose of building a long term missions surgical hospital aimed at service, compassion and education for the benefit of the poor?
If you find that your answer is a yes/maybe or if you should like more information, please do not hesitate to ask. The people of the Philippines are on my mind every day as I carry out my surgical practice with the underserved here in Memphis.
To learn more about our mission, please visit our website: www.memphismission.org. Drop us a line. We have opportunities waiting for you to be a part of this project.
Please pray for us as we respond to our calling. Thank you for taking the time to read and consider.