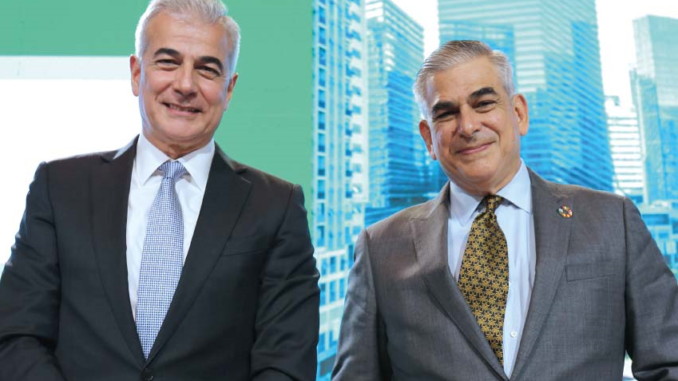 At 185 years old, Ayala Corp. is the oldest commercial house in the Philippines. Yet, one will not recognize the Ayala house of today from the Ayala of as recently as ten years ago.
The company controlled and managed by the Zobel de Ayala family for the last seven generations is undergoing a transformation so massive, dramatic, frenetic, and unprecedented at a scale and scope no other company in the Philippines is doing. Except perhaps San Miguel Corp. and the later Henry Sy's SM Investments Corp.
There are five driving forces behind the current remaking of Ayala Corp.
One is intense competition. Second is the need to enhance and sustain profitability.
Third is digitalization, to bring technologies like the Internet of Things (IOT), mobile, cloud, social, artificial intelligence (AI), robotics, data and computer power to the way Ayala companies does and pursues business.
Fourth is the need to respond to a widening gap between the few who are very rich and the many who are very poor.
Fifth is global warming and the need to sustain the environment.
Ayala projects to double net income to P50 billion a year by 2020, from P22.3 billion in 2015 and P30.3 billion in 2017.
The overriding theme of this change is "making lives better"—exactly the same battle cry of its bigger, nimbler and faster old rival, SMC, which is "a world made better".
San Miguel and SMIC are Ayala Corp.'s biggest rivals. Both have leapfrogged immensely to pull far, far away from the builder of Makati.
The remaking of San Miguel
San Miguel began its reengineering in earnest in October 2008 at a time of the severest global recession and credit crunch in 80 years, amid the most unprecedented of challenges to any company's existence, as well as the lingering shocks of the 1997 Asian financial crisis.
Between 2008 and 2013, the impact of San Miguel's acquisitions and investments was spectacular.
San Miguel assets ballooned 3.45 times from P339.37 billion in 2008 to P1,170 billion (P1.17 trillion) in 2013, sales rose 4.32 times from P183.4 billion to P792.45 billion, equity expanded 2.2 times from P168 billion to P365.77 billion, and annual profits increased 2.6 times from P19.34 billion a year in 2008 to P50.72 billion in 2013. If reckoned from end-2007, profits actually expanded 5.8 times, from P8.63 billion to P50.7 billion in six years.
In five years, from 2008 to 2013, SMC sales increased by an average of 55.3% per year, assets by 41%, and equity by 20%.
In contrast, during the same five years, Ayala Corp. increased revenues by just 16.8% per year, net income 9.6%, assets 26%, and equity by 6.7%.
For its part, during 2008 to 2013 SM Investments Corp. grew revenues by an average of 12% per year, income 15.9%, assets 19.3%, and equity by 16.6%.
Under RSA, during those five years (2008 to 2013), SMC revenues were doubling every 24 months while assets were doubling every 2.5 years. The frenetic pace somewhat slowed as San Miguel paused to digest its acquisitions, expansion and diversification projects. Still, growth rates have remained robust. In 2018, SMC revenues reached the trillion-mark for the first time at P1.024 trillion, up 24%. Profits were down 11.2% to P48.64 billion.
Why SMC diversified
Explains SMC President Ramon Ang: "We set out on an ambitious diversification program that we believed would prepare our company for the challenges of the future, enable us to become a true catalyst for national development, and further enhance shareholder value. To fully realize this vision, we had to acquire and develop new businesses that would provide us sharper focus on emerging growth industries. Critical to the strategy too, was the continued success of our core businesses."
Adds SMC Chairman Eduardo Cojuangco Jr.:
"From a portfolio perspective, San Miguel's new business ventures increase the company's exposure to profitable recurring revenue and are highly synergistic with the company's core businesses, enjoying complementarities in scale, markets, geography, technology and raw materials. At the corporate level, the size and scale of San Miguel's distribution network operations will provide significant economies of scale and synergies in production, research and development, distribution, management and marketing. Scale also lends to substantial leverage and bargaining power with suppliers and retailers, an advantage that SMC currently enjoys."
The SMIC growth lessons
SMIC's growth offers abject lessons. Ayala may be 185 years old. But SMIC, which marked its 60th anniversary last year, easily eclipsed Ayala in just 20 years. Sixty years ago, the late SM patriarch began with just two department stores, one in Manila and another in Makati; one small savings bank (Acme), and one property, Galleria de Magallanes at the edge of Makati.
Today, SMIC is a dizzying behemoth in size and reach. It has 2,328 retail stores, 72 properties (its SM Prime Holdings is the largest in property company with also the highest market value), and 1,927 bank branches. Its BDO Universal is the largest bank in the Philippines. In 2018, BDO made P37.1 billion on P450 billion revenues. Total assets stood at P1.06 trillion.
The most valuable companies in the stock market are Henry Sy companies. SMIC has a market cap of P1.1135 trillion, almost double that of Ayala Corp.'s P576.52 billion. SM Prime Holdings is valued by the market at P1.149 trillion, 57.5% bigger than the P729.38 billion of Ayala Land, Ayala Corp.'s property subsidiary.
How and why SMIC grew
SMIC Chair Jose Sio cites seven factors or lessons for SMIC's enormous growth: 1) start small but more fast; 2) hard work and perseverance; 3) customer focus; 4) be creative, think out of the box; 5) willingness to be bold and ambitious; 6) market leadership; and most important of all, 7) go public, use other people's money.
Interestingly, Henry Sy himself was not a product of an Ivy League education. In fact, he was already too old to finish college, at Far Eastern University, because he was literally a child tycoon. None of his children too went abroad for their college. The six boys went to La Salle; the eldest, Teresita Sy-Coson, went to Assumption. To make up for his local education, the late tycoon went around the world once a year, to observe and imbibe the latest trends and technology in his line of business.
In contrast, the Zobel de Ayala brothers, Jaime Augusto and Fernando Zobel, both went to Harvard.
Quite notably, Ayala began its aggressive expansion and diversifying in 2009, two years after San Miguel has just about wrapped its own expansion and diversification.
"We are undergoing a transformation journey across the group to build a digital and future-ready Ayala. We recognize that to continue thriving under a rapidly changing environment, we must evolve from traditional analog thinking into incorporating a digital perspective into our strategy and operations," explains Ayala Corp. Chairman and CEO, Jaime Augusto Zobel de Ayala, in his message to stockholders this year.
P1.4 trillion invested in 10 years
Accordingly, Ayala, has, over the past 10 years, poured P1.4 trillion in capital expenditure "to lay the foundation for our ambitious growth aspirations in our core businesses and scale up our emerging businesses."
Of that amount, nearly P200 billion has been deployed at the parent level to help new businesses "build scale while employing an active portfolio management approach to either realize value or drive the businesses, alone or with partners." These new business platforms include energy, industrial technologies, infrastructure, healthcare, and education.
Says JAZA: "Throughout the years, we have always prided ourselves in our ability to incubate industry-leading businesses by allocating new capital, setting up the appropriate governance frameworks."
JAZA vows:
— We will be bolder and more deliberate in our venture capital strategy, seeding new ideas and disruptive businesses, and supporting forward-thinking entrepreneurs with scalable, innovative models.
— We recognize that data and analytics will be a key strategic discipline and skill set in the future and are thus establishing a center of excellence to participate in and build competence in this space.
Ayala has aggressively pursued new opportunities in energy, industrial technologies, infrastructure, healthcare, and education, while embracing a solutions mindset that focuses on ethnology and technology to guide its entry, build-out, and expansion in these new industries.
This approach has allowed Ayala to streamline and strengthen its core assets in real estate, financial services, and telecommunications as well, allowing these subsidiaries to be more competitive and resilient.
According to JAZA, the last five years have shown that Ayala is anything but complacent. Ayala has made innovation a strategic imperative and its leaders broadly and frequently communicate the importance of innovation. It has invested in building innovation management systems across the organization and trained hundreds of individuals and teams in innovation, to be "future- ready."
Ayala's efforts have been recognized by the Global Innovation Management Institute as the first company to be Level 2 Certified in Innovation Management in Southeast Asia. Composed of four levels, this certification recognizes Ayala's maturity in terms of innovation as a management discipline and corporate function. This is seen in Ayala's continuing strong innovation performance, robust pipeline of innovation projects, and broad mass of individuals trained in disruptive thinking and deployed to work on several innovation initiatives.
Ayala's new businesses
The expansion and consolidation of its traditional businesses – property and banking and its aggressive pursuit of new businesses will make Ayala Corp. one of the largest industrial and biggest power generating companies in the Philippines.
The industrialization and digitalization programs are taking place in two major new operating divisions: AC Energy and Ayala Industrials.
"AC Energy has started to be a significant contributor to our portfolio," says JAZA. And payback is imminent.
"With its operations now beginning to show predictability and combining this with some opportunities for value creating divestments, we are pleased to see AC Energy starting to provide the necessary revenue and income balance to some of our more cyclical and longer gestation businesses," enthuses the Ayala Corp. CEO.
JAZA notes that AC Energy is now one of the fastest-growing power companies in the region having only started in 2011, with attributable generating capacity of over 1,600 megawatts across renewable and thermal platforms. It has recalibrated its strategy to focus on renewable energy, with a target to assemble 5,000 MW in capacity by 2025, half of it in renewables like solar, wind, and geothermal technologies.
Ayala Corp. President and COO Fernando Zobel de Ayala reports that Ayala has over 1,600 megawatts of attributable generating capacity, "AC Energy has become a substantial pillar of our portfolio.
Since 2015, it has contributed positively to our earnings stream with a combination of steady state operation of its assets and consistent value realization initiatives."
AC Energy has a pipeline of renewable projects in the Philippines, Vietnam, Australia, and Indonesia, which it has identified as priority markets.
More importantly, AC Energy has developed financial self-sufficiency and no longer requires capital deployment from Ayala to fund its expansion strategy. A testament to its ability to raise capital independently is its successful issuance of $410 million in a Green Bond offering, the
first publicly syndicated US dollar Green Bond in Southeast Asia to be certified by the Climate Bonds Initiative.
Moreover, AC Energy will start upstreaming capital back to Ayala through regular dividend payments beginning in 2019.
Ayala's energy business is expected to contribute 20% of profits by 2020, from 11.8% in 2015.
In 2018, AC Energy's net earnings expanded 16% to P4.1 billion, largely driven by its domestic thermal and renewable assets as well as a higher contribution from its Indonesia investments.
Becoming big in industry
On the industrial front, Ayala hopes to become the Philippines' largest seller of cars. It has now five major vehicle brands – Honda, Isuzu, Volkswagen, Kia Motors, and Maxus thru AC Motors of Ayala Industrials.
AC Industrials continues to build its portfolio and now houses platforms in global manufacturing, proprietary enabling technologies, and high value products for end markets.
Its automotive retail and distribution segment, AC Motors, now counts Kia Motors in its portfolio of vehicle brands in addition to Honda, Isuzu, Volkswagen, and Maxus. Kia is a solid global brand with a wide range of products that built a strong foothold in our local motoring culture over the past two decades.
AC Infrastructure has entered the logistics space, a fast-growing sector boosted by rising consumer demand and growing e-commerce adoption. In 2018, Ayala spun off Zalora's last-mile delivery services into Entrego, a technology-driven, end-to-end, logistics and fulfillment solutions provider.
Bank of PI spends P11.6B
Bank of the Philippine Islands enjoyed strong growth in its core banking business during the year. However, this was tempered by higher provisions and operational spending, bringing its net income to P23.1 billion, up 3% from the previous year.
BPI continues to execute on its digitalization strategy aimed at strengthening its franchise under a rapidly changing environment. In the last three years, BPI spent P11.6 billion to build its digital infrastructure, with over a third of the amount allocated to building capability in new, cutting-edge ways. This initiative resulted in an average annual increase of 14% in transaction volumes during the period.
More importantly, the bank's digital transformation is addressing financial inclusion as it facilitates higher engagement with the unserved and underserved segments of the demographic, particularly the micro, small, and medium enterprises and the lower-income consumer segments. With increased efficiencies and lower cost, digitalization will make financial inclusion truly sustainable.
Ayala Innovations
Ayala Corp. has launched Ayala Innovations, a unit focused on looking for trends and building capabilities.
Moving forward, JAZA says On the Ayala conglomerate would be looking to invest in various businesses to prepare for the future. These include investing in a frictionless future, automation of businesses and new frontiers in real estate.
On digitalization, Zobel relates that Ayala is exploring new business models and opportunities, bolder and more deliberate venture capital spending and leveraging data and analytics, among others.
Ayala is setting a foothold in fintech, e-commerce, logistics, industrial technologies and health tech, and plans to invest substantially in tech innovations globally to help bring the country at par with the rest of the digital world.
Ayala's investments in e-commerce and logistics have made it a key player.
Among Ayala's earliest digital investments was Zalora Philippines, an e-commerce fashion retail platform that capped off 2018 with over 100 million page views for the first time in its seven-year history and over seven million mobile app downloads.
In October 2018, Ayala spun off Zalora's in-house logistics capabilities into Entrego, now the country's fastest growing courier, express and parcel provider with 54 distribution hubs nationwide.