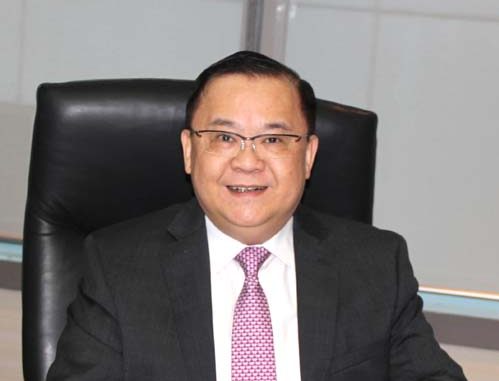 As president and CEO, Edwin R. Bautista's greatest fear is waking up one morning that the bank he has helped steer and nurture into one of the Philippines' most dynamic, profitable and innovative banks, has become irrelevant. That the McDonald's, Starbucks, 7-Eleven, Ministop or even Watson's outlet a block away from his high-perched, elegant and sprawling Ortigas office has overtaken its business.
To placate that fear, Edwin has launched what could be the most revolutionary transformation a local bank has undertaken – go digital.
To do that, it has been procuring and harnessing various kinds of technology—blockchain, robotics, AI. Also, UnionBank has aggressively poached from larger companies wizards of technology and the digital game, given them lofty positions and lucrative deals to convert the bank, from analog to digital.
"It is not just technology," clarifies Bautista, who has been with UnionBank since 1997, first as a senior vice president after hugely successful stints as a marketing whiz kid at Procter & Gamble, American Express International, and Citibank. "It's about people. Our culture at UnionBank is people first – our shareholders, our employees, our clients, our communities."
Transformation began internally. Employees had to be taught the innards of digital banking, how to do coding, how to execute, how to deal with customers, and how to stop or blunt hackers. So UnionBank invited among the best minds on the topic to lecture employees.
It dawned on UnionBank that to expand the bank, you don't need to build brick and mortar branches, because later, if not sooner, people will simply refuse to visit their bank.
Thus, the bank has only a third to half (304) of the branches of the three leading banks BDO (1,103), Metrobank (704), and BPI (821). Management thinks branches will soon become irrelevant. Because the smartphone can do just as well, and most probably at lesser cost, what a regular branch does. So UnionBank is repurposing its employees, as marketeers of its services, from bank tellers and managers. They become loans and investment officers and financial advisers.
"Everything is on a smartphone. People are used to downloading apps or e-commerce and streaming movies. That's the lifestyle of today and it will be so in the future," Bautista figures. "We need to weave a complete digital flow from your device to the bank to the clearing house back to different banks back to the phone all in that one click."
Not going to a bank at all will actually benefit the depositor or customer. Because such a visit usually costs money. "A bank is a high transaction cost because of the number of tellers needed," explains Bautista. The challenge then is to capture the customer who is not visiting his bank and service him. Otherwise, he will go to a remittance center, a 7-Eleven, a Starbucks, a McDo, or a drug store to do his banking.
UnionBank has delivered on the digital promise. It has reaped awards and profits for the effort.
UBP posted a net income of P8.4 billion in 2017, compared to the P10.1 billion recorded last year. Excluding one-time gains from securities trading, core income was up by a robust 30.4% to P8.2 billion from P6.3 billion in 2016.
Return on equity was 12.4%, and return on average assets was 1.5%. UnionBank also continues to be one of the most cost-effective banks in the industry with cost-to-income ratio of 53.9%.
Total assets reached a new high of P622.1 billion up 18.6%. Total loans grew 19.4% year-on-year to P281 billion. UnionBank's loan portfolio is well-diversified, with consumer loans accounting to more than one-third of total loans. Total deposits rose 18.9% from a year ago to P447.6 billion.
"We are pleased to continue making major headway on both our business and digital transformation strategies. Financial results were driven by recurring income across all customer business segments," exults Bautista.
Simultaneously, reports Bautista, we were able to attain milestones on the user experience front:
1) EON Digital Bank as the first with selfie-banking feature in Asia;
2) The UnionBank mobile app and web versions with enhanced transactional capabilities; and
3) The launch of our concept branch, "The Ark", that introduced the "future of branch banking" in the country. Amid investments in various digital initiatives, the Bank continues to sustain very solid profitability results."
For 2018, Union Bank sees profits rising further.
This year will likely be 'very good' for the bank, driven by continued loan and securities growth and expansion of the balance sheet, says Bautista.
Total resources could easily hit P700 billion this year, he says. Last year, up from P622.1 billion in 2017.
Lending activities are projected to sustain a growth of 25% this year, much faster than the industry pace. In December, bank lending in the country grew by some 19%.
Consumer and small businesses now account for 70% of UnionBank's revenue but by volume, they account for slightly less than 50%. The higher revenue contribution reflects the higher margins from these segments, Bautista said.
At the Asia Corporate Excellence & Sustainability (ACES) Awards held in Singapore last November 2017, Union Bank of the Philippines (UnionBank) was named the "Best Company to Work For".
According to International Banker, the bank in recent years, "has emerged as a market leader in financial services, a pioneer in banking technology and a corporate institution that repeatedly and convincingly demonstrates genuine care for the wider community. Among numerous contributory factors, the bank has placed teamwork, leadership, community and perhaps most of all, innovation at the top of its priority list. As a result, the bank is now reaping rich rewards and record-breaking success."
International Banker notes that UnionBank is striving to be a Top 3 bank over the next few years across a range of financial metrics, including return on assets, costs and profitability; and in order to get there, it is making two sweeping "big picture" enhancements to its business model.
The publication reports that the goal of UnionBank's metamorphosis is to reshape the bank into a "technology company with banking utilities," in the words of Chairman and CEO Justo Ortiz.
As such, a root-and-branch overhaul of the bank's current technology capabilities is now firmly underway, as it seeks to almost completely revolutionize its digital-banking infrastructure.
The International Banker reports that a new position of chief technology and operations officer, and chief transformation officer, was created for Henry Aguda, a seasoned Telco and IT (information technology) leader and the gentleman who quickly came up with a new digital architecture that now crucially guides the bank's digital transformation in its current form. As such, under the experienced guidance of both Bautista and Aguda, UnionBank's aim to become a digital bank.
"The undeniable centerpiece of this transformation is the imminent opening of the bank's application program interface (API), which more than any other event will enable practically all Philippine businesses to more easily gain access to the ongoing financial-technology (fintech) revolution. Using IBM's Bluemix—one of the most sophisticated cloud platforms in the world—the opening of the bank's API will allow fintech companies to connect their own applications or platforms to UnionBank. In turn, this will allow UnionBank to effectively function as the operational "backroom" for these companies," reports the International Banker.
"Should a fintech company that is developing a specific application, for instance, suddenly find that its application explodes in popularity in a short space of time, it could be overwhelmed by managing the scale of this growth from operational and cost perspectives. By attaching itself to UnionBank's API portal, however, it is provided with the necessary backroom support to allow it to simply concentrate on the customer-facing, frontend of its business. The support provided by UnionBank, meanwhile, is likely to include such features as a payment gateway, which would allow it to collect and manage all the fintech company's payments, and other transaction-related duties such as the delivery of analytical reports."
UnionBank's approach to inclusive banking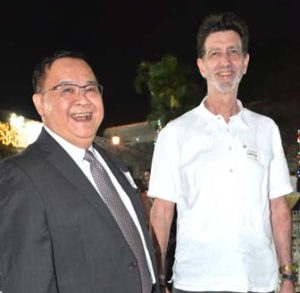 Justo Aboitiz Ortiz says UnionBank's mission is to fulfill dreams by enabling communities.
About 70% of Filipinos are unbanked, that is, they have no bank accounts and are not serviced by banks. A third of 1,500 towns in the Philippines have no bank branches. Globally, about two billion people are unbanked. Banks like UnionBank think the solution lies in technology. Such as the so-called blockchain.
One problem why billions have no bank accounts is regulation. The central bank and banks do not trust the ordinary Juan who in all probability has money or savings or a remittance. Because these people are not trusted, they must validate themselves as worthy human beings before they are serviced by banks. That is why the central bank has invented what is called KYC—know your client—a system of interviewing prospective bank depositors or borrowers to determine their background, their network, their reliability.
If you have been subjected to a KYC, sometimes, you know it is more tedious and invasive than being interviewed for a visa application.
UnionBank wants to help people with no bank accounts but want to avail themselves of the services of a bank – that is park their deposits, receive and send remittances on their behalf at minimal cost, and lend them money, and effect payments.
To do that, Ortiz explained, "We embrace emerging technologies like blockchain, like AI, like robotics that could be our path towards achieving our purpose at a cost effective way."
The blockchain process or algorithm is transparent, and immutable and thus produces accountability. The steps in blockchain are seen and clear to everyone and are immutable, meaning you cannot change it because to do so, it's like having to alter each document of which everybody has a copy.
UnionBank has raised five-fold the minimum amount a depositor must keep in his account as a deposit before he is penalized.
For depositors who don't want to keep a single centavo of minimum balance, they must engage the digital bank of UnionBank, called EON.
With EON, UnionBank claims to be the first digital bank in the Philippines.
One advantage of being digital with banking is that you eliminate human contact, the need to call or visit your bank to execute a transaction, like making a deposit or withdrawal, making a payment, or inquiring your bank balance, or making purchases. You can do that by yourself, with your computer or with your cellphone or while buying water at 7-Eleven, sipping coffee at Starbucks, or any place where you have access to wifi.
With the UnionBank's digital banking, the steps needed to make a check deposit, wait for it to clear and for you to use the cash, have been reduced, from 26, to just four. This means check clearing can take as short as 10 minutes and you can get the cash right away. In other banks, you may have to wait three days before you see the color of your money. That is one benefit of blockchain.
Blockchain
Ortiz thinks going digital thru so-called blockchain will help achieve financial inclusion and thus help society, the majority of Filipinos. "We feel that inclusive prosperity is an important goal that we need to actively involve ourselves in because financial transactions underlie all commerce. If there's more commerce done, if there's more prosperity by more people, then clearly we would benefit from it," he explaned.
"When we look at blockchain," Ortiz relates, "the first two things that we think about in the boardroom is decentralization and middlemen." He said: "We know that a lot of transactions from end to end, from producer to consumer, from service provider to service user including for banks, from savers to borrowers—if there are—many of these transactions have middlemen and the more middlemen they have. (the more) there's opacity, there's arbitrage, there's cost, costs that are not really contributory to the whole value proposition."
"Clearly the elimination of middlemen adds a lot of value to either the producer on the part of one side and to the consumer on the other side."
By the way, UnionBank now claims 90% of bank transactions are now digital, a reversal from 10%, just five years ago.
— Tony Lopez
Here is Chairman Justo Ortiz:
UnionBank's mission is to elevate lives, fulfill dreams and we do that by enabling communities.
And we know that there's a lot of discussions about how many unbanked there are, in the Philippines is 70%, emerging economies is about 54%, in the world that's about two billion people that are unbanked.
And as we try to proceed with our purpose we find that we came to the 2008 episode and now we have a huge load of regulations.
And those regulations have basically made it more difficult, have raised the hurdle to open accounts to maintain those accounts, and have made it very expensive to keep those accounts.
So, instead of furthering this goal, we're hoping away from it. So how do we figure it out? What can we do to make a difference to pursue? How can we continue being value- based and purpose-led in our decision-making, and go beyond compliance?
So we think that by embracing emerging technologies, like blockchain, like AI, like robotics, that these would be our path towards achieving our purpose at a cost effective way. Because that's what it needs to be.
Blockchain benefits
Blockchain presents certain opportunities to actually accomplish that. So we have a lot of work, in use cases, the security that it has, the transparency and immutability produces accountability and there's scalability issues and we're aware of that. But we think that they will get the resolved and clearly the smart contracts that exist.
Produce a foundation on which we think we can build a value-based, purpose-led institution and embrace the idea of continuing to take in customers.
In fact, our regular bank accounts now, we've raised the minimum balance by five times because of this cost and the regulatory hurdles but we have a digital bank that has no minimum balance requirement which is EON.
So we've resolved that by embracing technology. You can't even go to a UnionBank to get it. You have got to go to 7-Eleven or a Ministop or Lazada which is an eCommerce site.
The second thing we've talked about in the boardroom is more about society. We feel that inclusive prosperity is an important goal that we need to actively involve ourselves in, because financial transactions underlie all commerce. If there's more commerce done, if there's more prosperity by more people, then clearly we will benefit from it.
Inclusive prosperity
We also have a goal to participate in inclusive prosperity in an active way in the Philippines. It's not totally altruistic more specific benefits for us that can come automatically.
And when we look at blockchain the first two things that we think about in the boardroom is decentralization and middlemen. So we know that many of our institutions and an example I can give to graphically show these are land registry.
Globally, 70% of people are insecure in their land ownership. Because anything central even if its digitized is subject to corruptibility or even hacking, specially if it's digitized.
As opposed to a distributed system. So clearly a lot of infrastructure functions that we have, that are important to building trust and confidence in commerce in our society are not being held by centralization in all cases and maybe are better served by decentralization.
The other thing is middlemen. We know that a lot of transactions from end to end, from producer to consumer, from service provider to service user including for banks, from savers to borrowers—if there are many of these transactions, have middlemen and the more middlemen they have there's opacity, there's arbitrage, there's cost, costs that are not really contributory to the whole value proposition.
We as an institution feel that ourselves being disrupted and being participants in other industry verticals, which also can be disrupted by a blockchain, we think, because clearly the elimination of middlemen adds a lot of value to either the producer on the part of one side, and to the consumer on the other side.
Visa tie-up
So we've worked with Visa on a Visa blockchain. We were the first actually. We piloted in September last year and now they're bringing in the core banks globally.
And if we can get 16,000 financial institutions who are in the Visa rails to do a B2B service, so this is really for small businesses, to be able to deal directly as in importer of exporter globally directly with each other and instead of paying the Visa ad valorem fees that we pay as individual merchants, we go to a fixed fee regime and actually reduce the cost of doing business cross border which specially of value to the smaller businessmen.
Rural banks
We also are working together with Consensys on a Philippine project in Mindanao, in Surigao del Sur. We are trying to work with rural banks to put them on the blockchain, because the irony of things, is that, the rural banks are on-site in the communities, they're invested in those communities, they have stake in those communities, and they're the best avenue towards banking the unbanked.
And guess what, they are unbanked themselves. They are cut-off from the national payment system from the national fund transfer system, and they always have to go also thru middlemen.
And who are the middlemen? Commercial banks normally and universal banks. So we feel that if we can put the rural banks into a blockchain that they can now serve not only their communities who have become mobile themselves, we have a great OFW phenomenon in the Philippines, both cross border and domestically.
From there we probably can extend these to other institutions like cooperatives or even the sari-sari stores, which are our village stores. We can create inclusive prosperity and as a consequence of it, helps ourselves in terms of our business as a financial institution.
And that means getting involved in emerging technologies like blockchain specifically. We feel that there's a lot of hope going forward in embracing this technology as a bank.