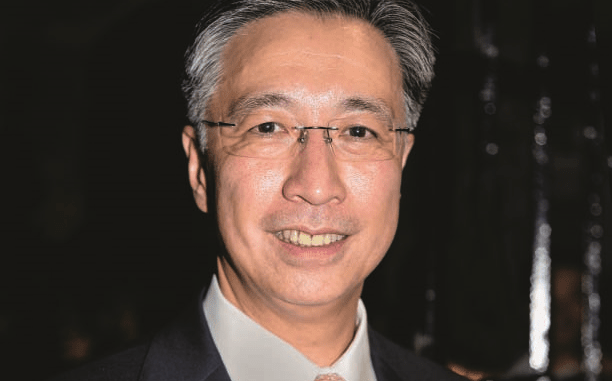 Topnotch banker Nestor V. Tan is the "Management Man of the Year" for 2019 of the Management Association of the Philippines (MAP).
Tan is the president and chief executive officer (CEO) of BDO Unibank, Inc., the Philippines' largest commercial bank.
He bested six other equally outstanding CEOs in bagging the coveted and prestigious award.
BDO Unibank had total assets, as of Oct. 3, 2019, of P3.1 trillion ($59.8 billion), the largest and up 7%; branch network of 1,300 (the largest), over 4,400 ATMs (the largest), and equity, as of June 30, 2019, of P350 billion (the largest and up 16% from a year ago); deposits of P2.399 billion (the largest and just steady); and loan portfolio of P2.096 billion (the largest and up 9%).
BDO is also the Philippines' most reputable bank, per Kantar TNS, one of the world's largest research agencies. Says Tan: "The quantitative study compared numerous Philippine banks in terms of overall reputation, favorability, trust, success, and product and service quality. We are honored to receive such a significant accolade, a direct reflection of BDO's relentless pursuit of standard-setting, client-centric service."
At the recent annual stockholders meeting, Tan reported: "We also invested in our digital infrastructure and capability. We complemented our physical branches with upgraded mobile and online banking services, enhanced our cyber resiliency, and developed a multi-year plan to move our operational capabilities to the next generation architecture."
Tan joined the BDO board in 1998. He is the son of a no-nonsense accountant who was rather severe on his sons all of whom are uniformly bright.
Nestor he finished commerce from DeLa Salle Manila and his MBA at Wharton. Prior to joining it, BDO had just as asset base of P13 billion.
Explosive BDO growth under Tan
Tan's presidency has been marked by explosive growth and major acquisitions and/or mergers with other banks over the years. They include: Dao Heng Bank in 2001, 1st e-Bank in 2002, Banco Santander in 2003, UOB Philippines in 2005, Equitable PCI Bank in 2007, GE Moneybank in 2009; Citibank Savings, and DB Trust, and Real Bank in 2014; largest rural bank, Mindanao-based with 78 branches One Network Bank in 2015, Diners Club and Generali Pilipinas Life in 2016, joint venture with Nomura Securities in 2016, and RB Pandi bank in 2019.
Prior to joining BDO Unibank, Tan was chief operating officer of the Financial Institutions Services Group of BZW, the investment banking subsidiary of the Barclays Group.
His banking career spans four decades and includes posts at global financial institutions, among them Mellon Bank (now BNY Mellon) in Pittsburgh, PA; Bankers Trust Co. (now Deutsche Bank) in New York, NY; and the Barclays Group in New York and London.
BDO began very small
BDO began as the smallish Acme Savings Bank in 1976, No. 19 among more than 35 commercial banks. When it acquired its commercial banking license in 1994, it had assets of only P13 billion.
BDO was the product of smart and bold visioning and the excellent management under Nestor Tan. Tatang's eldest, Tessie Sy Coson, is BDO chair.
"MAP Management Man of the Year" is the highest accolade given an awardee's peers in management and business. MAP has more than 1,000 CEOs of the land as members. In 50 years of the MAP, only 43 have made the grade to be so honored.
Aspirants for the plum are nominated who then are screened by a MAP screening committee which endorses the finalists to a board of judges, themselves outstanding tycoons and/or management men. The choice of the panel is then endorsed to the MAP membership in a general meeting assembled for the purpose.
In Nestor's case, he blazed thru the rigors of the screening and judging winning their unanimous nod each time. There were no objections when his name was announced as the winner on Oct. 23, 2019 during a jampacked meeting of the MAP.
Why Tan tops
Nestor Tan was chosen "Management Man of the Year" for the following:
1. Steering BDO to being consistently ranked by the global financial community as among the best-managed banks in the Philippines;
2. Transforming BDO into a full-service universal bank with subsidiaries in leasing, trust, stock brokerage, private banking, rural banking and insurance, among others;
3. His leadership role in the substantial contributions of the BDO Group to national development through job creation and income generation;
4. His contribution to the long-term development of a financial-literate citizenry by promoting financial inclusion, particularly among teachers, soldiers, OFWs and the Filipino youth;
5. Choosing to apply his international experience towards the development of the local banking industry;
6. Ensuring that the Filipino community receives efficient banking and financial services and for preparing a road map for the development of banking and the capital market in the future as President of the Bankers Association of the Philippines; and
7. Setting an example for Filipino professional managers through a track record of integrity, professional competence and strong leadership in his banking career.
Moving forward, Nestor Tan pledges to "continue to go after
the underserved and unserved markets. We want more Filipinos to enjoy the benefits of banking and to achieve that, we will bring the Bank to their communities."
MAP bestows on individuals in the business community or government for attaining unquestioned distinction in the practice of management and for contributing to the country's progress. The conferment of the award follows a thorough, stringent selection process.
Criteria
The criteria for the award include integrity, leadership, and management qualities; contribution to nation building and values formation; effective stewardship within the confines of the highest standard of business and management practice; among others.
The roster of "MAP Management Man of the Year" awardees includes: Washington Z. SyCip (1967), Geronimo Z. Velasco (1977), Henry A. Brimo (1978), Jose M. Soriano (1979), Cesar E.A. Virata (1981), Jaime V. Ongpin and Vicente T. Paterno (1982), Dante G. Santos (1983), Cesar A. Buenaventura and Roberto T. Villanueva (1985), Jaime Zobel de Ayala (1987), Ramon V. del Rosario, Sr. (1988), Jose B. Fernandez Jr. (1989), Raul T. Concepcion (1990), Oscar J. Hilado (1991), Alfonso T. Yuchengco (1992), Juan B. Santos (1994),
David M. Consunji and Rizalino S. Navarro (1996), Gabriel C. Singson (1998), Delfin L. Lazaro and Henry Sy, Sr. (1999), Oscar M. Lopez (2000), Tony Tan Caktiong (2002), Jesus P. Tambunting (2003), Rafael B. Buenaventura (2004), Manuel V. Pangilinan (2005),
George S. K. Ty and Jaime Augusto Zobel de Ayala II (2006), Jose L. Cuisia Jr. (2007), Antonino T. Aquino and Jesus P. Estanislao (2009), Lilia B. de Lima and Ramon R. del Rosario, Jr. (2010), Erramon Aboitiz (2011), Aurelio R. Montinola III (2012), Edgar O. Chua (2013), Albert F. del Rosario (2014), Amando M. Tetangco Jr. (2015), Teresita Sy-Coson (2016), John L. Gokongwei, Jr. (2017) and Fernando Zobel de Ayala (2018).
BDO is a member of the SM Group, one of the country's largest and most successful conglomerates with businesses spanning retail, mall operations, property development (residential, commercial, hotels and resorts), and financial services.
Although part of a conglomerate, BDO's day-to-day operations are handled by a team of professional managers and bank officers.
The bank has one of the industry's strongest boards of directors, composed of professionals with extensive experience in various fields that include banking, accounting, finance, law, risk management, and retailing/marketing.
BDO is the country's most profitable bank. It makes P3 billion in profits a month.
In the first half of 2019, BDO posted a P20.4-billion net income, up 53% from first half 2018, and the largest in the industry.
In 2018, BDO hauled in a record P32.7 billion in profits, up 17% and exceeding the target of P31 billion.
For 2018, Nestor Tan is proud that "we outpaced our competitors in most measures, from balance sheet growth to profitability, to asset quality ratios."
"We maintained our market-leading position in most businesses, and we continue to grow our market share as we expand to new markets."
Best reputation
BDO was also named the most reputable bank in the Philippines in a 2018 corporate reputation study released by Kantar TNS, one of the world's largest research agencies. The quantitative study compared numerous Philippine banks in terms of overall reputation, favorability, trust, success, and product and service quality. We are honored to receive such a significant accolade, a direct reflection of BDO's relentless pursuit of standard-setting, client-centric service.
According to BDO Chair Tessie Sy, in 2018, "we made good progress toward becoming our clients' preferred full-service bank and financial services company in every market that we serve."
She told stockholders: "We executed well on key strategic initiatives, broadening our market coverage in both urban and provincial areas, while continuing to invest in our digital capabilities. As a result, net income expanded to P32.7 billion on strong growth across various business segments. We also continued to lead the industry with P3.0 trillion in assets, P2.0 trillion in loans, P2.4 trillion in deposits, P328 billion in capital, and over P1.1 trillion in trust assets under management."
" BDO's reputation is a direct result of the culture fostered at the board level," said Sy. " Comprised largely of professional and independent directors who are highly distinguished individuals with a diverse base of knowledge and experience, our board of directors has contributed greatly to setting the strategic direction of the organization while firmly upholding the principles of strong and effective governance. Our Board is committed to implementing the best practices in corporate governance as it works towards the delivery of long term shareholder value. "
Tessie Sy vows to "continue to strengthen the BDO franchise through branch expansion and additional market coverage." Also, "we will also continue to create value via strategic initiatives aimed at financial inclusion, enhanced product and service capabilities, and an agile and secure digital platform. We remain committed to cultivating customer relationships centered on highly differentiated solutions as we pursue the vision to "become the preferred bank in every market we serve."
During 2019, Tan promises more of the same. He said in the BDO 2018 annual report:
"We will continue to go after the underserved and unserved markets. We want more Filipinos to enjoy the benefits of banking and to achieve that, we will bring the Bank to their communities.
"We will also continue to invest in life insurance. This is part of our commitment to customers to serve their varying financial needs, and to protect them and their assets against the unplanned. Given the rising affluence of Filipinos, we also expect this to be a new growth area in the coming years.
"Lastly, we will invest in and build business enablers that will provide us with the necessary competitive advantage to prepare us for new competitors, whether banks or non-banking institutions.
"We need to be agile and be able to keep pace with changing market and customer needs, wants, and lifestyles. We need to invest in technology and analytics to better understand and serve customers.
"We will continue with our financial inclusion initiative by going to new markets and expanding our network.
"We will establish partnerships where warranted. We will strive to achieve best-in-class delivery capability in all products offered to all segments of customers we serve."