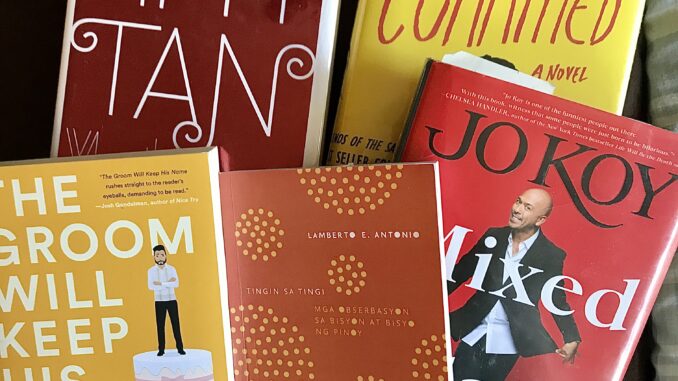 While the 2020 pandemic raged around the world, racists raged against Asians. Amid the abuse, Asian books surged in popularity.
The book-into-movie "Crazy Rich Asians" in 2018 signaled the worldwide bankability of Asians in movies and highlighted the influence of Asians in America and around the world. Asians no longer have to be typecast in martial arts or period pieces.
Though TV is still far behind, US publishers have since actively sought Asian authors to tell their story called "Own Voices" especially in children's books and adult biographies and essays.
There has been a spike in searches for asian books for kids of all ages. Asian American parents want their kids to read more about their heritage.
Historically, majority of US books published and praised are written by white American males. Asian books were a novelty to round out diversity in publishing and cater to Asian readers.
US publishers seek to counter the decline in readership by appealing to more readers, especially Asian American children who are culturally expected to read a lot. US readers are rediscovering decades-old Asian classics like Amy Tan's "The Joy Luck Club" and biographies of famous Asian entertainers.
Many Asian-American authors relate their second generation immigrant experience of coming to the US and trying to fit in. Usually they live in all-white neighborhoods where they are the only Asian kid who has to endure stereotypes and racism but tries to fit in either by becoming the star student or rebelling against expectations.
Majority of Asian American authors are from China and Korea, with a sprinkling from the Philippines, Japan, and Vietnam. While authors from India prefer to write about business and startups.
Why now?
Aside from the attacks against Asians in 2020, the police shootings of black Americans constrained educators to explain why racism is wrong and why we need to be tolerant.
Many parents also want to expose their kids to more diversity to develop their children's empathy and understanding of non-white races. In response, publishers came out with many picture books by Asian authors and parenting books to raise empathetic children or mixed race kids.
"Books have the power to build tolerance," writes education expert Hani Morgan.
Last March, iconic children's book author and illustrator Dr Seuss was deemed racist by a 2019 study. Cancel culture constrained schools, libraries, and bookstores to ban or remove the offending books. The Seuss company made a token purge of six least known books but retained their bestselling "Cat in the Hat" and its sequel. Parents and teachers are appalled that they let their children see these racist easy readers, which left publishers with a void to fill and a need to disprove their complicity.
The quest for social justice is largely driven by millennials, now 25-40 YO and likely married with kids. This independent generation broke away from the traditional values of work and security that Gen X and Baby Boomers sought.
Most millennials care about values and meaning. They're eco-friendly, socially conscious, and assertive. Their overwhelming numbers dictate trends and their purchasing power can make or break a business.
And right now, millennials care about race. Some of their kids are Gen Z, ages 6-24, or younger. Retailers know that kid consumption dictates majority of household decisions and expenses. So if parents want books on Asians and race, that's what publishers will give them.
Asian authors on the rise
It's about time. Only 6% of the US population report being Asian. The numbers are inaccurate as millions more are excluded when they decline to identify or just state they are non-Hispanic mixed race—even if they are half Asian. Legal residents are also not counted as Asian Americans.
Yet a visit to California, New York, Hawaii—and hospitals—show the proliferation of Asians.
There are 22.6 million Asian Americans dominated by the Chinese (except Taiwanese) at 5.1m, Indians at 4.5m, and Filipinos at 4m. These countries are among the most literate in the world and the top English speakers. They also read the most books.
Like movies and TV shows, books are readily available online and can reach all English-speaking markets. US publishers can no longer deny serving these billions of readers. Books are not bound by borders.
Asian presence is undeniable. Books, TV, movies, and all media should reflect this reality.
Readers' attention spans are shriveling as devices vie for clicks. Why read when you can just browse? Books as traditional records of history must include Asian voices if they are to catch the interest of majority of the world.