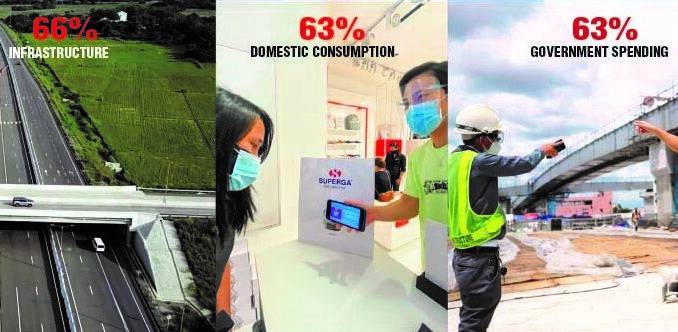 Fifty-seven percent or six of every ten Philippine CEOs remain confident about their industry's growth over the next 12 months, according to a survey conducted by the Management Association of the Philippines and the professional services firm PricewaterhouseCoopers (PwC).
But it will take two to three years for the economy to recover from the current recession which is the worst in the Philippines' history.
In the first quarter 2020, the economy slumped by 0.7%. This was followed by a 16.5% drop in economic production, setting the stage for a prolonged and uncertain recession. The 16.5% is the worst quarterly drop in economic output in history.
Still, the CEOs (about 161 of them) in the MAP-PwC survey are optimistic about their company's growth in the coming years.
However, more CEOs are confident about their organizations' longer term growth considering the period it will take for the economy to recover.
The three growth drivers
According to most of the CEOs polled, infrastructure development, government spending, and domestic consumption will be the main key growth drivers of the country's economy in the next 12 months. They will never forget 2020 which brought about the two worst crises of our lifetime—the COVID-19 pandemic and the worst global recession.
In response to the pandemic, the Duterte administration imposed one of the world's earliest lockdowns. The lockdown also became the longest and most strict on the planet. But it did not produce the desired result – which was to contain the pandemic, but it resulted in martial law conditions in most part of the country, without Duterte declaring martial law.
Ten days before the President imposed the lockdown on March 15, 2020, there were only two COVID cases confirmed in the Philippines. Today, the Philippines is well on the way to having 300,000 cases – the most and the worst in the entire ASEAN, and outside of India, Pakistan and Bangladesh, the worst in the whole of Asia.
The Philippines is the epicenter of the coronavirus outbreak in Asia. The Philippines is No. 21 in the world in number of COVID cases, behind only by a few thousand cases, from Italy, the original epicenter of the pandemic in Western Europe.
READ FULL ARTICLE HERE: