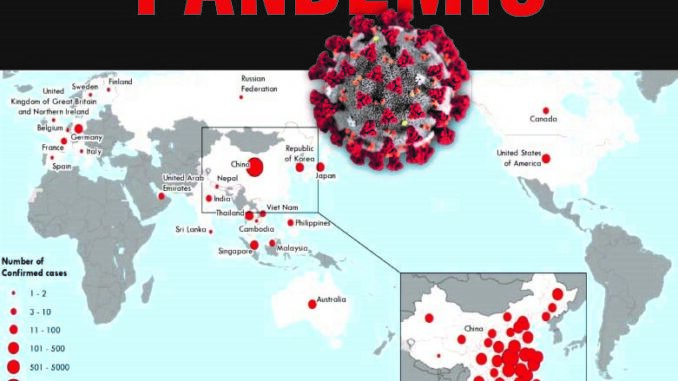 Welcome to the age of epidemics and pandemics.
An epidemic is the widespread occurrence of an infectious disease in a specific community. Pandemic is when that disease leaps from country to country, continent to continent. When nearly the whole earth is covered, then it becomes a global pandemic, of course. The online dictionary says if a virus appears in two continents, it is a pandemic. An example of an ancient pandemic: Corruption.
The new coronavirus (aka 2019-nCoV; Wuhan flu in my language) has leapfrogged from Hubei province in China to the entire China and its territories, Hong Kong and Macau, then on to the rest of Asia, including Taiwan, South Korea and Japan, before jumping to Europe and North America. The fear is that nCoV could hurdle up to Africa and to the rest of the Americas. Then we have a truly global pandemic. nCoV has circumnavigated the globe faster than Portuguese explorer Ferdinand Magellan and his party did in 1519 to 1522.
Should we be worried?
A pandemic simulation: 65M died
Well, on Oct. 18, 2019, two months before nCoV mutated from animals to humans in Wuhan, experts gathered by the Bill and Melinda Gates Foundation, Johns Hopkins Center for Health and Security, and the World Economic Forum had a pandemic simulation called Event201 in New York. They imagined a virus called CAPS which started with pigs in Brazil, infected people across the globe within six months and by the 18th month, had killed 65 million people and triggered a global financial crisis.
"The next severe pandemic will not only cause great illness and loss of life but could also trigger major cascading economic and societal consequences that could contribute greatly to global impact and suffering," declared Event201.
"Given the continual emergence of new pathogens, the increasing risk of a bioterror attack, and the ever-increasing connectedness of our world, there is a significant probability that a large and lethal modern-day pandemic will occur in our lifetime," Bill Gates said in 2018. "History has taught us there will be another deadly global pandemic," Gates said.
Says Event201: "In recent years, the world has seen a growing number of epidemic events, amounting to approximately 200 events annually. These events are increasing, and they are disruptive to health, economies, and society. Managing these events already strains global capacity, even absent a pandemic threat."
Ebola epidemic of 2014-2016 in West Africa infected more than 28,000, killed 11,000, and collapsed local health systems before it fizzled out.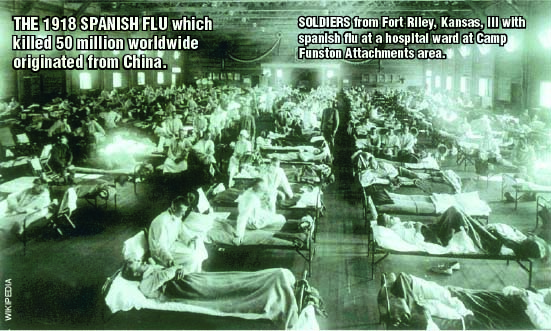 Spanish flu killed 50 million
In 1917-1918, Europe imported 140,000 Chinese workers to do wartime manual duty for French and British troops. The troops, and the rest of Europe and America, were devastated by what was called Spanish flu (since Spain was not at war, it was the only country reporting freely on the world's greatest modern pandemic; hence, the term Spanish flu for the deadly pneumonia. The capital city of Madrid was decimated. Even King Alfonso XIII fell ill).
Just like what China did initially for the novel Coronavirus, the terrifying early reports of the Spanish flu, even as soldiers collapsed, "their lungs filled with bloody fluid", and "choked with pinkish froth as they gasped for their last breath," reported the History Channel.
At this writing, noon of Feb. 6, 2020, nCoV has infected 24,554 people in 28 countries or economies. China leads in cases – 24,363, including Hongkong 18; Macao 10; and Taiwan 11. China also leads in number of deaths: 491, including one from Hongkong. WHO includes Hongkong, Macao and Taiwan as part of China.
Outside China and territories, confirmed cases are 191 in 24 countries.  The Philippines claimed the first nCoV death outside China, 1.
Confirmed cases by country: China 24,363; Japan 33; Thailand 25; Singapore 24: Republic of Korea 18; Australia 13; Germany 12; United States 11; Taiwan 10; Macau, Malaysia and Vietnam 10 each; France 6; UAE 5; Canada 5; India and the Philippines 3 each; Italy, Russia, and UK, 2 each; and Cambodia, Belgium, Finland, Nepal, Spain, Sri Lanka, and Sweden, 1 each.
nCoV is now present in four continents –Asia, Australia, Europe and North America, leaving only Africa, Antartica and South America as possibly next frontiers.
So far, 38 airlines from 32 countries have suspended or stopped flights to and from China, most of them till the end of March 2020.
The five biggest airlines – Delta, American Airlines, Lufthansa, United Airlines, and Air France-KLM lead carriers which have stopped service to and from China. The five carried 828 million passengers in 2019.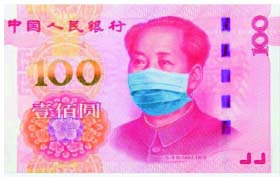 Some 131 million Chinese tourists travel overseas. They spend $257.7 billion a year, the largest. The US is a poor No. 2, $135 billion. Imagine if 100 million Chinese tourists, who each spends on the average $1,961, cannot fly for six months (my estimate of the nCoV duration), that will be a loss of $98 billion from overseas Chinese tourism. In 2019, the Chinese were the second largest number of tourists in the Philippines, 1.6 million.
The previous pandemic, SARS (Severe Acute Respiratory Syndrome), which ran in 2002-2003, caused at least $40 billion in economic toll. Compared with nCoV's possible economic wreckage, $40 billion could be loose change.
China is the world's second largest economy in nominal GDP or total output of goods and services, with $14.14 trillion, 16.3% of the global GDP of $86.6 trillion.
In purchasing power parity or what its currency can buy in equivalent local goods, China is the biggest economy, $27 trillion.
Since 1978 when its economy opened up to the world, China has grown by 10% per year, rescuing 850 million from poverty. It is today a middle income country, with each Chinese earning an annual average of $10,000. "China's growth is highly exceptional, as most countries revert to their mean growth after 10 to 15 years of rapid growth," gushes the World Bank.
China's feverish growth was anchored on three things, according to the World Bank: resource-intensive manufacturing, exports, and low-paid abundant labor. In recent years, that formula has stopped working because of declining labor force growth, slowing productivity, an aging population (average age will rise from 38.9 to 43.3 by 2030; average age of the Filipino: 24); huge damage to the environment; trade tensions; and rising global protectionism.
The latter two factors, trade tensions and protectionism, will contribute to slowing China's growth to below 6% this year, without nCoV. With nCoV, Oxford Economics has reduced China's 2020 growth rate to just 5.6%, from 6.1% in 2019.
Even before nCoV, China was already suffering from excess industrial capacity, especially in ferrous and non-ferrous metals, chemicals, and transport equipment. It has an excess of 150 million tons of crude steel and 800 million tons of coal, per World Bank data.
China is the world's factory. It accounts for 27% of total global manufacturing and 23% of global agricultural production. China's share of global manufacturing value added increased from 7% in 2000 to nearly 27% in 2015, the largest increase among all countries.
"China is a dominant global manufacturer, with a strong and broad manufacturing base offering ample scope for product and process innovations to drive future productivity gains," says the World Bank in a special report. "China's abundant labor supply, deep economic reforms in the 1980s and 1990s, and accession to the WTO in 2001 all helped to catalyze its development into the "world's factory," with multinational corporations, drawn to its low-cost labor and extensive transportation infrastructure, seeking to set up subsidiaries as export platforms."
Also, says the World Bank, "China is increasingly important to global value chains. Its export products have be- come more sophisticated, with the share of high-technology manufactures in China's exports growing from next to nothing in 1980 to around 30% in 2017."
According to the bank, China's spending on R&D accounts for 20% of the world total, second only to the United States. Its number of patents granted annually for inventions increased from 68,000 in 2007 to 420,000 in 2017, the highest in the world. The bank adds: "China is also a hotbed for venture capital in search of the next technology, raising approximately $110 billion in the decade, surpassed only by the US."
The Middle Kingdom still has room for growth. Says the World Bank: "China's next transformation is well under way, and a new economy is emerging rapidly. Chinese firms have developed outstanding manufacturing capabilities, and the value added in high- tech manufacturing is now second only to that of theUS."
"China is leading or closing the technology gap in e-commerce, fintech, high-speed trains, renewable energy, and electric cars. McKinsey ranks China among the top three investors in fintech, virtual reality, autonomous vehicles, robotics, and big data. Alibaba, Didi Chuxing, Huawei, and Tencent are already operating at the global technology frontier," the World Bank notes.
The world will grind to a halt
Imagine then if China stops producing  manufactured goods for the world or constricts its agricultural output for six months, just because its executives, workers,  and farmers cannot go to their offices, factories or farms for fear of nCoV virus.  The world will probably come to a halt.  For many years, China accounted for half of the expansion in global GDP.
But why is the world afraid of pandemics exported by China?
In 2019/20, some 19 million Americans have been sick with ordinary flu. About 10,000 of them have died. Now, 19 million is almost 6% of US population, meaning six of every 100 Americans have a flu or one in every 17 Americans has a flu.
Put another way, in a room, if there are 17 Americans, chances are one will have a flu. If there are 100 Americans, six will have a flu. In the same room, if there are 17 Chinese, chances are none has nCoV. Even if there are 100 Chinese, chances are none has nCoV.
Yet, the Chinese are banned almost everywhere in this world. And the Americans are always welcome everywhere, except perhaps in Iran and Iraq.
President Duterte has a word for that kind of attitude: Sinophobia.  Or xenophobia.
Gov't downplays economic impact  of nCoV, Taal eruption, swine epidemic
President Duterte's economic managers have downplayed the combined economic impact of both the novel coronavirus (2019-nCoV) or the Wuhan flu, the Jan. 12 Taal Volcano eruption and its ashfall, and the African Swine Fevers (ASF) devastating piggery in the countryside.
"While these developments may dampen our growth somewhat, domestic tourism is expected to increase as more people would likely prefer to travel within our borders, thus boosting domestic consumption. With our 'Build, Build Build' program firing on all cylinders this year, complemented by a benign inflation rate and a stable monetary policy, we expect the economy at large to sustain its momentum," Finance Secretary Carlos Dominguez told newsmen and a Senate committee hearing on Feb. 4, 2020.
The leader of Duterte's economic team assured that "the Philippine economy would be able to sustain its momentum of growth this year, despite the challenges posed nCoV, Taal, and ASF.
The DOF chief said "the economic team stands by its target of attaining a gross domestic product (GDP) growth rate of 6.5% to 7.5% this year."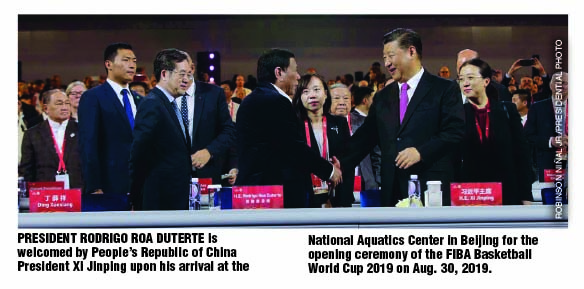 "While these developments might slightly restrain our economic expansion, these threats are not enough to force a dramatic reduction in our growth estimates," said Dominguez, during the Feb. 4 joint hearing of the Senate committees on health and demography, and finance, with Sen. Christopher Lawrence Go, chair of the Senate health and demography committee, presiding.
The nCoV outbreak is still on its early stages, Dominguez said, "it would be difficult for the economic team to estimate its potential economic costs at this time."
"The virus has limited local transmissions outside China," the DOF chief said. "A significant impact on the economy will most likely be centered in the tourism sector. The travel and tourism industry around the globe is taking a hit as a result of the various levels of travel bans imposed by national governments and of voluntary decisions of airlines to cut flights to and from China."
The Philippines may also suffer a short-term slight decline in exports, particularly in the sale of electronics and auto parts, because of a possible disruption in the global supply chain as a result of the temporary factory closures in China, which is the country's top trading partner, he confided.
"Incidentally, our top imports from China such as steel, machinery and petroleum are products that do not seem to carry the nCoV virus, though we will continue to take all necessary precautions," Dominguez said.
Dominguez recalled what happened during the previous outbreaks of the Severe Acute Respiratory Syndrome (SARS), H1N1, and the Middle East Respiratory Syndrome (MERSCoV).
During the SARS episode, tourist arrivals to the Philippines dropped 1.3%, from 1.93 million in 2002 to 1.90 million in 2003.  However, tourism rebounded quickly the following 200.   Arrivals swelled 21% to 2.3 million visitors.
Tourist arrivals continued to rise until the H1N1 outbreak in 2009, the period when the global economy was reeling from the effects of the global financial crisis of 2008.
Thus, the financial crunch at that time could have had a larger impact on the downtrend in tourist arrivals, Dominguez concluded.
Meanwhile, during the MERS-CoV outbreak in 2012, Dominguez said the tourism sector also proved to be resilient.
Even with a slight decrease in tourist arrivals in 2003, tourism direct gross value added actually increased by 8.8%, said Dominguez, compared with 2002 because spending per tourist increased.
In recent years, the finance said the country's tourism direct gross value added has been rapidly rising, mainly because of a substantial increase in arrivals from China,
With current travel restrictions are in place for the health and safety of Filipinos, it is very likely that tourism direct gross value added will decrease this year, Dominguez conceded.
"It is still too early to ascertain the economic effects of these efforts to safeguard our people," he mused.
Dominguez said the Department of Tourism (DOT) has committed to continue aggressively looking for opportunities in partnership with all tourism stakeholders to sustain the gains of the tourism sector and will intensify the promotion of local destinations among domestic travelers.
The lockdown imposed by the Chinese government on Wuhan, the epicenter of the nCoV outbreak, which is also considered the hub of transport and industry for central China, could create some supply chain problems that will affect trade and industries in other parts of the world, Dominguez said, but "at this point, it is too early to estimate (its) full economic impact."
To address the possible temporary decline in the exports of electronics and auto parts, the Department of Trade and Industry (DTI) has committed to work closely with affected Chinese and China-based companies, which will be looking to strengthen their operations by adding a production site outside of China, Dominguez said.
At the Feb. 4 Senate hearing, Dominguez cited the "unprecedented effort" mounted by the Chinese government to contain the spread of the disease.
"We acknowledge the determined and comprehensive efforts of the Chinese government toward containing this virus," Dominguez said. "To date, the only death that occurred outside China has unfortunately happened here, although it involved a traveler carrying the virus directly from Wuhan."
On the part of the Philippine government, he said President Duterte has enforced a ban on travelers from China and its special administrative regions as what other countries have done, and has also ordered the establishment of a repatriation and quarantine facility.
As for the ASF outbreak, Dominguez noted that the government has been successful in intercepting contaminated pork imported from other countries through the Bureau of Customs (BOC)'s intensified anti-smuggling campaign and the Bureau of Animal Industry (BAI)'s heightened meat inspection efforts.
The Department of Agriculture (DA), has, to date, reported that the number of culled swine has reached 193,350, which led to a decline in hog production in 2019 by 9.5% compared to the preceding year.
While customs authorities have been intercepting the entry of contaminated pork like what it did recently with 25 tons of meat from Guangzhou, China, the DA has also been strictly enforcing biosecurity measures and setting up more quarantine checkpoints, as well as providing more disinfection facilities to manage, contain, and control the spread of the ASF, Dominguez said.
Meanwhile, Dominguez said that an explosive Taal eruption could still happen, and "unless and until this actually happens, we can only speculate on the full impact of this episode on the economy."
As of Jan. 20, the National Economic and Development Authority (NEDA) estimated total foregone income in the economic sectors owing to the eruption could reach P6.66 billion or 0.26% of the 2018 gross regional domestic product of the CALABARZON (Cavite, Laguna, Batangas, Rizal and Quezon).
Foregone income comes from agriculture and fisheries sector, services, and industry.
He said the DA and the concerned local government units (LGUs) are expediting the release of production support, agri-fishery aid and livelihood assistance, and cash or zero-interest loan assistance programs to the affected farmers and fisherfolk, as well as the implementation of the recovery and rehabilitation plans for the affected areas.