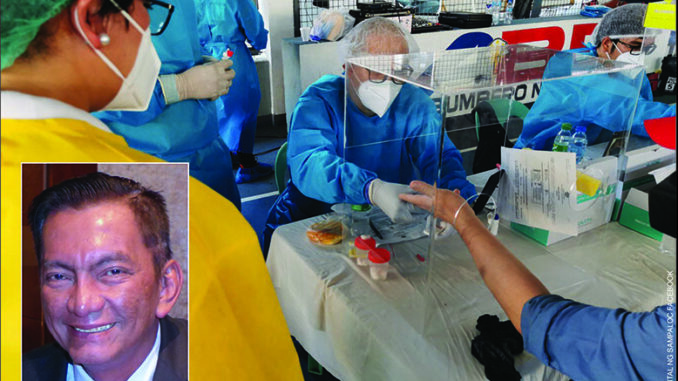 TIME TO HELP
When lockdowns in whatever form are phased out, hopefully, on May 30, the job of reviving the economy and reconstruction begins in earnest.
Revival is a herculean if not a revolutionary task.
On May 13, the government gave its bleakest outlook for the economy yet in 36 years, a contraction of between 2% and 3.4% in real terms, or minus the effect of inflation, for 2020 in the output of goods and services or Gross Domestic Product (GDP). The pandemic will cost the economy P2 trillion or 9.4% of GDP.
Lowest drop since 1984
A GDP growth decline of 2 to 3.4% is the lowest ever since the drop in growth rate of 7.4% in 1984, a year after the assassination of opposition leader Benigno S. Aquino Jr.. The slump of 1984 was the worst recession then in the country's history. That was solved by the People Power revolution of 1986.
After that, the next slowdown took place in the last quarter of 1998 and into the first quarter of 1999, when growth was negative 0.6%. The 1998 recession was solved mainly by a focus by President Joseph Estrada on agriculture whose output rose to its highest ever, by 6.2%, a growth rate never since duplicated or surpassed. Since then, agriculture growth has averaged 0.2%, a rate one-tenth of the annual increase in population. Hence, we have a perennial food shortage and gnawing food poverty.
This year's economic collapse would be the worst ever. In 1984, although credit stopped and production stopped, mobility of people was not stopped. So the underground economy surged, including the dollar blackmarket, and functioned mightily. It saved the day for many Filipinos.
Government needs help
During this year of the worst economic crisis ever, the government needs a lot of help. All hands must be on the deck and help steady the ship of state. Whether by design or by the exigency of the times, the captain may be wooly or wishy-washy at times but my God, he is the man in charge. So let's help him steer the ship. The waters are deep, dark and foreboding, making the journey perilous and in all likelihood ruinous.
President Duterte newly-minted economic planning secretary and NEDA chief, Karl Kendrick Chua, 41, has a master's degree and a doctorate, both in economics. So he knows his marbles, unlike the college dropout Estrada of 1998. Chua's solution is two-pronged – agriculture and digitalization which means installing the long-delayed National ID System.
Why agriculture
Agriculture makes sense. Food is half of an average poor family's expenses and half of Philippine families have been impoverished by the pandemic. Food still is planting rice. Rice or cereals is 15% of a household's consumption.
Planting rice in the Philippines is the most inefficient and highest cost in Asia, double that of either Thailand or Vietnam. There was a time it was better to raise the dollars and import the rice instead. But now, with reverse globalization, there is nothing like growing your own staple food. In a pandemic, nobody moves. So even if the imported rice lands at the ports, the customs people and the smugglers are not around to bring it out. And even if the imported rice gets out of the ports, the multiple checkpoints of quarantine will make sure it doesn't reach its destination. So what you have is higher prices of rice, and of other basic goods as well, because rice is a bellwether product.
Ten million IDs this year
Chua hopes to issue 10 million IDs to Filipinos this year. He will do in four months what his predecessor, Ernesto Pernia, could not do in four years, because of red tape, corruption and sheer inertia of bureaucracy.
Bangko Sentral ng Pilipinas Governor Ben Diokno has offered to print the IDs. BSP producing the IDs has three advantages: 1) the central bank has the printing plant and technology; 2) BSP is government so no need for time-consuming bidding; and 3) BSP has the banking system which has a network of 12,000 bank branches, from Aparri to Zamboanga.
The bank branches can be ordered to retail the generation of biometrics and photography for citizens' ID. People can walk into a bank branch of their choice, ask the teller or manager for an ID. Banks are very good at producing IDs like ATM cards and credit cards, on the spot, while being able to screen your persona, if you are a fraud or a robot. Such IDs can be synchronized with the holder's cellular phone number. There are more cellphones than people in the Philippines.
ID plus cellphone
An ID and a cellphone number when combined makes for a very good infra – for doling out cash for the poor or ayuda, and also for contact tracing to locate somebody who is sick or going to get sick during a pandemic.
So there, time to help the government. Forget about COVID-19 with 13,000-14,000 cases and 900-1,000 deaths. What is important are the lives and livelihood of 110 million other Filipinos.
If we all do a good job, annual real economic growth in 2021 will be a stupendous 7.1 to 8.1%, the best under Duterte, and the best in the history of this country.
— Tony Lopez
READ FULL ARTICLE HERE: