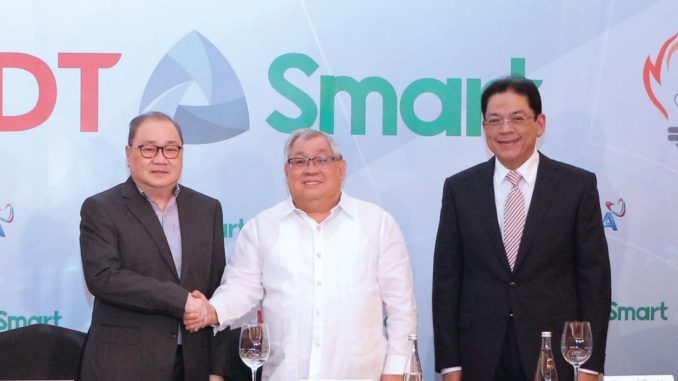 The nation's largest telephone company, PLDT, Inc., owner of Smart, and GMA Network (Channel 7), the largest television network, in terms of ratings and profits, have tied up to disrupt Philippine television. "It will involve the launch of game-changing innovations that will power the media giant's digital transformation," said GMA Network.
On Wednesday, Jan. 9, 2019, GMA Network announced that PLDT Smart Communications has signed up with GMA subsidiary GMA New Media Inc. for what was described as a "technology, content, and distribution agreement."
GMA and PLDT have not provided details of the joint effort. The idea, it seems, is that GMA will provide content and PLDT will provide the medium to distribute that content. In the media business, content has become king, making television just an adjunct of this new media business. TV has become a go-anywhere medium – from your bedrooms and living rooms into your cars, clubhouses, resorts, even inside your toilets.
The press statement said the partnership signaled that PLDT would play a key role in delivering GMA's media content across its nationwide telecommunications network.
The tieup enables GMA Network to access the best and largest landline and wireless consumer base in the land.
As of Sept. 30, 2018, PLDT had 55.62 million prepaid cellular subscribers plus another 2.4 million postpaid subscribers.
PLDT also has1.859 million line broadband subscribers, 195,015 wireless broadband subscribers, plus 2.778 million landline subscribers.
For its part, GMA Network has a TV audience of 23.85 million. About 17.1 million of an estimated 22.5 million households in the Philippines have TV. On the other hand, 70% of the population have a mobile phone.
With PLDT's assets, television instantly becomes digital because you need wireless technology to deliver content. Along with TV shows and news programs, wireless technology also delivers data, on top of regular texting, voice, and image delivery. "This partnership is a clear statement that we are welcoming disruption and embracing digital with open arms," GMA Network chair and CEO Felipe L. Gozon said in the statement.
"By riding the wave of disruption with PLDT and Smart as partners, we will not only upgrade the quality of content we are producing but we are also setting the stage for a new age of digital television," Gozon pointed out.
GMA's tie-up with PLDT is significant because the latter operates TV5 and has a new TV setup called One—the functional merger of TV5, Philippine Star, and Businessworld.

GMA's linkup with PLDT puts one over rival ABS-CBN which has what is called TV Plus—the service that provides television programs for free, wirelessly, using satellite technology captured by a digital box which is sold for P1,500 per unit. TV Plus has sold over one million units.
For GMA, Smart and PLDT will sell GMA's digital connector box which will be the size of a USB and can be attached to the TV set or anywhere it can receive a signal. It is called Dongle and will be sold for only P500 per unit.
"You can watch our programs thru your cellphone, laptop, PC, wherever," gushes Gozon. "It's revolutionary. We are going to sell millions."
Gozon has demonstrated the unit to big advertisers like Unilever and P&G. "They are very excited," notes Gozon. Peso for peso, especially for political ads, Gozon says TV provides the best value for ad money.
"As we transform our business from being a legacy telco into the premier and most trusted digital enabler in the country, this partnership will enable us to power GMA's digital pivot and help deliver to our millions of fixed and wireless subscribers GMA 7's unique and compelling content, as well as exciting new digital experiences to more Filipino families," PLDT chair and CEO Manuel V. Pangilinan said.
TV stations are required to go digital, by 2023. The National Telecommunications Commission expects 95% of all households to have access to digital TV by then. At present, half of TV households are already digital.
"This partnership is a clear statement that we are welcoming disruption and embracing digital with open arms. By riding the wave of disruption with PLDT and Smart as partners, we will not only upgrade the quality of content we are producing but we are also setting the stage for a new age of digital television," said Gozon.
The question now, wonders Gozon, how do you monetize a digital frequency? "If I solve that, I would be awash with millions."
At the signing ceremony were: Gozon, Pangilinan, GMA Network President and COO Gilberto R. Duavit, Jr.; GMA Network Executive Vice President and CFO Felipe S. Yalong; GMA Network's Executive Committee Vice Chairman Joel G. Jimenez; NMI President and COO Judd Gallares; and NMI Senior Vice President and General Manager Dennis Caharian.
Representing PLDT and Smart were Oscar Enrico A. Reyes, SVP and Head of Consumer Business–Market Development; Ernesto R. Alberto, EVP and Chief Revenue Officer; and Pangilinan.
In a recent column in BizNewsAsia, Ivy Lopez said "With the influx of online and TV choices, global consumers can watch shows and movies anywhere from any connected device. There is the video-streaming leader Netflix, followed by YouTube, premium cable TV, network TV, and video-on-demand (VOD)."
She wrote: "Netflix has upended traditional viewing habits of either going to the movies or watching at home. For a $10 unconditional monthly fee, viewers can watch on their connected phone, devices, computer, or TV. Subscribers can cancel at any time and this puts the pressure on Netflix to come up with guaranteed engaging content. Unlike HBO, which fills hours with B movies and reruns, Netflix only has shows that audiences want to watch and actually watch.
"Netflix has nimbly evolved with the video times. It began in 1997 as a $0.50 cent mail-in DVD rental without late fees, which quickly killed video rental giant Blockbuster. Then it quickly became a DVD subscription service. In 2007, Netflix added streaming video and VOD that viewers can watch from their phones and devices, which likely led to more cable cutters. Netflix quickly expanded outside the US and now produces its original movies and shows in 21 countries. It also translates foreign shows for US audiences."
Netflix has become the world's largest movie production company. Its 2018 movie budget: $13 billion, more than any other movie company.
Gozon is understood to be seeking a tie-up with Netflix, "We can produce for them (Netflix)," says the GMA CEO.
Producing content costs a lot of money. "Actors charge a hefty fee," Gozon reckons, "they even want (revenue) guarantees."
At the moment, Netflix is still scaling up its business. So profit is not a priority-yet. It began in 1997 as a DVD rental business. It started to gain traction in 2017, using monthly subscriptions averaging $10.
By third quarter 2018, Netflix had 137 million worldwide subscribers.
Gozon has been at the helm at GMA Network for 18 years—making it the most profitable, most admired, and most credible network in the land in 17 our the 18 years.
It even became the Best Television Station in Asia.