Edgar "Injap" Sia II's DoubleDragon is the Philippines' fastest growing property company—in revenues, profits, and acquisitions.
Less than three years from its listing, by March 2017, DoubleDragon became more valuable and a more desirable stock than its much larger and older rivals.
In capital gain yield to investors, DD is the second best after Henry Sy's SM Prime. Barely 8 years old, DD clearly now is in the Big League. It is disrupting businesses once dominated by the Big Boys— malls or retail leasing, office space leasing, hotels, and even a new area, the wholesale rental of factory buildings and warehouse sites.
DoubleDragon Properties Corp. is a narrative of unprecedented growth and sharp focus. And if you believe investors and analysts, it is the best company to invest in—today and in the coming years.
In 2014 net income was only P100 million plus. This rose last year to a whopping P1.4 billion. By 2020, profits will hit P5.5 billion.
In market value, between end-December 2015 and today (Oct. 9), DoubleDragon has appreciated by a whopping 78.9%. Your P1,000 invested in December 2015 would be worth P1,789 today.
Compare that capital gain to those of DoubleDragon's bigger and older listed rivals during the same 21-month period – Henry Sy's SM Prime 59.6%; the Zobel-Ayala family's Ayala Land 24.5%, Andrew Tan's Megaworld 24.23%, and John Gokongwei Jr.'s Robinsons Land, a measly 5%.
DoubleDragon's investors seem to be seeing something they don't find in other once venerated real estate companies, except SM Prime. They want to cash in on DoubleDragon's enormous potential for phenomenal growth and the equally huge profits and market power that its progress will invariably trigger.
Leader in four areas
In three years, DoubleDragon wants to be the leader or No. 1 in four major areas of real estate – community malls or retail leasing, office leasing, hotels, and industrial leasing.
DoubleDragon's aim is to be one of the leading property players in the country with the best performance in recurring revenue or income from operations.
DoubleDragon wants to be the Philippines' largest mall developer and owner—100 in five years or until 2020. So far, the company has opened 23 malls and is building 37 more. It has bought the one-hectare chunks of land for 63 malls.
In office rental business, DoubleDragon has lined up 327,000 square meters of space, under two major projects—the DD Meridian Park, and the Jollibee Tower.
Owned 70% by DoubleDragon, DD Meridian will have 280,000 sqm of leasable space in the Manila Bay area, Pasay City. With 90% completion, the first phase will be completed in the fourth quarter 2017, the second phase in 2019.
DoubleDragon's rivals are not sleeping on the job though. Megaworld targets 1.0 million square meters of office space – this year. Megaworld, however, has been doing business since 1989 while DoubleDragon is a complete newcomer.
Half-finished Jollibee Tower is a Grade A 41-story commercial and office tower with 47,909 sqm of leasable space in the heart of bustling Ortigas central business district. Completion date for the joint venture between DD and Jollibee Foods Corp. is 2018.
5,000 hotel rooms in 2020
On a separate front, DoubleDragon wants 5,000 rooms under management in three years. That will make the barely eight-year-old company one of the three largest hotel operators in the Philippines, in league with Andrew Tan's group and that of taipan Henry Sy. Injap says all 5,000 rooms will be completed in three years, more than 800 are already operational. Tan's Alliance Global wants to ramp up the number of its 12,000 hotel rooms by 2020, from 2,393 at present. The Ayala group operates 2,477 hotel rooms. SM Group has about 1,510 hotel rooms at present.
Looking for factory sites
DoubleDragon has made a recent foray into renting out factories thru its wholly-owned CentralHub Industrial Centers, Inc. (CHIC), starting with a 6.2-hectare land inside the Luisita Industrial Park in Tarlac. Four more sites are being acquired, in the rest of Luzon, Visayas, and Mindanao.
With industry reviving feverishly, there is suddenly a severe shortage of factory sites, especially of 100 or more hectares category as local companies expand and multinational companies move their manufacturing bases from China, Thailand, Malaysia and other parts of the world, to escape rising wages, rising costs, and climate changes, and tune in to the demographics of the Philippines which is now a middle-income country with per capita income of $3,500. Commissary and logistics are the next wave of business and DoubleDragon has the first mover advantage.
Owners of DoubleDragon
Three taipans own the company –Injap Sia II, Tony Caktiong, the Philippines' fast food king and largest restaurateur, and Henry Sy Sr., the country's richest individual, thru his holding company, SM Investments Corp., the nation's largest and richest holding company.
Injap and Caktiong together own 70% of DoubleDragon. Henry Sy's SM Prime owns a third of DoubleDragon's community malls subsidiary. A fourth taipan, potato chips king Carlos Chan is a joint venture partner in DoubleDragon's hotel business.
Injap owns 37% of DoubleDragon thru his personal holding company, Injap Investments. Caktiong owns also 37% of DD thru Honeystar Holdings Corp. which also has controlling interest in Jollibee Foods Corp., the nation's largest fast food company or quick service restaurant operator.
The DoubleDragon name comes from the year of births of its two main owners. Injap was born in 1977, a Dragon year, while Caktiong was born in 1953, also a Dragon year.
Fastest growing company
In the last five years, DD has been the fastest growing real estate company in the Philippines, in terms of revenues, profits, and property acquisitions.
Despite being a newcomer to the property game, DoubleDragon early this year even became more valuable than Andrew Tan's Megaworld. On Feb. 13, 2017, DD had a market cap of P122.48 billion, P1.28 billion more than the stock market value of Megaworld of P121.2 billion on the same day.
In February 2017, Injap was worth $908 million at the peso-dollar rate of P49.90 and his DD ownership of 37%. On Oct. 25, 2016 when DD's stock price reached its high of P59 a share, Injap's ownership was worth P50.135 billion or $4.04 billion at the peso-dollar rate of P48.18.
Today, with the dollar at P51.11 and Injap's DD's holdings worth P37 billion, his networth in dollars is back to earth at $705 million.
March 2017: DD was worth P124B, Megaworld P109B, Robinsons Land P94B
Despite having been listed only in April 2014, DoubleDragon (founded in 2009) exceeded the market values of its two much bigger and older rivals. DD was worth P123.8 billion on March 30, 2017—a good P14.55 billion more than Megaworld's P109.25 billion, and a great P29.67 billion more than Robinsons Land's P94.13 billion, on that day.
Megaworld was founded in 1989 (28 years ago) and listed in 1994. Robinsons Land was founded in 1980 (37 years ago) and went public in 1989. Both were upstaged by a company only eight years old and had been listed in the market for barely three years.
Sentiment goes for the newcomer
What does this mean? DD seems to be a sentimental favorite of investors, what with the gilded names behind it – Henry Sy, Caktiong, Sia, and Carlos Chan. Investors also seem to be on the lookout for market leaders and innovators, companies who disrupt their industry sectors because of their focus, business model, and powerhouse backers.
In December 2015, DD, with market cap of P54.4 billion, was less than half of Robinsons Land (48.57% of its market cap of P112 billion), and of Megaworld (39% of P137 billion). In 15 months, DD became more valuable than the two.
As of October 9, this year, however, DD's market value (P97.32 billion) seems to have come down to earth. It became 91% of Robinsons Land's P106 billion, and 57% of Megaworld's P170 billion.
From March 31, 2017, Megaworld's market cap has risen by 55% or P60.59 billion, from P108.93 billion to P165.52 billion by Oct. 9, 2017, while DD's fell 19% or P22.6 billion, from P119.58 billion to P96.96 billion during the same period.
Why DD is popular
What accounts for DD's spectacular market performance? "Maybe, DoubleDragon is in hyper growth stage and not seen as a mature company," says Sia.
This year, DD has ramped up its target leasable space to 1.2 million square meters, from 1.0 million sqm originally, by 2020.
It has opened 23 CityMalls in what Injap calls Tier2 and Tier3 cities—urban areas with a population of 500,000 or less.
Competitive strengths
DoubleDragon is predominantly a developer and owner of a portfolio of investment properties with a total leasable area of 140,681.6 sq. m. as of June 30, 2017.
DoubleDragon continues to ramp up its pace of growth and widen its presence and deepen penetration across the Philippines, with plans to increase its portfolio's leasable area to 1.2 million sq. m., spanning across the retail, office, hospitality and industrial segments by 2020.
DoubleDragon expects to have a business model which is expected to derive a significant majority of its revenues from recurring income streams. For the six months ended June 30, 2017, 29% of its total revenue is contributed by the retail and hospitality business segments.
CityMalls
As of Oct. 23, 2017, DoubleDragon had 23 operational CityMalls with a total leasable area of approximately 116,261.9 sq. m. and an occupancy of 95.8%. Another 37 CityMalls are under construction. DoubleDragon has land-banked for 63 CityMalls.
DoubleDragon intends to establish a nationwide presence with a target to open 100 CityMalls with a total leasable area of 700,000 sq. m. by 2020. All CityMall sites are in prime locations within the natural daily movement of the general population that DoubleDragon serves. CityMall sites are secured in areas located along main roads to increase visibility and maximize exposure and accessibility to its target market.
DoubleDragon believes that it remains significant organic growth within its CityMalls business model. Same-store sales growth for the first five operational CityMalls which were completed in 2015 was approximately 13% from the six month period ended June 30, 2016 to the six month period ended June 30, 2017, underpinned by positive market reversions and fixed annual escalation ranging from 5% to 10%.
Moreover, there is potential for further upside with the transition to a turnover rent structure from the base rent structure, as its business scales up and its tenants' retail sales continue to increase.
Strong retail sales
Retail sales in the Philippines is expected to grow robustly between 2006 to 2020. DD Meridian Park is targeted to be an office-led mixed-use development with leasable area of 280,000 sq. m.
As of Aug. 31, 2017, DoubleDragon Plaza, which comprises Phase 1 of the DD Meridian Park project, is 88.2% complete and DoubleDragon Center East and DoubleDragon Center West, which comprise Phase 2 of the DD Meridian Park project, are 13.3% complete. Further, as of Aug. 31, 2017, towers one, two and three of DoubleDragon Plaza are 49%, 100% and 43% pre-committed, while the retail area of DoubleDragon Plaza is 52.9% pre-committed.
Complementing DD Meridian Park is Jollibee Tower, a newly announced office building which will be the future headquarters of JFC. As of Aug. 31, 2017, the building is 13.3% completed and 60% pre-committed. The completion is estimated to be within the fourth quarter of 2018.
DD has three hotel chains
Through DoubleDragon's three-star hotel chains – Hotel 101 and Jinjiang Inn – under DoubleDragon's subsidiary, HOA, it expects to benefit from the strong growth of the Philippine economy and the expected healthy tourism sector performance.
The Philippines' airline passenger volume has been rising by 10% per year in the past three years. The trend will continue.
Jinjiang Inn
CSI Hotels, Inc., a 50% subsidiary of HOA, is the exclusive master franchisee of the Chinese hotel chain Jinjiang Inn in the country – awarded the Best Local Hotel Brand in 2016 / 2017 by City Traveler.
With Jinjiang Inn's strong mainland China customer base and familiarity with the brand, DoubleDragon believes that it is well positioned to benefit from the growing inbound Chinese tourists which is expected to increase dramatically by 2020 according to Savills.
According to the Department of Tourism, there were 675,700 arrivals from China in 2016, making China the third largest source of foreign tourists in the Philippines.
The Department of Tourism also recorded 388,896 tourist arrivals from China, or 13.4% of the total inbound traffic in the first half of 2017.
Hotels near business hubs
All of the hotels under both brands are strategically located in areas which are in close proximity to one or all of the following: business hubs, shopping malls, and dining options.
As of Aug. 31, 2017, Hotel 101 Manila, Jinjiang Inn Ortigas and Jinjiang Inn Makati have 518, 95, and 59 rooms, respectively, with a target to grow the hotel portfolio to 5,000 rooms with a leasable area of 100,000 sq. m. by 2020, offering investors the opportunity to gain exposure to one of the largest potential portfolios of hospitality assets in the Philippines by room count.
Industrial leasing
Exciting is a new business called industrial leasing. DoubleDragon will easily capture the business, being the first mover. DoubleDragon formed its 70%-owned subsidiary CentralHub Industrial Centers Inc. (CHIC) as its industrial leasing arm.
DoubleDragon envisions CHIC to be a branded modern institutional quality logistics facility suited for commissaries, cold storage and logistic centers.
DoubleDragon has secured a 6.2 hectare site in Tarlac and is currently looking to build on two sites in Luzon, and two sites in the Visayas-Mindanao region with total area of 10 hectares.
DoubleDragon expects to complete the entire industrial estate project by 2020, adding 100,000 sq. m. to its leasing portfolio.
Finally, DoubleDragon believes that its recurring income stream is underpinned by a portfolio of quality assets that will likely appreciate in value given their location.
DoubleDragon believes that these assets, collectively, will generate strong cash flows and a well-capitalized balance sheet that will continue to strengthen, alongside value creation from the portfolio.
Well-defined execution capability with proven track record of delivering growth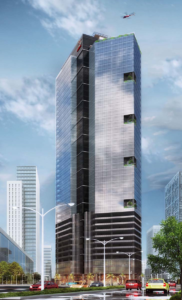 Leveraging DoubleDragon's end-to-end capabilities as a real estate developer and owner, encompassing site identification, master planning, development, marketing, leasing, events, client relationship management, data analytics, DoubleDragon believes that it has the ability and resources to create a market leading business model.
Standard project blueprint enables a highly cost efficient rapid roll-out strategy across business segments
DoubleDragon remains focused on growing its business segments to achieve economies of scale and drive cost efficiencies. For example, as the largest community mall player in tier 2 and 3 cities, the rollout of its expansion plans allows DoubleDragon to achieve operational efficiencies as it has the optionality to offer multiple CityMall construction projects to the contractors within the same province.
As a result of repeated transactions with the local contractors, not only does DoubleDragon have direct interaction with workers who have better on-the-ground experience in sourcing labor and local materials, DoubleDragon believes that it gains familiarity with the execution process to ensure that its development timelines are met.
Similar to CityMalls, DoubleDragon plans to scale up significantly to dominate and be the largest player in the Philippines hospitality and industrial segments to benefit from economies of scale.
Template for CityMalls
To ensure rapid roll-out to achieve economies of scale, DoubleDragon has developed and adopted a standardized approach to the development and marketing of its business segments.
For example, the timeline for the start of development to stabilized operations for each of its CityMalls is approximately 18 months (construction permit to opening of 12 months and a further six months to stabilize), which has enabled DoubleDragon to deliver new malls to the market in an expedited manner–delivered 20 operational CityMalls as of Aug. 31, 2017 and another seven CityMalls by end of the year.
Similarly, DoubleDragon is adopting a standardized approach in developing its hotels and industrial leasing businesses to shorten the development-to-cash generating cycle.
Proven execution ability and delivery
DoubleDragon believes that it has an established execution track record.
Just over three years since listing, DoubleDragon has managed to build up an investment property portfolio with a leasable area of 140,681.6 sq. m. as of June 30, 2017, representing 14.1% of DoubleDragon's initial planned 1.0 million sq. m. of leasable space, expects to have 362,752.8 sq. m. of leasable area by the end of 2017.
With its growth and success in sourcing and securing new sites, DoubleDragon has increased its leasable area target to 1.2 million sq. m. by 2020.
As of June 30, 2017, DoubleDragon has also secured 71% of its land bank needs for its enhanced 2020 plan of 1.2 million sq. m. leasable area.
DoubleDragon's confidence in raising its target is also due to its standardized and scalable operational model, which enables it to establish a track record of timely delivery of its projects.
The construction of DD Meridian was initially expected to be complete in the first quarter of 2018, but is now likely to be completed by 2017 year-end. DoubleDragon has also displayed a track record of delivering high double-digit occupancy rates for its investment properties:
— Average committed occupancy for its 20 operational CityMalls as of Aug. 31, 2017, is approximately 90% at opening; and
— As of Aug. 31, 2017, towers one, two and three of DoubleDragon Plaza were 49%, 100% and 43% pre-committed, respectively, while the retail area of DoubleDragon Plaza was 52.9% pre-committed, and Jollibee Tower was 60% pre-committed. The numbers are much higher today.
Strategic acquisitions to enter new business segments
In line with a revised target leasable portfolio from 1.0 million sq. m. to 1.2 million sq. m. by 2020, DoubleDragon has made swift and strategic acquisitions to enter into the hospitality and industrial leasing businesses.
In December 2016, DoubleDragon bought HOA, an existing hotel business currently contributing approximately 18,802 sq.m. to the leasable portfolio as of June 30, 2017, with plans to expand HOA to eventually contribute 100,000 sq. m. of leasable space through the operation of 5,000 rooms by 2020.
In August 2017, DoubleDragon bought a 6.2-hectare industrial lot expected to contribute approximately 32,000 sq. m. of industrial leasing area. The target is 10 hectares by 2020.
Proven ability to raise funding
DoubleDragon has had an easy time securing funding. It raised P40 billion in capital in the last four years, the majority of which was used to ensure that DoubleDragon's initial target plan of 1.0 million sq. m. of leasable area was fully funded.
DoubleDragon has diversified sources of funds which include bank borrowings, and issuance of Preferred Shares and fixed-rate corporate bonds. Diversity enhances DoubleDragon's financial flexibility in raising capital. Importantly, this has allowed the company to react faster to growth and any potential inorganic opportunities that is value accretive for its business e.g. the acquisition of HOA.
Leading community mall business model in the tier 2 and 3 cities
DoubleDragon is the dominant player in the branded community malls across Philippines. Within three years since its listing in 2014, DoubleDragon has secured 60 CityMall sites despite the [scarcity of one-hectare plots in the city centers of tier 2 and 3 cities].
DoubleDragon has created a business model that is positioned to significantly benefit from the transition from traditional retail to modern retail, attributed to the following reasons:
High barriers to entry for foreign players and varying strategic focus of local players
Foreign players are hamstrung by (i) constitutional restrictions, which limit foreign ownership to not more than 40% for companies that own land and retail businesses, among others, and (ii) a lack of local relationships, existing local network and knowledge, preventing them from gaining access to land bank and expanding on a similar scale.
Savills says there is little competition from foreign developers present in the market. New domestic entrants in the community malls segment include Robinsons and PureGold, but the pace of their expansion and existing network across the tier 2 and 3 cities has not been as extensive as CityMall's. In addition, PureGold's business model is mainly grocery shopping, and unlike a typical CityMall, it does not offer the all-in-one modern shopping retail format (e.g. cinema, shopping, food and beverage, and grocery shopping). Even for the larger local players, the focus remains on Metro Manila and bigger cities.
Well-positioned to benefit from positive macroeconomic fundamentals, political tailwinds and emerging opportunities within the industry sectors
The Philippines' strong macro-economic fundamentals support a robust growth trajectory.
Philippine 2016 GDP growth of 6.9% was the highest in the last three years and the highest in Asia, after China.
First and second quarter economic growth was 6.4%, making the Philippines one of Asia's fastest growing economies. For the whole of 2017, economic growth would be 6.5%.
With growth of 7-8% per year, the Philippine economy will expand by 50% over the next six years. That growth is inclusive as poverty declines from 21.6% today to 14% by 2022, saving some six million Filipinos from poverty. The result is social stability.
The Philippine retail market is currently evolving from unorganized retail formats to multi-tenanted malls, the latter providing a compelling alternative to traditional retail pathways such as wet markets and provision shops, and introducing the modern shopping experience to the local communities.
The modern retail format is attractive to customers as this provides them a one-stop platform for both discretionary and non-discretionary consumption. In particular, the presence of a clean, air-conditioned indoor one-stop mall in tier 2 and 3 cities is expected to be highly attractive to the cities' population.
It is also attractive to tenants given significantly higher footfall and sales per sq.m. achieved compared to unorganized retail, and this format provides quality control with guaranteed infrastructure and logistics that helps to build brand equity. DoubleDragon believes this trend is only starting to occur in tier 2 and 3 cities, and its entry into these markets is well-timed to take advantage of this shift.
The current political thrust to decentralize economic growth is also expected to benefit its CityMalls in tier 2 and 3 cities. President Duterte's administration plans to refocus development towards the agriculture, manufacturing and trade industries in the countryside and disperse economic opportunity across all socioeconomic levels.
In addition, initiatives are being put in place to minimize red tape and streamline regulatory procedures in order to accelerate development.
This could accelerate economic growth in the tier 2 and 3 tier cities, increasing populations as more businesses enter the tier 2 and 3 cities, and potentially prompting increased demand for retail space in the tier 2 and 3 cities, given stronger expected foot traffic amid new population migrating for jobs, and increased disposable income.
Moreover, the Philippine economy has been expanding by an average of 6.3% per annum since 2010. The robust growth reflects not just the sustained dynamism of the BPO-led services sector but also the expansion of other key economic sub-sectors such as construction, telecommunications, banking and finance, warehousing and logistics, and manufacturing.
Companies engaged in these businesses were compelled to expand and thus occupy larger and high-quality office space. Demand for office real estate is also expected to benefit from the growing trend of offshore gaming in the Philippines given similar space and infrastructure requirements as BPO offices.
The Philippine Amusement and Gaming Corp. (PAGCOR) has been granting recently established Philippine Offshore Gaming Operators (POGO) licenses for foreign nationals, as revenues from online gaming is expected to eventually match revenues from traditional casinos.
According to Savills' estimates, there will be at least 6.6 million foreign tourists visiting the Philippines in 2017, 10% higher from six million recorded in 2016. The growth of the Philippine tourism sector is expected to be sustained by the influx of visitors from the country's traditional markets such as South Korea, USA, Japan, and China. The four economies account for nearly 60% of annual tourist arrivals in the country. Warming relations between the Chinese and Philippine governments should also result in more Chinese tourists.
In late 2016, the Philippine and Chinese governments signed an agreement on tourism cooperation that includes exploring a possible increase in capacity entitlements in air services and encouraging airlines to open new flights between Philippine cities in the Visayas and Mindanao regions and Chinese cities.
The sector should also benefit from the spillover impact of the successful hosting of major international events in the past two years such as APEC Summit, ASEAN Tourism Forum, Routes Asia, and Miss Universe.
With robust international arrivals and sustained rise in visitor receipts (P230 billion in 2016 from P227.6 billion in 2015), hotel occupancy in Metro Manila increased by two percentage points from 69% in the first half of 2016 to 71% by end-2016.
There are also major tourism-related infrastructure projects under the public-private partnership (PPP) program. For example, the government is working on a comprehensive international airport development plan that covers the expansion and privatization of Ninoy Aquino International Airport (NAIA); development of another international airport in Bulacan or Sangley Point, Cavite; and expansion of Clark airport.
This is expected to bridge the country's infrastructure gaps and enable the government to meet or even surpass its visitor arrival target and entice more foreign and local businessmen to invest in the country's travel and tourism sector.
The Philippines' favorable macroeconomic dynamics is expected to translate into strong and sustainable demand for logistics facilities underpinned by limited stock of logistics facilities, in particular modern logistics facilities in the Philippines.
Strong real GDP growth, private consumption, as well as a large and rapidly growing middle-income population is expected to boost the Philippine consumer market. Notably, most of DoubleDragon's current CityMall tenants are big time users of logistics space. However, a majority of the current stock of logistics warehouses is old generation properties and fragmented, which provide less efficient warehousing conditions.
In contrast, modern logistics warehouses carry features such as large floor areas, high ceilings of 14 meters high, high load tolerances, wide column spacing within the warehousing area, modern loading docks and enhanced safety systems which provide greater accessibility and efficiency.
According to Savills, the current supply of logistics facilities in the Philippines is insufficient, in terms of both quantity and quality, to address the strong demand. Additionally, as of 2016, major modern logistics facility providers accounted for less than [•]% of the total supply of logistics facilities in the Philippines.
Strong shareholders and partnerships with Philippines' leading business groups validate DoubleDragon's vision and business model
The ability to attract and establish strategic relationships with the JFC, SM, and ABS-CBN Groups validates its vision, positioning and execution capabilities as the leading owner, operator, and developer of branded community malls across tier 2 and 3 cities in the Philippines.
The SM Group's "SaveMore" supermarket brand is the anchor tenant in a majority of CityMalls, along with several best-in-category SM brands represented in various CityMall branches. The JFC Group food brands anchor the "FoodWorld" section of every CityMall, and DoubleDragon consider this to be an irreplaceable advantage of the partnership and highly attractive for its consumers.
In addition, DoubleDragon have also teamed up with broadcasting giant ABS-CBN to roll out cinemas in CityMalls branches nationwide. Together, these strategic partnerships are expected to solidify the dominance of CityMalls all over the Philippines.
Its partnerships with other business groups have also provided it with the ability to rapidly and significantly expand into the hospitality and office sectors and gain access to valuable land sites.
DoubleDragon acquired a 70% stake in HOA, which will now serve as its hospitality arm through three star hotels Hotel 101 and Jinjiang Inn located in prime locations across key cities in the Philippines.
Its strategic partnership with JFC also includes the establishment of a joint venture to develop Jollibee Tower, a 40-storey commercial and office tower on a prime commercial lot in Ortigas. DD Meridian Park, a joint venture between DD (70%) and the initial land owner (30%), is strategically located as it is situated in the corner of EDSA, Roxas Boulevard and Macapagal Avenue, main thoroughfares in Metro Manila close to the Entertainment City and the SM Mall of Asia complex.
Experienced board and management team with strong corporate governance
DoubleDragon's board of directors is highly experienced, with over 100 years of experience combined in the Philippine real estate and commercial sectors.
The board is led at the helm by its Chairman and Chief Executive Officer Edgar "Injap" Sia, whose experience stems from growing the Mang Inasal chain from one branch in his hometown of Iloilo City in 2003 to over 338 branches nationwide by 2010. Its Co-Chairman Tony Tan Caktiong opened his first ice cream parlor at the age of 22, and since then, Jollibee has grown to become the largest fast food chain in the Philippines.
Injap's and Tony's foresight in entering the QSR business ahead of competitors and the knowledge they have obtained from expanding their businesses in tier 2 and 3 cities will be instrumental in growing DoubleDragon and enabling it to achieve its targets.
Similarly, DoubleDragon's senior management team has a proven track record in developing, investing in, managing, and enhancing commercial real estate, possessing an average of 12 years of experience on average in the Philippine real estate and commercial sectors. The team covers the entire value chain of the business, including asset development and enhancement, asset management, and commercial operations.
DoubleDragon has also adopted governance policies and mechanisms to serve as its foundation and guiding principle for good governance. DoubleDragon also continues to adopt policies and mechanisms in accordance with established rules and best practices.
Business strategies
A nationwide expansion plan to grow recurring income stream across four property pillars: retail, office, industrial and hospitality
DoubleDragon aims to build a strong base of recurring revenue through the accumulation of 1.2 million sq. m. of leasable space nationwide by 2020, across the retail, office, industrial and industrial property segments.
DoubleDragon has established a successful track record of expansion by accumulating an investment property portfolio with a leasable area of 140,681.6 sq. m. as of June 30, 2017, representing 14.1% of DoubleDragon's initial planned 1.0 million sq. m. of leasable space. The significant pace of execution was achieved through two key success factors:
Direct access to land bank opportunities, and a high level of familiarity with tier 2 and 3 cities resulting in the ability to transact quickly; and
Adaptable approach to site acquisition by entering into joint ventures or strategic alliances with landowners, which contribute land to the joint venture while the Group provides its development expertise.
DoubleDragon believes that it remains on track to achieve the 2020 target, with DoubleDragon raising its 2020 leasable area target from 1.0 million sq. m. to 1.2 million sq. m. Of its 2020 leasable area target, 1.0 million sq. m. of leasable area has been funded by capital raised to date, and the diversified business model that DoubleDragon is building out will broaden its earnings base and provide stable and recurring sources of cash flows to fund its next stage of growth.
DoubleDragon intends to establish a nationwide footprint through strategically selected projects that are located in prime locations both in Metro Manila and the different provinces in the Philippines.
DoubleDragon believes that the combination of macroeconomic factors and sector trends across the country is expected to support a robust outlook in the near and medium term period. This would allow DoubleDragon to diversify its recurring income source through a balance of stable growth and high growth industries. Specifically, while the Metro Manila office leasing space provides a stable base of income stream, DoubleDragon believes that the remaining portfolio is well positioned for upside given exposure to the following trends:
Transition of traditional retail to modern retail. According to Savills, modern retail is still in its early stages in the tier 2 and 3 cities, which, coupled with the significant GDP and population growth the Philippines, indicates that the Philippine retail market is geared towards significant growth.
Strong and sustainable demand for logistics facilities underpinned by limited supply, in particular modern logistics facilities in the Philippines. According to [Savills], the current supply of quality logistics facilities in the Philippines is fragmented, as there is no one major owner of logistics facilities across the country.
Tourism sector expected to remain a key contributor of the Philippines economy. Tourist arrivals and expenditure expected to grow for the period 2016 to 2020.
Identifying shifts and capitalizing on real estate segments where it can be a leading player
Prior to entering a segment, DoubleDragon put in significant effort to conduct in-depth market research and analysis to help it identify markets where DoubleDragon has the resources and ability to dominate either now, or over a period of time.
One of the transitions that DoubleDragon had observed earlier was the evolution of traditional retail into modern retail in tier 2 and 3 cities – particularly notable in the supermarket segment, which is relevant to the its business model since the supermarket typically occupies one-third of the leasable space of CityMalls.
To leverage on this trend, DoubleDragon conceptualized CityMalls such that it was able to utilize the growing shift of retailers from traditional to modern formats, offering select retail stores in addition to its anchor hardware, appliance and supermarket stores, among others.
DoubleDragon continues to reinforce that CityMall is a replacement to traditional retail, tapping its existing demand. Given its success in this segment, one of the focus points is to entrench its market-leading position as the largest and fastest-growing retail developer, owner and operator of community malls in provincial areas of the Philippines
DoubleDragon's target is to achieve a portfolio of 100 CityMalls across tier 2 and 3 cities by 2020. Its key strategy is to continue to develop, own and operate a nationwide retail mall network, funding further expansion by using recurring income from its operating malls as well as profits from the sale of its development properties, supported by additional debt funding if required.
DoubleDragon will continue to innovate, to implement optimal tenant mixes best suited to the Philippines consumer, to introduce new retail experiences adapted to market dynamics, and to adapt best practices and concepts from retail leaders elsewhere in Southeast Asia; and
Outside capitalizing on the Jollibee and SM brands, DoubleDragon will also continue to create barriers into the community mall segment, by targeting underserved lower tier areas. DoubleDragon chooses such sites based on the following criteria: (i) sites that give DoubleDragon a first-mover advantage in areas where there is less operational baggage from costs, but also (ii) sites where DoubleDragon are familiar with and (iii) sites with scarce presence of competitors and suitably sized lots within and in surrounding prime city center areas.
DoubleDragon continues to believe that the tourist segment will be an important economic sector for the country. For example, strong tourist arrivals from China in May 2017, where visitor count surged by 57% to 73,649 compared to the prior year.
DoubleDragon currently has a total of 866 operational hotel rooms and plans to increase this to 5,000 rooms under its Jinjiang and Hotel 101 brands – essentially giving it a market dominating position over other major real estate players which have around 3,000 hotel rooms.
Another major observation is that warehousing in the Philippines is currently fragmented, and there remains favorable local macroeconomic dynamics to translate into strong and sustainable demand for logistics facilities and underpinned by limited stock of existing logistics facilities. Given the significant overlap of tenants in its retail mall business and their corresponding needs for industrial space, DoubleDragon believes that it is in a position to not only tap into this existing demand but to also help its tenants achieve operating efficiencies.
The current industrial landscape is such that majority of the current stock of logistics warehouse is old generation and fragmented properties that often provide less efficient warehousing conditions – existing warehouses are not suitable for distribution needs as one of the key specifications requires the floor-to-ceiling height to be 14 meters high, while most of the current facilities are only six meters high.
DoubleDragon's industrial business model is focused on providing modern logistics warehouses with features to drive greater accessibility and efficiency, and its ability to execute this strategy is underpinned by its shareholders who have experience in food and beverage, commissaries, cold storage logistics – a large part of each industrial center's leasable space is catered to these specific segments.
DoubleDragon sees its CentralHub industrial centers as the first branded modern industrial center chain in the Philippines, and like CityMall and Hotel 101, all industrial centers will look the same and will be located in strategic locations around the country.
DoubleDragon believes that through this segment, it will be able to provide an additional layer of service to its retail tenants, and increase their level of stickiness to its overall ecosystem, thus allowing DoubleDragon to dominate in this segment.
DoubleDragon believes that its overall business model is highly sustainable. DoubleDragon is positioned to capitalize on emerging industry trends, and more importantly, its businesses are setup to serve the "sweet-spot" of the demographics i.e. the low to middle income population which is expected to double by 2020.
DoubleDragon intends to leverage its leading market position, exploit economies of scale and its local market knowledge to consolidate and continue to grow its market share over time.
Focus on building recurring revenue based on a foundation of appreciating assets and operate a capital efficient business model
DoubleDragon is focused on developing properties that will create a steady stream of cash flows backed by a string of appreciating assets. DoubleDragon believes that cash flows sourced from recurring revenue streams are of greater quality than cash flows generated from sale of properties which are non-recurring in nature and are dependent on continued reinvestment.
DoubleDragon has successfully grown its recurring revenues from forming only 0.5% of its total revenues net of fair value gains in the year 2014, to 10.4%, 18.5% and 29% in 2015, 2016 and for the six months ended June 30, respectively.DoubleDragon's envisioned 1.2 million sq. m. of leasable space by 2020 is expected to generate cash flows and project yields that will organically grow without continuous capital outlay, primarily driven by the embedded escalation rates in its lease contracts with its tenants.
DoubleDragon books its assets held for lease as investment property. As it has adopted the fair value method, investment properties are revalued on an annual basis by a third party appraiser based on comparable market transactions relative to the location of DoubleDragon's properties held for lease.
Generally, DoubleDragon's investment properties have seen substantial gains from revaluation on top of cash flows contributed from leasing operations.
DoubleDragon's business model is also geared to be highly capital efficient in deployment of capital once it achieves scale in its CityMalls expansion, coupled with the completion of other developments that are earmarked to provide recurring income.
This is mostly driven by CityMall's relatively quick churn rate, with an estimated time to completion of 12 months and a further six months to stabilize, thus ensuring that raised capital is quickly converted into cash-generating hard assets.
For its Hotel 101 business, DoubleDragon has adopted a "sale-and-managed" model, where individual condotel units are sold to third party investors but DoubleDragon continues to manage the condotel units post-sale. Sale proceeds are consequentially used to fund the development cost, which reduces its equity requirements for any project.
In addition, DoubleDragon plans to subfranchise its Jinjiang Inn brand, and under this model, the capital expenditure for any repairs of these subfranchised hotels is to be borne by the subfranchisee. Overall, these streams of income will reduce the equity contribution required from DoubleDragon to fund any future capital expenditure plans.
Maintain a strong balance sheet, prudent risk and capital management and good governance
By maintaining a strong balance sheet, DoubleDragon believes that it is in a position to withstand economic and financial cycles, while allowing it to fund its planned expansion. This will also give it the flexibility to make acquisitions or fund capital expenditures when opportunities arise. In addition, DoubleDragon believes that its strong balance sheet is reinforced by its cost efficient business model – rollout of expansion plans for CityMall, Hotel 101 and industrial centers via the same format allows for economies of scale and reduces any cost inefficiencies that could result from unnecessities.
DoubleDragon intend to take a disciplined approach to the allocation of capital across its projects, with the strict application of hurdle rates and benchmarks for each investment. Its planned capital expenditure is principally earmarked for the expansion of its mall network. DoubleDragon plans to fund its capital expenditure plan through its recurring income, pre-sales, external financing, and its access to diverse sources of funds will increase its financial flexibility.
Of its 2020 leasable area target, 1.0 million sq. m. of leasable area has been funded by capital raisings raised till date. DoubleDragon has been a repeat issuer in the domestic bond market, including bonds arranged by BPI Capital Corp., BDO Capital & Investment Corp., Maybank ATR Kim Eng Capital Partners Inc., and RCBC Capital Corp., demonstrating its established relationships across both domestic and international banks.
Besides the domestic bond market, DoubleDragon has also tapped into diversified sources of funding which include preferred shares and bank funding, highlighting its diversified capital base, comprising of retail and institutional investors.
DoubleDragon also plans to manage its debt maturity profile, reduce cost of funding and diversify its sources of funding, including potentially accessing the capital markets again. To achieve these objectives, its key areas of focus are as follows:
Company's focus on developments with a "for-sale" component, pre-sale proceeds from the sales can be used to partially fund the development costs of the project components;
Reduce cost of funding by growing a steady stream of recurring rental income while utilizing pre-sales to reduce overall funding needs;
Continue to diversify funding sources and lower its cost of capital by monitoring the markets for favorable opportunities to build up its capital resources through various financing options such as equity issuances, loans and public debt issuances, among others; and
Continue to look at longer-term and fixed rate funding to reduce refinancing risk and ensure little interest rate volatility. As of Aug. 31, 2017, the debt maturity of DoubleDragon's long-term debt is 6.23 years, indicating minimal near-term refinancing risk.
As of June 30, 2017, the average cost of funding of DoubleDragon's long-term funding (excluding short-term lines for working capital) is 6.2%, which is at an approximate spread of 1.6% to the 10-year Philippines government bond yield to maturity of approximately 4.6%.
DOUBLEDRAGON RESULTS OF OPERATIONS
Revenues
Consolidated revenues increased by P924.5 million, or 131%, to P1,630.3 million ($32.3 million) for the six months ended June 30, 2017 compared to P705.8 million for the six months ended June 30, 2016.
This growth was primarily due to DoubleDragon's real estate sales, which increased by P225.3 million, or 42.4%, to P756.8 million ($15 million) for the six months ended June 30, 2017 compared to P531.5 million for the same period last year, driven by sales from DoubleDragon's interim projects, W.H. Taft Residences and The SkySuites Tower.
DoubleDragon also booked hotel revenues of P204.9 million ($4.1 million) for the six months ended June 30, 2017, from the operations of DoubleDragon's new subsidiary, Hotel of Asia, Inc., which is primarily engaged in the ownership, operation and development of hotel projects, including Hotel 101 in the Mall of Asia complex and Jinjiang Inns in Ortigas and Makati.
DoubleDragon's interest income for the six months ended June 30, 2017 also increased by P302.1 million or, 1,205.7%, to P327.2 million ($6.5 million), compared to P25.1 million for the same period in 2016, primarily as a result of the interest earned from interest-bearing loans and advances made by DoubleDragon to its subsidiaries.
DoubleDragon's revenues from rental income and leasehold rights' sales also contributed to the overall growth in revenue. Rental income increased by P176 million, or 190.4%, to P268.4 million ($32.3 million) for the six months ended June 30, 2017 compared to P92.4 million for the same period in 2016, driven by the increase in DoubleDragon's operational CityMalls (17 operational CityMalls as of June 30, 2017 as compared to seven as of June 30, 2016).
Leasehold rights' sales likewise increased by P17 million, or 238.7%, to P24.1 million ($0.5 million) for the six months ended June 30, 2017 compared to P7.1 million for the same period in 2016, primarily driven by increased sales of leasehold rights of mall stall units in its Dragon8 Mall.
Other income from forfeiture also increased by P3.1 million, or 130.3%, to P5.5 million ($0.1 million) for the six months ended June 30, 2017 compared to P2.4 million for the same period in 2016. The growth in consolidated revenues was partially offset by the decrease in other income by P3.8 million, or 8.1%, to P43.5 million ($0.9 million) for the six months ended June 30, 2017 compared to P47.3 million for the same period in 2016.
DOUBLEDRAGON FINANCIAL POSITION
DoubleDragon's consolidated cash and cash equivalents were P927 million ($18.4 million) as of June 30, 2017, a decrease of P4,539.8 million, or 83%, from consolidated cash and cash equivalents of P5,466.9 million as of Dec. 31, 2016, due to the construction of additional CityMalls and vertical projects.
DoubleDragon's consolidated net receivables were P2,093.3 million ($41.5 million) as of June 30, 2017, a P381.1 million, or 22.3%, increase from consolidated net receivables of P1,712.2 million as of Dec. 31, 2016, due to incremental sales from DoubleDragon's ongoing interim residential projects.
DoubleDragon's consolidated real estate inventories were P3,398.5 million ($67.3 million) as of June 30, 2017, a P212.2 million, or 6.7%, increase from consolidated real estate inventories of P3,186.3 million as of Dec. 31, 2016.
DOUBLEDRAGON HISTORY
DoubleDragon, formerly named Injap Land Corp., was incorporated and registered with the SEC on Dec. 9, 2009, and began commercial operations in November 2010 with the primary purpose of engaging in real estate development and real estate related ventures. DoubleDragon was originally a wholly owned subsidiary of Injap Investments Inc., the holding company of the Sia family.
On June 29, 2012, DoubleDragon became a 50-50 joint venture between Injap Investments and Honeystar Holdings Corp. (Honeystar) when Honeystar, headed by Tony Tan Caktiong, founder and chairman of JFC, invested in DoubleDragon. It eventually changed its corporate name to DoubleDragon Properties Corp. on July 30, 2012.
DoubleDragon, prior to the entry of Honeystar, was originally the Sia family's initial foray into real estate development. DoubleDragon's first venture, People's Condominium project, was the first condominium project in Iloilo City. People's Condominium was completed in November 2011 and was fully sold within a few months from commencing pre-selling activities.
Other projects developed by DoubleDragon in Iloilo City include Injap Tower, a 21-storey commercial and condotel tower, The Uptown Place, a five-storey premium commercial and residential condominium, as well as horizontal developments FirstHomes and HappyHomes, both located in Mandurriao–Iloilo.
It was after the entry of Honeystar and the renaming of DoubleDragon into DoubleDragon Properties Corp. that DoubleDragon's Chairman and Co-Chairman, Edgar "Injap" Sia II and Tony Tan Caktiong, both born in the year of the dragon, established a clear vision for DoubleDragon's future.
They identified a unique opportunity to capitalize on the modernization of retail in the provinces by building a chain of community malls to become the venue for this transition. DoubleDragon targeted second- and third-tier provincial cities for the rollout of their CityMall branded concept.
CityMall Commercial Center, Inc. (CMCC) was incorporated on Dec. 27, 2013 to serve as the vehicle for this rollout. Seeing the potential of the CityMall concept, SMIC, one of the largest conglomerates in the Philippines with a portfolio of leading retail stores, took a 34% stake in CMCC in 2014.
To further diversify and attain the goal of operating mostly recurring revenue properties, DoubleDragon began to develop commercial office projects in Metro Manila through its flagship commercial office project, DD Meridian Park. DoubleDragon's further entry into the office space segment occurred in August 2015 when it entered into joint venture with JFC to build a 41-storey commercial and office tower in the Ortigas central business district that will serve as the corporate center for JFC, one of the country's leading fast food companies.
DoubleDragon's shares debuted on the Philippine Stock Exchange's (PSE) Small, Medium, and Emerging Board (SME Board) on April 7, 2014 under the stock symbol "DD" through an initial public offering of 26% of its outstanding common shares. On July 6, 2015, DoubleDragon's shares transferred from the SME Board to the PSE Main Board. On Nov. 30, 2015, DoubleDragon's shares were included in the Morgan Stanley Capital International Small Cap Philippine Index. On March 14, 2016 DoubleDragon was included in the property sector index of the PSE.
On April 14, 2016, DoubleDragon issued P10,000,000,000 worth of Preferred Shares, which were subsequently listed in the PSE Main Board on July 26, 2016. On Sept. 12, 2016, DoubleDragon was included as one of five listed companies in the PSEi reserve list. As of June 30, 2017, DoubleDragon's market capitalization was P106.5 billion. n