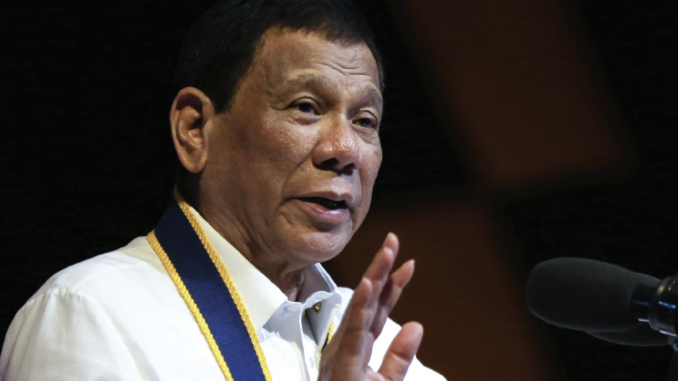 By TONY LOPEZ
In the history of polling in the Philippines, I have never seen more incredible and more amazing survey results: As of September this year, 91 of every 100 Filipinos approved of President Rodrigo Duterte's job performance; 91 of every 100 Filipinos have had trust in the chief executive.
Only five of every 100 do not approve of former Davao mayor's job performance as president; only three of every 100 have no trust in him.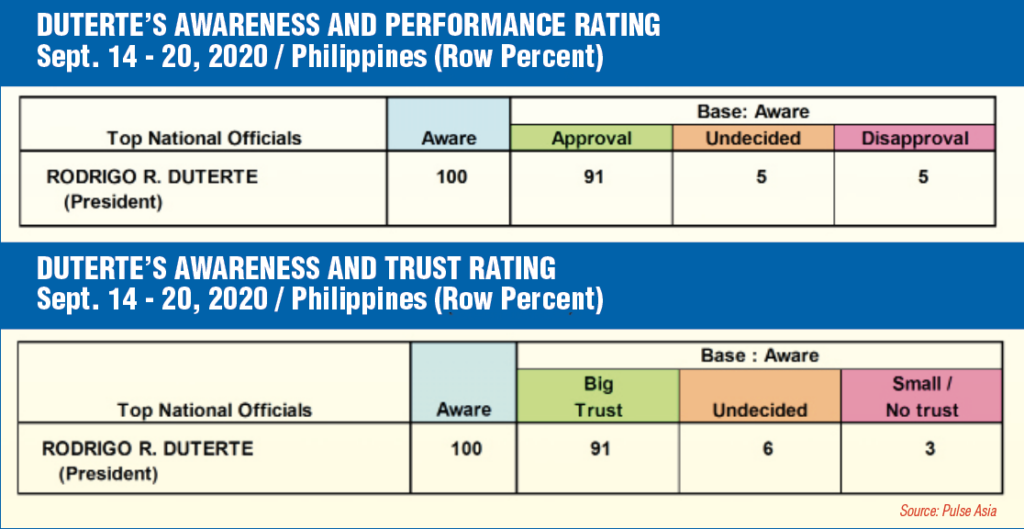 Since the latest Pulse Asia survey has a margin of error of 2.8 percentage points and if you apply that error margin to the who do not trust Duterte, then practically no one does not trust the President in the Philippines. No one. Which is incredible.
Not even Jesus Christ during His time on earth could garner so colossally near-perfect approval and trust ratings. In fact, in a referendum conducted by Pontius Pilate, Jesus lost to a thief. Having lost the people's trust, the Savior of Mankind was crucified.
Gov't fails to control pandemic
During the current pandemic, Duterte has not been able to save 324,762 Filipinos from getting sick, and of those who have gotten sick, nor has he been able to save 5,840 from dying, despite imposing one of the earliest lockdowns in the world, last March 15, 2020 managed by his generals who have more stars on their epaulets than the stars in the entire galaxy.
The lockdowns have also been the longest and the most strict in the world. Seventy-five percent of the economy was shut down; 70% of businesses were shut down. The 30% which remained open suffered huge drops in sales or revenues of 50 to 70%. The Philippines went into its worst recession ever. We are having the Greatest Depression.
Economic collapse
Economic output fell by a record 16.5% in the second quarter of 2020, and by 9% in the second half of the year. For the whole of 2020, the Philippines is expected to register a drop in economic output, 8%, at a minimum. The country is now the worst performing economy in Asia.
When Duterte came to power in July 2016, he inherited an economy at its greatest. It was registering the longest expansion in the country's history—70 quarters or 17.5 years. The explosive growth went on for 14 more quarters. Then this year, that expansion suddenly stopped. Duterte was also going to eliminate poverty two years ahead of target. That also stopped. Half of Filipinos are dirt poor today.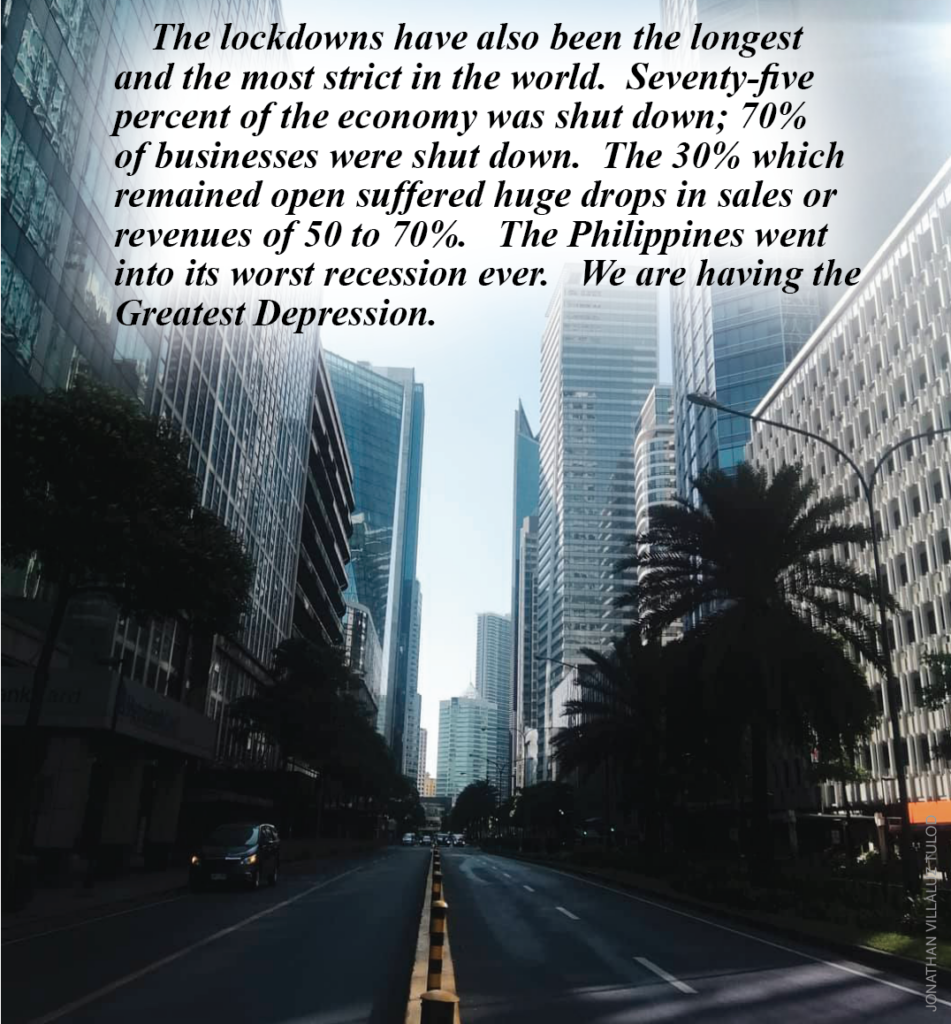 Lockdowns ineffective
Duterte was nearing full employment in 2019, with unemployment falling to a record low, just 5%. This year, unemployment rose to its highest in history, at more than 17% so far.
Most countries in Asia have phased out lockdowns. They are ineffective and have caused more harm and more deaths than COVID deaths. Only the Philippines and Indonesia consider the lockdowns the panacea for the worst pandemic in more than 100 years. As a result, the World Bank consider the economic outlook of the Philippines and Indonesia "uncertain" at best this year.
So severe have Duterte's anti-pandemic regulations been many basic human rights were restricted, if not violated outright – principally, the right to travel, the right to peacefully assemble to seek redress for grievances, the right to worship, the right to express one's opinion without fear of restraint or retribution, the right of the people to be secure in their vehicles and premises.
In Taguig, people relaxing in a pool in the privacy of their condo compound were invaded by the police and shooed away like stray dogs. In Makati, a Spaniard exhibiting extraordinary body muscles at his private garage was invaded by a policeman, was manhandled, his face grazed against the rough concrete flooring, then deported.
In Quezon City, a veteran of the Marawi wars happened to approach a checkpoint. He did not understand the questions when challenged. So he was shot to death. All in the name of stopping a pernicious enemy called the new coronavirus infectious disease series 2019 (COVID-19).
People's survival rights were also violated. Like freedom from hunger and the right to a livelihood. Half of Filipinos went hungry (down to 30% now), half of the employed (about 20 million) lost their jobs; about 7 million of those jobs are gone forever.
During the pandemic, high-ranking government officials helped themselves with taxpayers' money. A substantial portion of cash assistance that should have gone to 18 million poor families was not delivered. Contrast that with Malaysia which delivered 99% of promised assistance to their recipients.
Government procurers had a heyday. Face masks were overpriced. Face shields were overpriced. PPEs were overpriced. COVID tests were overpriced. Often at five to six times their reasonable prices.
At PhilHealth, officials predicted the pandemic in January 2020 (when nobody had heard of it yet), three months before it arrived in March and allocated huge sums of money called the Interim Reimbursement Mechanism (IRM) as assistance to clinics and hospitals. Much of the money went to clinics and hospitals that had no or inadequate COVID wards. One estimate put the amount stolen at PhilHealth at P15 billion. Top officials of the state-run health insurance agency turned its operations into a criminal syndicate, rivaling the mafia or a drug syndicate.
In return for the inanities, abuses, and incompetence heaped upon them by government, what did Filipinos do in return?
Well, instead of crucifying Duterte, who is getting more religious each passing day, they raised their thumbs up in unison and hollered: "Okay ka boss! Dakila ka! Samba kami sayo!".
Nine out every ten find nothing wrong with Duterte's job performance. Almost no one does not trust him.
Lucky our President. Maybe one day, Duterte will do something extraordinary to do merit his extraordinarily high job approval and trust ratings. Otherwise, Pulse Asia should go out of business.