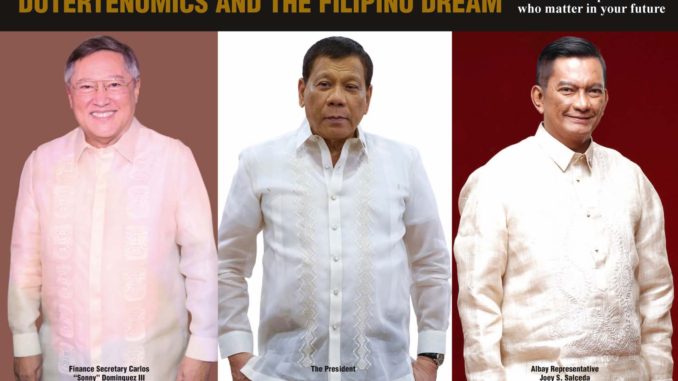 By Antonio S. Lopez
Shortly after Rodrigo Roa Duterte took power on June 30, 2016, his National Economic and Development Authority (NEDA) revealed a study on the problems and aspirations of Filipinos in the next 25 years or by 2040.
Two of Filipinos' most pressing problems – one, mobility, literal mobility; people cannot get to work fast and at a reasonable fare; two, corruption and red tape, from the top to the bottom of the government.
People's aspirations, however, were quite modest, given the Philippines' huge potential for growth and a rapidly digitalizing world. They want two things – comfort and security.
NEDA defines comfort (maginhawa) for Filipinos this way:
"No one is poor, no one is ever hungry. Filipino families live in comfortable homes with the desired amenities and secure tenure. Families and friends are within reach because transport is convenient and affordable, and they can take a vacation together within the country and abroad. Children receive quality education so that they realize their full potentials and become productive members of society. Decent jobs that bring sustainable income are available, including opportunities for entrepreneurship."
On the other hand, security (panatag na buhay) means security over their life time. "They expect to live long and enjoy a comfortable life upon retirement. There are resources to cover unexpected expenses, and there are savings. They feel safe in all places in the country. Filipinos trust their government because it is free of corruption and provides service to all its citizens equally," explains NEDA.
Why do Filipinos want comfort and security? There is a third aspiration, what NEDA calls "matatag na buhay", having strong roots. The economic planning body explains:
"Filipino families live together; there is work-life balance so that there is time to spend with family even for members who work. On weekends, families and friends enjoy time together in parks and recreational centers. It is a high-trust society with a strong sense of community. There are volunteer opportunities, and Filipinos spend time to serve the community, help others who are in need, and contribute to various causes."
The NEDA study gave rise to Duterte's fighting faith. He must fight crime—and corruption. This is the security aspect of Filipinos' aspirations.
At the same time, Duterte must provide inclusive growth which means reducing poverty incidence from 21.6% of the population in 2015 to 14% by the end of the President's term in 2022. This is the "comfortable" aspect of the Filipino dream.
Fighting criminality means getting rid of illegal drugs. Accordingly, more than 5,000 have been killed in the first three years of the administration's vigorous anti-illegal drugs campaign. Human rights group cite a much higher fatality figure, 27,000 in three years, but there is no evidence to support that speculation.
Build, Build, Build
To fight criminality and corruption and afford Filipinos a modestly comfortable life, Duterte has embarked on what he calls "Build, Build, Build"—the largest and broadest infrastructure spending program ever undertaken by any Philippine government in the last 100 years.
Build, Build, Build will cost up to P9 trillion when Duterte ends his presidency in June 2022. The gargantuan sum will go to 75 priority infrastructure projects littered from north of Luzon to south in Mindanao.
Finance Secretary Carlos "Sonny" Dominguez, leader of Duterte's economic team, unveiled Build, Build, Build on April 18, 2017.
Dominguez calls the strategy Dutertenomics, an economic policy or an "audacious" economic strategy to enable the Philippines to "catch up with its more vibrant neighbors" by 2022 and help it achieve high-income economy status within a generation. And middle income status by 2022.
New Deal
Dutertenomics is the present day Philippine equivalent of Franklin Roosevelt's New Deal (1933-1936), a series of programs, public works projects, financial reforms, and regulations enacted in response to the need for relief, reform, and recovery from the Great Depression.
The target is $11,000 per capita income by 2025, if not earlier.
When Duterte took over on June 30, 2016, it is as if the Philippines came from a very deep depression—physical, moral, spiritual. His predecessor, Benigno Simeon (BS) Cojuangco Aquino III, was a do-nothing president.
Scandals under Aquino
BS Aquino bribed 22 senators to impeach a sitting chief justice who had led a unanimous 15-0 vote in 2012 to declare that the family's 6,000-ha. Hacienda Luisita be given back or redistributed to its 10,000 farmer tenants.
The Cojuangco-Aquino family must also pay the farmers P10 billion, the money earned by the hacienda since 1957 when the clan took a government loan to buy it with the condition that it be subject to land reform after 10 years.
On Jan. 25, 2015, Aquino, as commander-in-chief, allowed the massacre by Muslim terrorists, of 44 elite police commandos who were supposed to arrest a notorious Malaysian terrorist bomb maker hiding in the jungles of Maguindanao province, Mindanao. The firefight took place the whole day. Aquino refused to send reinforcements, more than 1,000 troops, who were on standby by the highway, 2 kms away.
In April 2016, Aquino launched a massive anti-dengue vaccination campaign targeting more than 800,000 kids, using an untested and uncertified vaccine, Dengvaxia, manufactured by the drug multinational Sanofi. The government paid P3.5 billion for the vaccine which was found later to worsen the disease among recipients with no previous exposure.
A Senate investigation report declared Aquino guilty of "malfeasance, misfeasance and nonfeasance" for forcing Dengvaxia on hapless schoolchildren.
Perhaps, the biggest damage Aquino did to his people and the economy was the disastrous neglect of infrastructure. His men failed to buy basic equipment at Manila's international airport like cctv cameras, x-ray machines, baggage carousels, and even airconditioners although there was money. The NAIA was declared among the worst airports in the world twice.
The rot of infra was epitomized by the neglect in maintenance of the 16-km MRT3 on Metro Manila's main highway EDSA. The billion-peso maintenance contract was taken away in 2012 from Sumitomo of Japan and given to a stalwart of Aquino's Liberal Party. The new operator, who had little experience in railways, did not buy the required spare parts, and cannibalized the parts from the other rail cars. This brought the number of operating trains down from 73 to 50, and brought commuting time by users to as long as two hours.
Duterte elected
BS Aquino's incompetence and corruption so enraged the populace that by the time of the presidential elections of May 2016, voters elected into office a relatively unknown and untested candidate for a national office, the mayor of southern Davao City, Rodrigo Duterte, as president. He garnered 16.6 million votes, 6.6 million more votes than the 9.978 million of the Liberal Party's Mar Roxas, incidentally, the cabinet minister in charge of MRT3.
In the mid-term elections of May 2019, where 12 senatorial seats were at stake, none of the Liberal Party's eight senatorial candidates won. They included, again, Mar Roxas, who landed 17th. Duterte's coalition won 10 of the 12 contested seats, giving him enormous political capital.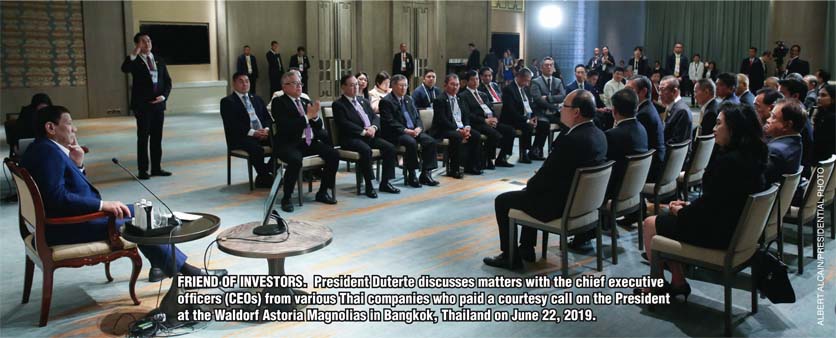 Development Plan
On June 6, 2017, the National Economic and Development Authority launched the Philippine Development Plan (PDP) 2017-2022, the blueprint for the country's development under the Duterte Administration.
The PDP 2017–2022 is the first of four medium-term plans that will work towards realizing AmBisyon Natin 2040, the collective vision of Filipinos over the next 25 years.
Under the PDP, by 2022, the Philippines will be an upper-middle income country. The growth rate of GDP is set at 7% to 8% in the medium term.
Overall poverty rate is targeted to decline from 21.6% in 2015 to 14% by 2022. Poverty incidence in rural areas is intended to decrease from 30% to 20% in the same period.
The unemployment rate: will also go down to 3%-5% by 2022 from 5.5% in 2016.
Other targets are: higher trust in government and society, more resilient individuals and communities, and a greater drive for innovation.
Embedded in the PDP are bedrock strategies that provide the necessary environment for the plan to work. These include achieving peace and security, accelerating infrastructure development, building resilient communities, and ensuring ecological integrity.
"We already have the goal. Now here's the plan to turn AmBisyon Natin 2040 into reality," Secretary of Socioeconomic Planning Ernesto M. Pernia said.
Far-reaching reforms
In less than three years of his presidency, Duterte ushered in the most profound and far-reaching pieces of economic and social legislation in history. The measures are designed to accelerate the country's growth rate, make Filipinos middle to high income ahead of targets, and change the socio-economic structure meaningfully by reaching out to those who have less in life in terms of income, education, health care, and social standing.
The centerpiece measures
There are 10 centerpiece measures to bring about robust economic takeoff and inclusion about: 1) TRAIN or theTax Reform for Acceleration and Inclusion Act; 2) Build, Build, Build; 3) Free College Education; 4) Universal Health Care; 5) Rice Tarrification; 6) Expanded Value Added Tax; 7) the annual appropriations or budget; 8) Expanded Conditional Cash Transfer; 9) Ease of Doing Business and Efficient Government Service Delivery Act (Republic Act 11032) which amended the Anti-Red Tape Act of 2007; and 10) control of inflation.
Pending reform measures
Among the additional tax and economic reform measures pending in Congress are: 1) the TRABAHO (Tax Reform for Attracting Better and High-Quality Opportunities (TRABAHO) Bill, which is Part II of TRAIN; 2) Public Service Act; 3) Retail Trade Liberalization; and the Foreign Investment Act.
The centerpiece measures and the additional reform bills would not have been possible without the cooperation and hard work of Duterte's allies in Congress.
Salceda is Duterte's key economic ally in Congress
Foremost among the allies is Rep. Joey Sarte Salceda, 58, of the second district of Albay. He is the country's best analyst having built a fortune with his dizzying depth of analysis and anticipation of economic trends. He is the House's chief economist and planner. He authored TRAIN (RA 10963).
A management engineering by training and a stock market investor by profession, Salceda shepherded the controversial TRAIN Law thru the legislative mill.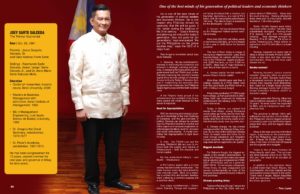 Of course, in the interim, TRAIN spiked inflation to a 10-year high because it increased tax on bellwether products like diesel, from zero to P4.50 per liter, in just three years. The higher tax on diesel and other petroleum products came at a time of rising crude prices, and unexpectedly, during a severe rice shortage which largely was because of incompetence at the state cereal agency National Food Authority.
TRAIN, according to Dominguez, "put more money in the pockets of the consumers and ensured strong domestic demand in the economy."
The Comprehensive Tax Reform Program seeks to make the tax system simpler, fairer, and more efficient. It also seeks to create a level playing field for business and generate a reliable revenue process to support both economic investments and more robust social services. TRAIN targeted revenue collection of P63.3 billion. The actual collection: P68.4 billion, 8.05% more.
The extra income of workers thru exemption from tax under TRAIN is estimated to have reached P111 billion in 2018. That bonus income, in turn, went to strong consumer spending which Dominguez insists resulted in higher sales and higher profits of the country's leading consumer products and property companies.
Meanwhile, the expanded VAT under TRAIN reduced the borrowing cost of government. In 2004, the state was paying 467 basis-point premium on its borrowings. This came down to just 110 basis points above US Treasury bonds in Manila last dollar bond offering in January 2019.
Because of TRAIN, workers earning below P250,000 ($4,500) a year were exempted from paying personal income taxes. Those earning above P250,000 a year in effect are now receiving an extra take home pay of one month's salary each year.
TRAIN a great success
"TRAIN Law has been a great success," enthuses DOF chief Dominguez.
"We broadened the tax base and returned about P111 billion—the equivalent of a 14th month pay—to the pockets of 99% of our wage workers. That reflected in a spike in consumer demand that helped boost the domestic economy." In its first year, TRAIN exceeded its target by 8%. More tax revenues mean less reliance on borrowings for the government.
Awash with TRAIN money, President Duterte made college education free for all, bought war materiel to defend the West Philippine Sea, promised to double the salaries of soldiers and policemen (granted), and teachers (still pending); signed the Universal Health Care law, and increased cash doleouts to the poor under CCT to the tune of P80 billion a year.
The Congress resolution authorizing the doubling of base pay of military and uniformed personnel was authored by Congressman Salceda.
"Today, the economy is strong and ready to soar. With the government's quick and decisive steps to tame inflation when it temporarily spiked last year, the inflation rate began to decelerate to 4.4% in January and further slowed down to 3.2% in May. This is well within our target, says Dominguez.
He adds: There is much to celebrate but also much bigger goals that we have yet to accomplish. President Duterte enjoys broad and profound support from our people. That strong support was most recently expressed in the just concluded midterm elections. The landslide vote our people delivered in favor of the candidates endorsed by the President translates into approval for the program of reforms the president has launched at the start.Our people desire the continuation of the pragmatic programs this administration has started, driven by the incomparable political will the President has displayed in these last three years."
More recently, Fitch affirmed the Philippines' triple B rating with a stable outlook.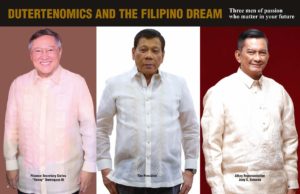 These credit rating grades are strong votes of confidence in the Duterte administration's reform agenda.
With these, government is actually borrowing at a lower rate to fund priority infrastructure and pro-poor programs.
Likewise, says Dominguez, the private sector should be able to borrow at lower rates to finance expansion. And I hope the banks would pass on their lower rates to the ordinary Filipinos who take out loans and allow them to pay lower interest rates as well.
All of these will translate to larger investments and more jobs for Filipino workers. So, as you see, it is not just about getting upgrades or affirmations. It is also about upgrading the ordinary Filipino's life.
Meanwhile, Dominguez says, the much-improved inflation outlook, including better anchored inflation expectations, has allowed our monetary authorities to cut policy rates by 25 basis points and to cut the reserve requirement ratio down by 200 basis points. These measures will further enhance growth prospects for the remainder of the year.
Delayed budget
The administration ran some difficulty when the enactment of this year's budget was delayed. That reflected immediately in the first quarter growth number.
From the expected 6% to 7% GDP growth, it slumped to 5.6%—a full percentage point below expectation and very likely more than a percentage point of growth lost. "That may be chalked up to the cost of politicking," sneers the DOF chief.
On the budget, Dominguez explains: "When we calculate our budget as a percentage of our total GDP, it's around 19.5%. That's only the national government, that doesn't count the expenditures of the local government and the GOCCs."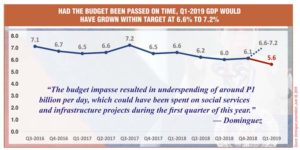 "So when you figure it all out, it's probably in the area of 23% of the total economy. So when we have a slowdown or we're not able to spend as we planned, it is certainly going to affect the growth prospects of the country."
Measures handled by Salceda
Aside from TRAIN, Salceda masterminded, shepherded, co-authored and/or authored the law (RA 10928) extending to 10 years the validity of passports (this dramatically reduced red tape and queues by passport applicants at the Department of Foreign Affairs), extending the validity of driver's licenses to ten years (RA 10930, another anti-red tape measure), establishing free internet access in public places nationwide (RA 10929), free college education (RA 10931), the law penalizing hospitals for collecting deposits before they attend to patients (RA 10932), free irrigation to boost agricultural production (RA 10969), Ease of Doing Business Act (RA 11032), institutionalizing the Balik Scientist Program (RA 11035), a National ID System (RA 11055), a centralized notice registry (RA 11057), institutionalizing telecommuting as an alternative work arrangement (RA 11165), creation of the Department of Human Settlements and Development (RA 11201), portability of cellular phone numbers (RA 11202), Rice Tarrification (RA 11203), new Central Bank Act (RA 11211), tax amnesty (RA 11213), Universal Health Care (RA 11223), free access to technical vocational education and training (RA 11230), Agricultural Free Patent Reform Act (RA 11231) Revised Corporation Code of the Philippines (RA 11232), and the energy virtual one-stop to cut red tape in power generation, transmission, and distribution (RA 11234).
Pending Salceda bills include: Creation of the Philippine Space Agency (HB 4367); and the Tobacco Excise Tax Amendment (HB 4575).
The Albay solon also authored House Resolutions 0334 congratulating and commending Janelle Mae Frayna of Legazpi City, Albay, for becoming the first female grandmaster of the Philippines; and HR 2406 congratulating and commending Catriona Gray for winning the 2018 Miss Universe Pageant.
Conditional cash transfer
Covering 4.4 million households, the conditional cash transfer (CCT) program locally known as Pantawid Pamilya Pilipino Program, or 4Ps, is a potent anti-poverty tool, says the World Bank. Households receive cash grants if children stay in school and get regular health check-ups, have their growth monitored, and receive vaccines. Pregnant women must get pre-natal care, with their births attended to by professional health workers. Parents or guardians are required to participate in monthly community-based Family Development Sessions to learn about positive child discipline, disaster preparedness, and women's rights.
With up to 75% of the population targeted, the Philippine PPP is the world's fourth largest.
To address inflation, Duterte opened rice importation, long a government monopoly, to private companies. Rice tarrification is expected to lower the imported cost of rice (food is half of the consumer basket) and will bring down inflation. The measure's impact has been dramatic. The inflation rate, which rose to an 11-year high of 7% in third quarter 2018. This year, inflation rate has fallen to below 3%.
"Rice tariffication law was a politically difficult reform," confides Dominguez, a former agriculture secretary under President Corazon Aquino. For 30 years, various administrations tried to do it, without success. "The liberalization of rice trading will make quality rice more affordable and accessible to Filipino families, lower the country's inflation rate, and revolutionize our agriculture sector as well as help our farmers become more competitive and productive," Dominguez explains.
The world has taken notice of the remarkable improvements in the Philippines' economic fundamentals. Foreign direct investments hit $10 billion in 2017 and another $10 billion in 2018.
In early May, the Philippines bagged a credit rating upgrade, from Standard & Poor's Global, from BBB (a rating it has enjoyed for the past five years), to BBB Plus with a stable outlook. "This is the best rating the country has ever achieved," Dominguez points out, adding the upgrade "indicates that the Philippine government has further improved on its ability to pay back its long-term debt."
Other benefits of a higher investment grade credit rating: It signals to international investors that the Philippines is now a more attractive investment destination; investors will require lower rates of interest and returns for Philippine bonds and stocks, making financing cheaper for us; the private sector can also more easily and affordably tap international sources of funding when they borrow from overseas sources.
In sum, the upgrade is a "green light" to invest more in one of Asia's fast-growing economies.
More foreign direct investments means more jobs, increased productivity and higher incomes for our people. Foreign direct investments will help sustain the country's rapid growth and make it more inclusive.
The bullish S&P report validates the soundness of the Duterte administration's aggressive spending program to address the infrastructure gap. Inadequate infrastructure is among the major deal breakers for investors and is one of the biggest constraints to achieving our goal of inclusive growth and poverty reduction.
TRAIN Law has part two, called TRABAHO bill which will raise taxes on cigarets and liquor and removes or decelerates generous tax incentives being given to locators in the country's more than 200 export zones.
The upgrade puts the Philippines above countries like Italy and Portugal, and just a notch below countries like Spain and Malaysia. Italy and Portugal rank below us because of their heavy debt burdens relative to the size of their economies and weak external financial positions.
Still, the Philippines still lags behind two-thirds of the world's countries in terms of ease of doing business. Red tape remains rampant. So is corruption.