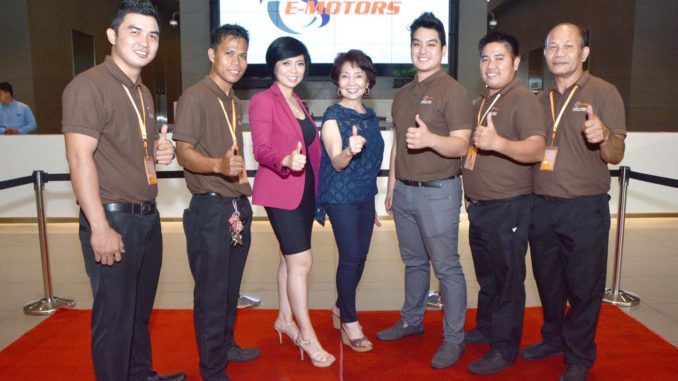 BizNewsAsia Publisher Tony Lopez recently had a televised one-on-one with EMotors President and CEO Elizabeth H. Lee. Excerpts from their conversation:
Tony Lopez. You had an excellent speech at the recent convention of the Public Relations Society of the Philippines whose theme was Ignite, Collide, Unite. How did you give meaning to those terms?
Elizabeth Lee. Ignite, innovation and passion in what you're doing and then Collide which for me (what I'm doing now) is going against the grain. You know only dead fish go with the flow, as I say. The third one is to Unite the different social structures by what we do.
In EMotors, we are actually builders of electric zero emission vehicles. At the PRSP, I just shared how it started and then why my company is actually going against the norm and uniting the different lives and lifestyles of people like the drivers, the riders, and how that actually at least helps alleviate some of these social ills.
Ignite? How does it work?
I started with EMotors, that's ignite and my passion to actually do this business. EMotors is a socio enterprise as you know and it's a 100% Filipino-maker, manufacturer of electric vehicles.
You were with Nissan for 12 years and you were the leader for the industry for seven years as president of the Automotive Manufacturers Association of the Philippines and you were also the president of the truck makers.
Actually, its a God blessing. I had a wonderful roller coaster ride with what I did before so like what you'd said, 12 years with Nissan, 7 years with CAMPI and then also 4-5 years with BNTV.
EMotors represents what you call a 180-degree turn from one extreme to another, you were producing diesel cars, gasoline-fed cars with so much emission. And now you are producing 100% zero-free carbon emission vehicle.
It really was a 180-degree shift for me. I used to sell vehicles that we used everyday with emissions and then now I'm doing socio enterprise producing electric vehicles with zero emission and zero noise.
So what inspired you to do it? Why did you change your business model?
Because of what I learned from my stint at Nissan. You are familiar with this Urvan Your Business program that was pioneered, conceptualized by me and my Mom (Helen Lee). For every Nissan Urvan sold a percentage went to microfinance.
Your concept of selling vehicles was helping people and make a difference to them?
Yes. It's really directly tying vehicles sales with poverty alleviation. And we helped more than 7,400 families there and the impact has actually made a difference in me and to them. Before the program started Nissan Urvan was selling about 75 units a month. After the program started sales actually doubled and the highest it was selling at about 300 units a month. At the same time, it helped the underprivileged.
Nissan Urvan was No. 1 for a quite extended period of time. So the earnings I got from there actually changed the lives of the people. The key inside was how many more families can we helped by selling Urvan vehicles.
You had one particular product—Nissan Urvan, which you converted from an ordinary family van into a business enterprise van.
It was a self-liquidating business venture and whose aim really was to complement the income that you are making.
How are you doing with EMotors product?
It's now gaining some traction. I am very thankful for the companies which bought e-trikes. Just recently we'd launched in BGC (Bonifacio Global City) with a private company, a shuttle service to service the tenants and the staff.
Yung product mo became parang tricycle ng bayan. Professionals and the middle class, for the yuppies.
Oo. We called it the Züm e-shuttle. It's actually an upgrade for the ones like the TODA drivers, it's kinda upgrades what they have right now.
From dirty tricycles to a modern leading-edge product.
Yes and they also sell. They can also actually ride more people versus the traditional ICE (internal combustion engine).
So far, how many companies have you convinced, have you ignited to buy your product? You were with APEC?
Yes. We were chosen to represent our country as the APEC electric mobility partner.
You provided sustainable tricycles to leaders of business and politics?
Yes, and also for the ministers. It's sustainable transport and it jives with the theme of APEC which was climate change mitigation and inclusive growth.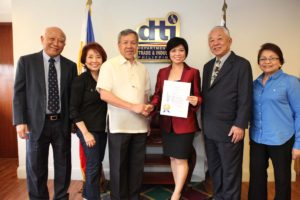 In the concept of climate change, the world is "warming" because of pollution and one of the major sources of pollution are cars because they produce so much carbon or greenhouse gases.
Yes, that's right. And so, curbing carbon emissions one of the ways. Bill Gates has actually has this "energy equation" that we really need to do something to lower our carbon footprint or CO2 emissions. (Bill Gates estimates 36 billion tons of carbon emissions because of population needing services which in turn need energy the use of which produces CO2. The key then is reducing the CO2. Carbon footprint is the total amount of greenhouse gases released as the result of a given activity.).
We need to reduce carbon emissions to keep the global average temperature within 2 °C of pre-industrial levels.
Yes. That's what they're saying: "2 degrees is the point of no return"
And unfortunately, the vehicles are said to be the main culprit for producing the pollution and carbon dioxide (the most important greenhouse gas released by humans).
Yes. Because right now Tony if I may share, Asia (as a whole) including China, we already represent 23% of the total emissions that is sort from transport globally.
China represents 25% of the total pollution together with the United States (17%). Between them we have more than 40% for pollution. Only two countries in this world are polluting the world.
You may add India, they have 1.2 billion population.
Still you're carrying out your advocacy to buy vehicles, which do not produce carbon.
Yes, because part of that actually is the livelihood component.
How come your vehicles, e-trikes do not produce carbon? What is the technology?
It is propelled by an electric motor. So, ICE (internal combustion engine) is the one that actually infused out CL2.
And if the vehicle ran on electricity it does not produce carbon?
Yes. At the vehicle point, of course end to end would be good if it's totally zero emission.
What do you mean by end to end?
What I mean by that is when you plug in your electric vehicle to a socket, to a 220 socket like ours, the source of energy that's coming to that socket should also be clean.
It is something renewable?
Yes
How successful have you been? Money consideration, you were selling Urvan cars, emission-fueled cars for money. Now you are saying you don't need the money to help contribute to the welfare of the people?
Well, you always need the money but I think right now, the business models are slightly different. If let's say companies actually participate in doing this. For example, in a corporate setting, companies would actually save on cost for an employee attrition if you provide them vehicles.
How do companies save money?
You actually just get the services you don't need to purchase the vehicle itself.
You mean I can lease your vehicle?
We have a package for corporates.
I don't need to buy your e-trikes?
No you don't need to. But if you want you can.
Why do you say that. Why will companies buy your e-trikes when you are saying they don't need to buy it?
No, if you want to buy, you can. We actually do several packages that fit your needs.
With that particular company in BGC, he is leasing or renting how many units?
Right now, seven.
Good for how many people? They do not pay any fare?
The seven e-trikes are good for 600 people every day. Right now, it is being given as a free service by the company for its employees. At the same time, the e-trike is also really good for livelihood program for the drivers.
So what are the benefits for a company doing that?
One, it helps with employee attrition, meaning people stay with the company. It lowers your stress level, especially with the highly urbanized cities and in central business districts like BGC and Makati. So getting into let say BGC there's congestion. With e-trikes, you'll just wait for three minutes. Waiting for a jeep for maybe takes at least 20 to 30 minutes. The e-trike is like a private shuttle.
Two, it lowers the cost for the employees and company also. The cost, because for example in BGC (and we've done the survey) there's a lot of companies that when they're going to be hiring people to actually work in BGC they have to add an extra amount for transportation.
How does a company make money out of providing free e-trikes to its employees?
They save on cost actually. For example in BGC, they surveyed companies. One of the things companies must do is increase the cost of hiring because of the need to provide transportation to their employees. They need to increase employee compensation to cover transportation and food.
Your e-shuttle can carry how many passengers?
Six.
So using e-shuttle, an employee cuts his waiting time for ride to the office?
Yes. But that's the most important because one thing you taught me Tony is that, the most expensive capital is human capital. So you wasted time of one human being waiting in line for two hours of course, that, actually is discriminatory. So one of the things that we're trying to do here for EMotors is to actually assist in being a solution.
How many companies have expressed interest in your product of service?
Quite a number. I will mention not companies but by industry because there are competitors. For example, the beverage industry, the hotels, and resorts.
What is the advantage for a beverage dealer of using an e-trikes?
You know the distribution for example for beverage the distribution goes from large distributors all the way down to the barangay that delivers the product to the sari-sari store.
E-trikes can carry how many cases of softdrinks?
It can carry up to 400 kilos. We have one actually that has box at the back and it's easier to drive. It's always cheaper, you just plug in than it is to gas.
How many hours do you need to regenerate electricity for the vehicle?
If you use your e-trike or your e-shuttle, it has five batteries which add to the weight of the vehicle. But then the reason, you need the batteries. That's why we are actually partners locally with Motolite.
Why five batteries?
Kasi yun yung source ng power versus gas kaya kailangan meron kang lima pero, if you maintain your batteries I have some clients that lasted two years. If you maintain it properly, huwag mong patuyuin. It's just a normal, kailangan mo lang naman dun distilled water ang katapat nun eh.
What kind of battery?
Lead acid battery. The reason why we chose at this point in time is because (nothing against lithium) there were moving towards that—but as part of our advocacy. We want to support local companies. Go local first. The regular Mang Juan kilala niya yung Motolite battery, hindi siya matatakot.
Iri-recharge mo yung Motolite battery for how many hours and how many days does it take to deplete the battery?
Well it's not how many days, it like how many kilometers, so 40 kilometers same as the car. You need to charge it for 4 to 5 hours. That's the typical where the batteries are charged.
Meron bang maintenance na you don't have to put anymore water?
Yes pero mas expensive siya.
Beth you were explaining about the mechanics acquiring a fleet of e-trikes. So kailangan marami akong bibilhin. Ilan ang minimum?
Yes we actually deal in fleet. Well it's more efficient actually we're dealing with 10 per lot. But you know that target really is not only corporates but also let say you have a cooperative and then you want this as a transport business then the cooperative can actually get funding also from the likes of DBP.
Direct operation funding for such purchases
Yes, because we're doing this for livelihood. That can help mankind. We need to do our part. But Tony just wanted to clarify when you ask like "how long does it take to charge?" If you were to used up your battery, we don't recommend.
You don't need to finish up to 80%. So if your battery is used up, say in the morning, just plug your e-trike into an ordinary 220 outlet and charge it while having lunch. It's the same way when you charge your cellphone.
Does the battery have a battery power monitor?
Yes. So you can charge it any time that you have a free time. You don't have to wait and charge it you know 4 to 5 hours.
Is the concept so to speak catching fire?
I like that. Yes it's electrifying (laugh). But we don't want fires. Right now I am happy to say that it really is gaining some traction and its attracting now a lot more attention.
So beverage companies like Pepsi, Coca-Cola might come in.
Hotels and resorts.
Boracay?
Yes. Palawan and Cebu.
Ano ang gamit ng isang beach hotel para sa e-trikes?
I think they use it inside because it's large. Normally their areas are large.
Pangsundo ng guests sa mga cabanias and villas
That's right or from the airport to the villas.
Kaya niya luggage?
No. People. The luggages will be in another but then that's one of a kind of fun things that the resort actually offers.
Kasama sa ambiance yung may e-trikes. When you travel you develop what you call a carbon footprint and to minimize ito ang pambawi mo.
Yes. That's right.
LGUs and tricycle association, how do they do it? Will the mayor help them?
LGUs and the TODA because if they have cooperatives. The mayors can actually help by giving them incentives not necessarily monetary. So pwede yung franchise, specific route, so those are the things that can incentivize or maybe longer payment period.
Are there LGUs already enrolled in your program?
There are some also with their specific TODA (tricycle drivers association). But this is also good for women. It's very easy to drive. I drive it also in a skirt and heels. It's very easy to drive.
You're gonna have a lot more riders. You can use it for like school shuttle. What some have done is that neighbors in a subdivision pool their money to buy two or three units at least and load the kids to go, from their subdivision to schools.
The operator actually earns more in it because you can load up to six kids in one e-shuttle, safely seated properly, versus your regular ICE.
Pero bakit naisipan mo yan of all products, galing ka sa kotseng may engine tsaka gasoline and diesel tapos bigla kang…
Because there are climate change medication, livelihood creation and double employment. But you know there are 3.5 million tricycles nationwide.
All of them diesel-fed?
Not, all them gas. But not all of them are actually even registered.
How much gas does a motorbike consume?
One motorbike, if you use it five days in a week and then 12 months in a year, dumps two tons of CO2.
It dumps 2,000 kilos of carbon?
That would be the same volume as 67 of your favorite four-door sedan stocked up on top of each other. That's why it is really as a social ill because all of us contribute.
How much carbon can you take in before you die?
Oh my God! I'll tell you, how much carbon do you see or do you breathe each day? We eat two kilos of foods. We drink maybe two liters of water. But you know how many kilos do we inhale, 20 kilos a day.
Everyday, it worst when you commute. Actually, pollution is discriminatory.
Bale ang langhap, imbes na langhap sarap, langhap patay.
That's right. You know how bad it is, air pollution? For example in Mumbai, India, one day, the pollution there is so bad that if you breathe the air in Mumbai, India for one day it's equivalent to smoking for a hundred cigarettes. But were not any better and we know that. When we're outside if you commute (all commuters know that).
In the United States, up to 200,000 Americans die early because of pollution?
Yeah. Death from pollution is actually the world's largest preventable disease.
What happened to the government program to help e-shuttle and e-trikes?
Yes, there was actually bill both in the House and the Senate.
The Department of Energy actually had an e-trikes program with the Asian Development Bank.
How is the government helping people like you, innovators in an entirely new industry that will eventually help mankind?
Thank you for asking that question. We actually need a lot of help. There's actually—well for us, because we're the only socio-enterprise who's doing this – for the masses and also for corporate use.
How long can you survive?
No, it has to be sustainable. The electro vehicle industry nationwide is very young pa.
Hindi mo ba pwedeng magamit yung renewable energy, di ba may mga subsidies diyan? Wala tayong ganyan? Kasi yung mga Big Boys nagpatayo ng windmills meron silang feed-in-tariff (FIT) dun na sila nabubuhay. Feed-in-tariff na mas mahal pa sa cost of producing the power from windmills.
Well there's a bill that's going to be revived I think that is the alternative fuel. Sana meron. Pero you know if there's going to be incentives for lets say big time companies to use this na meron sila, kahit na hindi fiscal.
In the US, Tesla was getting a subsidies of something like $5,000 to $7,000 per unit before it could take off and until now.
Yes
E-trikes have no range anxiety (the fear of running out of electricity)?
Now, no.
It is even more sustainable because walking is good exercise and the only carbon you spend is your own energy.
That's right but we're hitting both ends. So, support from government, incentives does not have to be monetary. It could be fiscal and non-fiscal incentives. At the LGU side, they can help their TODAs or tricycle drivers association. TODA drivers understand that they can make more money because they can load more people per ride.
And then it cost less to actually charge the e-trike than to use gas. So it's a no brainer for the tricycle drivers. They know they can make money. All they need is the funding to actually pay for their units.
Ano bang pwedeng gawin ng gobyerno sa iyo?
For the government, one help is incentives, incentivize (not necessarily in monetary terms).
Are you registered DTI, Board of Investments?
We are registered as a pioneer under Category 3, motorcycles. We were the first.
Any financial assistance from government? Lending program? Why don't you talk to Landbank, DBP?
Well, what we're requesting is for them to support the clients, who are the cooperatives. That's actually my focus, to support them.
Commercial banks are required to lend portion of their loanable refunds to SMEs
Yes. So that's one of being done for the client's naman (on the clients side). That how government can help and also banks can help also but if more and more let say companies (as influencers) integrate the use of alternative vehicles like electric you know low-cost zero emission. It also adds to their green branding.
Why are you concentrating on e-trikes? Don't you have any other product?
We are not limited to three wheelers. The reason why we started three wheelers is because they are so many. We want to have an impact.
Ilan ang nabentang mga e-trikes dito sa Pilipinas? Meron na bang 50,000 units?
None. What we do is by step. We don't compete but we complement.
Meanwhile, nearly half a million units of cars are sold every year in the Philippines.
Yeah we are already reaching 400,000. So let me tell you, global automotive sale for this year is projected to be 93.5 million vehicles. The percentage of that for electric vehicles is about one million, globally electric vehicles.
Bloomberg predicts that 2020 is the decade for the electrics. By 2022, it is projected that cost of ICEs and electrics will be at par. That is going to be now the takeoff point for electric.
That means you have to mass produce it to be at par production cost with the carbon vehicles.
The battery cost will also go down because of the mass production. There is no global automotive company that does not have an electric vehicle product line up.
So the next big business should be batteries?
Yes in fact, even mass of Tesla (Motors of the US) is actually building a giga-factory for batteries which covers the equivalent of 250 football fields.
It will be one single largest producer of batteries?
Yes, that's right.