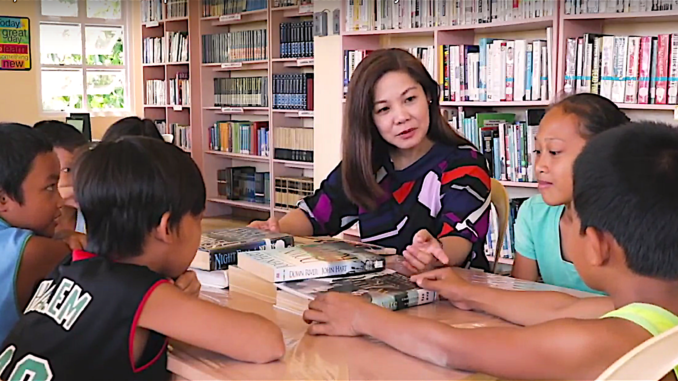 In 2007, Regional Trial Court Judge Rowena Tan established a library in her hometown of Llorente in Eastern Samar. Llorente is a third class municipality with a yearly income of $700,000 to below $1m and a population of 20,149.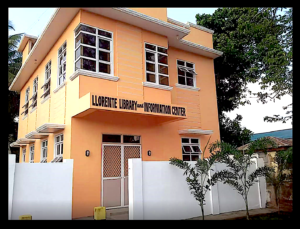 The Llorente Library Information Center (LLIC) was built on altruism. It began with a $1,000 seed money from an aunt; a converted ground floor of a relative's house; and continuous donations of books, resources, money, and time. A Library Committee of retired professionals volunteer to operate the library and are sometimes paid honoraria from donations.
"Everything in the library—all the books and other learning materials—are donations, some solicited others voluntarily offered. In short, the library was set up and is run on the generosity and kindness of many good-hearted people."
LLIC is the first one in this coastal town and in the whole province of Eastern Samar with a population of half a million. It is a private library that operates as a community library where the public, especially students and professionals, come to read and learn.
"The library was a dream project of my mother, Mirope, a retired nurse and now a full-time mother, who, together with my father, Rufilo, raised all their seven children surrounded by books," said Judge Tan.
Eastern Samar is in the middle or Visayan region of the Philippines. It faces the Pacific Ocean so it suffers many yearly typhoons.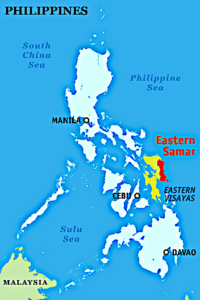 In 2013, the country's deadliest typhoon, Haiyan (locally Yolanda), flattened Eastern Samar which damaged the library and forced it to close for months. Judge Tan appealed on Facebook for help to repair the library. The humanitarian organization, Singapore Red Cross (SRC), came to help the victims with $12m. When it heard about the damaged LLIC, it also donated $50,000 (P2.6m) and other materials to rebuild the library. Judge Tan's father donated his lot where the rebuilt library now stands.
"This is my community. We put up this library because we wanted to raise the level of literacy of the people in my community and provide an avenue for our children and our students where they can study and learn," said Judge Tan.
Since its inception, the library is the town's information center. It is a source of continued learning as it offers tutorials, art classes, and contests for essays and poster-making. The recent addition of computers allows patrons to gain computer literacy and access online data.
LLIC has a regular outreach program that brings books and reads stories "to children who live far from the town and have no access to the library because of distance and poverty."
Judge Tan is thankful for SRC's help to rebuild the library where the children "can learn, and dream through the books that they read. Dream of a better life, dream of a better future."
A decade of growth
Literacy is strongly correlated to the success and productivity of an individual and a nation. Libraries are critical in fostering a literate environment, especially for the poor.
"Libraries assist in finding, using and interpreting appropriate information that opens up opportunities for lifelong learning, literacy enhancement, informed citizenship, recreation, creative imagination, individual research, critical thinking, and ultimately, empowerment in an increasingly complex world." (UNESCO)
In the past 11 years, LLIC grew from a few hundred books in a small room into a three-story building with over 5,000 books. Its members increased from a handful to over 400 and averages 525 visitors a month. Many users grew up along with the library.
"I think I was in Grade 4 when I began frequenting the place. I could never forget those times wherein I would sometimes cut classes just to go and read at the library, until its closing time in the afternoon." (Jhodan Blanco, HS senior)
LLIC has helped many students through the years evolve. Fourth grader Francine Antoinette Campo was unmotivated to learn but started to achieve in school after reading in LLIC. "I realized that I should return to this library and learn."
Similarly, fifth grader Savannah Mae Guial boosted her grades when she read more books in LLIC. "[People] change their life by reading many books….[If] I read…I will get more high grades."
Hannah Nicole Capito, a HS sophomore had no interest in English nor reading. But after she read a novel in LLIC, she became hooked on books. "Although that novel had no pictures, I enjoyed it so much that I have reached the point where all day I was reading books."
Libraries are depositories of information that most households and local governments cannot afford. LLIC offers an internet connection that many families lack. "[T]his place has become my small headquarters for an abundant possession of knowledge." (Crieztania Isabelle Calzita, middle school)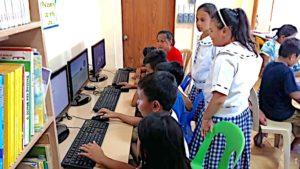 As a social hub, libraries are central to a community's sense of belonging. It is a safe place for everyone, especially children. HS sophomore Justin Yape was bullied for being a part of the LGBT community, but he found solace in LLIC. He forgoed his social media and digital screen so he could spend more time reading. "We are sure the books will never hurt us….the books are truly my best friends [who] will not leave me, not ignore me."
LLIC is a beloved hangout and a source of inspiration. "This place is like a blessing from God above that helps me to be able to explore fantasy beyond reality." (Renalyn Macaraeg, highschool senior)
"I hope that the service of the Llorente-Singapore Library will be as consistent as it is. I hope that even if time passes by, they will still be able to provide people knowledge through their service, because this library will always have a special place in my heart." (Efren Cyril Bocar, HS freshman)
Befriend a library
With the success of LLIC, Judge Tan hopes to expand its services and open more libraries. "It is also my wish to have a public library in every town in Eastern Samar, one of the poor provinces in the Philippines, and all the towns in the country." But she needs help.
All libraries depend on the generosity of its benefactors, even if publicly funded. To sustain its service to the community, libraries need constant support to stay open. LLIC costs $120 (P6,000) to operate monthly, or $1,440 (P72,000) yearly. It still doesn't have its own internet connection which costs $26 (P1,300) monthly. A volunteer receives $60 (P3,000) monthly or $720 yearly.
Books are the soul of a library, but they are expensive and hard to find in the Philippines, where most books are sold in the capital Manila. LLIC is in dire need of all kinds of books from kinder to high school, especially for Math, Technology, and Science (Chemisty, Physics, Biology). Young Adult novels are also in high demand. But all books are welcome and sure to be read repeatedly.
Students can also use more computers; printers; office supplies like paper, pens, pencils, printer ink; educational materials; art supplies; and recreational activities like board games, card games, and music.
If you want to help or donate, contact nei1tan@yahoo.com and send to Neil Christopher Tan/Mirope Tan, Llorente Library and Information Centre, Inc., Loste Street, Llorente, Eastern Samar, Philippines 6803. To send cash, email rowena.tan@post.harvard.edu for bank information. See https://llorentelibrary.wordpress.com/about/
If you want to start a library in your community, see this UNESCO manual: http://unesdoc.unesco.org/images/0011/001171/117165Eo.pdf