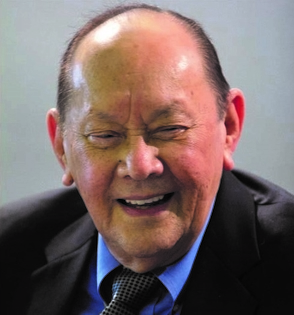 By Antonio S. Lopez
Eduardo "Danding" Murphy Cojuangco Jr. was the Philippines' most successful and greatest Filipino industrialist.
His entrepreneurship and public service served a singular purpose – to uplift the lives of many Filipinos and contribute to a stronger national development. That is why the San Miguel Corp.'s vision is "to make lives better". To him, profits were secondary to a higher purpose of serving the people.
His success encompassed many facets of Philippine society – business, agriculture, public service, sports, education, and philanthropy.
At age 18, he would often pass by the massive San Miguel building on Ayala Avenue and wondered to himself how he could acquire the company some day. Producing food had always been Danding's passion. He took up two years of agriculture for that, at UP Los Baños, plus two years at the California Polytechnique College in San Luis Obispo. He went to De La Salle College Manila for his high school.
Cojuangco also held the following positions in listed companies: chairman and CEO, Ginebra San Miguel Inc.; chairman of San Miguel Food and Beverage, Inc. and Petron Corporation. He was also the chairman of the board of ECJ & Sons Agricultural Enterprises, Inc. and Eduardo Cojuangco, Jr. Foundation, Inc.
The western press once estimated the businesses he was into accounted for 25% of the national economy or GDP. Today, SMC revenues are over 5% of GDP. BizNewsAsia estimated his wealth at more than $1 billion.
Cojuangco was chairman and CEO of San Miguel Corp., founder and chairman of the Nationalist People's Coalition (NPC), the country's third largest political party; former congressman and governor of Tarlac, his home province; had the rank of an ambassador and a colonel in the reserve force.
In tandem with his trusted friend, adviser and executive, the bold and visionary Ramon S. Ang (RSA), "a diamond in the raw," he said, Cojuangco transformed San Miguel and nurtured it to become the Philippines' largest, most profitable and most diversified conglomerate.
With the help of the late Enrique Zobel, the CEO of the Ayala Group, Cojuangco bought San Miguel from three groups – the Ayalas (who owned 20%), the late Andres "Andy" Soriano Jr. and the late John Gokongwei Jr. in 1983. ECJ ended up owning 51% of San Miguel but allowed Don Andy to manage it for five years from 1983. Soriano died the following year, however. Danding took active management from 1984 to 1986.
The government sequestered San Miguel in 1986 after People Power. Majority owner Cojuangco was ousted and management was grabbed by the Soriano family despite owning only less than 2% of the company. Danding joined Ferdinand Marcos in the flight to exile in Hawaii on Feb. 25, 1986, with wife Gretchen. From Hawaii, he flew to California to hibernate. Before 1992, he came back to Manila and launched a presidential bid. He almost won but Imelda also ran the same year, taking away some two million pro-Marcos Ilocano votes that would have gone to him.
In July 1998, Danding took back control and management of SMC. The Supreme Court later ruled that Cojuangco owned 20 percent of San Miguel, but declared 31% (later diluted to 27%), belonged to the government since it was supposedly bought with coco levy money.
Actually, the 31% also belonged to Cojuangco but he made the mistake of borrowing from United Coconut Planters Bank using as collateral San Miguel's deposits in the bank in what he thought was a brilliant leveraged buyout. The government later agreed to convert its common shares into preferred shares with redemption period. When redemption came, Cojuangco bought out the government.
Together with RSA, Cojuangco remade SMC from a company with three product lines – beer and beverages, food, and packaging, into an industrial behemoth with leadership in eight major businesses – beer and beverages, food, packaging, oil refining and marketing (Petron acquired in 2010), infrastructure like tollways and airports, energy generation, utilities like water, and property, with annual revenues of more than P1 trillion, gross income of P190 billion, EBIT of P115 billion, and profits of P49 billion, in a down year.
For many years in the past 20 years, San Miguel was the Philippines' fastest growing and most profitable industrial company.
Even more amazing is what Cojuangco has done for the coconut industry. With just P1.65 billion in 1983, he earned for the country's more than four million coconut farmers a whopping P120 billion, including dividends, by the end of 2016.
Cojuangco had, of course, battled major ailments—kidney (he had a transplant in late 2013), heart, liver, lungs, occasional pneumonia—and miraculously, for seven years, conquered all of them.
Until the time of his death on Tuesday, June 16 at 10 p.m., in his sleep of an apparent heart attack, he seemed as hale, hearty and happy as a man half his age yet, with double the achievements of tycoons and peers of his generation. Sunday before that, he looked in fine spirits when he checked into a suburban hospital, where San Miguel maintains suites, for a three-day regular checkup.
Boss Danding or ECJ did what no other Filipino investor has done – reinvest the profits of his diversified businesses—in the Philippines. He did not funnel his money away in some secret deposits in Switzerland or park them in some investment hot spots overseas. He loved to serve the Filipino people and serve them well.
ECJ believed the Philippines could prosper two ways: one, by investing heavily in and modernizing Philippine agriculture to establish a diversified manufacturing base, and two, develop coconut into an oleochemical complex producing products and services matching those of crude oil-based petrochemicals.
Danding believed the chemicals and chemical by-products, the lifeblood of many industries, derived from crude oil could also be extracted from coconut oil, with the added benefit of not hurting the environment.
His cousin Corazon Cojuangco Aquino's land reform, which exempted her family's 6,400-hectare Hacienda Luisita from being cut up by enabling it to sell company shares of stock in lieu of straight land rather than give the land to farmers or tenants, doomed the coconut industry which needed huge tracts of plantation land for better integration and productivity, doomed what was once the Philippines' biggest dollar earner.
Hacienda Luisita had many unprofitable years rendering its shares of stock, given the farmers, much less valuable than the hacienda land itself which now straddles the most valuable expanses of industrial and commercial land along the Clark to Pangasinan corridor. A chief justice was ousted because he led a 15-0 decision to order the transfer of Hacienda Luisita lands to farmers, plus all the accrued interest and income since 1967, the end of the ten- year holding period by the Cory Cojuangco line, per the terms fo the loan given by the Central Bank.
Until recent years, Danding had to provide huge financing (P200 million is the figure bandied about) to the family of Cory Aquino to rescue Hacienda Luisita from financial ruin. Incidentally, during Ninoy Aquino's three-year (1980-1983) exile in the United States, it was Danding who provided the financial lifeline to Ninoy's family. Ninoy and Danding were the best of friends in their pre-martial law political years.
Integral to the development of the coconut industry was the United Coconut Planters Bank (UCPB) to provide the financing. From First United Bank, UCPB grew to become the first universal bank and the second largest in terms of equity. After the 1986 People Power, the government sequestered the bank. UCPB went into difficult times, thanks to mismanagement, and twice had to be rescued to keep it afloat with capital infusion of P20 billion each time.
Had government followed Cojuangco's vision, UCPB would have been the ASEAN's largest commercial bank and coconut the largest industry with a conglomerate many times bigger than today's San Miguel. "SMC would only be a subsidiary," Danding said.
Today, the Philippine banking industry is the smallest in the original ASEAN Five countries. The biggest bank each of Thailand and Singapore is bigger in resources than the total resources of the Philippine banking system.
READ FULL ARTICLE HERE: