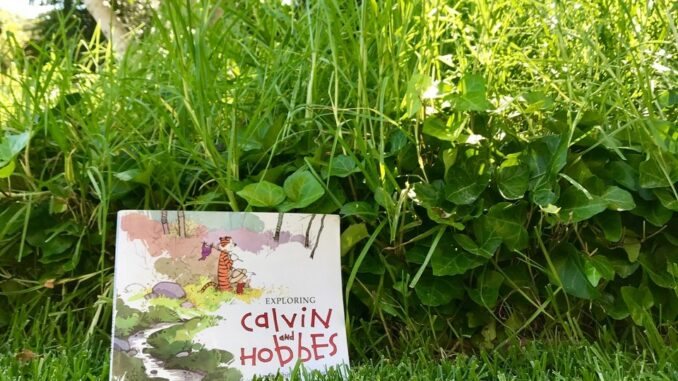 By Bill Watterson
Interviewed by Jenny Robb
Wide Flexibound, 152 pages, 2014.
Andrews McMeel Publishing
Many wish they grew up like Calvin—with an unfettered childhood and adventures in the wild. But no one wants to raise a rascal like him.
Calvin creator Bill Watterson is a reputed recluse. But in this rare and exclusive interview, he reveals his roundabout career path from political cartoonist to the iconic Calvin and Hobbes comic strip.
Watterson grew up Chagrin Falls, a small mill town in the outer suburb of Cleveland, Ohio. It had a paper bag factory that dumped dyes in the river. Watterson remembers the swirls of color in the water.
"Main Street bridge goes over a big natural waterfall, and Victorian buildings surround the town triangle, which has a bandstand in the middle of it. It's one of these quintessentially American towns that dot Ohio. Very Norman Rockwell—all white, very Republican. I had a sheltered childhood."
Watterson's childhood treks into the woods inspired Calvin's adventures.
"Our house was on a one-acre lot, at the outskirts of the village, with a big woods behind us. We didn't own the woods, but it extended all the way to the river, and you couldn't see the end of it. Our yard dropped continuously from the back door to the woods, so it was a truly fabulous sledding hill. There were a handful of neighbor kids my age, so we messed around unsupervised in a way that kids don't seem to do anymore. Many of our mothers were home, so they'd just turn us loose and nobody worried."
Watterson was a quiet and completely normal kid.
"I lived in my head like Calvin, but I was the opposite of Calvin in terms of courting excitement and risk."
Watterson learned to meet adult expectations so he could be left alone to do what he wanted most—–to draw. He drew lots of birds, dinosaurs, and cartoons.
"Comics were always a comfortable fit for me—a natural way to express my ideas."
Mostly self taught, Watterson's parents were very supportive of his art. His mom was his regular audience and his dad bought him art supplies.
"Really, I suppose, the biggest gift my parents gave me was a lot of time. There was never a sense that I should be doing something else. If I was up in my room drawing, nobody bothered me. That kind of time is just indispensable. It's not a luxury, it's an absolute requirement. You've got to mess around—it's the only way to figure stuff out."
In Kenyon College, Watterson took political science to follow the path of an alumni who was a successful political cartoonist. He graduated and became an editorial cartoonist, but his heart wasn't in it. He kept submitting and revising, but his political cartoons were regularly rejected. But he honed his skills from his failure.
"And in the long run, nothing is wasted. It takes a while to see this, but it's true. I learned a lot about drawing and about how to work with complex ideas from those years. It was valuable."
When an editor told him to develop a side character called Calvin, Watterson grew excited and ran with his own ideas.
"You don't want a syndicate telling you what to draw—there will be no spark unless it comes from your own ideas. What I didn't realize was that nobody out there knows what they're looking for until they see it. You don't build a peg to fit the hole; the peg needs to bore its own hole."
Before the internet, Patterson had to run to the post office to mail his work and meet his daily deadline. It was a manic time. He isolated himself to draw and paint wondrous worlds that he had to sustain daily.
Watterson was highly critical of his work and focused on its flaws. He required much lead time to revise because "writing is a somewhat torturous process for me, and it takes me a fair amount of work to get what I'm after."
Watterson shares his struggles with meeting a daily deadline, burnout, the source for ideas, his creative process, and consistently coming up with daily strips.
Watterson broke comic convention when he drew wide strips and whole pages instead of the usual three or four squares. He pushed the boundaries to create the work he envisioned.
"My point is simply that there's no magic for the magician. Keep in mind that it took me hours and hours to produce a strip that people read in a few seconds. When creating the strip, there's a molecular attention that messes with your mind. My aspirations were very high for the work, and it was hard for me to step back."
Watterson painstakingly drew a daily Calvin strip for only ten years. Yet his book collections are still global bestsellers that's been translated into over 28 languages. He is grateful for the success of Calvin.
"This is what I had dreamed of doing since I was a kid. I not only got to draw a comic strip, but the public responded to it and it was successful. I feel indebted, like I owed the universe a lot. Having this rare opportunity was such a gift that I couldn't imagine compromising any part of it for any reason. This was never a business for me, and I couldn't care less if my positions seemed unreasonable. The intensity of pushing the writing and drawing as far as my skills allowed was the whole point of doing it."
Watterson argues for the rights of artists to control their artwork, whether through licensing and online posts. He reveals why he stopped the strip and retired.
In 2005, Patterson donated his original collection of 3,000 Calvin and Hobbes strips to The Ohio State University's Billy Ireland Cartoon Library & Museum. It's still there for fans to enjoy. https://library.osu.edu/site/cartoons/tag/bill-watterson/
Calvin typifies fun, freedom, and philosophy. This platform allowed Watterson to comment on life. "I preferred to work with the larger issues underneath, not the surface clutter."
"I love the unpretentiousness of cartoons. If you sat down and wrote a hundred page book called My Big Thoughts on Life, no one would read it. But if you stick those same thoughts on a comic strip and wrap them in a little joke that takes five seconds to read, now you're talking to millions. Any writer would kill for that kind of audience. What a gift."
What a gift indeed!
By Ivy Lopez
@theohiostateuniversity @andrewsmcmeel @calvinandhobbes.daily @comics @kenyoncollege