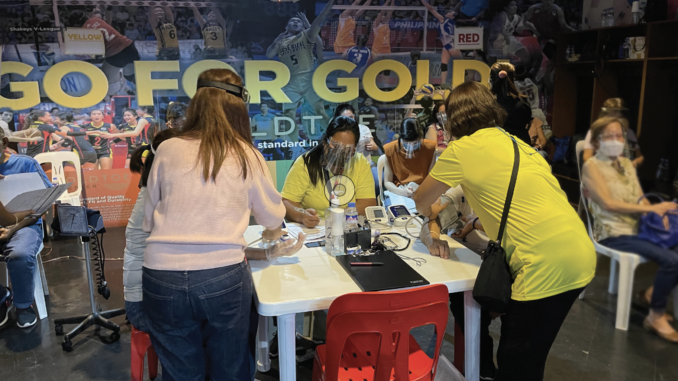 In March 2020, President Duterte declared what became the world's longest and severest lockdown this century. The idea was to contain the spread of the COVID-19 virus which has caused the world's deadliest pandemic in 100 years.
The result of Duterte's lockdown has been an unmitigated disaster. It triggered an economic collapse, the deepest in 500 years, with economic production declining a record -9.5%, -11.1% in Gross National Income terms, in 2020. The huge negative -11.1% GNI growth rate wiped out the combined 11.1% robust economic gains of the years 2019 (5.2% in GNI terms) and 2018 (5.9% in GNI terms).
About 70% of businesses were shut down. Half of the work force, or more than 20 million workers, went out of work. Poverty and hunger gnawed at 50% of the population.
Businesses teetered on bankruptcy and insolvency (no cash to run day to day operations and to service debts). The Inquirer reported: "At a Senate hearing last week, legislators were told that more than 1,200 big companies are troubled financially and need up to P625 billion in government funding support to stay afloat and keep some 6.3 million workers from joining the ranks of the unemployed. The problem, as admitted by economic officials, is that the government does not have that money to help all big firms facing solvency issues."
We botched the pandemic
"Let's face it: We completely botched handling the pandemic," sneered economist Cielito Habito in his Inquirer column. "We are 10 steps back from square one," scoffed Dr. Esperanza Cabral, a respected health professional and a former Health secretary herself.
Said she:
"Square one was when we had just shut down the economy and people had spare change in their pockets… when private sector was able to step up, provide financial protection for their employees, and spend billions to help others… when hospitals were full but doctors and health care workers, though scared… were fresh and eager to do battle with this particular enemy…." But, she notes, we don't have those things this time. The doctors and health workers are battered and tired like everyone else. Many of them have died. Government coffers are depleted and it is deeper in debt."
What did we get? Nothing
And what did we get for all that economic toll and human suffering? Nothing. The pandemic simply raged on.
COVID killed almost 20,000 Filipinos in 2020 alone, according official figures of the Philippine Statistics Authority (PSA), although the Department of Health under Secretary Francisco Duque continues to lie.
DOH as of this writing admits to just 13,817 deaths (April 6, 2021) and 812,670 cases – the worst in Asia, next to Indonesia's 1.542 million cases and 41,977 deaths. Experts say the Philippines will hit a new record high one million cases by end of this April. With a ratio of 1.67 deaths per 100, one million cases could mean more than 16,700 deaths by this April.
The Philippine deaths per one million people, 125, is also the second worst in Asia, behind Indonesia's 152 per million. Our ASEAN neighbors have done exceedingly better – Myanmar 59 deaths per million; Malaysia 40; Brunei 7; Singapore 5; Thailand and Cambodia each 1; and Vietnam 0.4.
Worldwide, the Philippines is 30th in number of COVID cases, more than the cases of countries like Pakistan and Bangladesh which have bigger populations.
Today, the Philippines is derided for having the most number of loans from foreign lenders and yet with the fewest vaccine deliveries in Asia. The Philippines is the most delayed and has the slowest vaccine rollout in the region.
2.5M cases, 30,000 deaths in 2021
For the whole of 2021, based on present trends, COVID cases will rise to 2.5 million by the end of the year with over 30,000 deaths a conservative estimate. Add last year's 20,000 deaths, per the Philippine Statistics Authority, and you get more than 50,000 deaths from COVID in 21 months. That is more than the 50,000 deaths, on both sides, in 50 years of the New People's Army insurgency.
Amid the humbling numbers, Presidential Spokesperson Harry Roque, who by training as a lawyer looks at the evidence before making conclusions, simply declared Duterte's pandemic management as –drum roll, please—"excellent!" A week after making the horrendous claim, my friend Roque got COVID.
Amid the inanities, incompetence and corruption in government, what to do then?
Well, help yourself. Do not rely on the government. Wear mask, wear face shields. Keep yourself six feet away from other people, including your relatives. Do not visit nor eat inside the malls. Stay or work at home whenever possible. Conserve your cash for what could be worse days ahead.
Meanwhile, Israel, US and UK have reached herd immunity. More than half of their populations have been vaccinated, thanks to the foresight and political will of their leaders.
Dynasties, hear the people sing
In the Philippines, we have what I call is hereditary immunity, not disease- related but something worse — political clans immune from political setbacks and electoral reversals despite their obvious incompetence, corruption, and rapacity for power.
So you have Duterte's daughter, Sara, campaigning in the middle of the pandemic restrictions, her followers staging super spreader events. And Duterte himself is promoting talk of a "President Bong Go" with the latter saying he will run only if Duterte is his VP.
Hey dynasties: Do you hear the people sing? People will not be slaves again. There is life about to start when tomorrow comes.            — Tony Lopez
READ FULL ARTICLE HERE: