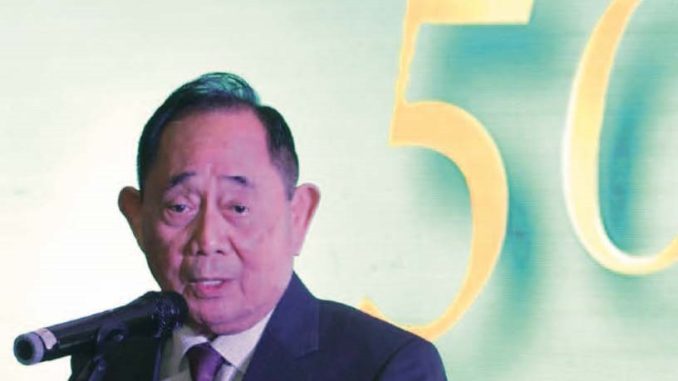 By Jose de Venecia, Jr.
Former Speaker of the House
(Speech at Basic Energy Corporation's 50th anniversary. Basic was founded in 1968, among the Philippines' pioneer oil exploration firms and which discovered commercial oil in the country. Today, the publicly listed company has interests in renewable and alternative energy. The Philippines' original oil man and pioneer in oil exploration, port management, and construction in the Middle East JdV is also the country's longest-serving post-war speaker. Under his leadership, Congress passed the largest number of and most far- reaching pieces of economic and social legislation).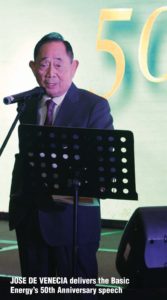 My company began as a family-owned Basic Enterprises, Inc., an agricultural initiative started by our late father, retired Judge Jose de Venecia Sr., some four years before the 1972 imposition of Martial Law, it quickly transformed itself into a pioneering public oil exploration company.
Basic Petroleum and Minerals Inc. led with other active Filipino companies, Oriental Petroleum and Philippine Overseas, and the U.S. companies, Sunoco, Westrans, Phillips Petroleum, and Champlain, in opening Palawan to international offshore oil exploration, leading after a few years to the historic Nido and Masinloc oil discoveries in the Palawan Sea.
The Redeco oil find
Our odyssey with oil drilling began in the 1950s as then a 19-year old columnist on Asian affairs in the old Philippines Herald and in the now defunct first Asian news agency, Pan-Asia Newspaper Alliance, lured by the romance of oil exploration, when we subsequently joined our friend, the late Jose Tiong, founder and president of the old oil company Redeco and a leader in the Manila Stock Exchange, who appointed us vice president of Redeco, now no longer in operation.
We had our brief delirious experience of a real oil strike on hilly land in Alegria, Southern Cebu, facing Dumaguete, and we were indeed splattered with crude oil as in the Texas movie, the Giant, but as with the earlier oil discoveries in Cebu, quickly petered out with forgettable production of about a dozen barrels a day, which was meaningless since at the time the price of crude was at about $1.50 a barrel, as against today's $80 per barrel, and the exchange rate then was at P2 to US$1, as against today P54.40 to the dollar.
Thus we quickly abandoned the well and dropped our dreams of a meaningful Cebu oilfield.
Recently, however, we received reports that a Chinese company is in the midst of drilling in the neighbourhood indicated a "commercial discovery."
We hope for the sake of our Cebuano and Chinese friends that it is true, and at what quantity, for as God knows the hydro-carbon volumes there in that area are very limited, otherwise there would already have been an international influx there since our oil strikes in the 1960s.
Foray into the Middle East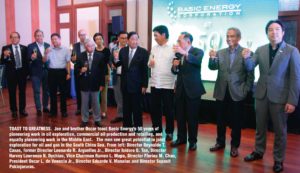 Nonetheless, our pioneering learning experience in Cebu led us to more adventurous foreign forays much later as we put together a modest international consortium and drilled a Filipino-first and Filipino-led Arab-Asian oil well in Ajman, the small Emirate in the United Arab Emirates (UAE) which today includes the bustling Emirates of Abu Dhabi, Dubai, Sharjah, Ras Al Khaima, Fujeira, and Um Al Quain. Yes, today the UAE, a close ally of Saudi Arabia, is one of the rich small nations in the world.
We mobilized from the Philippines a large oil drilling rig which we leased from the legendary Andres Soriano oil company PODCO and engaged as well their experienced exploration General Manager Mario Nieto from Isabela to head our oil drilling team.
With Basic President Oscar de Venecia deploying Basic's renowned American geologist Francis Gibson, who chose most of the sites for the first American oil discoveries in Iraq, while working previously for Iraqi Petroleum, we then proceeded to drill the first Philippine-Arab and the first exploratory well ever drilled in Ajman. (Our drilling people on the ground at the time included Rudy Galang, who, when we finished our work there chose to stay behind and today is a successful business entrepreneur in the UAE).
We do not remember now at what depth the oil was struck but we did hit good quality oil in commercial quantities in Ajman, nearby its richer sister Emirates, Abu Dhabi, Dubai and Sharjah, and we were really shouting with joy as in the old U.S. movie, the Giant, when we struck black gold there.
But the glory days were short-lived. With the price of oil hovering at its highest price then at $38-$39 per barrel, the price steadily and rapidly dropped to the low thirties, twenties, and then to $15 per barrel, and further plunged downwards, to what we remember at $8 per barrel.
First Filipino-led oil well closed
And so, with much gnashing of teeth, we tearfully closed the first Filipino-led oil well in the Arab world even with the successful discovery. And then we began to pull out, and shipped home our oil rig and our crestfallen Filipino drilling crew after a day or two of nursing their disappointment in Dubai.
For in the neighbourhood, we already sensed a long threatening tragedy was unfolding. In a few months the Iran-Iraq war exploded across Basrah, on the border and confluence of Iraq, Kuwait, and Iran, near the 200-km Shatt-al-Arab river area which leads to the Persian Gulf, Arab Gulf to the Arabs. In Iraq under our Landoil flag, we had more than 1,000 Filipinos working from Kuwait to Baghdad, building highways, sewerage systems, and mass housing.
History: Managing the port of Jubail
Some two years earlier, we, in a real sense made history, when we won in competitive international bidding, the operation of the Port of Jeddah on the Red Sea and deployed a more than 3,000-man stevedoring force there led by our Filipino, British, and Singaporean executives and middle managers, and immediately thereafter, also opened and operated as prime contractor the new Port of Jubail with another workforce of less than a thousand and a management team on the Persian Gulf side of the Arab Peninsula.
Winning the Jeddah port bid was in a sense a classic. To operate the Arab world's largest seaport, as Arabia's economic mobilization was starting and international firms were jostling over contracts, we had to quickly deploy our workforce in 60 days, when we acquired and deployed the old British Bremen tourist ship, perhaps the largest Atlantic cruise vessel before World War II, outwitting the competition, to immediately house our workforce, whereas the other European, U.S., and other Asian bidders declared along with their bid bonds that they would begin their Jeddah operations within about two years of mobilization since they had to first build housing barracks for their workforces.
After winning the bid, we immediately purchased the cruise ship, long parked in the Piraeus shoreline in Athens, Greece, had it towed by Dutch tug boats across the Aegean Sea into the Suez Canal, into the Red Sea, and into Jeddah to the cheering of more than 3,000 Filipinos who had just flown in from Manila and disembarked from more than ten 707 jet aircraft for their immediate port assignments in the Arab world.
As an aside, our towed Bremen ship was stopped in the so-called Bitter Lakes, well inside the Suez Canal, on grounds that it had no engines and was being towed. The normal canal transit fee was about $72,000.
But now our Bremen was being charged more than $400,000. We were in the Dagupan City cemetery the night of Oct 31, All Saints Day, to visit the grave of our late mother, when the SOS came. We had no choice but to issue instructions to pay the bloated amount and declare "Paid Protest".
PCIBank loan
We called out our old classmate in De La Salle High School and friend, Placido Mapa Jr., president of the PCIB Bank, and asked for an emergency loan, and bless his soul, at 8:30 pm he released the loan in cash, and our man picked up the bundle, brought it to the airport and jumped on a plane for Cairo, Egypt, then took a taxi for the long drive for the Suez Canal Zone, and we instructed him to pay the exaggerated toll fee of some $400,000 and sign the document under protest. (True to our promise, the bulk of Landoil's dollar remittances from Saudi Arabia and its several Middle East outposts were coursed through PCIB and significantly enriched our Central Bank foreign exchange reserves).
The Bremen was released and quickly towed from the Canal's "Bitter Lakes" into the Red Sea and at dawn arrived in the Port of Jeddah to the cheers of the more than 3,000 Filipinos who just arrived on several jet aircraft 707s from Manila and who would now be using the old Bremen luxury tourist ship as their hotel-home.
As we had earlier reported those were the glorious and halcyon days where we, from the Philippines, proudly pioneered in the Arab world, in Saudi Arabia, Iraq, Kuwait, Jordan, the UAE, and Libya in North Africa, in ports operation, electrification, oil exploration, agriculture, operations and maintenance (O&M), mass food catering, healthcare, and other public works projects as prime contractors, and not as labor recruiters, competing with the best and largest international companies.
JDV laid Riyadh's electricity grid
Our other Group company, Global Electrification Systems, Inc. (GESI) also successfully built the extensive electricity grid in Riyadh, the Saudi capital and throughout most of Saudi Arabia's vast central region. Global was then led by the late retired technocrat, National Electrification Administration (NEA) chief Pete Dumol, who, together with Mariano Martin, former New York City bank executive and our COO, we recruited for assignment in the Middle East upon their retirement.
We also thought at the time that, with the Iran-Iraq war winding down, we could eventually bring home our almost $50-million of construction and O&M equipment to undertake much-needed infrastructure projects in the Philippines. But the Second Gulf War, won by victorious U.S. forces, in response to Iraqi dictator Saddam Hussein's invasion of Kuwait, only after a short interval from the first Gulf War, quickly exploded, in Kuwait and Iraq, where our last languishing projects and equipment were deployed, forever dooming our last remaining hope for redeeming some of our equipment in the Arab world.
And much later, finally some good news. After months and years, when most of our Iraq and Kuwait employees were not paid because of the Gulf war, we finally won our expensive rare war-risk insurance claims in hard-fought legal battles with Lloyds of London and with the U.S. insurance firms in London and New York.
Associates
Our foreign lawyers were from the world-renowned White and Case, which we engaged on a rare contingency basis supported by the Lazard Freres, the prestigious investment bank in Paris and London which indeed illustrated the great merit of our case and insurance claims, and which enabled us to finally pay in full and to the last man our thousand workers and executives in the Middle East and North Africa.
Yes, all of us led by our associates, former Executive Secretary and Annapolis Naval Academy graduate, the late Alex Melchor and former SGV executive Rodulfo de Lara, the late Luis Catubig, the late Gus Macam, and Ambrosio Collado, were literally jumping with joy in Manila, Pangasinan, in Jeddah, Kuwait, Dubai, Tripoli, London, and Hongkong where we were all on various assignments at the time and when the good news of the oil strike came, we were all literally shouting with joy, "Allahu Akbar, Allahu Akbar." Indeed God is great, God is great, in Arabic.
Basic Energy today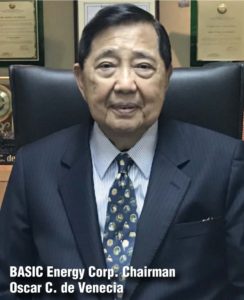 Basic Energy today was Basic Petroleum at the time but its projects today are much, much less than those it operated before with its sister company, the now defunct Landoil Resources Corp..
For a while as well, the joint venture of Basic-Landoil was also quite a success and it also owned and operated the more than 500 gasoline stations nationwide in the Philippines, which they acquired from Getty Oil of the U.S. years ago and later re-sold at great profit to Filipinas Shell Co.
Today, anxious to slowly rebuild its old glory, the young officers of Basic Energy are President Oscar de Venecia Jr., its aging but still active 86-year-old Chairman Oscar de Venecia, and senior directors Oscar Reyes, Ramon Mapa, Eduardo Mañalac, former senior Philippine energy official, Francis Chua, Thai business leader Supasit Pokinjaruras, Jaime Martinez, Ma. Florina Chan, Isidoro Tan, and Harvey Dychiao. The Advisory Board Directors are Gabriel Singson Jr., Jose de Venecia III, and Seiichi Wada of Japan.
They are assisted by group executives Leonardo Arguelles Jr., Reynaldo Casas, Aaron Domingo, and Aung Thiha, with officers Corazon Bejasa, Alain Pangan, Albert Morillo, Angel Gahal, and Darius Marasigan in pushing modest solar projects in Myanmar and Japan, and exploration and development of geothermal energy at home.
Joint exploration with China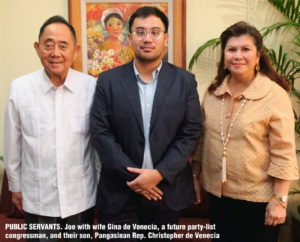 Today we must say they have a long, long way to go to match the work and the achievement of the glory days. But they are off on a good start and they have a young anxious active team. That was how we ended our talk at the Basic Petroleum 50th Anniversary at the Manila Polo Club a few days ago.
And last week, before his scheduled departure as Secretary of Foreign Affairs to run for Congressman in the House of Representatives as a prelude to his announced eventual run for Speaker of the House next year, we suggested that Alan Peter Cayetano might finalize with President Rodrigo Duterte an understanding with Chinese President Xi Jinping on a likely Joint Exploration and Development Program in the South China Sea (West Philippine Sea), as the highlight of several agreements with China during President Xi's scheduled official visit to Manila in November.
Significant gas and oil volumes
We believe the South China Sea area off Palawan and below the Spratlys with now multiple claimants, could be expected to yield significant volumes of natural gas and/or crude oil, which could easily be pumped and shipped to nearby refineries in the Philippines and Southern China as against the expensive back-and-forth long journeys of great tankers across the Straits of Malacca, the Gulf of Thailand, the Indian Ocean, the Straits of Hormuz and into the Persian Gulf (Arab Gulf) to lift crude in Saudi Arabia or United Arab Emirates or Kuwait for refineries in the Philippines, China, Taiwan, Korea and Japan.
I was president of the Petroleum Association of the Philippines for more than ten years and having helped discover and develop the first Philippine offshore oil wells in the 1970s in the Northwest Palawan Sea (the Nido and Masinloc oil wells for our companies then, Basic Petroleum and Landoil, together with our partners, Oriental Petroleum, Philippine Overseas (Philodrill) and the U.S. companies).
It is urgent and important that the Philippines under President Duterte and Secretary Cayetano might now direct the completion of negotiations with China to schedule the first, long-anticipated Filipino and Chinese offshore drilling in the sea, most likely, we would guess, in the Reed Bank of the South China Sea (West Philippine Sea).
In a previous recent column in the Manila Bulletin, we conjectured that a successful oil discovery in the South China Sea by a Filipino-Chinese joint venture or consortium will dramatically reduce or put to an end the possibilities of explosive conflict in the area.
GMA's China visit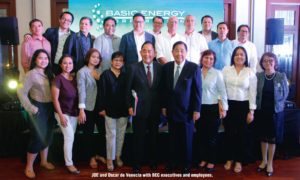 When we were Speaker of the House of Representatives and founding Chairman of the International Conference of Asian Political Parties (ICAPP) in the year 2000, we accompanied then President Gloria Macapagal Arroyo on her first state visit to China, which coincided with the Third Biennial Conference of the ICAPP (now representing some 300 ruling, opposition, and independent political parties in Asia) held in Beijing. To take advantage of the happy occasion in the Chinese capital, we proposed to the President that we negotiate and sign a Joint Oil Seismic agreement with China in the South China Sea which she promptly approved, and together, we presented the idea to our host, the China President Hu Jintao, who heartily gave his approval.
After we left the Chinese President for another meeting, we thought of another potential winner, and proposed that we include the other claimant in the South China Sea, Vietnam, for a Tripartite Agreement.
The Chinese President then smiled and gave his immediate assent, and then both Presidents Hu Jintao and Gloria Macapagal Arroyo then turned around and looked at me, to undertake a special mission to convince the Vietnamese to be the Third Signatory, in what was to become a Tripartite Seismic Agreement, preparatory to drilling. After another day in Beijing with wife Gina, then President Arroyo and the First Gentleman Mike Arroyo returned to Manila after a most successful visit to China.
At home, after a quick check with our office Congress, we hurriedly motored to the airport for our next journey to Hanoi to convince the Vietnamese to co-sign what would become the Tripartite Seismic Agreement in the South China Sea.
Trip to Hanoi: Breakthrough
We were not apprehensive of our Hanoi visit. While Vietnam was the third claimant in the isles, sand cays, coral reefs, and the tiny areas in the South China Sea, obviously also for hydrocarbons, we were also of the belief that friendship in ASEAN and realpolitik would insure that Hanoi would co-sign a tripartite Seismic pact.
In Hanoi, we met with both the past and the current Communist Party of Vietnam (CPV) General Secretary, Nguyeh Duc Manh and Nguyen Phu Throng, respectively, who are our old friends, and both actually higher in rank than Vietnam's President or Prime Minister under their system.
We had the other good fortune that Vietnam's capable Deputy Foreign Minister was also a graduate of our De La Salle College, where we finished high school, and as with the Vietnam Speaker, we were on first-name basis.
Vietnam agreement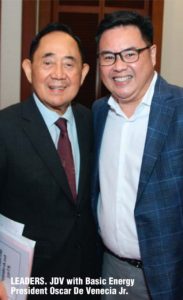 We went home with Vietnam's agreement on the proposed tripartite Philippines-China-Vietnam venture, hopefully a precursor of the anticipated eventual common oil exploration and development agreement in the South China Sea. The costs of the detailed wide-ranging Seismic Survey in the Sea were to be jointly shared by the three governments.
The subsequent seismic survey findings indicated a number of attractive drillable structures, which could most likely bear hydrocarbons (oil and/or gas) below the sea, and which can only be tested by strategraphic tests: direct drilling by expensive exploration below the sea bed conducted by modern drill ships.
In earlier days and up to now, the best and biggest drillships and semi-submersibles at the time were those built and owned by the Americans; most of the offshore drilling were in the North Sea, in the U.S. West Coast, in the Gulf of Mexico, and in the Alaskan coast.
A few years ago, while on a visit to southern China, our friends in the offshore oil exploration industry, spoke of giant Chinese drillships and drilling platforms, some on standby off Fujian or Guangdong waters or near Hainan island.
Instead of hiring U.S. or Western drillships, which would have to sail great distances to reach potential drilling sites in the South China Sea, it would indeed be prudent and less expensive, if any first joint Filipino-Chinese oil-drilling venture in the China Sea would engage the huge Chinese offshore drillships parked nearby.
The exploration costs and drillship rentals will be cheaper and shared, and in any Filipino-Chinese oil drilling partnership, the most likely operator would be a Chinese oil company partner, most likely government-owned, and which would engage on contract the Chinese oil-drilling ship.
Scenario
This would be the likely scenario if our astute Foreign Secretary Alan Peter Cayetano or his equally brilliant successor Teddy "Boy" Locsin, the incumbent Philippine Ambassador to the U.N., finalizes an Oil Exploration Agreement with China with a commitment to drill a number of offshore wells in the South China Sea and which, we would guess, would result in substantial oil discoveries that could dramatically reduce our huge annual oil bill and almost total dependence on Arabian crude oil.
These outcomes would immediately be beneficial to the Philippines and China because the crude oil or natural gas could immediately be shipped to Philippine or Chinese refineries nearby unlike hydrocarbons discovered in distant seas like those on the Persian Gulf.
Presumably, any agreement with China will comply with the Philippine Constitution, which reserves the Philippines' natural resources for exploitation and use by Filipinos, if the drilling is conducted in the old Filipino Petroleum Exploration Concession (PEC), but Chinese and/or foreign participation is allowed and encouraged under the current Service Contracts.
The Filipino-Chinese exploration agreement will most likely designate an "Operator," as in all Western or Eastern oil exploration agreements. One of the partners will undertake the management of the drilling operation designated as "Operator" with the costs shared by the parties, with obviously the manager-operator given an extra fee.
The operator could also be the Filipino partner but unlikely because management of the drilling will be undertaken by the operator.
The much larger work will commence when oil is struck and the huge problems of development begin: raising huge finance, building pipelines in the sea all the way to on-land destinations, or loading more crude on tankers destined to farther ports in China or the Philippines or for third-party buyers.