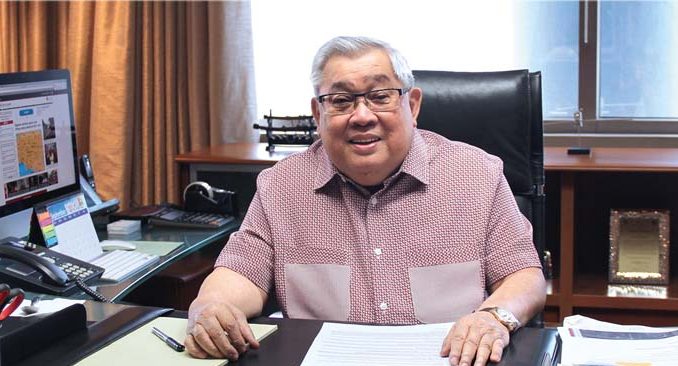 In the first nine months of 2018, the television business remained challenging.
GMA Network's January-September 2018 revenues declined 6% or P653.9 million to P11,141.8 million from P11,795 million posted in the first nine months of 2017.
Airtime revenues (88% of total revenues), a better barometer of pure tv performance, reflected the drop in total revenues, by 6% or P682.6 million to P9,844.6 million. Operating expenses were controlled, dropping 0.3% to P7,388.8 million.
Still, profits fell 15% to P1,958 million from P2,311.8 million in the first nine months of 2017. EBITDA or profits before interest, tax, depreciation and amortization was lower by 13% at P3,891.1 million, a drop of P600.6 million from P4,491.7 million in 2017.
GMA Network said it continued to display resilience amid the industry-wide contraction in advertising spending. The company has tied up with PLDT to boost tv audience share, broaden revenue base, enhance profits, and stream its popular content thru wireless telephony.
Indeed, despite having revenues that are a third of ABS-CBN's, GMA made more money, P1.958 billion, than the Lopez tv station's P1.48 billion. GMA is doubly more profitable than ABS-CBN.
GMA said the contraction in airtime advertising was felt across the broadcasting industry thus providing the main drag for the revenue shortfall.
Radio and Regional TV operations remained steadfast, managing to pull ahead in their topline year-on-year, while Ch-7 and GNTV-11 succumbed to lukewarm sales in between periods.
Meanwhile, other revenue sources, mainly international operations, subsidiaries and other businesses provided the much needed boost, amounted to P1,297 million, up 2% and adding generating incremental revenues of P29 million by 2%. This segment is 12% of the company's total revenues.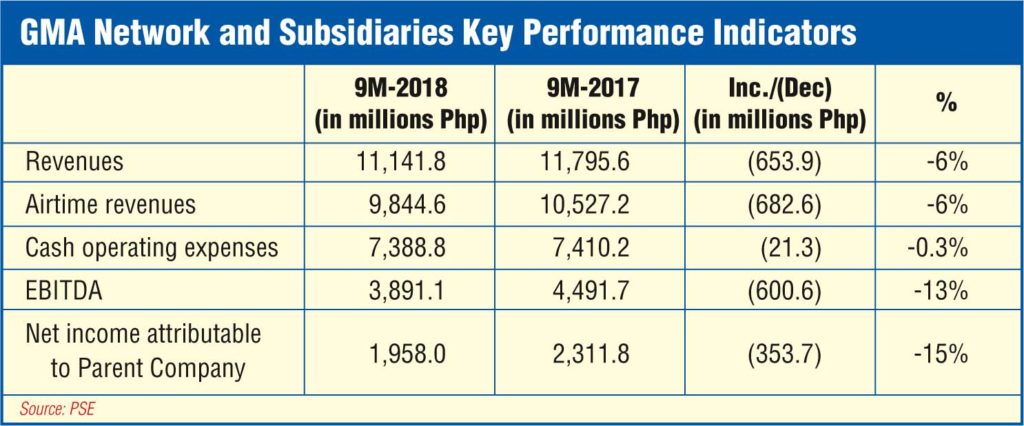 On a per platform basis, Ch-7's nine months' topline was lower by a single-digit percentage from 2017 mainly due to the cutback in advertising minutes load during the period.
Leading station
GMA 7 remained the frontrunner in the nationwide urban TV ratings (NUTAM) in the third quarter of 2018. Average audience share was 41.9%, higher by 5.3 percentage points than ABS-CBN's 36.6%.
GMA uses the industry's widely-trusted ratings service provider Nielsen TV Audience Measurement.
Excluding non-regular programs, 17 GMA shows are in the top 30 programs nationwide.
Mega Manila
GMA cornered solid 48.5% people audience share average in Mega Manila, a commanding 20.3 percentage points higher than the 28.2% of ABS CBN.
GMA likewise tallied a bigger margin over ABS- CBN in the viewer-rich Urban Luzon.
GMA News TV 11's revenues after three quarters this year also did not come up to par with last year's sales. On the other hand, these were slightly cushioned by the improvements in the Radio business which bagged sales higher by 13% from 2017.
The presence of revenues from tele-radyo Dobol B sa News TV provided the top-line boost in between periods. Lastly, Regional TV also overtook prior year's showing, as both national and local sales for the first three quarters of 2018 registered higher than in 2017 by an average of 16%.
Content provisioning
The P29-million or 2% gain in Other Revenues sourceswas largely driven by the net improvement in external sales of subsidiaries led by GMA New Media (GMNI) the company's arm in the field of converging technologies.
GMNI led the pack with the improvement in sales coming mainly from content provisioning for major companies providing video streaming services plus the growth in its digital business.
The company's international operations — subscriptions income from international channels GMA Pinoy TV, Life TV and News TV – had flat growth, owning to the depreciation of the Philippine peso against the US dollar which offset the impact of the attrition in subscriber revenues in certain areas abroad.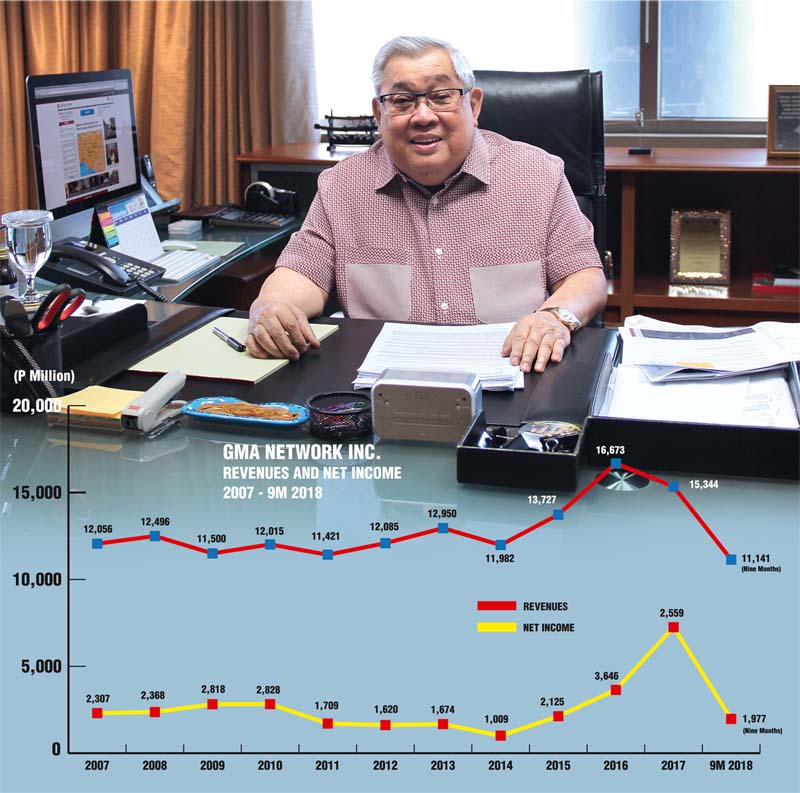 Balance Sheet
Total assets as at end-September 2018 stood at P15,553 million, a 5% increase from end-2017's P14,793 million.
This was primarily an offshoot of the growth in Cash & cash equivalents and Trade & other receivables by P717 million and P244 million, respectively, partially offset by the reduction in Prepaid expenses and current assets by P57 million to P812 million as at Sept. 30, 2018 and decrease in Program and other rights (current and noncurrent) from P1,346 million in 2017 to P1,166 million as of the reporting period.
End-September liabilities amounted to P6,563 million, up 23% or P1,219 million from end-December 2017.