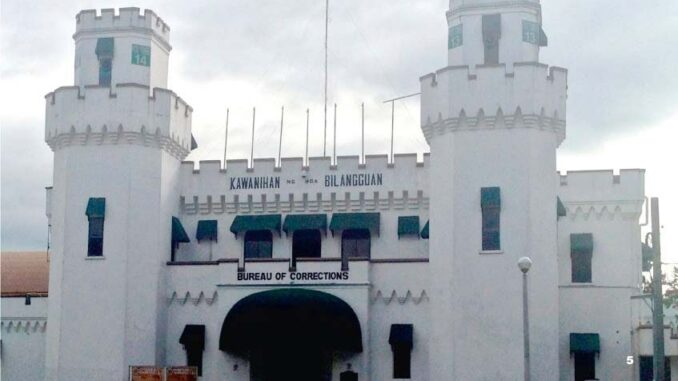 You cannot say the Philippines is not a kind and caring society.
Hardened criminals –murderers, serial rapists, drug lords and of course, plunderers—are given a second lease on life, literally and figuratively.
Under President Gloria Macapagal Arroyo, the Philippines long ago did away with imposing death penalty. Under the old system, plunderers would have been subjected to lethal injection, just like murderers, rapists, and drug lords.
Under the present setup, life-termers, usually the dregs of society, are released even before their full terms in prison are served. They "graduate" before finishing their terms on the lame excuse of "good conduct".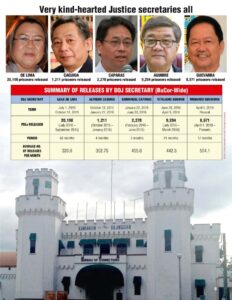 Ignore the fact that hardened criminals and good conduct are a contradiction in terms. The policy of kindness to cloistered animals of the two-legged variety was started by the unlamented President Benigno Simeon (BS) Cojuangco Aquino III.
The original idea, it seems to me, was to set free jailed communist leaders who wanted to take over the government. To avoid looking like a piece of class legislation, the law on kindness to prisoners was applied to everyone. You can say our kind of justice is democratic and egalitarian.
President Aquino signed Republic Act 10592 or the Good Conduct Time Allowance (GCTA) Law on May 29, 2013. His secretary of justice, Leila de Lima, issued the implementing rules and regulations on Dec. 12, 2014.
Data compiled by the office of Sen. Richard Gordon, chair of the Senate Blue Ribbon Committee, is very revealing. Our government people, especially those who are supposed to dispense justice or wear "justice" on their lapels on blouses, are very kind, indeed.
A former human rights official, de Lima worked hard in favor of the hardened criminals behind bars. During her watch as DOJ chief, in 63 months, or five years and three months, the largest display of humanity towards humans of a different kind took place – a total 20,198 convicts were released, largely on the ground of "good conduct".
The large-scale releases of prison internees ground to a virtual halt under de Lima's successor, Alfredo Caguioa. Only 1,211 prisoners were released during Caguioa's four months in office, from Oct. 12, 2015 to Jan. 21, 2016.
The mass prisoner breakout picked up pace under Aquino's last justice secretary, Emmanuel Caparas—2,278 let loose in five months, from Jan. 22, 2016 to June 30, 2016. Caparas's average per month—455.6 prisoners, the highest monthly average releases among Aquino's three DOF chiefs from July 2010 to June 30, 2016.
President Duterte's two justice secretaries were not remiss in their display of humanity towards prisoners, either. State-sponsored jailbreaks continued even more feverishly.
Under the controversial Vitaliano Aguirre, the second largest batch of GCTA releases, 9,294, was recorded, from July 2016 to March 2018, or an average of 442.5 prisoner releases per month in 21 months.
The incumbent Menardo Guevarra was not to be outdone. In his first 17 months as DOJ chief, from April 2018 til today, 8,571 prisoners were released on good conduct allowance, a monthly average in 17 months of 504.1—the highest among the five most recent justice secretaries.
In fact, Guevarra's monthly average number of releases is the highest ever on record.
Thus, under Duterte's two DOJ heads, Aguirre and the incumbent Menardo, 17,865 prisoners were freed on GCTA in just three years. That's more than the number released by De Lima in her first three years as justice secretary.
This makes Duterte a very kind President – towards prisoners. It is ironic, considering that the former Davao mayor of 23 years has a reputation of being a killer president.
The official figures on drug killings, under Duterte, are about 5,500 in three years. That means Duterte has released over three times more prisoners than the number killed in the state's anti-drugs war –5,500 vs.17,865. The 5,500 dead should have been convicted and made to serve time in prison.
The moral in this narrative: If you are being arrested for being an illegal drugs suspect or being a suspect for some equally heinous crime, 1. surrender, 2. do not fight back, 3. get yourself convicted, and 4. don the prison orange uniform. Inside a penal colony, life could be better than life as a fugitive from justice.
Inside the national penitentiary, try to be good. Don't hobnob with your fellow drug lords. Do not continue to conduct your illegal drugs racket inside, no matter how tempting it is, no matter how lenient your jailers are (they are recidivist coup plotters themselves), and no matter how rampant the susceptibility to temptation of prison officials.
If you insist on doing drugs, try not to be obvious. Surely, your "good conduct" won't go unnoticed. You will be released sooner than you think, after complying with tedious paperwork and payment of some customary "fees".
Hey, freedom has a price. In the Philippines and anywhere else.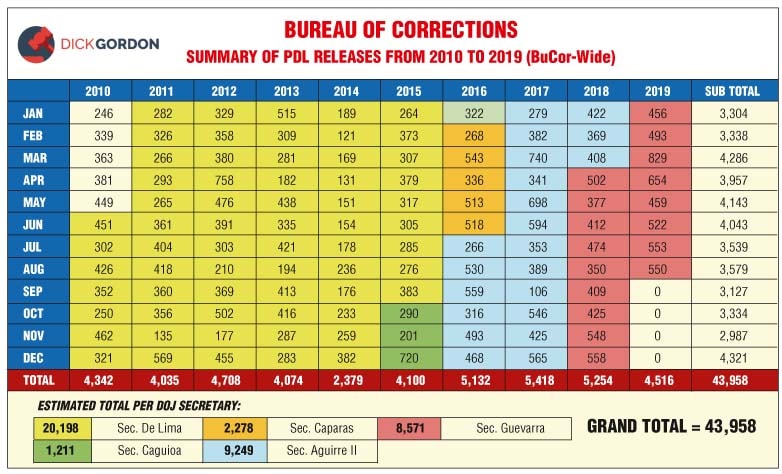 Agaw bato drug recycling
The Senate Blue Ribbon Committee hearing presided by its chair, Sen. Richard Gordon on Oct. 1, 2019 turned into a remarkable exchange of brickbats between and among ranking police officers, incumbent and retired.
When the current Philippine National Police Chief Oscar Albayalde was the chief of police of Pampanga, on Nov. 29, 2013, a team of 13 anti-illegal drugs policemen led by Supt. Rodney Raymundo Baloyo IV conducted a buy-bust operation on a lair operated by Johnson Lee, a Chinese, in a posh village in the province.
They seized 200 kilos of shabu worth P800 million but surrendered only 38 kilos. Lee was set free after paying P50 million.
After that raid, several police officers, including Albayalde and Baloyo, acquired luxury vehicles, each costing P1.23 million.
The missing 162 kilos of illegal drugs was worth P648 million, according to then Police Gen. Benjamin Magalong, then chief of the PNP Criminal Investigation and Detection Group (CIDG), and now mayor of Baguio City.
In February 2014, Magalong said then PNP chief Alan Purisima asked him to investigate the November 2013 raid. Charges were filed.
Albayalde denied Magalong's statement. "My car back in 2013 was 'an old model' of a pick-up truck," the now PNP chief said.
For his part, Philippine Drug Enforcement Agency (PDEA) chief Director General Aaron Aquino said Albayalde tried to intervene on behalf of 13 "ninja" cops in 2016. The then police chief of Central Luzon (Region 3) recommended the dismissal of the 13 police officers.
Until today, the key police officers in that questionable raid have yet to be dismissed from the service. They are still masquerading as crusading anti-drugs policemen, thanks to Albayalde.
Albayalde denied trying to "influence" the investigation.
At the end of the hearing, Sen. Christopher Lawrence T. Go, a close confidante of Rodrigo Duterte, hinted the President would take action as he was monitoring the hearings.
The Blue Ribbon hearings began early September 2019. So far, the Senate probe has prevented the premature release of convicted rapist Antonio Sanchez, the notorious mayor of Calauan town, Laguna, and resulted in the ouster of former marine Captain Nicanor E. Faeldon as director general of the Bureau of Corrections (BuCor).
Faeldon had feigned ignorance about the impending release this year of Sanchez on the ground of "good conduct", although he signed a memorandum for his release. Faeldon also seemed unaware of the illicit drugs trade inside the sprawling prison compound.
The drug recycling scheme "agaw bato" was first exposed by Magalong at the Sept. 19 hearing. It is being perpetrated by what he calls "rogue elements of the PNP" engaged in "enterprise criminal mind". (See page 9 story). Personalities involved in "agaw bato" transact with inmates of the National Bilibid Prison (NBP), Magalong said. "In our investigation, all roads led to NBP. Chinese drug personalities, despite being detained inside the NBP, continue to remotely manage the drug trade in the country."
At the Oct. 1, 2019 Senate Blue Ribbon hearing, Mayor Magalong disclosed that the missing 162 kilograms from the Nov. 29, 2013 raid were worth P648 million. "The 200-kilo haul was so huge it took four people to lift it," related Magalong. "The shabu was even spilling out of the big luggage which could not be locked properly," Magalong added.
In November 2014, then-Region 3 Director Chief Supt. Raul Petrasanta ordered the dismissal of the 13 for grave misconduct. The order was never implemented.
Petrasanta relieved Albayalde as Pampanga police chief for command responsibility. In 2017, Central Luzon Police chief Amador Corpuz demoted the 13 by one rank.
In 2014, then Philippine National Police (PNP) chief Alan Purisima ordered Magalong to conduct an investigation into the November 2013 buy-bust.
Related Magalong in his Oct. 1 Senate testimony: "He (Purisima) received several intelligence reports that police officers of Pampanga have new SUVs. Sabi niya sa akin, 'Benjie, imbestigahan mo nga ito. Just recently may operation sa Pampanga, 30 kilos ng shabu. Biglang nagkaroon ng sasakyan nang sabay-sabay' (He told me, 'Benjie, investigate this. There was recently an operation in Pampanga where about 30 kilos of shabu were seized. Then suddenly, everybody was able to acquire SUVs')."
For part, Albayalde at the hearing said: "I admit that there are a number of policemen who are reportedly abusive, corrupt or involved in illegal drugs, but for the last 17 months since I became chief, I have strived to lead the 190,000 policemen to uphold the positive image of the Philippine National Police, sustaining the internal cleansing program initiated by my predecessor."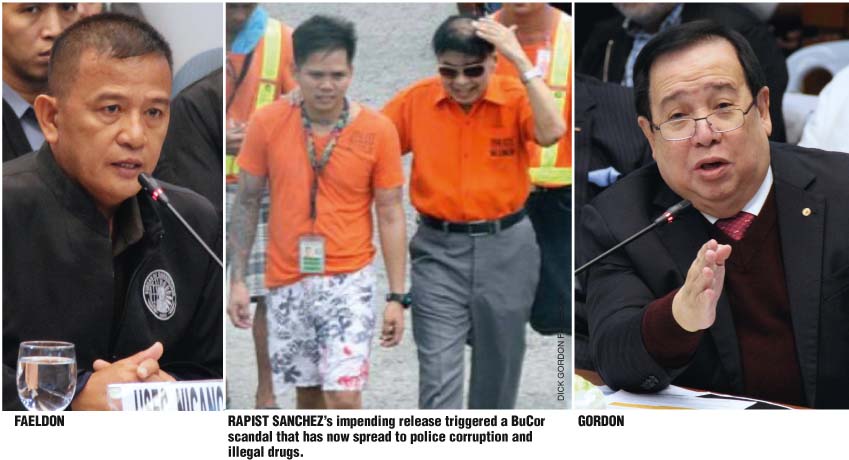 Then PNP chief now frets about the President's confidence in him.
He told reporters: "Let the President decide. I am expendable. I'm a government employee, public servant. I think lahat kami (we all are) expendable."
"It will not affect [drug war]. We do what is right and we do our job," Albayalde added.
Albayalde said Magalong "was the chief of the CIDG and later became the director for investigation. He had all the chance, the time, the power and the authority to monitor and supervise [the case]."
As to his allegedly intervening on behalf of the 13 Pampanga policemen, Albayalde said he merely asked Philippine Drug Enforcement Agency chief Aaron Aquino, then the Central Luzon police chief, about the status of the case of his former men.
Very negligent
"Albayalde has a lot of things to explain," Magalong retorted. "At the very least, he (Albayalde) was very, very negligent," Gordon agreed. "When something is under investigation, you don't call somebody."
If proven, the bogus Pampanga raid involving one of the biggest drug hauls in a single raid (P800 million) will be a black mark against Albayalde. "There was a grand cover-up," sniffed Senate President Vicente Sotto.
The raid also resulted in apparent carnapping. The vehicles of the alleged drug lord Lee went missing.
A Land Transportation Office official confirmed that one of Lee's vehicles, a 2013 model Toyota Fortuner, was sold three times in one day. At the hearing, a buyer, Amy Gopez, testified that she bought the car for P1.2 million from a car sales shop in 2015.
Sen. Bong Go disclosed President Duterte might ask the Department of the Interior and Local Government (DILG) to get to conduct an investigation, from top to the bottom of the ninja cop scandal.
"The President might ask the DILG to investigate and get to the bottom of this," Go said in a statement at the end of the hearing.
Senator Go said that despite the controversy, the PNP remains committed in reforming itself.
"In fairness to the PNP, it is continuing its internal cleansing program. Nangyari po ito sa nakaraang termino, hindi pa sa termino ni Pangulong Duterte. At nakita ko naman, napakaseryoso ni Pangulong Duterte sa kanyang ginagawa (This happened in the past administration, not during the term of President Duterte. And I have witnessed that President Duterte is serious in what he is doing)," Go said.
"The President fully trusts the police force. The war against illegal drugs and criminality will not succeed without the help of the policemen," the senator concluded.