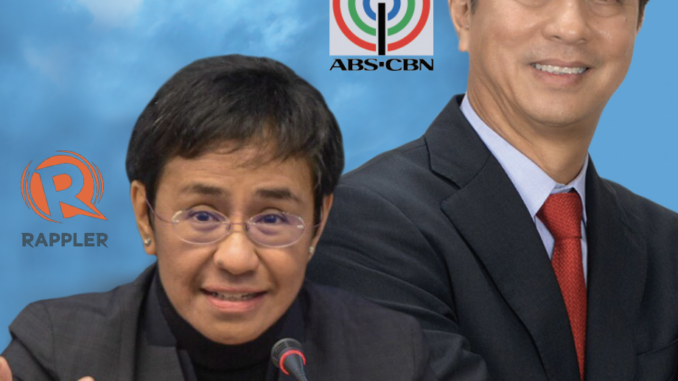 By Antonio S. Lopez
You are guilty of libel every time you publish the same libelous article, whether in print, online, web, email or other means, including future technology.
This is the jurisprudence set by Manila Regional Trial Court 46 Presiding Judge Rainelda H. Estacio-Montesa in her 13,800-word decision in finding Maria Angelita Ressa and Reynaldo Santos Jr. guilty of cyberlibel in the suit filed by businessman Wilfredo D. Keng, a property, retailing, and mining magnate. Ressa is Rappler CEO and executive editor. Santos used to be a Rappler writer-researcher.
Cyberlibel is punishable from six months to six years imprisonment under Section 4 (c)(4) of Republic Act No. 10175, otherwise known as Cybercrime Prevention Act of 2012. RA 10175 intercalates Article 355 of the Revised Penal Code, as amended, making libel a crime, but adds "through a computer system or any other similar means which may be devised in the future."
Cyberlibel being a more serious offense than ordinary libel, RA 10175 has a prescriptive period of 12 years and imprisonment up to eight years. Some lawyers say the prescriptive period could be longer, 15 years. This makes the Cybercrime Prevention Act one of the most insidious attacks on freedom of the press. Under the Revised Penal Code, libel has a prescriptive period of only one year.
Libel is defined as "a public and malicious imputation of a crime, or of a vice or defect, real or imaginary, or any act, omission, condition, status, or circumstance tending to cause the dishonor, discredit, or contempt of a natural or juridical person, or to blacken the memory of one who is dead."
2012 article updated or re-published  in 2014
The libel stemmed from an article originally published on Rappler's website on May 29, 2012 and updated on Feb. 19, 2014, after RA 10175 was passed.
In making the ruling, Judge Estacio-Montesa considered the update a republication of the article. "An update connotes that a change was made to the article. Said updated version was the one published and still available on the website of Rappler, Inc.," she said, adding "the original version was replaced by the updated one considering that it is no longer accessible in the Rappler's website. In other words, the original article published on May 29, 2012 can no longer be found. Only the Feb. 19, 2014 version presently exists and accessible on the internet. Clearly, there was republication of the updated version of the subject article."
Chief Justice smeared
The Feb. 19, 2014 updated article was headlined "CJ Using SUVs of Controversial Businessman". With a kicker, "Shady past?", Santos, the writer of the article wrote:
"At the time we were tracing the registered owner of the Chevrolet in early 2011, we got hold of an intelligence report that detailed Keng's past. Prepared in 2002, it described Keng as a "naturalized Filipino citizen" whose exact birthdate is unknown. In the report, he was also identified as bearing the alias "Willy," using a surname also spelled as "Kheng."
The report stated that Keng had been under surveillance by the National Security Council for alleged involvement in illegal activities, namely "human trafficking and drug smuggling." He is supposedly close to lawmakers and had contacts with the US embassy at the time.
The document also said Keng was involved in a murder case for which he was "never jailed." It could be referring to the death of Manila Councilor Chika Go in 2002 where Keng had been identified as a mastermind. Go was also the architect of Keng's Reina Regente condominium residence in Binondo, Manila.
The Rappler article quoted a 2002 Philippine Star report, saying "Keng was also accused of smuggling fake cigarettes and granting special investors residence visas to Chinese nationals for a fee. Keng has denied his involvement in this illegal transactions, saying it's easy to get visas to the Philippines."
Intermediaries
Aghast, Keng sought intermediaries to convince Rappler to air his side of the story in August 2016. Keng denied the allegations. Before suing, Keng, thru a lawyer, Leonard de Vera, called Marites Vitug sometime in August 2016. De Vera got PDEA certification that Keng had no derogatory drugs record. In connection with the murder of former councilor, Manila Councilor Chika Go, Keng denied his alleged involvement in human trafficking. He was neither investigated nor there is any record in any government agency of his involvement. Keng also denied allegations on cigarette smuggling and tax evasion. De Vera pleaded with a Rappler writer-researcher, Katerina Francisco assigned by Vitug for the follow-up story, to at least publish their side if she does not want to take down the article. Francisco drafted the clarificatory article and sent it to her editors at Rappler.
Despite Keng's numerous followups, from August 2016 to February 2017, Rappler never published Keng's side, even at this writing, according to the judge. He thus sued for cyber libel in May 2019. Ressa and Santos did not bother to testify. At their arraignment, they pleaded neither guilty nor innocent. So the court presumed them to be innocent. Keng had numerous witnesses–PDEA, the NBI, his lawyers, and himself.
Business interests
Keng is a businessman, with interests in several companies based in the Philippines and in China, i.e., Century Peak Metals Holdings Corp., Colony Investors (SPV- AMC), Inc., Good Earth Plaza and U-Need Shopping Center, among others. The companies are involved in various industries, including mining, leasing, property development, land investment, manufacturing, production and merchandising. Some of his companies are publicly listed.
Forbes ranked Keng as one of the Philippines' Top 40 Richest individuals in the country, and was described by the Daily Tribune as a "low-key figure in business with a massive fortune." He has also been commended for his contributions to the community, in particular, for his donations for scholarships and sports amounting to about P2 million, each year, over several years, to different colleges and universities, such as the University of the Philippines. He is a natural-born Filipino, not naturalized as Rappler had alleged.
Ridiculed
Keng told the court because of Rappler's publication of the Rappler article, "his wife and his two (2) daughters have been ridiculed and judged by friends and acquaintances and labeled as associated with drug lords and smugglers. He and his family can no longer fully enjoy their lives since he has been thrust into the limelight as an alleged criminal, if not a peddler of crime. He feels sorry that his daughters are also going through the public humiliation that he is suffering." His eldest daughter, Patricia, sought election was Wow Pilipinas Partylist representative. She lost by a thin margin, because of the Rappler article, Keng told the court.
The court was convinced that both Santos and Ressa are aware of the probable falsity of the subject article considering the fact that Atty. De Vera pointed out to Francisco the inaccuracies in the subject article and the receipt by Vitug of the said PDEA certification. Despite such awareness, however, both accused did not bother to publish the clarificatory article and they just let the libelous article remain in their website.
"A news organization who claims to adhere to accuracy, fairness and balance in terms of reporting, would have retracted, or at the very least, issued a clarificatory article if there have been some indications of falsity to its previous article. Both accused, however, did not. The Court finds that the subject article was republished with reckless disregard of whether it was false or not. This clearly shows actual malice," the judge said.
"THERE IS NO CURTAILMENT OF THE RIGHT TO FREEDOM OF SPEECH AND OF THE PRESS. Each person, journalist or not has that constitutionally guaranteed right to freely express, write and make known his opinion. But with the highest ideals in mind what society expects is a REPONSIBLE FREE PRESS. It is in ACTING RESPONSIBLY that freedom is given its true meaning," the judge said.
Not surprisingly, Ressa claims her guilty verdict is an attack on press freedom in the Philippines by the administration of President Duterte.
But the libel case began in 2014 when Duterte was not yet president. Also, in his previous life as a lawyer and prosecutor, Duterte defended newsmen accused of libel.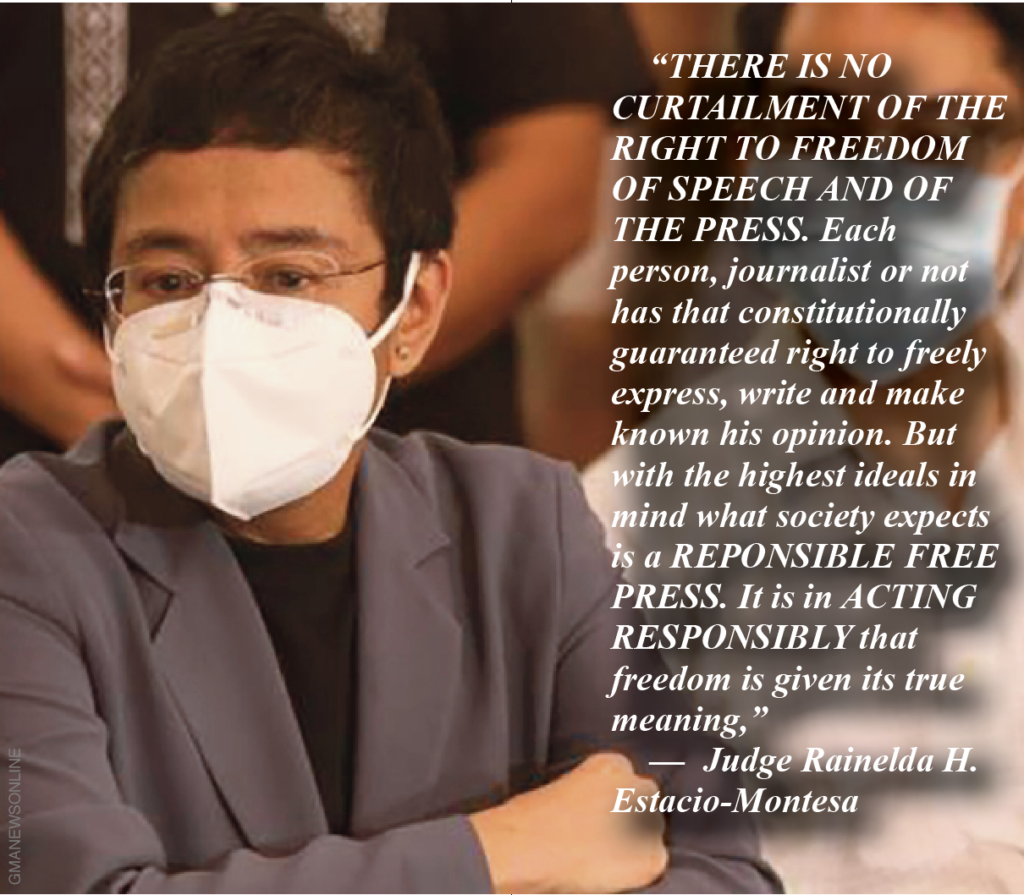 Ressa's credentials questioned
Veteran Filipino journalists question Ressa's credentials as a journalist.
Manila Times columnist and veteran journalist Yen Makabenta called Ressa a fraudulent exemplar of journalism and press freedom. He wrote:
"Those individuals and organizations who so readily condemn the court's Ressa decision as a blow against press freedom, must explain why they blithely assail a ruling affirming the rights of an individual, and favor the side of those who violated those rights. This, to my mind, is a perversion of the very idea of free speech and press freedom. The media cannot have a claim to rights that are superior in importance to the rights of an individual citizen to his reputation and or his privacy."
"There is literally nothing to read of what has been written by "Maria Ressa"," Makabenta sneered. Rappler itself does not have anything that bears Ms. Ressa's imprint. How does one become a journalist without writing, and become an exemplar at that?"
For his part, Ramon Tulfo, also of the Manila Times, asked:
"What motivated Rappler to write falsehoods about Keng?I don't know, but I can venture a guess: Rappler was helping the Yellow administration of President Benigno Simeon Aquino III prosecute Chief Justice Corona. Keng, who was Corona's friend, was collateral damage."
Bobi Tiglao, another Manila Times columnist and a veteran journalist, added: "It is quite despicable that Maria Ressa and her Yellow crowd have been shouting to the world that her criminal conviction for libel for a Rappler article was suppression of the press. It is infinitely disgusting that they have claimed that President Duterte is behind it and that the Philippines has degenerated into a country where freedom of the press no longer exists. I have never seen such hypocrisy on such a scale."
"That Rappler article, which was ruled criminally libelous by Regional Trial Court Judge Rainelda Estacio-Montesa was part of the most odious, immoral and depraved political campaigns in our history. This was Aquino's assault on the Supreme Court in 2012 that removed then-Chief Justice Renato Corona and replaced him with Maria Lourdes Sereno, the most unqualified chief justice ever but the most servile to the president and the Yellows," Tiglao wrote on June 17, 2020.
"The plan was for Corona's House prosecutors to summon Keng to the Senate after the article came out and grill him about his association with the chief justice. The black propagandists calculated that the way the ethnic Chinese Keng would talk and look in the Senate trial would be enough to stir the latent anti-Chinese racism among Filipinos, enough to convict Corona, who was known in the legal community as an upright work-to-home kind of person," Tiglao said.
"Truth will out, and on the day it does, it will expose Ressa as one of the biggest frauds in international media history, and the US media establishment — yes the same one which sold to the world the idea that Iraq had weapons of mass destruction in 2003 and proceeded to destroy that ancient country  — which has glorified her as the most gullible in the world," Tiglao said.
READ FULL ARTICLE HERE: