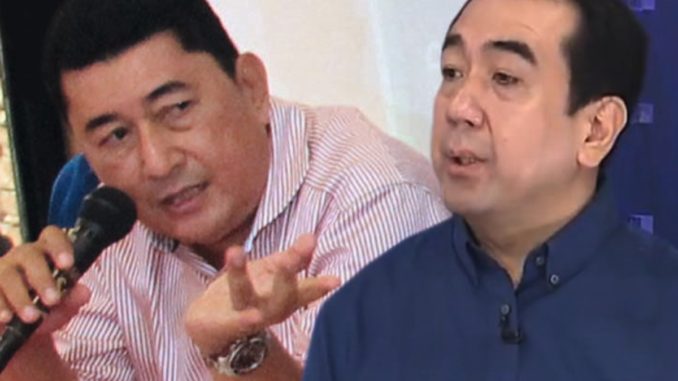 On August 23, 2017, former Negros Oriental Congressman Jacinto "Jing" Paras filed an impeachment complaint at the House of Representatives. It was endorsed by three congressmen, Deputy Speaker Gwendolyn Garcia of Cebu, Abraham Tolentino of Tagaytay City, and Harry Roque of the Kabayan Party list.
Bautista's alleged three main crimes: 1) neglect of duty as Comelec chair resulting in leaking of private data of millions of voters before the 2016 elections, 2) neglect resulting in the hacking of the Comelec website, and 3) failure to disclose in his SALN assets, deposits and properties valued at more than P1 billion the existence of which was discovered and revealed in sworn affidavits by his estranged wife, Patricia "Tish" Bautista.
The late Chief Justice Renato Corona was impeached by the House and found guilty by the Senate in 2012 for failure to reflect in his SALN dollar deposits which being foreign deposits were not even required to be disclosed in one's SALN.
Contacted by BizNewsAsia, Bautista texted "everything will be explained in the proper forum – not in media."
The grounds for impeachment against Andy Bautista, per Jing Paras's impeachment complaint, and his lawyer Ferdinand Topacio:
For grossly neglecting his duty as head of agency, in that he failed to adopt adequate safeguards in consonance with the Data Privacy Act of 2012 (Republic Act No. 10173), to prevent the leak of personal data of millions of voters before the 2016 national and local elections to the detriment of said voters;
For betraying the public trust for grossly neglecting his duties as head of agency, in that he failed to promptly act on the hacking of the Comelec website as well as declined to assume direct control and supervision of the task force created after the incident;
For betraying the public trust for his statement pending investigation that the script tweak was merely cosmetic which was in effect an exoneration of those responsible for it; and
For betraying the public trust and/or committed culpable violation of the Constitution for failing to disclose in his statement the truth about his assets and liabilities and networth (SALN) as required by the Constitution and existing law.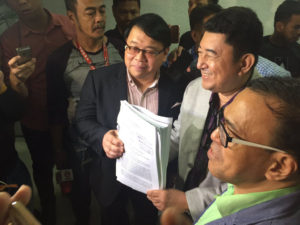 Bautista's wife Patricia Paz "Tish" Bautista had discovered several passbooks as well as bank and real property documents under her husband's name and some of his relatives that were not included in his 2016 statement of assets, liabilities and net worth (SALN).
The Comelec chief declared a net worth of P176.3 million only in his SALN. Mrs. Bautista suspected that her husband might have amassed nearly P1 billion worth of ill-gotten wealth.
Mrs. Patricia mentioned other deposits and assets of Chairman Bautista not in his SALN.
They include:
35 Luzon Development Bank (LDB) passbooks with a total balance of P329,220,962;
A foreign currency account with Rizal Commercial Banking Corp. (RCBC) with $12,778.30, or P640,959.53 (at P50.16 [as of Aug. 4] to $1.00);
An RCBC peso account with P257,931.60;
An HSBC account with HK$948,358.97 or P6.10 million (at P6.43 to HK$1.00);
A condominium unit in One Bonifacio High Street at Bonifacio Global City (BGC) in Taguig City;
A condo unit in The District in San Francisco, California, USA.
Mrs. Bautista also discovered other assets not declared in her husband's SALN to wit:
Bauman Enterprises Ltd., a company established in the British Virgin Islands on Sept. 29, 2010;
A trustee company that Bautista set up with Bank of Singapore;
Mantova International Ltd., established in Brunei Darussalam on April 26, 2011;
Mega Achieve Inc., established in Anguilla, a British overseas territory in the Caribbean, on July 15, 2014.
In a related development, former Biliran Congressman Glenn Chong has asked the Office of the Ombudsman to investigate Commission on Elections Senior Commissioner Christian Robert Lim for graft and corruption and serious misconduct for unduly favoring Smartmatic in the conduct of the country's elections.
In a 19-page affidavit-complaint, Chong, a lawyer, said the investigation is preparatory to an impeachment complaint that will be filed against Lim for alleged betrayal of public trust.
A verified complaint for impeachment is warranted in accordance with Section 22 of RA 6770 or the Ombudsman Act of 1989 which says "the Ombudsman has power to investigate any serious misconduct in office allegedly committed by officials removable by impeachment, for the purpose of filing a verified complaint for impeachment, if warranted. This is the reason why I am filing this affidavit-complaint," Chong said.
Chong alleged that Lim had committed serious misconduct for allegedly having conspired with Smartmatic in violating election laws and rules.
The former solon said such misconduct had already been established in the case of Pabillo, et. al. vs. Comelec when the Supreme Court found Comelec, through then acting Chairman Lim, to have committed grave abuse of discretion amounting to lack or excess in jurisdiction when it entered into a P240 million diagnostics contract with Smartmatic through negotiation instead of public bidding.
As established in that case, Lim, then chairman of the Comelec Steering Committee, actively pushed and negotiated privately with Smartmatic for the re-use of the PCOS machines for the 2016 elections when he knew beforehand that the machines had serious and widespread accuracy problems in the 2013 elections.
"Lim was fully aware of the accuracy and 'digital lines' problems and their magnitude early on, yet, over a period of more than one year, he actively sought to downplay these problems and proceeded to negotiate privately with Smartmatic for the re-use of the same severely problematic PCOS machines," Chong said.