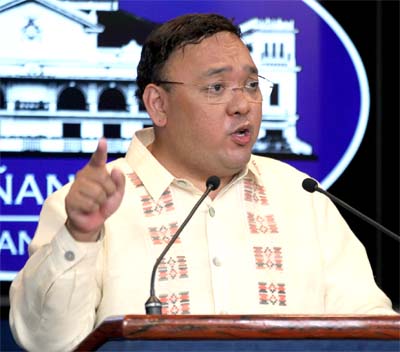 This is to inform everyone that under the Rules of Court, judgments and final orders of quasi-judicial agencies, including the Securities and Exchange Commission (SEC), are not stayed while on appeal with the Court of Appeals (CA), unless the CA directs otherwise. In Rappler's case, no such directive from the CA has been issued.
We did not implement the SEC decision at once. We could have earlier disallowed Rappler's Palace beat reporter, Pia Ranada, from entering Malacanang when the SEC decision was handed down if our intent is to infringe press freedom.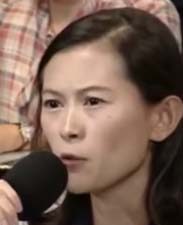 However, we allowed Ms. Ranada to continue performing her work assignments unimpeded, notwithstanding that trust with the news source had already been adversely affected, in the hope that this would be restored. We likewise gave Rappler ample time to avail of legal remedies.
However, it became apparent that Rappler is more interested in spreading fake news, and as Feb. 20 incident demonstrated, it would rather sensationalize the issue of non-entry in Malacanang rather than comply with the rules.
Let us be clear: The case of Rappler is not an attack on press freedom. Members of the media, including the Philippine Daily Inquirer, continue to be hard-hitting yet they can cover the activities of the President. Ms. Ranada's accreditation, which would give her access to Palace activities, lies on Rappler's accreditation. If Rappler wants to have direct coverage of certain events inside and outside Malacañang, it may apply for Foreign Correspondents Association of the Philippines (FOCAP) accreditation.
Two things could have avoided Rappler's present predicament: One, get a temporary restraining order. Two, be a Filipino corporation. Unfortunately, Rappler failed to obtain a TRO and failed to show that it is a Filipino entity.
We gave Rappler sufficient opportunity to rectify the infraction of ownership rules or obtain judicial relief, but instead of doing so it spent time and resources to foment false news and opted to twist the facts like it often does.
Peke na nga ang balita ng Rappler, peke pa rin ang pagiging Pilipino nila. Ayusin muna nila ang dalawang bagay na ito bago sila sumigaw ng kalayaan sa pamamahayag.
Palace: Media entry to Malacanang not a matter of right; assures no gov't denial of press freedom
The Palace on Tuesday, February 20, clarified that Rappler is free to cover official press briefings in Malacañang while its appeal to overturn a decision revoking its license is pending in court.
Presidential Spokesperson Harry Roque Jr. said the online media entity would be allowed to cover Palace briefings until the Court of Appeals (CA) sustains the Securities and Exchange Commission's (SEC) ruling to cancel its license due to constitutional violations.
"As far as I know… you are still allowed until the appeal is resolved by the Court of Appeals. If [the SEC decision] is sustained, then you will have to move to FOCAP (Foreign Correspondents Association of the Philippines), which is the media group for foreign correspondents. Because the decision of the SEC is that you are foreign-controlled," Roque said.
The Secretary noted that FOCAP members are not allowed unimpeded access to Malacañang events due to security reasons and a request by the Malacañang Press Corps (MPC) for exclusive media coverage. He said foreign media correspondents are only given accreditation on a per-event basis.
"The accreditation is not a license to practice your profession… The accreditation really is for security purposes. But no one is prevented from covering. You can cover; except that, we are in the most secure premises in this country called Malacañang Palace, and for good reasons. So admission to it is really not a matter of right," Roque said.
Roque assured that Rappler reporters are not barred from covering his press briefings, which are televised live and can be monitored through the Palace's official Facebook pages.
"We will never prevent any media organization from practicing their profession, and that is our firm commitment. We will never curtail the exercise of freedom of the press except that, you have to understand, access to Palace is not part of freedom of the press. You can report through other means if need be," he stressed.
On the other hand, the Spokesperson cautioned the news organization against resorting to editorializing news stories and publishing "fake news."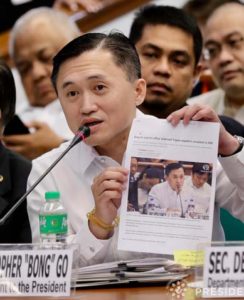 He was referring to Rappler's reporting of the frigate deal issue, in which it reported that Special Assistant to the President (SAP) Christopher "Bong" Go intervened in a multi-billion Navy project.
Roque said documents shown during the Senate hearing proved that Rappler's claim of an intervention by SAP Go was in fact just a response to a complaint received by the Palace, which it endorsed to the proper line agency.
"Witnesses already clarified under oath that Bong Go did not intervene at any time… The documents prove that there was a complaint, it was referred for attention by the PMS (Presidential Management Staff), and that's the full extent of what you claim to be an intervention," he said.
"The document did not emanate from Bong Go. Even the note says it did not emanate from Bong Go… The document confirmed that they acted upon a complaint… Do you really want government to ignore official communication sent to it?" he further stressed.