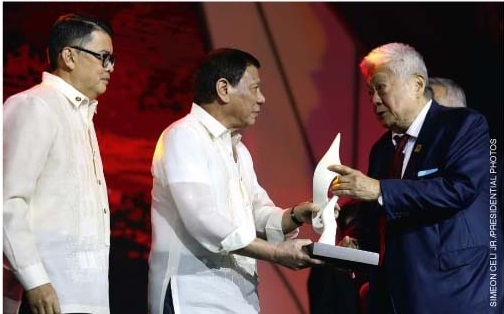 By Antonio S. Lopez
"If you don't work, you don't eat."
That is one of the most important lessons I learned from my good friend of many years, John L. Gokongwei Jr.. It is a formula for hard work—and entrepreneurship.
His life was one of bold risk-taking and taking on challenges bigger than his capacity to cope or succeed. "I chose to live my life unafraid even during times when I was afraid," he said.
"Believe me, success can be achieved through hard work, frugality, integrity, responsiveness to change—and most of all, boldness to dream. These have never been just easy slogans for me. I lived by them," he said.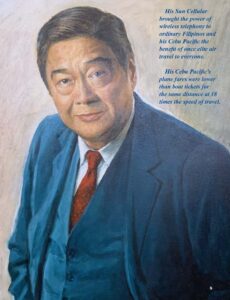 Big John died peacefully Saturday, Nov. 9 at 11:41 p.m. at the Manila Doctors Hospital, surrounded by his loved ones. He was 93. He is survived by Elizabeth, his wife of 61 years; their children Robina, Lance, Lisa, Faith, Hope, and Marcia; his in-laws and grandchildren; brothers Eddie and James Go, sister Lily; and nieces and nephews.
This year, two of the Philippines' greatest taipans passed away, both peacefully. Their businesses are intact and growing under young and capable hands.
The richest Filipino, Henry Sy Sr. died in his sleep on a Saturday, Jan. 19, 2019. He was 94. Tatang Henry Sy left a $20-billion fortune.
The third-richest Filipino, Gokongwei, had a $5.4 billion fortune. He built a conglomerate in 60 years, growing from one man to 30,000 by 2000, and more than doubling that into 75,000 employees and market value of $11 billion in the succeeding two decades.
A third taipan, Lucio "Bong" Tan Jr., son and namesake of Lucio Tan, died, Nov. 11 after he collapsed from playing basketball Saturday, Nov. 9. He was to succeed his father in managing and sustaining Philippine Airlines and the LT Group. Bong Tan was 53. Bong was hugely popular for his kindness and people skills. His motto: It's okay to be wronged by other people as long as you are not the one doing the wrong.
John's only son Lance
John's only son Lance Gokongwei became JG Summit's president and CEO in 2018 "having accepted the challenge to sustain the immense growth of the company over the past 25 years of being publicly listed, and to bring the group to even greater heights."
Lance has the gravitas of a hardnosed businessman and entrepreneur. He has two degrees, both summa cum laude, in engineering, and in finance, from the University of Pennsylvania. He inherits John's good looks and tall bearing, although he seems more reserved than his outgoing and gregarious dad.
"Dad always told me tjhat I am a steward of the business. He always told me to take care of the family and the business. Often, they are one and the same. I should take care of the employees. I have a responsibility to all of them," says Lance.
"He (John) taught us that diversification is important, and that competition and the ability to confront change are what make a business continue to grow over a long period of time. In the end, it is now about the connections or 'who you know'. It's about what you know and how well you operate the business. It is about grit and resilience, and being able to bounce back from your lowest moment," Lance recalls his dad's wisdom.
"We, the 75,000-strong employees of JG Summit Holdings and Robinsons Retail Holdings, join the nation in paying tribute to the founder of the first Philippine multinational conglomerate, a philanthropist with a passion for education," said JG Summit and RRHI in a joint statement on Nov. 10, 2019.
"Mr. John, as we fondly called him, was a visionary. He was an inspiration to entrepreneurs and businessmen around the nation, with his pioneering ideas, his strong work ethic, his passion, and perseverance."
Gokongwei built his business empire from scratch from 1957 as a cornstarch plant in suburban Pasig. It became one of Manila's largest and most diversified conglomerates serving a growing middle class in the Philippines, Southeast Asia and Australasia.
John had a keen eye for big and hugely profitable businesses, preferably those with scale to bring cost down and enhance profitability, serving a robust market with unmet demand to ensure long-term sustainability, and industries serving basic needs like food, telecommunications, energy, petrochemicals, housing and hotels, and air transport. A voracious reader of business papers and financial reports, John could see trends far ahead of his competitors.
Cellphones and plane tickets for every Juan
His Sun Cellular brought the power of wireless telephony to ordinary Filipinos and his Cebu Pacific the benefit of once elite air travel to everyone.
His Cebu Pacific's plane fares were lower than boat tickets for the same distance at 18 times the speed of travel.
A few businesses did not pan out as expected, like oil exploration and production, and cosmetics. JG's cellular business was later gobbled up by PLDT.
JG Summit has market capitalization of P555 billion ($11 billion) and interests in branded consumer foods, air transportation, property, hotels, retail, petrochemicals, cement, telco, power, and banking. JG is the third largest conglomerate in market cap.
John was not your typical rags-to-riches taipan. He was, in fact, a riches-to-rags-to riches story. He was born with the proverbial silver spoon. In the late 1930s, his father, John Sr., was big time and one of the richest in Cebu.
Until his mid-teens, John was based in Cebu and led a life boys his age would envy. His father owned a chain of movie houses, including the first air-conditioned theater outside Manila. He was the eldest of six children, lived in a big house in Cebu's Forbes Park, and was driven by a chauffeur to an upscale school, San Carlos University. He was at the top of his class. He would bring classmates to his father's movie houses. Life was good.
One day, when he was 13, John's world of wonder stopped. His father died suddenly, from complications due to typhoid. "Everything I enjoyed vanished instantly. My father's empire was built on credit. When he died, we lost everything—our big house, our cars, our business—to the banks," he recalled.
Little Big John was left with a widowed mother and five siblings much younger than him. He sent his mother and four brothers and a sister to China. In Cebu, they had nothing to eat, their future in limbo.
John worked. Hard and relentlessly. With a bike, he sold roasted peanuts in the backyard of a now much-smaller home. When that wasn't enough, he opened a small stall in a palengke, one much farther than the other markets "because there were fewer goods available for the people there. I woke up at five every morning for the long bicycle ride to the palengke with my basket of goods."
Satisfy a need
At 15, John was selling whatever people needed—"soap to keep them clean, candles to light the night, and thread to sew their clothes." Perhaps, without knowing it then, the teener upstart learned the first lesson of entrepreneurship—satisfy a need. As a young businessman, the tall and lanky teener had one advantage—he was young, strong, active, intense. "I did not tire as easily, and I moved more quickly," he said.
Aggressive
"I was also more aggressive. After each day, I would make about P20 in profit! There was enough to feed my siblings and still enough to pour back into the business. The pesos I made in the palengke were the pesos that went into building the business I have today." He said: "I told myself, 'If I could compete with people much older than me, if I could support my whole family at 15, I could do anything'!" And the best person to depend on in a crunch? "Myself," he grinned. "And so I continued to work."
Cornstarch plant in 1957
At age 27 in 1954, John put up a corn-starch manufacturing plant, going against the biggest in the business, Ludo and Luym. He tried to borrow his capital. The first bank rejected him. The second gave him a P500,000 loan, princely at that time. It jumpstarted Universal Corn Products. He was met by a vicious price war. He won.
From corn to conglomerate
Universal Corn is what JG Summit Holdings is today. In 2018, JG Summit had revenues of P291.9 billion, net income of P19.2 billion, and assets of P819.2 billion, up 11%. JG Summit is the second largest conglomerate in terms of how much the stock market values the company, P555 billion.
JG Summit owns 61% of Robinsons Land, 67.2% of Cebu Pacific Air, 55.8% of Universal Robina Corp., 8% of PLDT, 29.6% of power distribution monopoly Meralco, 30% of power producer Global Power, 60% of Robinsons Bank, 100% of JG Summit Petrochemicals, and 37% of Singapore's property and hotel developer UIC.
In the first half of 2019, JG Summit had revenues of P158.4 billion, up 9.7%, and profits of P17.4 billion, up a whopping 76.8%.
Cebu Pacific
Remarkable is John's Cebu Pacific (CEB). He got the idea of having as low-cost airline from the success of Southwest Airlines, America's best low-cost carrier.
Established March 1996, CEB pioneered the "low fare, great value" strategy. It has flown over 150 million passengers. It taught Filipinos to fly, not sail. It flies to 26 international and 37 domestic destinations It operates from seven strategic hubs: Manila, Cebu, Clark, Kalibo, Iloilo, Davao, and Cagayan de Oro.
From five aircraft in 1996, Cebu Pacific now operates a fleet of 61 aircraft — 44 Airbus (36 A320 and eight A330) and 17 ATR (eight ATR 72-500 and nine ATR 72-600) aircrafts. The fleet is one of the most modern in the world. Between 2018 and 2022, Cebu Pacific takes delivery of 32 Airbus A321neos, seven Airbus A321 neos, and seven ATR 72-600 aircraft orders.
The airline prides itself with a load factor of 90%, an enviable 53% share of the domestic passenger market, annual revenues of P90 billion, profits of P9 billion, and passenger volume hitting 20 million.
The airline remains a pioneer in creative pricing strategies as it manages to offer the lowest year-round fares for all its flights.
CEB is the first local airline to introduce web check-in, e-ticketing, and seat selection in the Philippines. It recently rolled out its newest lifestyle rewards program, GetGo, to reward frequent fliers with more benefits and free CEB flights.
San Miguel board fight
In the mid-1970s to the early 1980s, John waged among his biggest boardroom battles – a board seat in giant San Miguel Corp. controlled by the Soriano family. John was aghast that he had more shares of San Miguel than the Sorianos did (just 1.8%) and yet was not allowed to enjoy one board seat. The boardroom fight revealed am ambitious streak in John. That you could actually buy companies bigger than yours. And that you could grow big indeed thru acquisitions.
His fight in the mid-1970s to the early 1980s with the late Don Andres Soriano Jr. eventually paid off. Don Andres put him in the board of San Miguel's Hong Kong subsidiary and sold to him at a bargain what was a decrepit riverside warehouse property on EDSA which John converted into a sprawling cyberpark, condo and commercial complex.
In 2011, John sold his money-losing Digitel to the PLDT Group of Manny Pangilinan for P69 billion. The deal enabled John to get two board seats in PLDT and Pangilinan to control majority of Meralco. In 2013, John acquired 27% of power distribution monopoly Meralco from San Miguel, joining Pangilinan for control of Meralco.
John was the quintessential entrepreneur and icon of business resilience.
His track record and wholesome family-oriented values were amazing. Big John was much admired and respected and feared.
When John died on Nov. 9, 2019, he had lodged an enviable 80 years of spectacular entrepreneurship.
Legacy
Big John could count on three things as his legacy.
One, his disruption of three industries that were controlled by what he called Goliaths—airline, cellular telephony, and ready-to-drink tea.
Two, he became big largely through acquisitions and not through internal growth of companies he founded.
Three, he inspired a new generation of entrepreneurs, bold and unafraid.
In 2011, he bought into PLDT for P69.2 billion, once the Philippines' telco monopoly but which later lost traction and focus. This was after selling his Digitel (Sun Cellular) to PLDT for P74.1 billion.
In 2013, John bought for P71.9 billion 27% of Meralco, Luzon's electricity distribution monopoly. Today, JG Summit's expanded ownership of 29.6% in Meralco is worth P116 billion.
JG Summit's diluted ownership of 8% of PLDT today is worth only P19 billion.
John, it seems, lost on his PLDT bet but gained a windfall from his Meralco stake.
In stock market value, he has lost P50.2 billion on his PLDT stake (P69.2 billion minus P19 billion) but gained P44 billion on his Meralco equity (P116 billion minus P71.9 billion). That is, of course, without reckoning with the value of cash and stock dividends for the past six years in the case of Meralco and the past eight years in the case of PLDT.
Larger in value than JG's ownership in PLDT is its 37% in UIC, the Ayala of Singapore. The 37% in UIC is worth P105 billion.
In November 2014, John bought New Zealand's Griffin's Food Ltd. for P26.25 billion.
URC
JG Summit's largest subsidiary, Universal Robina Corp. expanded in the region on John's idea that the ASEAN market alone (550 million people) is far larger than the Philippines market (107 million people).
URC looked for opportunities to explore potential acquisitions and partnerships in line with our vision to be a significant regional player in snack foods and beverages. "While we have already built very strong brands, our strategy is to continue offering our existing consumers and markets in the Asean and Greater China regions with innovative, convenient, lifestyle-focused and on-the-go products," explained JG Summit President Lance Gokongwei.
In 2016, JG Summit acquired 30% of Global Business Power for P11.8 billion. GBP is a major power producer for the Visayas and Mindoro with generating capacity of 854 megawatts.
John's Cebu Pacific, now 23 years old, became No. 1 in being a low-cost carrier. His C2 became No. 1 in RTD tea.
His Digitel Sun Cellular became a major player in cellular phones by offering cut-throat rates but when the competition became too tough, he sold out to the biggest telco, PLDT, at a huge profit, while retaining significant presence to cash in on future growth of PLDT.
Some acquisitions did not pan out, like his purchase of Oriental Petroleum, for P1 billion.
As it turns out, however, there were other bigger and better businesses to buy conquer or buy which are yielding more phenomenal returns and providing strong foundation for growth.
PCIBank sold prematurely
John sold prematurely his stake in PCIBank to Equitable which later became the largest bank, as BDO, under Henry Sy Sr., a long-time business rival.
As a result, John missed the awesome double-digit growth in bank profits and returns on equity that the ten largest banks continue to enjoy today despite tightening competition.
Banking remains a robust business and has a spectacular potential. In the 1970s, the Philippine National Bank was the largest in Southeast Asia.
Today, the entire Philippine banking system is not even enough to match the resources of the biggest bank of either Singapore or Thailand.
John went back into banking with his increasingly aggressive Robinsons Bank.
Late into energy, infra
John was also late into power generation, a business that San Miguel easily dominated very early with generation capacity of 4,293 MW. It is not too late to enter the game as power demand now grows 5% per year with the explosive growth of the economy.
JG was also late to enter infrastructure, a business where San Miguel has become No. 1 and is ahead of latecomers, literally by hundreds of kms.
JG is looking at the P108-billion rehab of NAIA. It lost out in the bid for Clark.
Robinsons Land mulls entry into warehousing and logistics, dorm and shared office spaces, and digital space.
For its part, Cebu Pacific will become conservative and flexible in its fleet expansion following a massive refleeting.
Cebu is making 4.2x more money from ancillary revenue (like baggage fees and penalties) than passenger sales, which contributes 75% of revenues.
In foods, San Miguel is undisputed No. 1.  
In retail, JG Summit is No. 3 in sales with $2.52 billion, behind SM Retail's $6.14 billion and Puregold's $2.67 billion, despite being No. 2 in store count (1,910) after SM Retail (2,328) and ahead of Puregold (409).
In property, in terms of market cap, Robinsons Land is No. 4 with $2.5 billion, behind SMPH, $20.7 billion; Ayala Land, $14.1 billion; and Megaworld $2.7 billion.
In Forbes' listing of Philippine billionaires, Gokongwei Jr. is ranked third, with estimated wealth of $4.4 billion, behind Henry Sy with $18.3 billion and up and coming Manuel Villar with $5 billion.
In the BizNewsAsia Billionaires ranking of November 12, 2019, John is No. 3, with $5.9 billion wealth, behind Sy, $17 billion and brown property taipan Manuel B. Villar Jr., $6.56 billion, but ahead of beer and property investors Iñigo Zobel and sister, $4.85 billion.