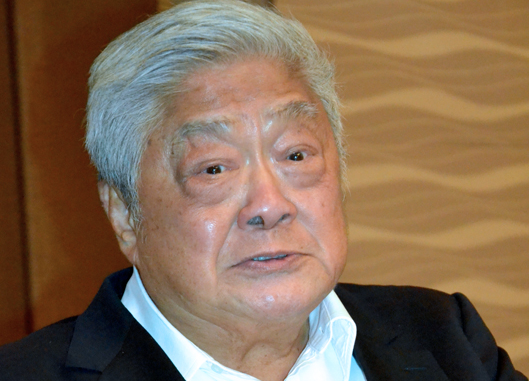 That is one of the most important lessons I have learned from my good friend of many years, John Gokongwei Jr.. it is a formula for hard work – and entrepreneurship.
John, 93, is not your typical rags-to-riches taipan. He is, in fact, a riches-to-rags-to riches story. He was born with the proverbial silver spoon. In the late 1930s, his father, John Sr., was big time and one of the richest in Cebu.
Until his mid-teens, John was based in Cebu and led a life boys his age would envy. His father owned a chain of movie houses, including the first air-conditioned theater outside Manila. He was the eldest of six children, lived in a big house in Cebu's Forbes Park, and was driven by a chauffeur to an upscale school, San Carlos University. He was top in his class. He would bring classmates to his father's movie houses. Life was good.
One day, when he was 13, John's world of wonder stopped. His father died suddenly, from complications due to typhoid. "Everything I enjoyed vanished instantly. My father's empire was built on credit. When he died, we lost everything—our big house, our cars, our business—to the banks," he recalled.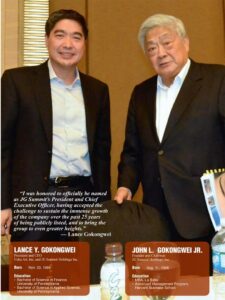 He was left with a widowed mother and five siblings much younger than him. He sent his mother and four brothers and a sister to China. In Cebu, they had nothing to eat, their future in limbo.
Then Big John worked. Hard and relentlessly. He sold roasted peanuts in the backyard of a now much-smaller home. When that wasn't enough, he opened a small stall in a palengke, one much farther than the other markets "because there were fewer goods available for the people there. I woke up at five every morning for the long bicycle ride to the palengke with my basket of goods."
By the time he was 15, John was selling whatever people needed—"soap to keep them clean, candles to light the night, and thread to sew their clothes." Perhaps, without knowing it then, the teener upstart learned the first lesson of entrepreneurship – satisfy a need. As a young businessman, the tall and lanky teener had one advantage – he was young, strong, active, intense. "I did not tire as easily, and I moved more quickly," he said.
"I was also more aggressive. After each day, I would make about P20 in profit! There was enough to feed my siblings and still enough to pour back into the business. The pesos I made in the palengke were the pesos that went into building the business I have today." He said: "I told myself, 'If I could compete with people much older than me, if I could support my whole family at 15, I could do anything'!" And the best person to depend on in a crunch? "Myself," he grinned. "And so I continued to work."
From Cebu, John expanded to Manila. He would transport tires on a small boat called a batel, travel for five days to Lucena, load his cargo onto a truck for the six-hour trip to the Philippine capital. He sat on his goods so they would not be stolen.
"In Manila, I would then purchase other goods from the earnings I made from the tires, to sell in Cebu. Then, when WWII ended, I saw the opportunity for trading goods in post-war Philippines."
At 20 in 1946, John formed his first company, Amasia Trading which imported onions, flour, used clothing, old newspapers and magazines, and fruits from America. After two years, he made enough money to feel confident of retrieving his mother and siblings from China. He converted a two-story building in Cebu to serve as their home, office, and warehouse all at the same time. The whole family began helping out with the business.
At age 27 in 1954, John put up a corn-starch manufacturing, going against the biggest in the business, Ludo and Luym. He tried to borrow his capital. The first bank rejected him. The second gave him a P500,000 loan, princely at that time. It jumpstarted Universal Corn Products. He was met by a vicious price war. He won.
Universal Corn is what JG Summit Holdings is today. In 2018, JG Summit had revenues of P291.9 billion, net income of P19.2 billion, and assets of P819.2 billion, up 11%. JG Summit claims it is the third largest conglomerate in terms of how much the stock market values the company, P399 billion.
In the first half of 2019, JG Summit had revenues of P158.4 billion, up 9.7%, and profits of P17.4 billion, up a whopping 76.8%.
Remarkable is John's Cebu Pacific. It now claims to be the largest airline in the Philippines in terms of passengers carried. It was launched in 1996 with its first domestic flight. As of end-2018, it had 71 planes, 20.3 million passengers, 37 domestic destinations, 26 international routes, assets of P129 billion, revenues of P74.1 billion, and profits of P3.9 billion.
In first half 2019, Cebu Air chalked up revenues of P44.7 billion and profits of P7.3 billion, more than double from the same period in 2018. This 2019, carrier gets delivery of 11 A321NEO (New Engine Option) Airbus planes which have more seats, more fuel efficient engines, and longer range, enabling it to improve service, efficiency and profitability and fly to distant routes like India and Russia.
John is a very practical man. In 1974, I visited his executive office at the then Midtown Ramada in the Ermita tourist district. His visitors were made to sit on a sofa that had seen better days. I asked him why he had a battered sofa when he could certainly afford a better couch. "Why I should buy a new one when the old one serves the same purpose," he asked back. "Buying a new one will use up my capital," he said.
John was very fond of freebies. Inside the pockets of his huge coat one could find peanuts, and papers of all kind. A hotelier himself, he is probably one guest who would bring home the hotel slippers, soap, and other toiletries.
In the late 1970s to the early 1980s, John waged among his biggest boardroom battles – a board seat in giant San Miguel Corp. controlled by the Soriano family. John was aghast that he had more shares of San Miguel than the Sorianos did and yet was not allowed to enjoy one board seat. The boardroom fight revealed am ambitious streak in John. That you can actually buy companies bigger than yours. And that you could grow big indeed thru acquisitions.
His fight with the late Don Andres Soriano Jr. eventually paid off. Don Andres put him in the board of San Miguel's Hong Kong subsidiary and sold to him at a bargain what was a decrepit riverside warehouse property on EDSA which John converted into a sprawling cyberpark, condo and commercial complex.
In 2011, John sold his money-losing Digitel to the PLDT Group Manny Pangilinan for P69 billion. The deal enabled John to get two board seats in PLDT and Pangilinan to control majority of Meralco. In 2013, John acquired 27% of power distribution monopoly Meralco from San Miguel, joining Pangilinan for control of Meralco.
When his Cebu Pacific launched service to Shanghai in 2007, John invited me and his best friends to join the inaugural flight. Cebu Air is a low-cost carrier. There was no food service during the four-hour flight. Upon landing, past midnight, we were checked in at the Crowne Plaza Hotel in Shanghai.
He owns the Crowne Plaza Galleria in Ortigas, Quezon City, so securing rooms for his valued friends at Crowne Plaza Shanghai should not have been a problem. Only half of the rooms were available. The idea: Save money.