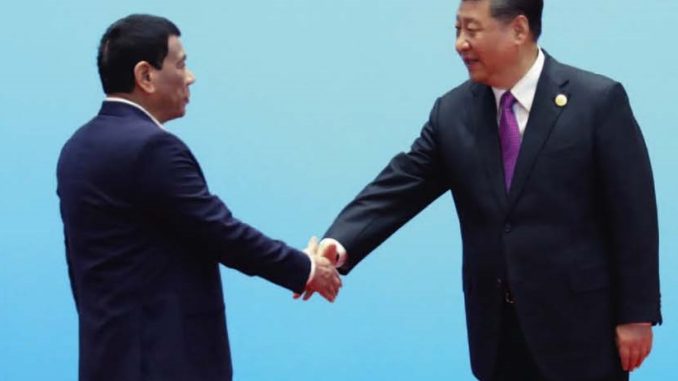 By President Rodrigo Roa Duterte
(Speech during the High-Level Meeting, Session I of the Second Belt and Road Forum for International Cooperation, April 26, 2019)
Excellencies, ladies and gentlemen:
I join my colleagues in thanking and congratulating my dear friend, President Xi Jinping, for hosting the second Belt and Road Forum for International Cooperation.
I reaffirm my country's commitment to the collective vision of common prosperity through cooperation on the basis of mutual respect and as equal sovereign states.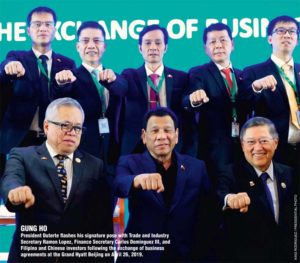 In the past, belts and roads established lines of commerce, contact and connections. Humanity's experience, however, has been mixed. Some networks spurred progress; other networks ushered decline.
While some societies benefitted; others paid a heavy toll. We should learn from the lessons of history.
Nobody wins in a zero-sum game
We built the current rules-based order because nobody wins in a zero-sum game. This brought us sustained peace and [unparalleled] prosperity. From building a global free trade regime to laying down the rules that govern the use of oceans, multilateralism allowed us to undertake global governance through cooperation.
This part of the model is truly to transform our world for the better. Yet even before multilateralism and the new globalization matured, we in Southeast Asia already envisioned a community that promotes shared prosperity and mutual respect.
Through ASEAN, we have achieved regional peace and common development. We have become the fulcrum of the regional architecture, respected by all powers for the leadership that only we – nations with no strategic design but that only of peace – can provide.
ASEAN centrality has been a positive force in Asia's rise and continue to be so as the region's architecture evolves.
For rules-based international order
This is the premise of the Philippines' engagement with the world. In pursuit to our independent foreign policy, we will uphold and defend the open and rules-based international order.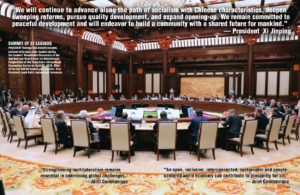 To the extent the Belt and Road Forum complements ASEAN and our national development initiatives, including the Master Plan for ASEAN Connectivity, and creates an environment conducive to productive bilateral undertakings, the Philippines shall continue to participate, contribute, and cooperate.
The belts and roads of the past facilitated cross-[civilizational] exchange. The belts and roads that we now seek to build must fuse our ideas towards a common objective. Our destination must be the fulfillment of our peoples' aspirations.
Human connections as connectivity
In pursuing connectivity, we should not merely build roads and bridges but we should also create human connections. It is through these connections that we facilitate grand exchanges of skills, ideas, and experience. It is also through linkages that we forge and build trust and understanding.
Migrant workers serve as nodes of these connections. Through their hard work, they continue to contribute to the development of both their home and host countries.
Protecting their rights and promoting their welfare are our shared responsibility. These are the essence of people-centered cooperation.
Philippine formula
The Philippines is one with every responsible member of the international community in building a future that would be the envy of history – one that promotes global cooperation yet upholds and respects national sovereignty; where national honor is married with the interest of humanity; and where the great challenges that transcend national borders are collectively addressed.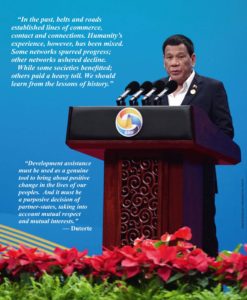 Redefine cooperation
With the Belt and Road program, this forum we have is an opportunity to redefine international cooperation. This is the key to sustained growth.
We must remember: Development assistance must be used as a genuine tool to bring about positive change in the lives of our peoples. And it must be a purposive decision of partner-states, taking into account mutual respect and mutual interests.
Development assistance should ne —should build on capacities of nations. It should never foster dependence.
It should be based on reciprocal benefits, motivated by keen interest in partner states to bring about real progress.
This should be the new normal. And it is in our interest to work together to make this a reality.
Thank you.