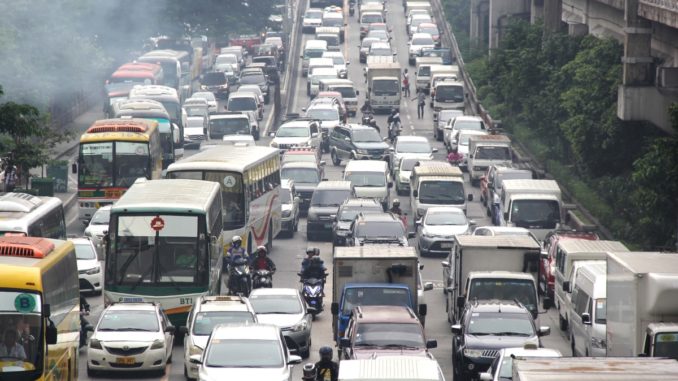 Aileen Lizada, Board member, LTFRB
We would like to state for the record that LTFRB is not against Uber and Grab. What we are just doing is that we want to see a sense of regulation on the part of the TNVS and a level of accountability on the part of the TNCs corresponding to the terms and conditions as laid down in their respective accreditations.
So, what we will be presenting to you now is what we have received based on the data that we just received from them last week. We have been working hard to get these data since last year.
So, just a backgrounder, we had three meetings with them— first, December 12 with Grab; December 13 with Uber and a joint meeting with both last 2016. 2016, we have received a lot of complaints for the price surge during Christmas season. That was when we put a cap on their dynamic pricing.
On July 11, we issued an order dated July 11, and we imposed a fine of P5 million on both TNCs for violating their respective terms and conditions.
LTFRB reports on TNVS status in 2016
From that hearing, we learned that both Grab and Uber disclosed that they have more or less an estimate of 28,000 TNVS in their system.
The Public Service Act includes every person for hire or compensation.
The TNCs were accredited. For Grab, it is July 6, 2015; August 19 for Uber; and you have March 11. They have an accreditation good for two years.
TNCs under Department Order issued then by DOTC, now DOTr, 2015-011, is a pre-arranged transportation services for compensation using Internet-based technology application or digital platform technology.
The business design of Uber and Grab
Uber provides an online technology platform which connects drivers with potential users who request rides. It does not provide or offer to provide transportation services but merely provides the online technology platform to enable users to connect with its drivers. Grab provides an Internet cloud-based booking service for passengers to find, locate and secure taxis using a smartphone or through web-based applications with internally developed web-based service and technology which shall be available on a smartphone or tablet that has GPS, map capabilities issued to drivers which optimize the matching between taxi service demand and supply. This is found in their articles of incorporation.
What is ride-sharing?
An arrangement in which a passenger travels in a private vehicle driven by its owner for a fee.
We go to TNVS. Under Department Order 2015-011, they are drivers using their personal vehicles to connect with passengers using Internet-based technology application or digital platform.
A common carrier is any carrier who holds himself out publicly for compensation.
Number of applications
When we arrived, there were 30,113 applications covering 32,000 units. When we had our technical working group, we had a compromise with both TNCs. Pending 10,241 will be processed as long as the TNCs assist and comply with the lacking requirements of their respective TNVS. Those with CPCs and PAs as of July, the number is 3,999. So, you will see around an estimate of 14,000—if everything is processed—14,000 TNVS for both Grab and Uber.
Consider TNC as a funnel, the top base, it is divided into three parts. The assumptions here are based on the data given to us by both Grab and Uber during our technical working group meetings. The upper portion is the accredited registered TNVS; the middle part is the existing demand; and the lower part, the third part, is the available TNVS at any given time.
The Uber and Grab business
On July 11, Uber and Grab disclosed that they have more or less 28,000 each. On July 26, during our second technical working group meeting, we directed them to state, to submit their master list as of June 30, and those activated even after 30 June because they were still activating despite the order dated 11.
For Uber, 66,890, and we are talking about casual, zero to nine hours; full-time, more than 40 hours; part-time, less than 40 hours. And it also includes inactive drivers. While Grab has 52,393 TNVS.
They disclosed during our meeting that they have daily trips of 150,000 each; times two, 300,000 divided by 24 hours, it gives you 12,500 demand per hour. So, that is in the middle. The demand is 12—So, we placed a projection up to 15,000; 12,000 to 15,000, that is the demand on an hourly basis. The lower portion, these are those full-time drivers, they're around seven to nine thousand available TNVS at any given time. These assumptions are based on what they disclosed during the technical working group.
So, fused together, you will have 119,283 TNVS where the demand is 12,000 to 15,000; and the available TNVS at any given time is seven to nine. So, there is a gap of 5,000 to 6,000 to meet the demand.
So, we now go to how many common carriers because that's how we look at them, common carriers are unregulated, 105,283 unregulated common carriers otherwise known as TNVS. This is an estimate because their numbers are still increasing.
Part-time. For Uber, they constitute the pie, 60% constitutes part-time. When you say part-time, 11 to 39 hours per week. For Grab, 55% of their pie is part-time. Full-time is 40% of Uber, Grab is 45%.
If you go to the estimated number of demand, 12,000 to 15,000, 70% allegedly are dual appers. That means to say, out of the 12,000 to 15,000, you have 10,500 riders who have dual apps. Either they have Grab and Uber on their phones. So, whoever accepts them first, doon ho sila pumupunta.
So, this is just an estimate. So, you will see now based on the 12,000 to 15,000, 70% dual appers, that's in the middle. That's where they share. So, the balance remains with Uber and Grab.
These are the cases that have been filed with us and this is when we hear them every Tuesdays and Wednesdays. For 2015, let it be noted that there was only one case; 2016, 17 cases; 2017, 40 cases plus 35 colorum. So, that's the total, 83.
Complaints
What we are hearing now are complaints due to the non-observance and non-compliance by both TNVS and TNCs of their respective regulation.
We present to you, honorable members of this committee, the concerns and issues that we have seen and observed for the past years. Can we please define what is ride-sharing? Because ride-sharing for us is you own the car you drive. Right now, we are receiving reports, one operator has 40 to 60 cars. Is that ride-sharing?
Number two, the suggestion of Uber, and Uber was for us to give them a blanket franchise covering 2008 vehicles up to the present. We put our foot down. We said, "We cannot give that to you. We cannot give you a blanket franchise. Otherwise, we will be abrogating our responsibility as the regulatory body."
If you go back to the funnel, they want a higher number in the first bracket but we want a higher number in the middle bracket. That's why we are suggesting to put a minimum number of hours when we issue franchises because there are drivers who only drive for two to four hours a week. Sayang naman ho iyong prangkisang ibinibigay ng gobyerno for one who drives two hours a week. Let us give someone who can drive a minimum of X number of hours a week, considering their day jobs.
Accountability and liability of TNCs
For each colorum violation, we would like to see the TNCs to be held accountable as well because they are the ones activating in their system. For complaints, we want to determine the liability of the TNCs to the rider and TPL. When you say "to the rider," usually the partner is the driver. However, there are drivers who are not the partners. So, as to what is the liability, what constitutes liability on the part of the TNCs? Will they be subsidiarily liable?
This is an actual case. We want to know—we want to get guidance. This is a person riding a motorbike, he was hit by an Uber car. This is a third party liability. We want to know what is the liability of a TNC for TPL.
We want them held accountable as well because the car will not be on the road without them activating. He went to the office. This is an actual case. He is now wearing a bracket on his upper body.
Next case. These are the cases that we went to let Uber and Grab know. Uber, they activated their car July 2017 despite our orders. This is a nurse, that is her son. And these are the stories that we hear. Dapat ho sa inyo sila sumusulat, hindi sa amin kasi hindi naman kami ang nag-a-activate sa kanila.
Next case. We want to know the status of the TNVS. Are you for hire or private? Because on the part of LTO, they have taxi, jeepney, buses. But what is the TNVS? We want them for hire. We want to define them as common carriers. There is a provision in the TNVS that they should put a trade rest. However, today, it is not being practiced that's why LTFRB will be coming out with an MC where we will be putting stickers at all those who have franchises, common to all. Your plate number, yellow ba kayo, private ba kayo or special plate ba ang TNVS? We do not know. Paano namin kayo makikita?
Independent contractors agreement
There is an independent contractors agreement between the TNC and TNVS. The bottomline of this is that there is no employer-employee relationship between the TNC and the operator.
Next. Part of the accreditation. We would like to ensure compliance with the terms and conditions of the accreditation. And we would like to allow—and we would like access to their system so that we can check from time to time if they are still activating or if their numbers are still the same.
We need to revise certain memoranda on the part of LTFRB because any violation of the terms and conditions of the TNC, the only, the only penalty is cancellation of accreditation which we did not use during the July 11. Because if we use that penalty, we are penalizing those who are patronizing Grab and Uber, we are penalizing the TNVS. That's why we opted to give a direct fine on the violator with a five million fine.
We need to determine the number of vehicles allowed per TNVs. Ilan ba po? Also, we need to come up with the direct number that we may allocate to both Grab and Uber. The technical working group is ongoing. And we see that by September, we will have the allocated number for both TNCs.
The tax payment of TNVS
They are supposed to pay percentage tax for common carriers. We do not know now, based on the numbers that they have in their system, how they pay their taxes to government. Based on the meetings that we are having, somehow we have to establish the ideal equilibrium for Uber and Grab but we need to consult UP National Center of Transportation Services to validate. And if we have a resource person here, we are more than welcome to hear from you, sir.
Private vehicles used for public service. Ganito po iyon. When they buy a car sa mga car dealers and they do not disclose that it is going to be for hire and they do it for leasing, financing.
The interest rate is lower. However, you must disclose that it is for hire because hindi kayo namin ire-register sa LTFRB. After LTFRB, we go to LTO and then another OR-CR will be issued for hire.
The reason why they are not disclosing, ma'am, is because the credit risks are high, the interest rate is higher. That's why they remain private. Dapat "for hire" ho iyong kanilang mga OR-CR.
Last July 26, 2017, we issued an order directing both Uber and Grab to cease acceptance of accreditation.
However, we had a hearing yesterday. Based on the official statement of Uber, they were still accepting accreditation. That was the main course of our hearing yesterday.