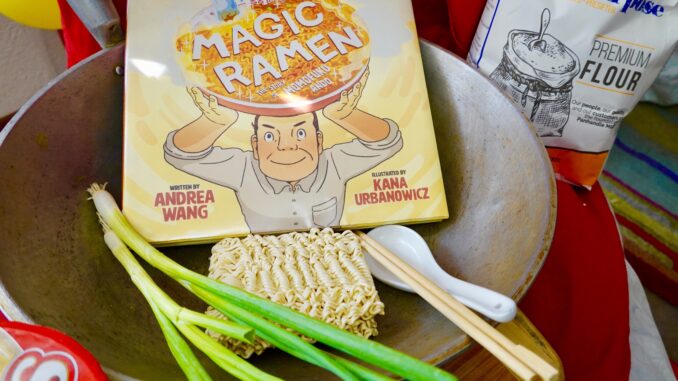 By Andrea Wang
Illustrated by Kana Urbanowicz
Hardcover, 34 pages, 2019.
Little Bee Books (Bonnier Publishing)
http://www.bonnierpublishingusa.com
If you've ever enjoyed instant ramen, Ando is the man to thank.
Osaka was Japan's second largest industrial city. But it was bombed during World War II and destroyed thousands of lives.
After a year, the residents still lived in rubble and were starving. Ando saw his neighbors line up for hours in the cold for an overpriced bowl of hot ramen.
When he went home, "Ando decided that food would be his life's work."
"The world is peaceful only when everyone has enough to eat."
For the next 10 years, Ando produced and sold cheap and nutritious food. But he lost money and decided to invent "a new kind of ramen" that would be quick and tasty.
"Chicken soup warmed up cold bodies but took hours to make."
But how do you make instant soup?
Over the next two years, Ando experimented tirelessly in his shed with different combinations of ingredients. His ramen should not lump, stick, or crumble but would be soft enough by just adding hot water. And that's how he launched the first Chicken Ramen in 1958.
Now 62 years later, instant ramen is a worldwide cheap convenient staple.
Beautifully written and illustrated, this food history is an inspiring story of a man's quest to feed his countrymen.
Read more about Ando's ramen innovation into instant cup noodles and Nissin food products here https://www.nissin.com/en_jp/about/founder/
@IvyDigest