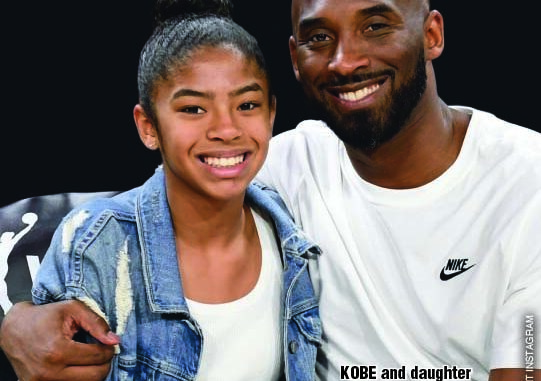 "Kobe Bryant ranked at the very top in the pantheon of US sports megastars," wrote Bryan Graham. "The NBA great exists at the summit of American sports pyramid, in the rare mononymic air of Tiger, Serena and LeBron."

— The Guardian
Playing only for the Los Angeles Lakers, Kobe won the NBA championship five times, earned 18 All-Star Selections, a regular season Most Valuable Player Award in 2008, and two NBA Finals MVP awards, plus two Olympic gold medals. He was slated to be enrolled into the 2020 Hall of Fame in April.
A Kennedy moment is how US media described the untimely death of basketball star Kobe Bryant in a helicopter crash Sunday, Jan. 26, 2020, in Calabasas, California. Bryant, 41, his second oldest daughter, Gianna, 13, and seven others died in the accident.
The Sikorsky S-76B helicopter was flying low, at about 1,000 feet, against a mountain hill amid mist, fog and clouds when it crashed, barely 40 minutes after takeoff from Orange County.
The impact broke the copter into several pieces with its debris scattered over a radius of 600 feet. The tail and the rotor separated over 100 yards apart. The US National Transportation Safety Board said the helicopter missed clearing a mountain by 20 to 30 feet.
Everyone remembers the moment he or she learned about JFK's death and where he or she was that day. The event is forever seared in everyone's memory.
The helicopter crash shortly before 10 Sunday morning (around 2 am Monday in Manila) most likely will have the same JFK effect today on everyone who loves basketball, who loves sports, and who can feel the pain of loss from Kobe's untimely death.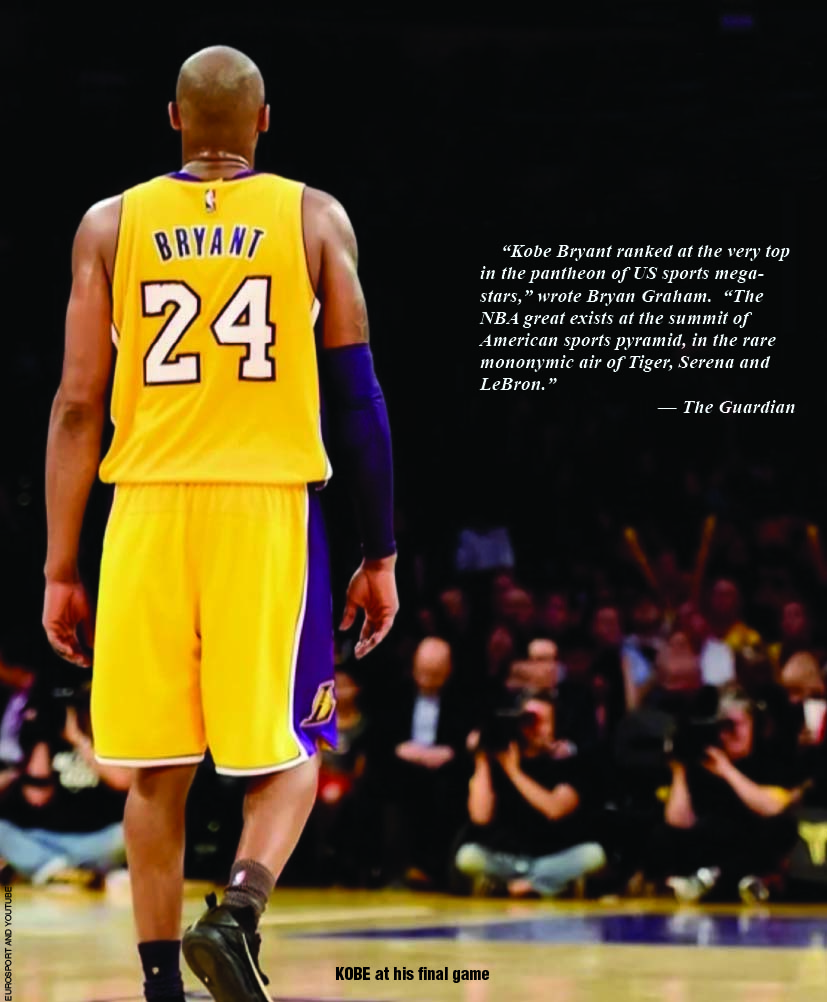 Kobe was the youngest player in the National Basketball Association (NBA), making his leap in 1996-1997 from his Lower Merion High School in Ardmore, Philadelphia into a glittering 20-year career in professional basketball with a lot of flash, class, and flamboyance.
Lusting for blood, he was determined to surpass his idol Michael Jordan's achievements. He became one of basketball's greatest players.
5 NBA championships, two Olympic golds
Playing only for the Los Angeles Lakers, Kobe won the NBA championship five times, earned 18 All-Star Selections, a regular season Most Valuable Player Award in 2008, and two NBA Finals MVP awards, plus two Olympic gold medals. He was slated to be enrolled in the 2020 Hall of Fame in April.
Kobe was recruited by the Lakers team general manager Jerry West after noticing the teener's prodigious talent in a series of one-on-one drills against the former Lakers defensive star Michael Cooper, the assistant coach.
"As West envisioned, Bryant indeed helped restore the Lakers to glory — albeit with no shortage of turmoil along the way. He did so first alongside the Hall of Fame center Shaquille O'Neal for three consecutive drama-filled NBA. championships in the 1999-2000, 2000-2001 and 2001-2002 seasons, then as the team's unquestioned fulcrum for two more titles in 2008-2009 and 2009-2010. With a drive to rival Jordan's and an ability to tune out critics who at times assailed his ball dominance and shot selection, Bryant was the central and enduring figure in one of the most gripping soap operas in modern professional team sports," said the New York Times obituary.
Recalled the Washington Post's Kent Babb:
"In sports and in life, Bryant was an individual whose tirelessness and competitive drive were as notable as his versatility and ambition. Known late in his career by the nickname 'Black Mamba', Mr. Bryant was one of the smoothest and most dangerous shooters in a league previously dominated by Jordan, Earvin 'Magic' Johnson and Larry Bird. When those players retired or their talents faded, Mr. Bryant took up their mantle. The 6-foot-6 shooting guard was named to the NBA's all-star team in 18 of his 20 seasons, all with the Lakers, and he twice led the league in scoring.
"He scored 81 points during a game in 2006, the second-highest total in a game in league history.
"He and Shaquille O'Neal led the Lakers to three consecutive championships, from 2000 to 2002, though perhaps more impressive was Mr. Bryant's ability to push the Lakers back into the league's championship ranks after the departures of O'Neal and coach Phil Jackson, who had guided Jordan's Chicago Bulls to six championships during the 1990s."
Bryant's 81-point production, mostly on jumpers, which gave the Lakers a come-from-behind victory against the Toronto Raptors on Jan. 22, 2006 is said to be the most impressive in NBA history.
On April 12, 2013, with the score at 109-109 against the Golden State Warriors, Bryant shot two free throws despite a ruptured Achilles tendon and won the game for the Lakers. After that, Kobe did not play for the rest of the season and appeared in just 107 games in three seasons. He capped his career on April 13, 2016 by scoring 60 points to push last-place Lakers past the Utah Jazz, a perfect ending, said The New York Times.
"Kobe Bryant ranked at the very top in the pantheon of US sports megastars," wrote Bryan Armen Graham of the Guardian. "The NBA great exists at the summit of American sports pyramid, in the rare mononymic air of Tiger, Serena and LeBron."
Graham said: "Tim Duncan, who also won five rings in a career that almost entirely overlapped Bryant's, was the better player, but a self-effacing introvert with a workmanlike game toiling in a small-market San Antonio could not approach the star wattage of Kobe, a slashing wing player with made-for-Hollywood charisma who came to embody the link between Michael Jordan and LeBron in the NBA's lineage of incandescent alphas."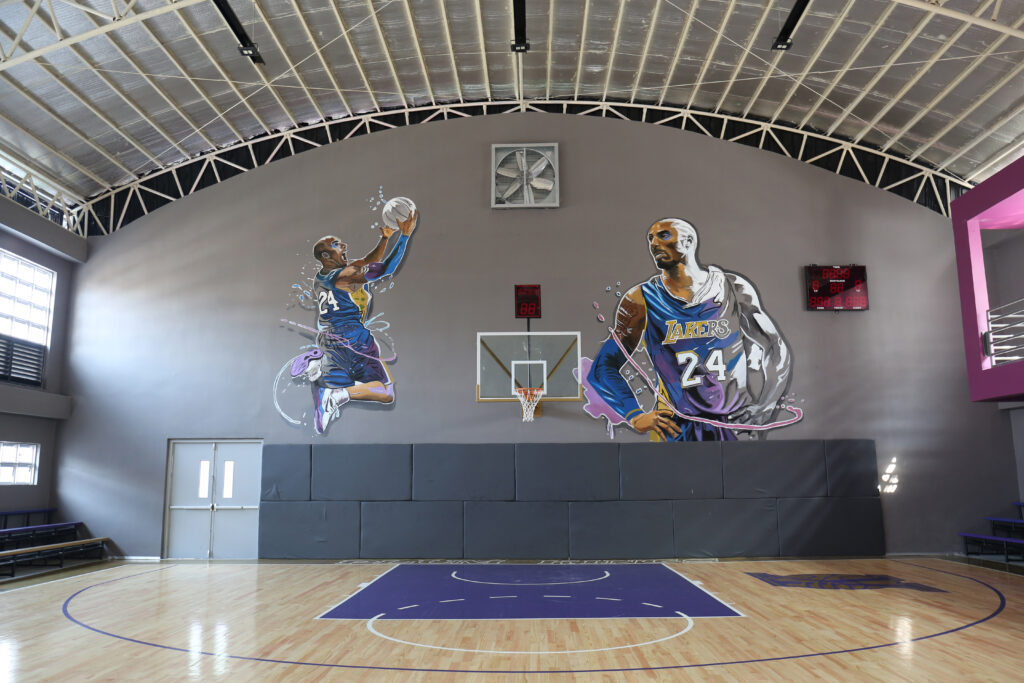 One of the most extraordinary
"For 20 seasons, Kobe showed us what is possible when remarkable talent blends with an absolute devotion to winning," NBA Commissioner Adam Silver said in a statement. "He was one of the most extraordinary players in the history of our game with accomplishments that are legendary. … He will be remembered most for inspiring people around the world to pick up a basketball and compete to the very best of their ability. He was generous with the wisdom he acquired and saw it as his mission to share it with future generations of players, taking special delight in passing down his love of the game to Gianna."
On Monday night, Jan. 27, the current NBA legend LeBron James paid tribute to Bryant and his daughter Gianna in his Instagram. LBJ cried: "Man I sitting here trying to write something for this post but every time I try I begin crying again just thinking about you, niece Gigi and the friendship/bond/brotherhood we had."
The night before Bryant died, in his final tweet, he congratulated James for surpassing him as the third-highest scorer in NBA history: "Continuing to move the game forward@KingJames. Much respect my brother."
Kareem Abdul-Jabbar tops with 38,387 points in 57,446 minutes of playing; Karl Malone is second with 36,928 points in 54,852 minutes; LeBron James third with 33,655 points in 47,765 minutes; and Kobe fourth with 33,643 in 48,643 minutes. Fifth is Michael Jordan with 32,292 points in 41,010 minutes.
"He's a young Magic Johnson with a better jump shot. He's like Kareem in his prime but shorter. He's good, but does he have Jordan's killer instinct?," asks Sam Dolnick, writing for the New York Times.
Kobe achieved his life's goal to beat Jordan but with 17% more playing time. Kobe also eclipsed rival in their Lakers team Shaquille O'Neal's 28,596 points (No. 8).
"There are no words to express the pain I'm going through now with this tragic and sad moment of losing my niece Gigi and my friend, my brother, my partner in winning championships, my dude and my homie," O'Neal wrote on Instagram of his former teammate. "I love you and you will be missed. My condolences goes out to the Bryant family and the families of the other passengers on board. IM SICK RIGHT NOW!"
The tweet was read by 1.9 million people as of 5:46 am Jan. 27, 2020. Shaq also tweeted: "Kobe was so much more than an athlete, he was a family man. That was what we had most in common. I would hug his children like they were my own and he would embrace my kids like they were his. His baby girl Gigi was born on the same day as my youngest daughter Me'Arah."
"Words can't describe the pain I'm feeling," Michael Jordan said in a statement Jan. 26 afternoon. "I loved Kobe — he was like a little brother to me. We used to talk often, and I will miss those conversations very much. He was a fierce competitor, one of the greats of the game and a creative force."
"Kobe was a legend on the court and just getting started in what would have been just as meaningful a second act," said former president Barack Obama. "To lose Gianna is even more heartbreaking to us as parents."
According to Mike Asis of The Manila Times, "This is Kobe's legacy; his audacity to break boundaries led to his legendary exploits. This is what separated him from his peers. This is what made him the most polarizing player in sports — since his audacity also extended beyond the court."
In 1992, after South Africa with a team that had only one non-white player won the Rugby World Cup, Nelson Mandela, himself a driven athlete before he was jailed for 27 years, recited the power of sports. He declared:
"Sport has the power to change the world," Mandela said. "It has the power to inspire. It has the power to unite people in a way that little else does. It speaks to youth in a language they understand. Sport can create hope where once there was only despair. It is more powerful than government in breaking down racial barriers."
To me, Kobe loved two things – basketball and his family. He had two formulas for success – hard work and discipline.
Despite retirement, Kobe was totally immersed in basketball. He was the coach of his daughter Gianna's basketball team, the Mambas, which was competing in the Mamba Cup tournament at his sports academy.
— Tony Lopez