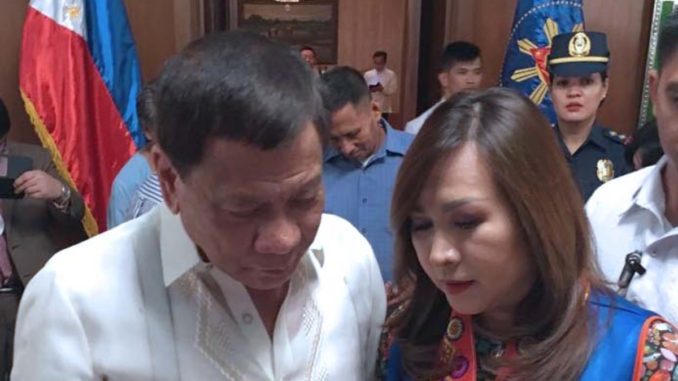 Up close and personal, Marissa del Mar is a picture of grace, beauty, vivacity, intelligence and ambition.
Her virtual fairy tale career began in college. Studying Commerce, she became a campus beauty queen, chosen as Miss Adamson and later winner of the coveted Miss Asia-Pacific crown. The beauty titles jumpstarted her movie career. Marissa was offered to appear in movies. This was in the early 80s and Marissa's movie career took off. She became the leading lady of name actors like Christopher de Leon, Anthony Alonzo, Philip Salvador, and Lito Lapid the legendary Leon Guerrero and later senator.
Then another opportunity presented itself. Del Mar went on to put up a water refilling business and even a Sarsa resto bar in 2000.
Then television beckoned. In 2003, Millicent Productions, Inc. was born. It produced award-winning TV shows.
A fast track career in sales followed. She sold insurance policies under First Life Financial. She was a top performer and received several awards for her insurance work.
From insurance to real estate
From insurance, it was a natural progression for Marissa to get into the real estate business.
She head of her own real estate company, Solid Mega Trends Enterprises, Inc. and also Poshome Global Steel Corp. Her knowledge of the different facets of real estate has even led her to develop her own real estate projects. Del Mar developed the Terrazo Mediterano properties in Paranaque, a Mediterranean-inspired duplex in suburban south of Metro Manila.
Bigger things are coming
In Laurel, Batangas, she is currently looking for investors and partners to develop 125 hectares of property that sits along the picturesque Tagaytay Ridge. The property boasts of a long lakefront and is ideal for eco-tourism and water sports.
Del Mar has earned a very good reputation as a realtor. She became not just a member but also the President of the National Real Estate Association or NREA for seven consecutive years.
The business of beauty and wellness
Del Mar's business interests are not limited to real estate.
She became a beauty ambassador of the Japanese brand Fucoidan Supplements for 10 years. Del Mar also opened the Fucoidan Wellness Center because she believed in their products so much.
She also became a beauty ambassador of the international brand Black Pearl Prestige skin care beauty products. She is a business partner for Black Pearl In Line Store outlets in Glorietta 2 and The City of Dreams, and the Black Pearl Wellness Institute (by Marissa Del Mar) at Glorietta 5.
Going regional
Australia's Origani Skin Care Products is likewise being endorsed by Marissa, with several distributorships in the Asian region. She helped launch the brand in major malls in Kuala Lumpur, Malaysia.
In Malaysia, Origani In Line stores can be found in Bangzar and IOI Malls with three more branches to be opened in other major malls in Kuala Lumpur by the first quarter of 2018.
Recognition of peers in diverse business interests
Del Mar has held various leadership positions in various organizations like the Management Association of the Philippines (co-vice chairman MAP women empowerment), Philippine Chamber of Commerce and Industry (Head of SME and OFW sectors), Philippine Exporters Confederation, Rotary Club of Makati Nielsen (Charter President), Volunteers Against Crime and Corruption (board of trustee), the National Real Estate Association and the Philippine Marketing Association (President).
As a representative of the Philippine business sector, Marissa has gone to various countries to promote Philippine trade relations. She has gone to Turkey for a business conference as well as to Dubai, UAE, Malaysia, Japan and other Asian countries.
When she was included as one of the featured women of international celebrity photographer Rupert Jacinto's Fabulous coffee table book, she was duly humbled and honored to be part of such a distinguished group of exemplary women who were leaders of state, as well as business and fashion icons.
Always the entertainer
Although she had officially retired from her showbiz career, as a business professional, she would still often be invited to host special events and also to perform intermission numbers because of her grace and talent in dancing. So one could say that, among her colleagues, Del Mar never really left the limelight, she only made herself available for limited engagements. This is an activity that Del Mar obliged her colleagues because she enjoys performing when the time permits.
Back to the limelight
After a little more than a decade of being a private citizen and entrepreneur, Del Mar is once more ready for a new chapter in her life. This time not just as a showbiz performer but as a television program host.
Del Mar could not see herself going back to a movie career with its long work hours and tight shooting schedules. She also had her businesses to attend to. But doing a television program was something she was able to consider with the constant prompting and promised support of her real estate and Rotarian friends. By this time, Marissa was an accomplished businesswoman and was actively involved in socio-civic works being the Charter President of the Rotary Club Makati Nielsen.
From beauty ambassador to television host
Del Mar considers veteran broadcaster Rey Langit as her mentor in her comeback to show business as a television host. This was in the early 2000s when Langit's media production teams were producing several public affairs and tele-magazine shows. Under Millicent Productions, Up Close and Personal with Marissa Del Mar was launched on IBC 13, a tele-magazine show that showcased different business leaders and government agency heads.
IMPACT awards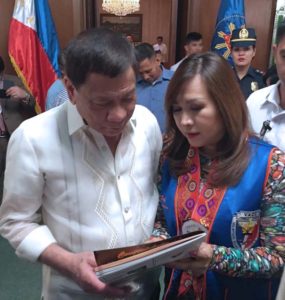 In recognition of their exemplary leadership and service to the public, Up Close and Personal with Marissa Del Mar launched the IMPACT Awards on the show's 7th year anniversary in 2009.Co-presented by then Exec. Sec. Eduardo Ermita, among the outstanding awardees were the late Chief Justice Renato Antonio Corona, former finance secretary Margarito Teves, former education secretary Jesli Lapus, Senator Gordon and Senator Legarda, PAO Chief Persida Acosta, former Taguig mayor Tinga, Phil. Chinese Charitable Association Pres. Dr. James Dy, Gawad Kalinga Chair Antonio Meloto, Saudi Ambassador H.E. Mohammed Aleem Wali, ECOP Pres. Serge Ortiz Luis, Jr. and former PEZA DG Lilia De Lima.
For the 2nd IMPACT awards, some of the outstanding awardees were Ret. Gen. Avelino Razon, former senator Manuel Villar, Sen. Miguel Zubiri, Rizal province Governor Casimiro Ynares, III, Arch. Nestor Mangio, Japanese Ambassador H.E. Makoto Katsura, Korean Ambassador H.E. Choi Joong Kyung and Gov. Chavit Singson.
From host to a bonafide broadcast producer
Despite being back in front of the camera as a television host for her tele-magazine show, Up Close and Personal with Marissa Del Mar that aired for nine years, Del Mar also saw the business side of media production. She is a hands-on co-producer for the shows produced by Millicent Productions.
Del Mar co-produced a weekly public affairs and public service program entitled, Iyo Ang Katarungan, the show's main aim was to educate the public on their rights and how the justice system works. This show was hosted by then, DOJ Usec. Jovi Salazar, Marinduque Rep. Allan Velasco and Atty. Mike Toledo. The program aired for eight years on IBC 13.
Furthering the opportunity to be of help to the community through media, she hosted and co-produced a weekly weekend radio program on ALIW Broadcasting's DWIZ 882 AM, called "Marissa Del Mar MISMO!" This radio program aired for two years. Now a full-fledged broadcaster, Del Mar's efforts in serving the community was recognized and all of the TV and radio programs that she produced received several awards by various organizations.
Socio-civic leader
Del Mar is charter president of the Rotary Club of Makati Nielsen, District 3830. She says her Rotary work prepared her to become the socio-civic leader that she is today. Her charity work also had its beginnings with her Rotary Club activities.
A self-described action lady, Del Mar likes to get things done and this is a quality that many of her peers recognize. It is no wonder then that Del Mar holds the distinction of being the lone lady president of the National Real Estate Association, Inc. or NREA having held the position for nine straight years running. With her leadership, NREA has become very active in helping professionalize and advance the expertise of colleagues in the real estate industry. She has also fostered stronger relationships with concerned government agencies and NREA.
Always championing the rights of the oppressed, Del Mar also became active with the VACC or Volunteers Against Crime and Corruption. Her family also being a victim of heinous crime when her older brother, who was a policeman, was killed by lawless elements. This tragic family experience strengthened the resolve of Del Mar to help in the fight for justice with her influence in both media and the private sector.
Businesswoman with a cause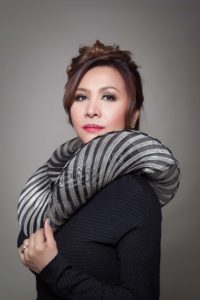 After several awards and almost a decade of her talk show, Up Close and Personal with Marissa Del Mar, she shifted into more serious broadcasting with the launch of a new public affairs talk show in September 2011 entitled, Buhay OFW on Aksyon TV, the then news channel of TV5.
Buhay OFW is an hour-long weekly program featuring the lives of successful OFWs as well as their problems and concerns while living abroad. The program has received several awards for its efforts in helping OFWs and their families through mass media.
A woman with a mission
To formalize and expand her charitable works and the assistance that her public affairs program is giving to the less fortunate and distressed OFWs, Marissa established the Millicent Foundation, Inc. and the Buhay OFW Foundation. Under these foundations, Del Mar is able to help more people by conducting regular charitable activities nationwide. But she acknowledges that she is not able to do this alone and she has engaged the help of her colleagues in business, who like her, have big hearts and are more than willing to share with the less fortunate.
"It is extra work but it is also rewarding when you know that you are able to give comfort to those who are less fortunate. I have been blessed with so much and it give me happiness to be able to share this with others," says Del Mar who added that the creation of the foundations were borne of her frustration at not being able to help whenever she is approached by distressed family members on her Buhay OFW TV show.
Buhay OFW Foundation and Millicent Foundation beneficiaries
Among Millicent Foundation and Buhay OFW Foundations beneficiaries are several scholars like Babylyn Salvador who is now a chemist graduate; Joemar Cruz who is now a computer programmer; Maleen Bergabera also a computer programmer graduate and Daniel Domingo a full scholar from elementary to high school. Receiving medical assistance from the foundation were Janine Dumalo who suffers from epilepsy; several cancer patients at National Children's Hospital; Boy Villahermosa for a cataract operation and Dolores Espiraz, who is a former OFW and was given a prosthetic leg.
Through Buhay OFW, a distressed OFW in Cyprus who was maltreated by her employer was successfully repatriated and the erring and unscrupulous employment agency sanctioned and closed by the POEA. Other distressed OFWs and their families were also given assistance by the program throughout its seven years of airing on television.
Mr. and Ms. Citizens of the World
Through her visits abroad and meeting OFWs with exceptional life stories, Del Mar was further inspired to recognize our modern day heroes. So, on it's first anniversary in October 2012, Buhay OFW launched the Mr. & Ms. Citizens of the World in recognition of the countless OFWs now living abroad. The contest was conducted through nominations given by family members telling the heroic stories and sacrifices that their OFW family member has made for them.
Among its winners was Leonor Gile who worked in Saudi Arabia. Blessed with a kind employer and a flourishing career as a flower arranger, he was able to assist several-distressed fellow OFWs while working in the Middle East.
Next is Remedios Perona who was also an OFW in the Middle East. She worked in Libya then Oman before finally settling down in the UAE. She and her husband faced many challenges and blessings.
They raised their family in the UAE but their youngest was born with special needs. Eventually, when her husband was made a partner of the company he was working for, Remedios brought home her family to the Philippines for good.
They now have their own business, which they attribute to their working as OFWs. Awarded the most inspiring story was Orlando Lampa, a coach for the national athletic team of Brunei.
Also awarded the most successful story was Cristeta Morales, founder and managing chair of CDK International Manpower, who along with her husband were also former OFWs before they decided to open their own business.
For 2014, Ms. Citizen of the World winner was Maritess Galam who worked as an OFW in Singapore. Her honesty in returning a lost wallet gained for her so many blessings in return. Mr. Citizen of the World winner for 2014 is Andy Manarpiz who worked as a graphics artist in Saudi Arabia. His artistic talents became recognized until he became a graphics supervisor with the Royal Commission. Now a retired OFW, Andy is giving back to his countrymen by teaching Fine Arts at FEU University.
In 2015, Mr. Citizen of the World winner was Aniceto Bertiz III and now a Representative for ACTS OFW Party List, who is a second generation OFW. He worked in Saudi Arabia in the same company where his father worked. After several years he was able to open his own recruitment agency.
A decade and a half later his agency has gained a reputation as one of the most reliable recruitment agencies. Bertiz has made it his mission to help OFWs be bettered prepared for life abroad and he personally conducts PDOS seminars all over the country. He put up ABBA Sourcing Solution, which provides work for retired OFWs.
2015 Ms. Citizen of the World winner is Luningning Predilla Bebit who was a nanny in Saudi Arabia. The children she took care of several years would later search for her and even visit her back in her hometown of Candelaria, Quezon.
Marissa went on to star in six international movies, 2 in Hong Kong, 1 in Korea, 2 in Malaysia and 1 in Japan.
Close family ties
A middle child, Marissa grew up in a tight-knit family with seven siblings. And though her parents hail from Tanauan, Batangas she grew up in Makati. Even as adults, she remains close to her siblings and parents and they all live very near each other.
Rising from the ranks
One of the most endearing traits of Marissa Del Mar is her ability to reinvent herself and wear many hats.
While being a devoted mom and raising her young family she also developed her knack for entrepreneurship. One of her first ventures as an entrepreneur is a water refilling business, which she called Agua Sagrada or holy water. This business thrived and prompted her to become more confident in going into bigger business ventures.
Giving back to family
Del Mar attributes her success to her family and most especially her parents, who despite their humble beginnings brought her up in a simple but loving and generous environment.
Now that she is blessed with success in her various businesses, Marissa wanted to give back to her family and parents by providing them with a luxurious home complete with all the comforts that she can give them.
The furnishings of their homes in the south of Metro Manila are classical Italian. Her living room, dining and even her bedroom are highlighted with gold inlaid furniture as well as European objet d' art.
According to Del Mar, being able to let her family enjoy the finer things in life is a childhood dream come true and she remains grounded in the thought that since she is now blessed with so much, she is also responsible for sharing her blessing and helping the less fortunate.