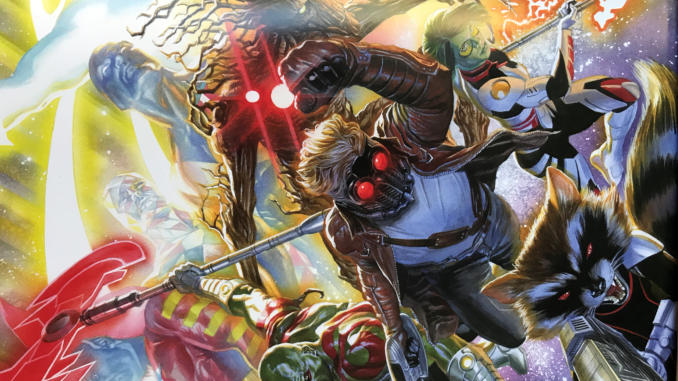 Wow! I haven't seen comics leap out of the pages like this.
Stupendously talented Alex collaborates with award-winning writer, art director, and designer Chip to give us a visually stunning first release of hundreds of drawings, sketches, and paintings of Spider-Man, Captain America, Iron Man, the Hulk, the Avengers, the Guardians of the Galaxy, the X-Men, the Fantastic Four, Black Panther, Captain Marvel, and more. All drawn by hand.
For the first time, Alex reveals costumes, sculptures, designs, storyboards, letters, logos, scripts, and comic book covers. We'll see how his sketches and ideas were translated into movie scenes or finished art.
Veteran photographer Geoff vividly captures every image, as only a superhero fan can.
Comic lovers will salivate over Alex's original ten-page story of Spider-Man versus the Sinister Six, his redesign proposals for the X-Men and the Fantastic Four, his re-creation of a fight scene between Iron Man and the Sub-Mariner (Tales to Astonish No. 82, 1966), and his sketchbook.
Alex doesn't use computers. "Absolutely not. For me, it has to be an act of engagement with your hands. I believe the stuff that works well is the stuff that has more life in it, as much of the human hand visible within it."
How does he make his images so lifelike? "It's all about training your perception to pick up more details."
Alex gained fame with Marvels (1993), when he drew the characters as if they were captured in photographs. It set the precedent for the Marvels movies decades later.
Alex shares how he created his artwork: his redesign of the Amazing Spider-Man; the opening credits of spider-Man 2; the Invaders; the Earth X trilogy; Universe X; Paradise X; and his updates on the Torch, Spider-Woman, Daredevil, the Wasp, Thor, Dr. Strange, and many others.
Throughout this astounding collection, Alex shares his childhood work, influences, evolution, and creative process.
His dedication to superheroes is apparent at five when he made his own costumes, comics, and figurines of his beloved superheroes. He was continuously in art school from first grade.
"Art classes confirmed to me, again and again, what I wanted to do with my life."
Alex copied comics extensively and kept drawing. His mom was an illustrator so he went to her alma mater, the American Academy of Art in Chicago.
"I learned at the Academy everything I use today….For me, the biggest revelation was working from a live model. I could feel my level of accuracy increasing with every session. I realized that I needed to be looking at the world, not just collecting it in my head over time."
"So he set to training his hand, and his mind, and his heart. And once the intensity of his work gained momentum, skill , confidence, revelation—there was no stopping it. It achieved….MARVELOCITY."
—Ivy Lopez
Instagram @IvyDigest
https://www.instagram.com/ivydigest/