From Womb to Tomb. That is how Mayor Joseph Ejercito "Erap" Estrada defines his brand of social welfare governance and legacy as a public servant.
Unprecedented and unequalled anywhere in the Philippines, Estrada's Womb to Tomb program is dedicated almost exclusively for the poor of Manila, the masses for whom his slogan in 50 years of service to the people, "Erap Para sa Mahirap", has found ringing resonance and substantial actualization.
In Erap's mind, the poor deserve more, and for free, because they have the least in life but are entitled to better quality of life, just like everybody else. It is true social justice.
Womb to Tomb (or birth to death free services) program is propelled by two major verities:
One, a study by the University of the Philippines that found among highest levels of poverty, unemployment, and illegal squatting in Manila.
Greatest good for the greatest number
Two, Estrada's fighting faith and political compass in dealing with the people – "the greater good for the greatest number".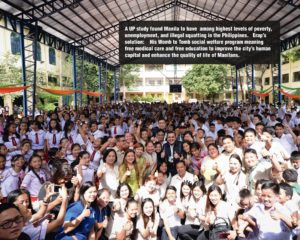 The mayor, for whom religion is a private practice and a public mantra, cites Matthew 25:40: "Whatever you did to the least of my brethren, you did unto me".
Complementing that is another principle of true faith – forgiveness.
As a leader, politician and public servant of the past 50 years, Erap has been betrayed repeatedly, by friends, his circle of advisers, close political allies, and even by his own relatives.
Through all the deception, duplicity, double dealing and double-crossing, Estrada has responded with remarkable stoicism and equanimity.
Forgive us our sins
He recites a passage in the Lord's Prayer –"forgive us our sins as we forgive those who sin against us." To receive God's mercy, treat the treacherous with pity and leniency.
After nearly six years as mayor of the Philippines' premier city, here are a few examples of Estrada's Womb to Tomb public service:
• Spent billions for health care
P500 million was spent to modernize six hospitals – Ospital ng Maynila, Ospital ng Sampaloc, Ospital ng Tondo, Justice Jose Abad Santos General Hospital, Gat Andres Bonifacio Memorial Medical Center, and Santa Ana Hospital.
He bought new equipment for the hospitals – 55 dialysis machines (to be increased to 77) for the Manila Dialysis Center – the first, largest and only dialysis center of its kind in the Philippines; MRI at Ospital ng Maynila, worth P117 million; CT scans, x-ray, ultrasound, phototherapy, 2D echo, eye testing machines, and ECG.
Under Mayor Estrada, all services for indigents are free, from birth to burial—consultation, laboratory, OTC medicines, other supplies. Any official found violating the free everything dictum is fired.
Burial, too, is free for indigents. The city has built a columbarium in the North Cemetery and is building a second one in the South Cemetery.
Twenty-two health centers were rehabilitated. Medical missions regularly tour the city.
• Spent P4.7 billion for the construction, repair and rehab of 100 school buildings.
Erap expanded the city's scholarship program for poor but deserving students.
Additionally P375 million bought new computers, laptops, computer printers, digital labs, and projectors.
Teachers' allowance increased by P500. Teachers were given computer tablets with instructional materials.
P284 million was spent for Pamantasan ng Lungsod ng Maynila, now one of the Top 4 Philippine universities with topnotchers in the bar and medical exams. PLM grads are much in demand by employers.
The city Manpower Training Center has trained more than 4,000 jobless Manilans to synchronize skills with demand and solve skills mismatch.
Combined, free medical care and free quality education will dramatically improve human capital in the city. Free education will enhance and improve the mind. Free medical care will improve and sustain the body. With a sound mind and a sound body, Manilans will have a productive life.
• Improved peace and order
Erap bought mobile cars to improve police visibility. So-called police in the shadows (Police sa Dilim).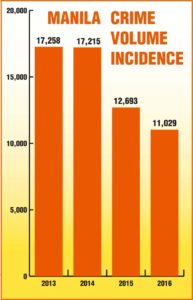 The mayor arrested and jailed the city's most wanted criminals and intensified campaign against illegal drugs.
He paid the police force's long-delayed allowances. They now regularly receive allowances, which have been increased monthly.
Crime incidence went down, from 17,258 in 2012 to 11,029 by 2016, a dramatic drop of 36%. Crime solution efficiency almost doubled, from 36% in 2012 to 68.4% by 2016.
• Spent billions for infra
P1.8 billion went to construction and or rehab of major roads, streets, and drainage systems. More than 5,217 solar-powered street lamps were installed.
P304 million has been allotted or spent to modernize sports complexes and covered courts in the six districts.
Public markets in each district were rebuilt and or rehabilitated, with little cost to the city because they were a public/private partnership projects. The six markets included the Quinta Market, Santa Ana market, Bambang, Trabajo, Sampaloc, and San Andres markets. They have something unheard of for public markets – airconditioned lounges and toilets, rivaling the amenities of toilets in big private malls.
P101 million was spent to rehabilitate parks and playgrounds.
Reclamation projects
Over the long term, Mayor Estrada has approved four huge reclamation projects to build districts and indeed, new cities in the middle of the sea – on the fabled Manila Bay, one of the world's greatest harbors.
Turning sand to land will carve up to 1,400 hectares from the sea, using a tried and tested technology, dredging. When completed, the 1,400 hectares will increase Manila's total land area, by 33%, from 4,288 hectares to 5,688 hectares, starting in two years, or by late 2021.
The four reclamation projects are: Manila Bay International, Manila Waterfront City, Horizon Manila, Solar City. All four have undergone the required vetting by the local and national government agencies. Mayor Estrada says President Duterte himself approved the projects in principle.
500,000 jobs, P17 billion in revenues
The benefits of reclaiming new land from the bay can be awesome – 500,000 in new jobs, P17 billion in new tax revenues, and P10 billion in real estate taxes.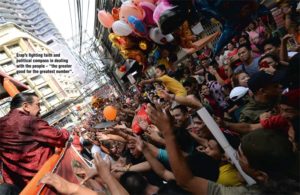 With reclamation, over the next two years to six years, Estrada will be able to accomplish five major objectives: 1) increase substantially city revenues, 2) attract businesses and investors, 3) solve unemployment almost overnight, 4) relocate all of the city's 200,000 squatters, and 5) modernize Manila to enable it to march in cadence with the major metropolitan areas of the world.
Great cities came from reclamation
Many of the world's great cities were built with the help of massive reclamation – Shanghai and Shenzhen in China, Singapore, Hong Kong, Dubai, Doha, Mumbai (India), Jakarta (Indonesia), Nagoya (Japan), and Incheon (South Korea).
Over the past two centuries, Singapore's land area has expanded by a whopping 25% – from 58,150 to 71,910 hectares (or 578 to 719 sq km, thanks to the miracle of a man-made engineering feat known as land reclamation.
China is among the countries which have built the most artificial land; from 1949 to 1990s, the total area of land reclaimed from the sea of China was about 13,000 km2.
Dubai's Palm Islands are the largest manmade islands in the world and take their name from their artificially crafted palm tree shape. These offshore islands have since become a popular holiday destination thanks to their uniqueness and Dubai's fast-growing tourist trade.
Much of the coastlines of Mumbai, India are reclaimed. Reclamation created one of the world's megacities. It took over 150 years to join the original Seven Islands of Bombay.
Of course, Manila is no stranger to reclamation. The present Roxas Boulevard came from reclamation, as are the Cultural Center Complex and the Mall of Asia. Reclamation gave vitality and dynamism to Metro Manila.
Estrada Tondo-born
Estrada was born on April 19, 1937, in Tondo, Manila. His parents, engineer Emilio Ejercito and Maria Marcelo, moved to San Juan where he grew up. Don Emilio, a US-educated sanitary engineer, served Manila City Hall for 37 years. Erap now keeps an upscale but antique home in Manila.
In Manila, Estrada studied at Jesuit-run Ateneo de Manila University. He later took up Engineering course at the Mapua Institute of Technology but dropped out in his third year.
At 17, he entered the movies, almost by accident. He became a super star, winning the Best Actor award five times and the Best Film, also five times.
In 1967, he tried his luck at politics, running for mayor of then smallish San Juan town. He was cheated but his victory was upheld by the Supreme Court in August 1969. Thus began a remarkable career in politics and public service. That was cut short by the 1986 People Power when he was removed by President Corazon Aquino despite a public outrage against his ouster.
After she left the presidency, Cory apologized to Erap for the mistake. "Everyone makes a mistake," she pleaded. Even the powerful Catholic Church apologized, thru Bishop Antonio Tobias, as did former Securities and Exchange Commission Chair Perfecto Yasay, who said he was used.
Great mayor
In 1972, Estrada was selected as one of the Ten Outstanding Young Men (TOYM) in Public Administration by the Philippine Jaycees. He was also voted Outstanding Mayor and foremost Nationalist by the Inter-Provincial Information Service in 1971 and awarded the coveted title, "Most Outstanding Metro Manila Mayor," the following year by the Philippine Princeton Poll.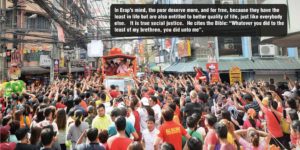 His administration of San Juan was marked by unequaled accomplishments in infrastructure development. These included the establishment of the first san Juan Municipal High School, the Agora complex, a modern slaughterhouse, a sprawling Government Center with a post Office, a mini-park and the concreting of 98% of San Juan's roads and alleys.
Estrada was a modernizing mayor. He paid particular attention to the elementary education of school-age children by improving and renovating school buildings and constructing additional school structures, health centers, barangay halls and playgrounds in all the barangays and providing artesian wells to areas with low water supply.
He relocated some 1,800 squatter families out of San Juan to Taytay, Rizal, at no cost to the affected families. He was also the first mayor to computerize assessment of the Real Estate Tax in the Municipal Assessor's Office.
For the movie industry, he established the Movie Workers Welfare Foundation (MOWELFUND), Inc. which has now become a robust organization that provides industry workers with financial and professional assistance. His efforts to upgrade and professionalize the film industry have resulted in substantial benefits to all movie personnel, from directors and actors down to the lowest crewmen.
He is the founder and president of the ERAP Para sa Mahirap Foundation, a foundation that offers scholarship assistance to poor but deserving college students. Through the foundation's educational grants, more than a thousand students have since earned a college degree.
He also established the San Juan Progress Foundation, the San Juan Police and Fire Trust Fund and the Friends of Joseph Estrada, which offers free burial assistance for the poor folks of San Juan.
Outstanding senator
In 1987, Erap ran for the Senate, winning one of two opposition slots (the other by Juan Ponce Enrile) to defy the Cory Aquino juggernaut that captured 22 of 24 Senate seats. He sponsored two major bills – massive irrigation and propagating carabaos, the beast of burden of Philippine agriculture.
Senator Estrada was one of the "Magnificent 12" senators who voted to terminate the RP-US Military Bases Agreement leading to the withdrawal of American servicemen from the Clark Air Base in Pampanga and the Subic Naval Base in Zambales.
In 1989, the Free Press cited him as one of the Three Outstanding Senators of the Year. He was conferred the degree of Doctor of Humanities, honoris causa by the Bicol University in April 1997, and the University of Pangasinan in 1990.
Top crime-buster
Estrada won as vice president in 1992. He became a crime buster, going after kidnappers, bank robbers, "hoodlums in uniform," "hoodlums in robes" and illegal recruiters. The public gave him an 85% approval rating.
He funded the Philippine Drug Abuse Resistance Education (PhilDARE) Program on Aug. 24, 1993, to address the growing problem of drug abuse among the youth.
The apex of his public service was his winning the presidency in 1998. His margin of victory over his nearest rival was 6.4 million votes – then the largest margin ever scored in a presidential race.
Did well as President
As President, Estrada proved a revelation. He did very well. Agriculture boomed growing at unprecedented rates.
He could have solved the rice shortage and exported rice had he served his full six years as president. Business boomed and foreign investments flowed in.
He brought the government closer to the poor, for finally, the highest official of the land had their welfare at heart.
As President, Estrada boosted agriculture which grew by 6.4% in 1999-2000, a growth rate unmatched until today by all succeeding presidents. Estrada brought the government closer to the people with his many populist policies.
He rejected sovereign guarantees for projects and contracts. He also disapproved Independent Power Producer (IPP) contracts. IPPs made electricity the most expensive in Asia. He also disapproved rate increases for utilities and lowered fares at the MRT mass transit.
According to City Hall's website, Estrada's pro-poor program of government bore fruit in less than two years, with a significant improvement in the country's peace and order situation.
This likewise elicited a proportionate rise in the approval rating of the Philippine National Police.
The Estrada administration undertook an aggressive housing program on a national basis, targeting low-cost homes for the poor.
Foreign investments grew exponentially, benefiting greatly from the unsullied and esteemed reputation of the best and the brightest chosen to be part of his Cabinet, and even more from his reputation as a strongly nationalistic yet progressive president.
Tragically, a cabal of disgruntled businessmen dissatisfied with his pro-poor stance joined forces with elitist members of civil society and a number of high-ranking Catholic priests to put in motion a movement to steal his presidency by first destroying his reputation and employing a false witness with a dubious character and shadowy background to spearhead this.