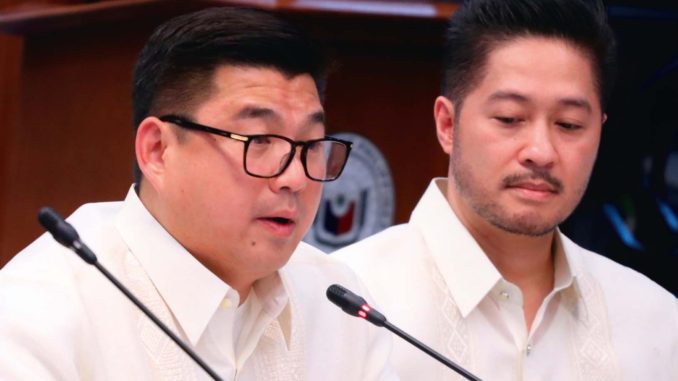 Mislatel (Mindanao Islamic Telephone Co.) promises to be the best telco network in the Philippines.
It is a big promise given than there is no such economic animal in the country today – given the bad service, bad network, bad internet speed, and bad and atrocious rates of the telecom duopoly of Smart/PLDT of the Manuel V. Pangilinan-Salim of Indonesia group, and Globe Telecom of Ayala and Singapore Telecommunications (SingTel).
How bad is the service? Of 69 countries studied by presidential adviser RJ Jacinto, the Philippines ranked 67th – the third slowest. In terms of price, internet cost is the second highest in Asia. Smart and Globe have only 16,000 towers to carry cellular signal (10,000 if you net out the duplications) serving a population of 107 million. Compare that with the 100,000 towers of Indonesia (a much poorer country though larger in population, 250 million).
Vietnam, which started late in the telco business, already has 50,000 towers. To reach the level of Vietnam, it will take Smart and Globe together 81 years, according to Jacinto who has a very good sense of timing, being a musician. In 2018, Globe planned only 461 cell sites; Smart 156.
Filipinos, of course, can always dream for better things.
Which is why they welcome the delayed arrival of Mislatel of Davao businessman Dennis Uy and his China Telecom partners.
As is normal for somebody trying to disrupt the monopoly and profits of a long-entrenched duopoly and using unconventional business tactics, Dennis Uy and his Mislatel have come into a firestorm of controversy, thanks to an equally entrenched political elite and an economic elite that has control of captive and influential media.
The best telco
What does Mislatel promise?
"We don't want to be just the third telco," Dennis Uy assured the senators at the hearing on Jan. 24, 2019. "We want to be the best telco. A telco that is fast, affordable, and most importantly, secure."
To achieve this objective, Uy, speaking in Pilipino, asked the senators' help and cooperation.
Before entering the telco business, Uy said "I endured the most strict scrutiny no other businessman before me underwent." "May of my relatives and friends warned me against going into telecommunications. You have to make a lot of sacrifices before you start making money," he added.
"Still," Uy stressed, "I persisted because I believe a better telecommunications service is needed for faster growth of the Philippines." "For too long, people have been waiting for a world-class and affordable telecommunications provider," he lamented. "Which is why we are understand the scrutiny we are facing before this Committee."
"There have been criticisms, unfounded allegations against us," the Davao tycoon noted, "but we didn't lose hope because we are convinced we did not violated any laws."
Uy pointed to the senators his track record of over 20 years as a businessman. "I am chairman and officer of various publicly listed companies. I have complied with the very stringent standards on public disclosure by the Philippine Stock Exchange (PSE)," he said. "My companies operate on the highest standards of accountability," he assured the senators, speaking in English.
Mislatel's vision:  World-class, the best, the most innovative
In the Mislatel Consortium's statement before the Grace Poe Committee, the company said:
"As the New Major Player (NMP) in the telecom industry of the Philippines, we are dedicated to providing universal to all Filipinos mindful of our social responsibility to customers.
"Our vision is to 'become the most innovative integrated information services provider in Philippines, be committed to provide intelligent information services and world-class ICT technologies with continuous innovation'. When the network is ready, Filipinos will enjoy faster and more affordable high quality services ensuring an excellent customer experience."
"We will initially build a high-quality 4G network and then start the evolution to 5G at an appropriate time. Based on the wireless network, Philippine consumers will get services such as voice call, text, MBB (Mobile Broad Band) and OTT content (video and gaming). Based on a high-speed and quality optical fiber broadband networks, customers will enjoy versatile services such as fixed-line IP telephony, 100-Megabit or higher-speed home internet, 4K or 8K online video and AR gaming, etc. In addition, with sufficient submarine cable resource, we will also provide services for different types of enterprise customers, such as Enterprise IP telephony, Lease Line, Dedicated Fiber Access, Ethernet, IP-VPN and many others."
Mislatel strategy
"With the brand positioning of being 'simple, high-value, and transparent', we will focus on data services, and provide cost-effective 4G/5G convergence services and Fiber broadband services."
"To guarantee the best experience, flexible business models can be customized based on the demand of our customers."
"At the same time, differentiated measures and products will be offered to cater to both SMEs (Small and Medium Enterprises) and large enterprises."
"A variety of product portfolios with different combination of QoS (speed, availability, etc.) at competitive prices will significantly promote BPO, FSI, and government digitization, which will facilitate sustainable economic growth. Filipinos will greatly benefit from the national digitalization and continuous innovation brought by advanced ICT technologies carried by our world-class telecommunication networks."
Rollout milestones
"We have defined several milestones over the process of the network Roll-out.
CPCN T0
Engineering T0+1M
First call T0+10M
Pre-Commercial T0+14M
Commercial T0+20M
T0 is the day of CPCN issuance as the starting point:
• In 1 month from T0, the network engineering will commence.
• After 10 months from T0, the first call will be made as planned.
• After 12 months from T0, the network will be ready and IA testing will start.
• After 14 months from T0, we will begin the pre-commercial trial.
• 6 months from commencement of the pre-commercial trial, we will officially launch the commercial use of the NMP's network.
All 145 PH cities and 84% of the population covered in five years
Metro Manila covered immediately
• In the first year, 17 cities/municipalities in the NCR will be covered as priority. A total of 38 cities will have priority.
Part of Central Luzon, Calabarzon and the Ilocos region will be covered as well. Construction in Cebu and Central Visayas will also start at the end of this year.
• In the second year, the coverage of 17 cities/municipalities in the NCR, Cebu City and other Luzon areas will be included and optimized by building more sites. Davao City will also be covered. The other 20 major cities will have basic coverage with a limited number of sites. Construction in other municipalities will commence at the end of the year.
• In the third year, 38 major cities will be well covered with adequate capacity. The coverage of the other 107 cities will be optimized and improved as well with more and more sites on air. Cities and municipalities in suburban areas will be generally covered in this year. Construction in some rural areas will also start at the end of this year.
• In the fourth and fifth year, all 145 cities will be well covered with massive capacity already in place. The coverage of suburban and rural areas will be enhanced greatly.
At the end of the fifth year, more than 8000 radio stations will be built to reach the target of 84% population coverage.
Fiber broadband network
A fiber network is priority in NCR, Cebu and Davao.
Through five years of construction, we will achieve a nationwide network. More than 84% of Filipinos will be able to conveniently access the Mislatel network.
Wireless network
The objective of the mobile network is to build a robust, simple, intelligent and secure mobile network with leading technology, complete coverage and high quality experience with 4G/5G convergence.
'The network should have large bandwidth, solid connection and low latency, providing customers rich and diverse mobile services such as high-definition voice call (VoLTE), high-speed MBB and massive IoT connection.
Frequency assigned to the NMP is as shown under the following table.
5GNR 3.5GHz 1*40MHz,
3.3GHz 1*100MHz
Improved 2.5GHz 1*20MHz,
capacity layer 2.0GHz 1*15MHz
Main capacity layer 2.1GHz 2*15MHz
Basic coverage layer 700MHz 2*10MHz
Also adopted to build a cloud network to form a flexible, agile, intelligent and resilient core network.
Issues against Mislatel
Senator Franklin Drilon, the Senate minority leader, questioned Mislatel on a number of issues:
— Why Mislatel transferred its franchise to a new group of owners (previously engaged in catering business at the Senate itself) without getting Congress approval for such a transfer, as required by law. "This transfer is void because of the lack of congressional approval," Drilon, a veteran corporate lawyer said.
Paper operation
— Mislatel itself was a paper operation before its franchise was bought by the new owners who now control 70% of the company. A telco franchise holder must operate within three years of securing a congressional franchise. Under a telco's franchise provisions, the telco's franchise is deemed ipso facto revoked for failure to comply with the conditions (such as being operational within three years).
— How financially capable is the new holder of the franchise bought from Mislatel.
For her part, Committee Chair Grace Poe opined that the House of Representatives itself doesn't think Mislatel violated its franchise conditions.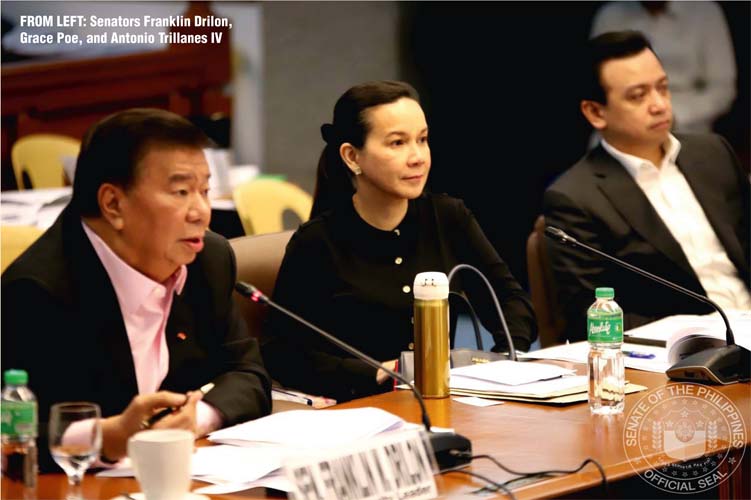 Given the conflict in views, Poe said the courts may determine if the franchise is still valid.
Still, both Drilon and Poe believe a franchise is a privilege. It is Congress which grants it, Congress also has the same power to revoke it.
Besides, a franchise is revoked, ipso facto, without need for Congress action, Drilon insisted.
No experience
Senator Antonio Trillanes wondered at the hearing how a company like Mislatel which never operated for a single day as a telco can have the experience to be a telco in the Philippines.
As to technical capability, Dennis Uy assured  "our partners, China Telecom, have the technical experience to be able to deliver on our promises. Besides, as a businessman, we will be capable in due time because we can always learn and compete."