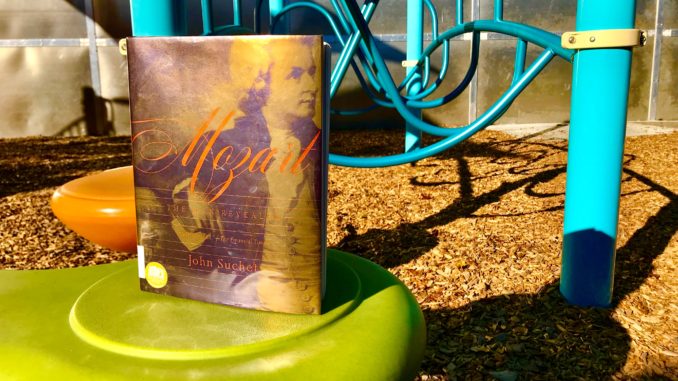 Biographies attribute Mozart's musical genius to his musical family. His father was a conductor, violinist, composer, and teacher. There would even be a picture of a family of seven children each playing an instrument while the father conducts. But the truth is simpler. He was gifted.
At three, Wolfgang learned to play the clavier just by listening to his seven-year-old sister's lessons. Despite his toddler hands, he played his sister's increasingly difficult minuets, then quickly became bored.
At four, he learned the organ and violin.
At five, he composed an Andante and Allegro in C for clavier, his first known compositions.
At six, a professional second violinist indulged Wolfgang and let him play alongside him during practice at their home. "The boy successfully navigated all six trios, reading from sight."
Age six was also when Mozart wrote his first concerto. But his dad and friend told him it was too difficult to play.
"That is why it's a concerto,' Wolfgang said. 'You must practice very hard to be able to play this.' Then, to the men's utter amazement, Wolfgang demonstrated what he meant on the keyboard."
Johannes Chrisostomus Wolfgangus Theophilus was the last born of seven. First three died, one sister Nannerl survived, then two more died. His mom was age 35, considered middle-aged then.
Once his father Leopold recognized the toddler's extraordinary talent, he trained and promoted Wolfgang along with his sister Nan.
Mozart's genius is revealed in great detail in this outstanding biography by British journalist and author John Suchet. The glossy pages are filled with photographs, paintings, portraits, compositions, and letters.
It reads like a fascinating picture book that depicts Wolfgang's prodigious career as he travelled Europe, performed for various royalty, and established his fame. Mr Suchet is an engaging storyteller as he weaves historical facts and records with Mozart's family letters. We learn about Wolfgang's first love, troubled marriage, money problems, tireless workload, meeting young Beethoven, alleged affairs, and his body of work.
Wolfgang died at 35, had a third-class funeral (a step above a pauper's), then placed in an unmarked grave that has now been destroyed. He left a wife, 29, and two sons, ages 7 and four months. Neither inherited his musical genius nor married. Mozart's bloodline died, but his musical legacy lives on 228 years after his death.
More nonfiction book reviews on Instagram @IvyDigest.