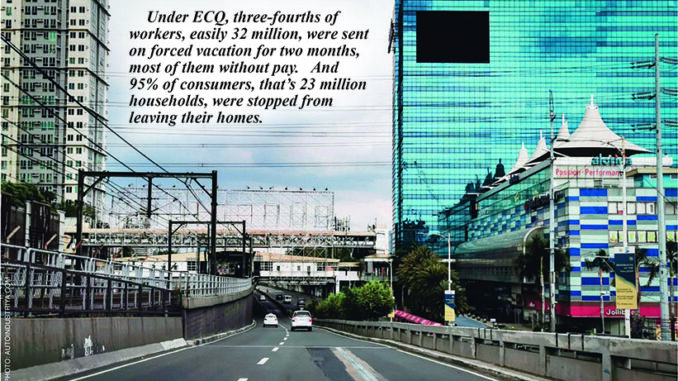 What is the difference between Enhanced Community Quarantine (ECQ) and modified ECQ? Nothing. Except that in MECQ, half of essential workers can go to work and will not be provided public transport for them to go to work.
Since household expenditure is 68% of the economy, the economy will remain dead because consumers still cannot go out to spend their ayuda or savings. And outlets for such spending are closed – restaurants, shops, and malls. The 68% is equivalent to P36.3 billion per day of spending or P2.18 trillion in 60 days.
On the other hand, the government is 11.6% of the economy. But it has run out of cash so it won't be able to spend much. The 11.6% is equivalent to P6.2 billion per day or P372 billion for 60 days.
You have 68 plus 11.6: A good 80% (which produces P15.6 trillion of spending per year) of the economy is still crippled. This makes ECQ, whether modified or classic, senseless and utterly useless. For what? Just to save, at most, 500 lives.
32 million forced to vacation
Under ECQ, three-fourths of workers, easily 32 million, were sent on forced vacation for two months, most of them without pay. And 95% of consumers, that's 23 million households, were stopped from leaving their homes.
The government has declared the National Capital Region or Metro Manila, will be under MECQ, effective May 16, a day after the current lockdown is supposed to end.
The beauty of modified ECQ for government is that it gives government an excuse to stop giving cash to half of those in need.
POGOs favored
Another benefit for government is that it won't be accused of favoritism for allowing POGOs (programmed online gaming operations, which is computerized gambling with a huge ecosystem of one million Chinese players). With MECQ, the so-called business process outsourcing (BPOs) will also be allowed to resume operations because BPOs, being a huge dollar earner and taxpayer, is essential to the economy.
The government seems to treat ECQ like a basketball game. Or a detergent. The lockdown has been divided into quarters, usually of 15 days per quarter. On May 15, we are supposed to complete the first game. The home team, our government, lost, to the enemy team, the coronavirus which causes the disease COVID-19. The ECQ was supposed to defeat the enemy, preventing it from scoring points at will and causing devastation to the health and lives of people.
Like a detergent, the lockdown is packaged as "enhanced", "general", and "modified". They are all lockdowns. People and businesses are frozen into inaction.
But COVID-19 is winning the game. It just kept on scoring points, willy-nilly. According to Worldometer, as of May 15, 2020, the Philippines had 11,876 cases and 790 deaths.
When the lockdown began on March 17, we had only 187 cases and 14 deaths. The increase after two months is 6,250% in cases and 5,542% in deaths. The curve did not flatten at all.
Deaths still in double digits
On May 11, we had 292 new COVID-19 cases, up from 45 on March 17 when lockdown began. Thankfully, daily deaths went down, to 7 on May 11. Deaths rose to a high of 50 on April 12, a month ago. However, daily deaths went back to double digits to 25 on May 12, 21 on May 13, and to 18 on May 14.
Despite having failed to bent to curve, in number of daily cases and deaths, the government has declared a modified ECQ. Actually, the proper adjective for the ECQ is vilified. ECQ has been widely criticized and despised.
The strictest lockdown in Asia has produced the worst wrong results. Mainly because the Department of Health under Dr. Francisco Duque was criminally negligent or incompetent in undertaking the three major Ts of fighting the coronavirus – testing, tracing contacts, and treatment.
By today, it seems DOH has conducted 160,000 tests after 55 days of lockdown. What was needed was 1.5 million tests.
On May 12, Finance Secretary Sonny Dominguez revealed they need to recruit contact tracers en masse. This implies no serious contact tracing was being done at all.
Is data being massaged?
Also, there are signs the DOH has been finagling with data on number of cases and number of deaths. Comparing data releases from April 24 and 25, a team of 200 experts from the University of the Philippines has found that at least 45 of the virus cases went from male to female or vice versa, 75 patients became younger or older by as many as decades overnight, while 516 cases were reclassified "either to another city or a completely imaginary city." A patient reported by the DOH as dead on April 24 was no longer among the fatalities listed the following day. That is how dishonest the DOH people can be.
The ideal number of people to be tested per case of COVID is 1,000, according to Albay Rep. Joey Salceda. Vietnam is doing that, at 966.7 tests per case. It is the gold standard. The result is that Vietnam has the best outcome in anti-COVID program: 288 cases but zero death.
The Philippines does only 13 tests per case, meaning, it interviews, contacts and tests only 13 people per COVID-19 patient, if at all. Taiwan does 150, New Zealand 141, Australia 100, South Korea 60, and Germany 17. These countries have had the best outcomes in fighting the virus.
On lockdowns, Nikkei Asian Review did a study on degrees of stopping human mobility. The Philippines had the highest success rate based on Google's data on six categories of public mobility (retail and recreation; grocery stores and pharmacies; parks; transit stations; workplaces; and residential areas).
Manila locked down
71% of work places
Manila averaged a decline of 50.83%. Said the publication: "With severe restrictions, the Duterte administration brought down public mobility by 85% in transit stations; 79% in retail and recreation; and 71% in workplaces. India ranked second with an average decline in public mobility by 47.83%."
Nikkei said these repressive lockdowns are not effective in the fight against COVID-19. While the Philippines and India are imposing very tight rules to restrict public mobility, they are still failing to bring down the number of new COVID-19 cases, which continued their upward trajectory after almost two months of lockdown.
On the contrary, countries that implemented less severe measures to control public mobility like Taiwan (2.16% decline in public mobility); South Korea (11.0%); Japan (13.83%); Vietnam (29.5%); and Thailand (31.66%) are significantly doing better in terms of bringing down the number of their daily new cases. (See charts).
Concludes Nikkei: "Lockdowns are meant to hide the sorry state of public health systems and a convenient cover for leaders like Duterte (and Modi) to consolidate their authoritarian rule. The effective way to contain the spread of the new coronavirus are not repressive measures but reliable health and medical interventions, including testing."
— Tony Lopez