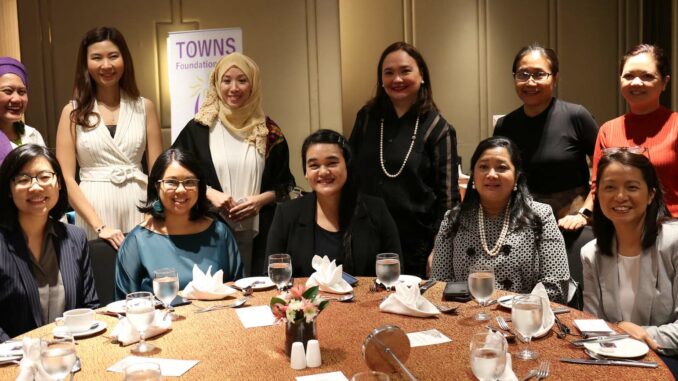 This year's winners of the coveted The Outstanding Women in the Nation's Service (TOWNS) award are one of the best batches ever and among the most diversified.
The fields represented are most relevant and cutting edge at a time of great conflict and in the Age of the Fourth Industrial Revolution: Technology, science, Silicon Valley entrepreneurship, peace advocacy, medicine, education, law and of course, journalism and the arts.
The awardee for science and technology, Ma. Regina Justina Estuar, has deployed her knowledge of computer science, mobile telephony, and social psychology to develop software, uses, and projects to monitor floods, disaster, and gender violence, as well as promote innovation in education, health, and agriculture to benefit the public and the nation.
The awardee for technology entrepreneurship, Stephanie L. Sy, 30,  is a math and science wizard. She has turned her own consultancy, Thinking Machines, into a data science powerhouse that shows no signs of stopping.  Its goal is make the Philippines a global hub for data science. 
From using artificial intelligence models to monitor brand visibility of pharmaceuticals in retail locations, to identifying the most traffic and flood-prone areas in the country using the data gathered from accident and flood reports per square kilometer, Thinking Machines innovates and experiments with new technology to help solve problems, helping its corporate clients operate more efficiently and implement smarter systems.
Another science and technology awardee, Dr. Gay Jane P. Perez specializes in remote sensing for weather, fish mapping, drought and crop assessment forecasting, site suitability for mussels, and soil moisture estimation.
The scientist has led seven projects using remote sensing for improving agri and aquaculture yield, in partnership with PhilRice and UP Los Baños.
Using her experience in NASA, she led the development of a ground receiving station that can directly send and receive data to and from the DIWATA satellite.
Carmina F. Bayombong, awardee for entrepreneurship, founded and currently leads InvestEd, an award-winning financial technology (FinTech) startup which gives loans to college students deemed unqualified for loans by the banking system. Some 2.6 million youth of college age need tuition money for college. Her software can predict if a borrower won't pay the loan.
The winner for education is a Maranao who grew up in conservative Riyadh. Bai Rohaniza Sumndad Usman witnessed the ravages of war.
Rohaniza Usman is a child educator, and founder of the Teach Peace Build Peace Movement (TPBPM) an independent, non-partisan, non-profit organization that aims to make every Filipino youth live in a culture of peace and harmony in both conflict and non-conflict zones, using a holistic approach through music, the arts, games and sports, and community service.
The other Muslim awardee is Samira A. Gutoc, for peace advocacy. She has worked with a wide variety of stakeholders as a journalist, manager, consultant, environmentalist, trainor, peace activist and organizer.
Bridging Muslim and western cultures, Samira has tapped tri-media, film and the internet to advocate for cultural minorities, peace, human rights, environmental issues and inter-cultural understanding. Born in conservative Saudi Arabia, Gutoc has been involved in interfaith movements throughout her life, helping her develop a more liberal view compared to other Moros.
The awardee for the performing arts, Karla Patricia T. Gutierrez is a UP-educated soprano who trained in Italy.
As the artistic and managing director of the Philippine Opera Company, Karla sought the revival and popularization of classic Filipino compositions, many of which had been forgotten as Filipinos came to appreciate more and more western music.
POC's outreach programs have repurposed opera from its elitist pedestal, and brought it to the broad masses, with performances in malls, churches, community centers, parks and schools all over the country.
The awardee for education, Clarissa Isabelle L. Delgado founded Teach for the Philippines which trains teachers, both non-education and education majors, who are not yet "licensed", to teach in public schools. This facilitates their acquiring their government license to teach with a permanent position. It also helps prepare teachers to handle stress inherent in the teaching profession.
From a pool of 21,000 applicants from 191 countries, Clarissa was one of 20 inaugural Obama Foundation fellows from 11 countries. She was one of only two Asian fellows and the only fellow who was running a program in Asia.
The awardee for medicine, Geraldine Zamora, combines professional excellence, humility, leadership, and selfless passion in her work.
She has spearheaded concerts of dance/song/art for the benefit of cancer patients; helped generate millions of pesos to help subsidize life-saving diagnostic exams and medications for indigent patients in the medical wards/ICU as board member of the Sagip Buhay Medical Foundation; and staged benefit fashion shows.
The awardee in law, Patricia Ann T. Prodigalidad, topped the bar in 1997. After more than 20 years in law practice, she has developed a reputation for being a tough litigator. She was commended by the association of in-house lawyers for three straight years, and named one of the Philippines' Top 100 Lawyers in 2018 and 2019, in an independent survey conducted by the Asia Business Law Journal.
Covering disasters, crime, conflict, corruption, and consumer issues is the forte of Chiara Zambrano, awardee for journalism. She began her journalism career, with "The Correspondents", ABS-CBN's premiere documentary program in 2004. The awardee for humanities, Xyza Dela Cruz Bacani, is a documentary photographer based in Hong Kong and the daughter of a domestic worker. She uses her work to raise awareness about under-reported stories involving overseas Filipino workers.