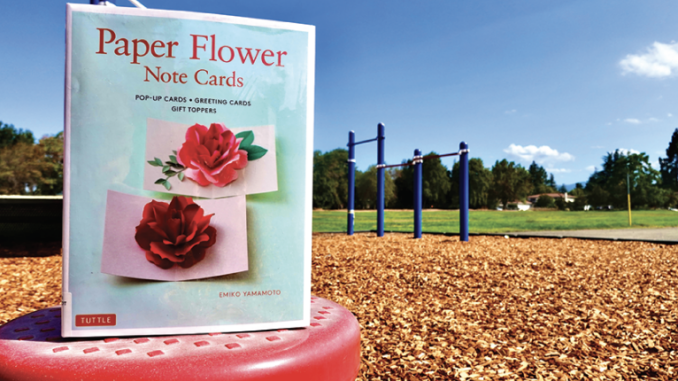 By Emiko Yamamoto
y-y creation.com
Photos by Yukari Shirai
Hardcover, 96 pages, 2020
Tuttle Publishing
If you can't send fresh flowers, you can make your own. It may seem easier to just send a digital card, but taking the time to make a card shows how much you care—and how crafty you can be!
Emiko is a paper artist who seeks to bring fun and beauty to your celebrations like birthdays, weddings, babies, mothers, valentines, and holidays.
In this latest book, Emiko shows how to make flowers bloom when you open a card. She crafts a varied bouquet: rose, peony, water lily, dahlia, carnation, dandelion, hydrangea, sunflower, gerbera, and seasonal blossoms.
You can also use these 3-D floral creations to elevate your cards, invitations, notes, and gifts. The thrill is the same when you see their beauty.
"It is my hope that these cards will bring smiles like flowers in full bloom to their makers as well as their recipients!"
For quick and casual notes, you can try 2-D silhouette cards with cutouts in elegant designs—Japanese plum blossoms, spring flowers, fall leaves, winged butterflies, and poinsettias.
Beyond flowers, Emiko also features whimsical pop-ups of a basket, wreath, gift box, cake, a Jack O' lantern with treats, and baby shoes! So cute!
Emiko gives 37 patterns with detailed instructions, step-by-step pictures, materials, and techniques to create her fantastic flowers on paper. Crafters at all levels and ages will find something beautiful to make for someone they love.
"All of the flowers here are much easier to make than they appear, so don't be afraid to give them a try!"