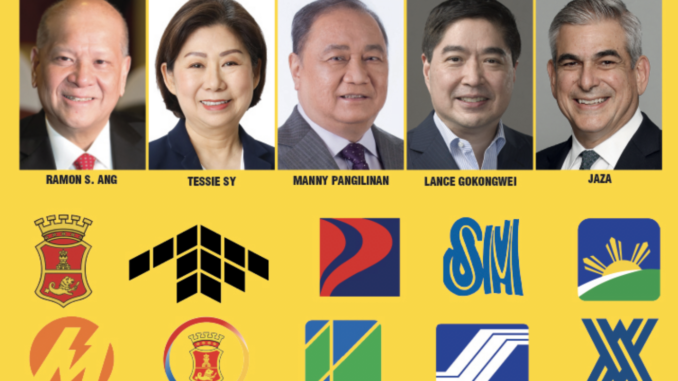 Five families or groups own the ten largest public corporations in the Philippines—Ramon S. Ang (RSA), the family of the late Henry Sy Sr., the group of Manuel V. Pangilinan of First Pacific Ltd Hongkong, the venerable Zobel de Ayala family, and the family of the late John Gokongwei Jr..
RSA controls and manages four of the Top Ten Philippine listed corporations—No. 1 in revenues, San Miguel Corp., No. 2 Top Frontier Investment Holdings, Inc., No. 4 Petron Corp., and No. 5 San Miguel Food and Beverage, Inc. (the beer and food company).
The SMC group companies have suffered double-digit declines in revenues due to the pandemic, and except for Petron (which lost P11.4 billion in 2020), still posted robust profits. RSA displayed unusual resilience and is on track to achieve the group's long-term growth objectives and make life better for most Filipinos.
Meanwhile, the Sy family owns majority of No. 3, their holding company SM Investments Corp., also the largest company in market value, and their financial house, No. 8 BDO Unibank, Inc., the country's largest lender. Tatang Henry's eldest child, Tessie Sy Coson, is vice chair of SMIC and chair of BDO. The SM retail stores still got it all while BDO still finds ways, marvelously.
MVP group
As the managing director and CEO of the 40-year-old Hongkong-based holding company First Pacific Ltd, MVP controls the electricity distribution monopoly No. 6, Manila Electric Co. (where First Pacific owns 19.6%) and No. 11, telco giant PLDT, Inc.(where FP owns 25.6%). FP is owned 44.4% by the Salim group of Indonesia.
With a P94-billion difference in revenues, Meralco (P275.3 billion; lawyer Ray C. Espinosa is president and CEO) is now the MVP group's flagship, with PLDT (P181 billion; management whiz kid Al Panlilio is president and CEO) a decent second. Still, PLDT (P24.58 billion) remain the top moneymaker of the group as Meralco made only P16 billion profits in 2020. Pangilinan is chair of both Meralco and PLDT. His Metro Pacific, owned 43.1% by FP, owns 45.5% of Meralco, 100% of generation giant Global Business Power, and majority of water utility Maynilad.
With $3.5 billion annual revenues and on track to make P30 billion in profits this year, PLDT is the Philippines' largest and best telco and delivers the finest customer experience in the market. PLDT also is 30% of FP's gross asset value, globally.
JG Summit group
Gokongwei's JG Summit is the third largest holding company in the Philippines. It is now helmed by the late John's only son, the brainy Lance Gokongwei, the president and CEO. JG Summit owns minority but influential stakes in both Meralco (29.6%) and PLDT (11.3%), making the group hugely diversified and helping Pangilinan chart the direction of sprawling First Pacific enterprises.
Lance is focused that JG Summit remains the leader or strong second in airline (67.9% in Cebu Pacific), food (55.3% in URC), real estate (61% in Robinsons Land), with strategic interest in hotels, telco, power generation, banking, and petrochemicals.
PLDT and Gokongwei's Universal Robina were the only two companies in the 25 Most Profitable Public Companies that did not report a profit drop in 2020. PLDT's 2020 net of P24.58 billion was up 7.87% over 2019; URC's P11.62 billion net was a hefty 15% gain from 2019's P10.11 billion. (See page 11)
Ayala Corp. does not have the revenue scale of its bigger rivals; it is just No. 9 in sales, P193.6 billion in 2020, down 27%; profits fell 30% to P29.27 billion. But the Zobel de Ayala firm, the oldest commercial house, is high in the esteem of investors. It is top 3 in market cap.
READ FULL ARTICLE HERE: