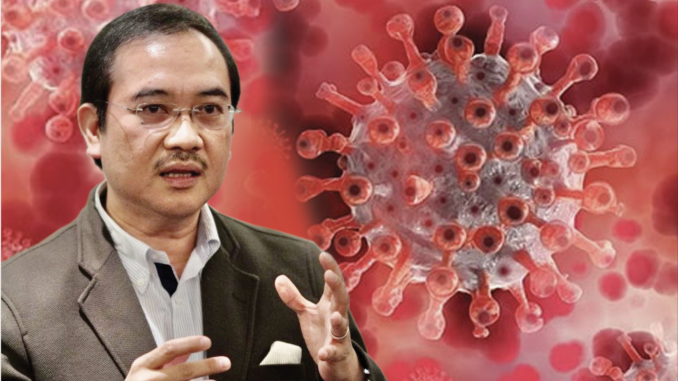 The Philippine pandemic situation has turned for the worse—in fact, the worst since COVID-19 entered the archipelago in February 2020. 
The country as of Aug. 25, 2021, had 1.883 million cases, with 1.725 million recovered and 32,492 deaths, for total active cases of 127,853—a record high since April 16, 2021.
On Aug. 23, 2021, daily new cases hit a peak of 18,332, higher by 3,052 or 20% from the previous record high daily cases of 15,280 scaled on April 2, 2021. The average daily cases during the three days of Aug. 21-23, 2021, 16,755, exceeded the April 2, 2021 high of 15,000.
COVID has attacked all the regions of the Philippines; 76 of 100 provinces are under siege, especially with the Delta variant becoming more ascendant.
More and more people are getting sick (an average of 16,000 plus cases daily), and more and more people are dying (150 to 300 people daily, double previous rates). The highest daily deaths since April were recorded on Aug. 21, 2021, 397, toppling the 382 daily deaths on April 6, 2021. More and more of those getting sick and dying are younger, 50 and below.
Three reasons for the worsening
The situation is worsening for three reasons:
One, the government is ill-prepared for the sudden surge in COVID cases, in terms of beefed up testing, tracing of possible cases, and treatment.
Testing, contact tracing and treatment are the three Ts of credible pandemic management.
There is a fourth T—trust. With colossal incompetence and incredible corruption of some top government officials, do you think our people trust the people in charge of pandemic management? In other words, we are failing on all four Ts of effective pandemic management.
Two, there are not enough vaccines. Originally, two doses of vaccines made by Pfizer, Moderna, Astra Zeneca, and Sinovac would have been enough to give us better than adequate immunity against infection and/or death, for say 6 to 8 months—95% against getting sick with symptoms for Pfizer; 94.1% for Moderna, 70.4% for Astra Zeneca, and 65.9% for Sinovac.
At two doses per vaccine and an original herd immunity target of 70% (that has now been lowered to 50% and called simply "population protection"), Filipinos needed 140 million vaccines—this year.
With Delta, you need a third dose
Now, with Delta, the new wisdom is that you need a third dose, even if you have had Pfizer or Moderna and particularly if you had been jabbed with Sinovac.
So we need additional 70 million. Add the 140 million with two doses, you need 210 million doses. Current supply it seems is only between 50 million and 70 million. There is a severe vaccine shortage. And nobody, right now, knows where to get all the vaccines we needed, yesterday.
Delta is more vicious than the original COVID. The Wuhan COVID could infect two people per attack, within 15 minutes to 60 minutes. Delta from India, could infect 5 to 8 people, per attack, which happens in split seconds.
Both the vaccinated and unvaccinated carry in their mouths the same volume of virus cells. In the United States, 83% of COVID cases are the Delta variant.
Delta works faster than the time it takes Pandas to have sex, considered the fastest on earth for living things of their size.
Lockdowns hated
Three, given the failure on the four Ts and the shortage in vaccines, the standard remedy has been lockdowns—in various acronyms to hide their level of severity.
Level 3, the most strict, is called enhanced community quarantine or ECQ. Level 2 is MECQ—modified enhanced community quarantine; and Level 1 is GCQ—general community quarantine, which comes in two forms—with heightened restrictions and with some restrictions.
But people and business are sick and tired of lockdowns of all kinds.
With the lockdowns, 70% of businesses have been shut down; 70% of people who should be working have been laid off or had to suffer reduced working hours.
The result is massive poverty, up to nearly half of the population, if you believe the Social Weather Stations, and up to 17%, if you believe the government. Each percentage point of poverty is equivalent to one million people.
You can imagine the hunger and restiveness among more than 17 million Filipinos who are hungry, jobless, and yet, under lockdown. They are not even allowed to hear mass. Kids and old people are not even allowed outside their homes, if any. And churches have traditionally been places of refuge during crises.
As a result of the 2020 lockdowns, the economy lost P2 trillion worth of production, more than 11% of its usual output.
Add the P5 trillion that is stolen annually by government people from the P45-trillion budget (not to mention its gargantuan loans) and you have P7 trillion down the drain yearly. Normally, such numbers are enough for the people to rise in arms and bring down their government.
Instead, if you believe Pulse Asia, 91% of the people love President Duterte, trust him, and like his job performance, although some people have the impression he is asleep and hiding from his people most of the time.
Taking its cue, the PDP-Laban, the party that used to fight and overthrow incompetent, corrupt and oppressive rulers, nominated Digong Duterte for vice president in the May 2022 elections.
On Aug. 24, the presidential palace announced " Duterte "accepted the endorsement" of the party and "agreed to make the sacrifice and heed the clamor of the people."
As the Tagalogs would sigh, "wala ako masabi." Love ko talaga si Digong.
Meanwhile, compared with its ASEAN neighbors, the Philippines does not seem to be doing badly. The country is second among the ASEAN Ten in terms of cases, with 1.883 million, behind Indonesia's 4.02 million. It is also second in number of deaths, 32,492, after Indonesia's 129,293.
The Philippines, however, is fifth in ASEAN in number of active cases, 125,378, behind Indonesia, 257,677 cases; Malaysia 264,292; Vietnam 202,093; and Thailand, 189,268.
In COVID cases per million population, the Philippine has the second highest toll, 16,926, behind the 49,214 per million of Malaysia.   In deaths per million, the Philippines' 292 does not seem so bad—third after the 467 deaths per one million people of Indonesia, and the 451 of Malaysia.
READ FULL ARTICLE HERE: