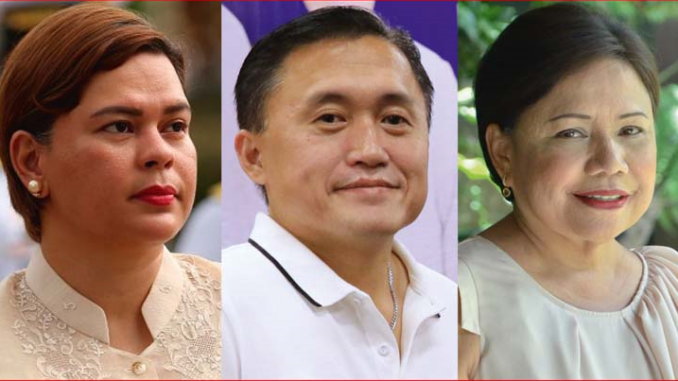 By Antonio S. Lopez
After the mid-term elections of 2019 come the presidential elections of 2022 to choose the successor to President Rodrigo Roa Duterte. The current betting is that Duterte will succeed himself, thru a proxy.
That proxy is anyone of these three people – Sara Duterte, Bong Go, and Cynthia Villar.
Sara is the President's daughter and the local government incumbent seeking a local office that gained national prominence by campaigning nationwide—for a regional party that was endorsing candidates elected nationwide, the senators.
Presidential material
That makes Sara presidential material. She has a mind of her own, which some people translate into political will, although she may just be what Tagalogs call pasaway (recalcitrant).
However, one's name recognition does not automatically invest one electability.
Despite the vaunted machinery of Sara's hastily cobbled regional party Hugpong ng Pagbabago (HNP), the Davao mayor's bete noir, Pantaleon Alvarez, still won hands down, as reelected congressman of Davao del Norte's first district, beating two of Davao's biggest political titans – Davao del Norte Governor Anthony del Rosario and Antonio Floirendo. They are cousins.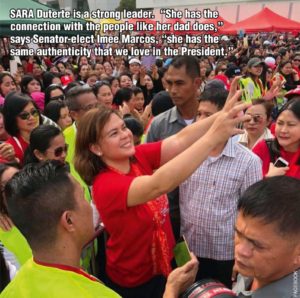 Former Speaker Alvarez garnered 70.5% of the district votes while Del Rosario settled for disappointing 29.5%, a ratio of more than two-to-one.
In the second district, Alvarez's PDP-Laban colleague, Alan Dujali outclassed political veteran and banana tycoon Antonio Floirendo, 58% vs. 42%.
Both del Rosario and Floirendo ran under HNP and still were beaten convincingly right in Sara's home turf, by a grizzled politician with tradpol habits. The conventional wisdom is that if your party cannot win in its own home turf, how can it win nationwide? Besides, President Duterte has warned his daughter about the perils (many) and pay (small) of being president.
Still, Sara is perceived as a strong leader. She is a lawyer by profession and married lawyer, Manases "Mans" R. Carpio. Duterte-Carpio is Davao City's first woman and the youngest mayor, assuming the mantle from her father, President Duterte who had been mayor for 23 years.
Some politicians credit Sara for the ouster of Pantaleon Alvarez as speaker in July 2018 and the installation of former President Gloria Macapagal Arroyo as the country's first woman speaker. Not unexpectedly the candidates for speaker in the 18th Congress are seeking her blessings. At least three candidates are vying for the House speakership –Martin Romualdez of Leyte, Alan Cayetano of Taguig, and Lord Allan Velasco of Marinduque.
Bong Go is the face of Duterte
Another Duterte stalwart is Bong Go, 45. He is a management graduate of La Salle, so he is competent. His family owns businesses. So he is rich. He is the face of Duterte. So he is powerful. And influential. Powerful is when you get things done. Influential is when you make other people do what you want by just letting them know who you are. In an electoral fight, those qualities make for a formidable arsenal.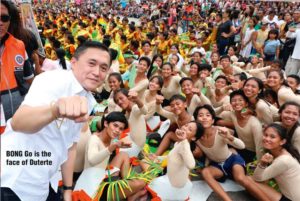 Go was No. 3 in the 2019 senatorial race. His votes, 20.657 million—are 4.05 million or 24% more than the 16.601 million polled by Duterte himself in 2016 when he won as president, 10.62 million (107%) more votes than the 9.978 million of presidential runner-up Mar Roxas, and 11.557 million more votes (127%) than the 9.1 million of third placer Grace Poe.
Does that vote-drawing power give Go the gravitas to make a go of the presidency in 2022?
In 2004, Mar Roxas topped the senatorial election with an awesome 19.372 million, then the largest number of votes ever gained by a senatorial topnotcher, and 3.57 million more than the 15.8 million votes of No. 2, the then immensely popular movie idol Bong Revilla.
Seeking reelection, Revilla himself topped the senatorial race in 2010, with 19.5 million, eclipsing the 19-million record of Roxas six years earlier.
For her part, running as an independent Grace Poe bested the 19-million-vote haul of both Roxas and Revilla in the 2013 Senate race with 20.337 million votes.
Senatorial topnotchers both, Roxas and Poe contested the presidency in 2016. They lost dismally to a tough-talking mayor from the south with an outlandish kill-the-drug lords campaign, Duterte who ran with supporters so few you could crowd them into a battered tricycle.
The Villar machine
The 2019 senatorial topnotcher and the land's richest senator, Cynthia Villar should be considered presidential material in 2022.
Just like husband Manny Villar, a former speaker (1998-2000) and a former Senate president (2006-2009), Cynthia's formula of success is basic – sipag at tyaga (hard work and diligence).
Her formula of economic development is even simpler – produce food. Food, after all, is 50% of the consumer basket. Produce food and you tame the inflation rate.
Tame inflation and you put purchasing power in the hands of the poor. Put purchasing power in the hands of the poor and you empower them, in your favor, during elections.
NP machinery
Cynthia comes to the fore with a solid party, the Nacionalista Party which after Duterte's PDP-Laban, won the biggest number of elective positions in the country, including three of 12 senators. PDP-Laban won four senators.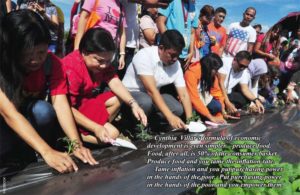 Cynthia also has the business network in 157 key bailiwick cities nationwide where the family crown jewels, Vista Land and Golden Bria Holdings, have projects and branches.
Vista Land is valued by the market at P91 billion. The Villar family owns P54.7 billion of that. Even more astounding, Golden Bria Holdings, has a market cap of P262.8 billion. The Villar couple owns 88.62% of that, or P232.89 billion. So P232.89 billion plus P54.7 billion is P287.59 billion. Divide that by P52 and the Villars are worth $5.53 billion. They are the richest Filipinos.
Villar wealth and the poor
About 65% of 24.3 million families are poor. They make only P250,000 or less a year. One family has 4.5 members, so divide P250,000 by 4.5 to get P5,411 per capita income. That's $104 per person. Manny Villar has wealth of $5.5 billion. About 71 million Filipinos get by with just $104 a year. Surely, those 71 million cannot all be lacking in S&T – sipag at tiyaga.
In 2010, Manny Villar ran for president but ended up fourth despite spending up to P5 billion campaigning. He went back to revitalize his property business. Within a year, he recovered the P5 billion, plus, as the stock price of his Vista Land and Lifescapes rose. Then he listed a second property company, a memorial park and a crematory business that he converted into a mass housing developer. The price of Golden Bria Holdings went to the roof, hitting P262 billion in market cap.
Writing in the Inquirer, former Chief Justice Artemio Panganiban says Philippine elections have metastasized from three Gs – guns, goons, and gold, into five Gs – guns, goons, gold, (voting machine)-glitches, and "gunggong" (stupidity).
Glitches
On computer glitches, computer specialist Gus Lagman, in his Manila Times column, details three things that went wrong in the May 13 elections:
1. More vote counting machines (VCMs) malfunctioned. Many IT practitioners expected that this would happen because those VCMs are now three years old. Worse, they were not used at all during those three years. More failures can be expected when electronic equipment are not used for many years.
2. A lot more SD cards malfunctioned, compared to previous years. The rumor is that the Comelec bought the cards from the lowest bidder, instead from the "lowest responsive bidder." The latter description assures government agencies that quality is not sacrificed when the lowest bidder, as per the procurement law, is awarded the contract.
3. There was a seven-hour (outage) gap when no updated results were being reported to the public, the first time for such a horrible occurrence. After the 6:15 p.m. update release on the results of the elections (based on 0.38% of the voter turn-out), the Comelec went silent. Then at around 1:15 a.m. of May 14, the commission released an updated report, covering approximately 91% of the voter turn-out. No clear explanation to the public as to what happened.
The candidate who can best manage the five Gs—guns, goons, gold, glitches, and gunggong (voter stupidity) will be the next president in 2022.
My advice to the voter:  Don't be stupid.  Take the money.  It comes only every three years.  And vote with your conscience – or your feet (go abroad).