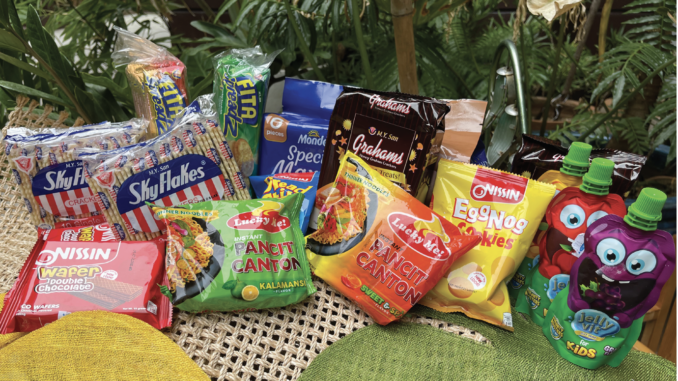 Instant noodles to instant billions
Did you know that Lucky Me instant noodles beat McDonald's and Jollibee burgers by a mile —in sales, profits, and market value?
An 80-gram packet of Lucky Me Instant Pancit Canton, basically wheat flour, salt, some vegetable oil and flavoring, sells for just P11. Pour the noodles in hot water, put one or two boiled eggs, and you have a sumptuous meal good for two people or two meals per person.
For an ordinary office worker who earns P535 a day (of which P200 goes to his jeepney rides), Lucky Me's instant noodles are like manna from heaven to carry him thru an eight-hour grind in the factory, office or the corner park. He has carbo (the noodles), soup (the hot water), and protein (the boiled egg). And surprisingly, it tastes good, thanks to salt and some seasoning (which also comes from salt).
98% of PH homes consume Lucky Me noodles
If the worker were to buy a hamburger, the effort would cost him easily P80, for just one meal. Lucky Me is consumed by 98% of households in the Philippines, according to market data from Monde Nissin Corp., the 40-year-old company that makes and sells Lucky Me.
Monde Nissin's branded food and beverage products are No. 1 in their respective segments. Lucky Me has 68% market share in instant noodles. Its biscuits –SkyFlakes, Fita, Nissin, and M.Y. San Grahams—have 30.5% of the market; and its Dutch Mill yogurt has 56% of yogurt drinks. Monde Nissin's Quorn alternative meats is No. 1 in retail market value with 28%. Alternative meat is big business, globally—better than firearms.
Monde Nissin is owned by a group of Indonesians, led by Hartono Kweefanus, chairman (he owns 29.33%); and Hoediono Kweefanus, vice chairman, (6.6%), both Singapore-educated, in joint venture with Filipino food pioneers led by Betty T. Ang, president and who owns 22.73%. MNC President Henry Soesanto, an Indonesian, owns 12.63%.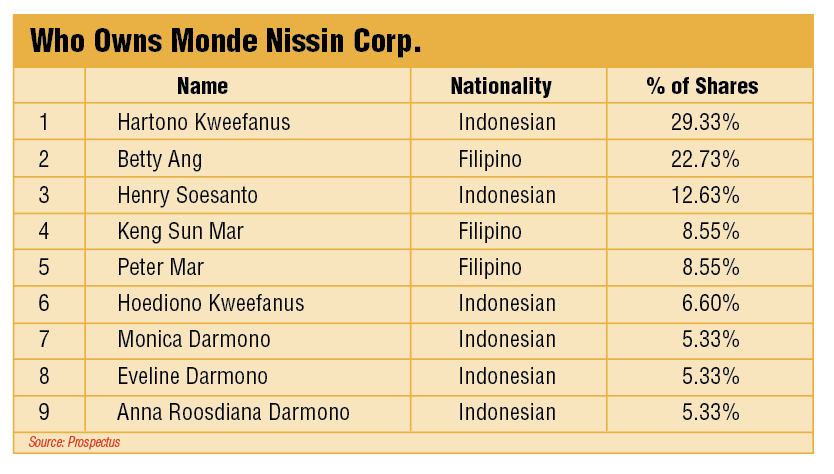 Monde Nissin Corp. (MNC) is only scraping the tip of food iceberg market.
P34.9 billion market for instant noodles
The market for instant noodles is worth P34.9 billion as of 2020. "Increasing disposable income and food expenditure, growing urbanization, busy lifestyles and greater access to product categories resulted in an increased preference for affordable, quick and tasty meals and consumption per capita of instant noodles," says the company in its IPO prospectus last May.
Adds Monde Nissin: "The favorable macro-economic growth in the Philippines has been characterized by a growing gross domestic product and an increasing domestic income per capita. The group operates and is strategically positioned, in the large and high growth product segments of instant noodles and biscuits in the Philippines."
Monde Nissin revenues: P68 billion
Total MNC revenues hit P67.9 billion in 2020, up 7% from 2018, despite the pandemic. EBITDA or cash-flow profits went up 37% from P11.4 billion in to P15.6 in 2020.
MNC currently does P53 billion in sales for its Quorn alternative meats (under the Quorn and Cauldron brands). Using mycoprotein technology, the market for alternative meats is projected to hit $140 billion, worldwide, by 2029, up from $8 billion last year.
Alternative meat is meat without the meat. It is burger made in the factory (lab-grown or cultured), without the beef but with the taste, smell and looks of beef.
"The meat alternatives market has seen significant consumer interest and growth," says Monde Nissin.
Owners
On June 1, 2021, shares of stock of Monde Nissin Corp. (PSE stock symbol: MONDE) were listed at the Philippine stock exchange. It made history.
The Monde Nissin is the largest initial public offering (IPO) in the Philippines' recent stock market history. At P13.70 per common share, Monde was valued at a colossal P242 billion. The offering price of P13.70 per share did not show appreciation after the listing.
Bigger than Jollibee in market cap
One of the country's biggest food manufacturing companies, Monde becomes the third most valuable listed food company in the Philippines.
Monde Nissin's P242 billion market cap is eclipsed only by San Miguel Food and Beverage, Inc., P407.736 billion, of the San Miguel Group, and Universal Robina Corp., P308.58 billion, of the JG summit group. San Miguel Food and Beverage is Asia's largest food group.
Monde Nissin eclipsed in market value the larger Jollibee Foods Corp., which has P215 billion market cap; Emperador, Inc., P151 billion; and Century Pacific Food, Inc., P86 billion.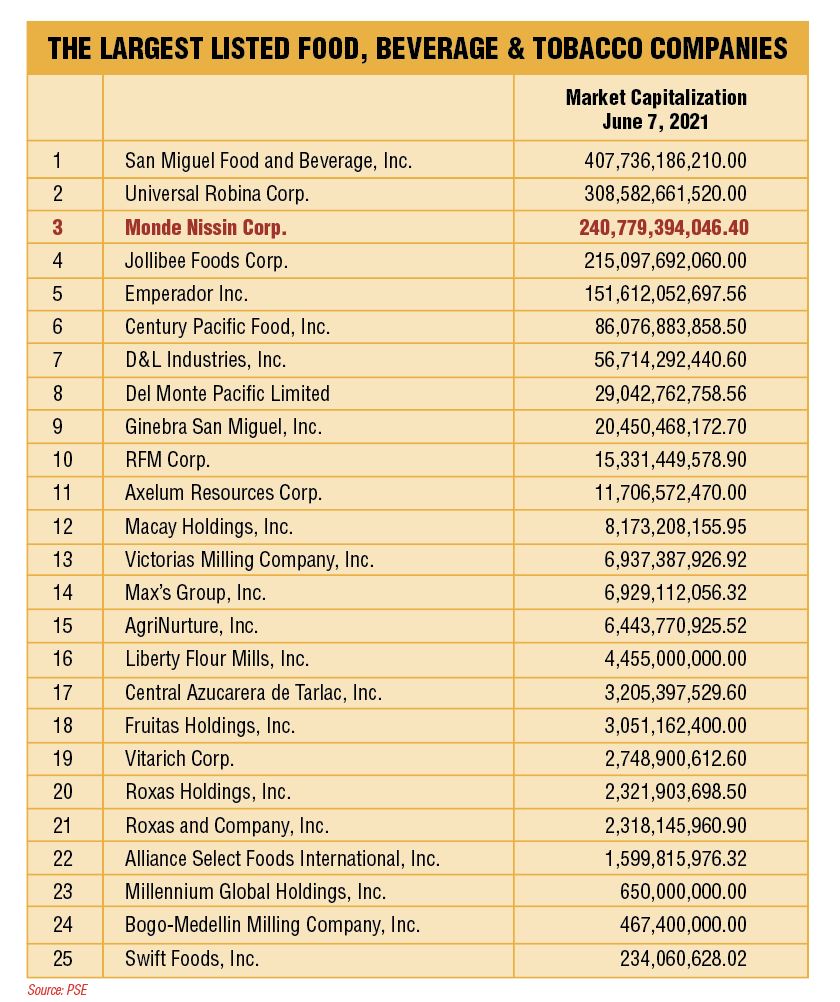 Monde's IPO of 3.6 billion common shares were priced at P13.50 per share and raised P48.6 billion.
Minus fees and charges by underwriters and brokers, Monde gets P46.34 billion in proceeds from the sale of its shares.
These proceeds will be used for capital expenditures or expansion and to pay off debts.
The IPO was multiple times oversubscribed, indicating the market is hungry for stocks with huge potential for growth and serving basic needs.
San Miguel is the biggest
Diversified food, beverage, energy and infrastructure conglomerate started the food IPO spree in October 2018 San Miguel when it offered 400.94 million one-peso-par value shares of San Miguel Food and Beverage at P85 per share to raise P34 billion.
San Miguel Food and Beverage put under one house, its world-famous San Miguel beer and the Pure Foods and Magnolia food brands.
In September 2019, Cagayan de Oro-based coco products producer Axellum sold 800 million shares with P1 par value for P5 per share to raise P3.22 billion.
For food companies with limited product range, Tuna maker Century Pacific started pricing one peso par value shares at 13.75 times in 2014, to raise P3.15 billion in its IPO.
"Today is a milestone moment in our history as we accelerate our mission to improve the well-being of people and the planet, and create sustainable solutions for food security," enthused Henry Soesanto, chief executive officer of Monde Nissin Corp.
"We begin life as a public company with significant momentum – our Quorn and Asia-Pacific Branded Food and Beverage businesses are performing well and are poised to capture the tremendous market opportunities that lie ahead," Soesanto added.
Recognized leader
"As a recognized leader in the meat alternatives industry, Quorn is at the forefront of the global shift towards sustainably produced food for health- and environmentally-conscious consumers," Soesanto pointed out.
"We also benefit from our market leading positions across the core segments of our Asia-Pacific branded food and beverage business. Our proven ability to advance our products by leveraging innovation and investments in technology to provide healthier and more delicious food allows us to stay ahead of evolving consumer demands and strengthens our ability to expand into new markets."
Soesanto concluded: "This moment would not be possible without the support of our loyal customers and the hard work and dedication of our talented team. We want to extend our deep appreciation to the devoted teams at the Philippines Securities and Exchange Commission and the PSE, whose guidance over the past several months enabled us to complete our historic offering. As we look ahead, we are laser focused on executing our long-term growth strategy to create lasting value for all our stakeholders."
At the stock exchange on June 1, Soesanto rang the PSE bell that signaled the start of the day's trading, alongside PSE President and CEO Ramon S. Monzon.
Joining them were PSE officers COO Atty. Roel A. Refran and Issuer Regulation Division Head Atty. Marigel B. Garcia, Monde MY San General Manager Keng Sun Mar, Monde Nissin Corp. Chief Strategy Officer David Nicol, coordinator of the IPO, Monde Nissin Chief Financial Officer Jesse Teo, DCFE Corp. President Emma Bajet, Calaca Harvest Terminal Inc. President Ernesto Ladrido III, Monde Nissin brand manager Yna Alvarez.
READ FULL ARTICLE HERE: