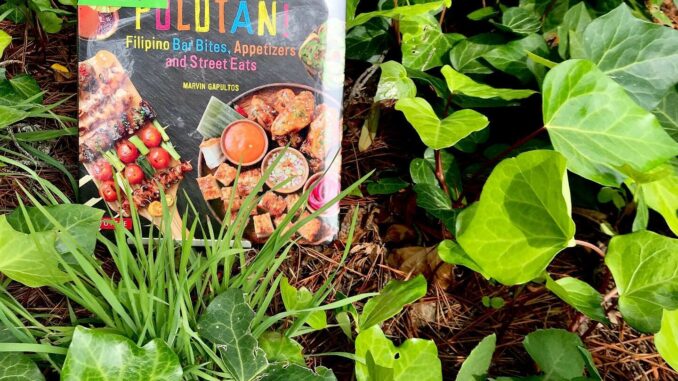 Marvin is a professional writer, author, and certified Cicerone (which means he's now a beer expert).
He founded LA's first Filipino food truck "The Manila Machine" and wrote "The Adobo Road Cookbook" on classic Filipino recipes. He shares more recipes on his website Burnt Lumpia and Instagram @burntlumpia.
Marvin is a Filipino American who is making waves in the US cooking Filipino food. Now he shares 67 luscious street food recipes reminiscent of all the fun times we share with friends and loved ones.
"Derived from the Filipino word pulot, meaning "to pick up with the fingers," pulutan (pronounced poo-loo-tawn) generally refers to the finger foods appetizers, bar snacks and street foods that are best enjoyed alongside an alcoholic drink".
Marvin photographs mouth-watering sauces, dips, cocktails, sweets, and dishes (fried, fresh, and grilled). He tells us what beer to pair with each.
We'll feast on classics like oven-roasted pork belly, wok-blistered shishito peppers, spicy sizzling squid, and hot wings with fish sauce and calamansi caramel. Sarap!
Then savor fun flavors like fried green mangoes, garlic bagoong aioli, spicy deviled eggs with crispy bagoong breadcrumbs, grilled coconut and lemongrass shrimp, and sweet purple yam and coconut churros.
You can tell Marvin LOVES to eat—and DRINK! He shares this love with us so we can enjoy good food with those we love.
"As per the tradition in the Philippines, pulutan is never eaten in solitude, but always shared among a group of hungry and thirsty family and friends."
Kain na tayo!
—- Ivy Lopez
—————————————————
#nonfictionbook #nonfictionbookclub #ivydigest #nonfictionbookreview
#pinoybookworms #pinoyreader #filipinobooklovers
#filipinocuisine #pinoyfood #streetfood #pulutan
#filipinofoodie #pinoyfoodie #cookbookcollector #filipinostreetfood #filipinocookbook #filipinofood #streetfood
#filipinocuisine #pinoycuisine #philippinecuisine #asiancuisine #southeastasiancuisine #filipinodishes #philippinedish
#classicfilipinofood #asianstreetfood
@burntlumpia @tuttlepublishing @periplusid @cicerone @seriouseats @kitchn @ucsantabarbara