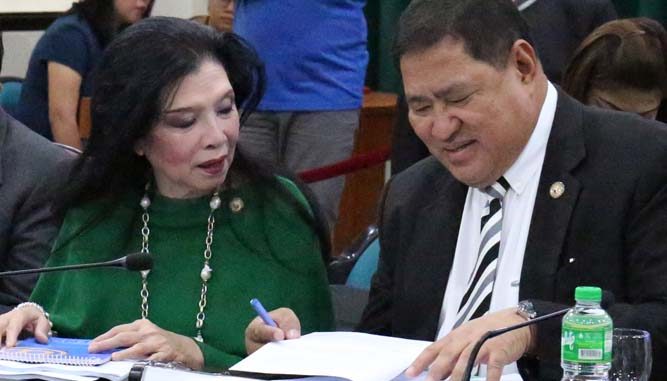 Imagine, Rep. Rey Umali told the Rotary Club of Manila last March 22, if Maria Lourdes Sereno were still chief justice in the next 12 years.
Sereno is the chief justice who the Judicial and Bar Council's psychiatrists graded a 4 (fail), with 5 being the lowest. She has apparently a mental disorder, aside from an IQ of 109 (normal or average intelligence).
Sereno is the CJ whom the House Justice Committee, voted 33-1 on March 19, 2018 to impeach, on six counts:
Culpable violation of the Constitution and/or betrayal of public trust. Respondent committed culpable violation of the Constitution and/or betrayal of public trust when she repeatedly, deliberately, willfully and/or inexcusably could not submit her SALNs from 1996 to 2006.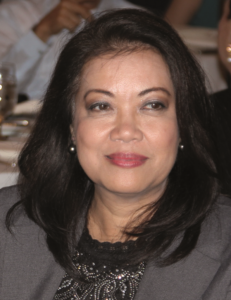 She failed to declare in her eleven (11) filed Statements of Assets, Liabilities and Net Worth (SALNs) for calendar years 1998, 2002, 2006, 2009, and 2010 to 2016, her 2.24 hectares of land in Mariveles, Bataan worth P44 million.
She failed to declare in her 2006 and 2009 SALNs P13.8 million of her P32.49 million of PIATCO fees.
She failed to file her SALN 17 times for the years 1987 to 1997, 1999 to 2001, and 2003 to 2005. She filed only three SALNs, two of which were not even subscribed to.
She committed tax fraud in 2007 thru 2009.
Corruption and betrayal of public trust when she misused P18 million of public funds for buying a P5 million bullet proof Land Cruiser (she already has 16 bodyguards), spending P11 million for an IT expert, and P3 million to stay at Shangri-La Boracay.
Culpable violation of the Constitution, betrayal of public trust and/or other high crimes when she arrogated unto herself the powers reposed upon the Supreme Court as a collegial, deliberative and consultative body by issuing and causing to be issued Resolutions and Orders without the approval of, or contrary to what was agreed upon by the Supreme en banc.
Culpable violation of the Constitution, betrayal of public trust and/or other high crimes when she deliberately and maliciously abused her position as the Chief Justice and ex officio Chairperson of the Judicial and Bar Council (JBC).
Culpable violation of the Constitution and betrayal of public trust when she deliberately undermined and violated the principles of separation of powers among the three branches of government (Executive, Legislative and Judiciary)
Betrayal of public trust when she willfully and deliberately failed to comply with her oath of office by tyrannical abuse of discretionary power.
"Should the Supreme Court be burdened with the leadership of one who has caused the erosion of public faith in the Judiciary, who has lost the respect of her colleagues and subordinates, and whose fitness has been challenged by her equals? Could the people lower constitutional standards and confer on their leader merely tolerance, and not trust? What will happen to the Supreme Court and the Judiciary, and to the government as a whole in the next 12 years if she is acquitted and allowed to remain in office?," asked the House Judiciary Committee headed by Rep. Rey Umali.
All six counts need not be proved by the House which will serve as the prosecutor against Sereno when the Senate meets as an impeachment court. One count is enough to remove her. Chief Justice Renato Corona was removed because of omissions in his SALNs (certain peso and dollar deposits were not disclosed). "Sereno's case on SALN is even worse," says Umali. Impeachment is a political process. Conviction does not require guilt beyond reasonable doubt.
Offhand, 18 senators (of the current 23 senators) need to vote against Sereno to impeach her. There are only five opposition senators: Frank Drilon, Bam Aquino, Francis Pangilinan, Risa Hontiveros and Antonio Trillanes. Leila de Lima is in jail.
But then President Duterte has placed pork barrel queen Janet Napoles under the Witness Protection Program, in exchange perhaps, for a damaging testimony against the likes of a Drilon or a Pangilinan for allegedly receiving illegal port barrel money.
Alternatively, Solicitor General Jose Calida has filed a quo warranto case against Sereno in a bid to remove her as chief justice. His argument: Sereno was not qualified from the start to be a justice or a chief justice because of failure to file Statement of Assets, Liabilities and Networth (SALNs) 17 times during the years she was a government official – as a law professor at UP and as a justice.
Quo warrranto is a novel proceeding. Under the Constitution, an official like the Chief Justice can only be removed by impeachment, and not by a sitting Supreme Court 13 of whose justices are hostile to Sereno.
Still, Sereno has decided to fight back up to the very end. "I will not resign," she insists.
"The stakes for the rule of law if the evil machinators of the impeachment or the resignation scheme succeed is that no one, not one man, especially not one woman, will be safe in this country," Sereno said at the Women vs Strongman forum on March 22.
The mind of Chief Justice Sereno
CJ Sereno's IQ is 109. Applicants with a grade of 4 are unfit to hold any position in the judiciary under existing Judicial and Bar Council (JBC) rating scale, 5 being the lowest.
CJ Sereno's psychiatric report described her as DRAMATIC and EMOTIONAL
"Dramatic and emotional, she appears energetic, all smiles and agreeable but with religious preoccupation in all significant aspects of her life. She projects a happy mood but has depressive marker too. There is strong tendency to make decisions based on current mood, the outcome is highly subjective and self-righteous."
— Psychiatric report dated July 19, 2012.
The Judicial and Bar Council rates applicants for justice 1 (best) to 5 (worst), with 4 being a failure.
With a grade of 4 — "The negative defenses are predominantly present that may reflect in a clinical observation as difficulty in adoptive functions in several areas the person's life."
The facts established and narrated events before the House Justice Committee manifested five out of nine symptoms of a dramatic and emotional type of individual, to wit:
(a) Interpersonally exploitative, i.e. takes advantage of others to achieve his or her own ends
(b) Preoccupied with fantasies of unlimited success, power and brilliance
(c) Lacks empathy such that there is unwillingness to recognize or identify with the feelings and needs of others.
(d) Has a sense of entitlement, i.e., unreasonable expectations of especially favorable treatment or automatic compliance with his or her expectations.
(e) Has a grandiose sense of self-importance (e.g., exaggerates achievements and talents, expects to be recognized as superior without commensurate achievements).