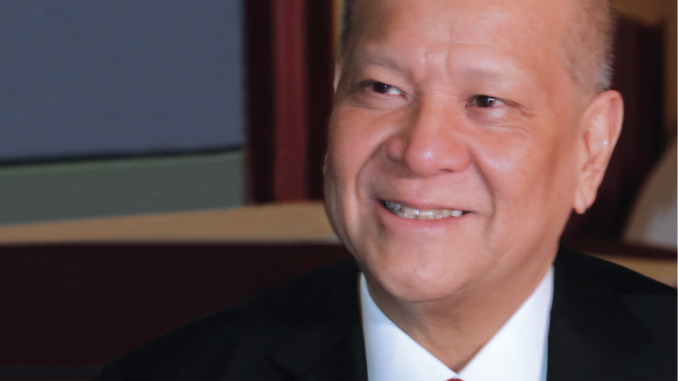 Three bouts with COVID convinced RSA about two things:
One, life can be short and death can be sudden; you cannot bring wealth to your grave, "not even your wrist watch," he smiles.
Two, a company like SMC must endeavor always to make life better for Filipinos.
Three times last year, at the then new peak of the pandemic, Ramon S. Ang contracted COVID-19, but he survived all three episodes, without needing hospitalization. "I would not wish anyone to have it," says the president and top honcho of the San Miguel Corp., the nation's largest industrial company.
The harrowing experience solidified RSA's conviction about three things in this life: One, life can be short and death can be sudden; you cannot bring wealth to your grave, "not even your wrist watch," he smiles.
Two, a company like SMC must endeavor always to make life better for Filipinos.
And three, SMC remains a huge, profitable, viable and dynamic enterprise bent on improving nearly every facet of the life of most Filipinos.
In short, Ramon Ang is the human face of the 131-year-old conglomerate. And he is getting kinder, gentler, and more generous to his countrymen.
After the pandemic, SMC rejigged its liquor plants to produce alcohol. It gave away 1.6 million liters of alcohol free. It also gave away thousands of PPEs. It has ordered one million doses of various vaccines for its employees, their families, and to help poor families.
Noticing the frequent flooding of Metro Manila, SMC is spending P2 billion of its own money to dredge the 25-km Pasig River to excavate, over the next five years, three million cubic meters of silt at the Manila side of the river, to increase the river's carrying capacity from Laguna Bay to Manila Bay as well as drain waters from the rivers of Tullahan, Marikina, Manggahan, Meycauayan and Norzagaray.
The project will save taxpayers P200 billion a year in flood control.
Question: Is Ramon Ang running for president?
He smiles but a columnist makes what he thinks is a fearless forecast: Boxing champion Manny Pacquiao will be the next president of the Philippines.
RSA hopes PacMan will recruit Albay's brainy congressman Joey Salceda to be his vice president, or failing in that, get the Philippines' top analyst as the secretary of finance. Pacquiao is No. 2 in pre-poll surveys for president.
The No. 1, Davao Mayor Sara Duterte seems to have health issues and had to fly to Singapore.
SMC revenues, profits
San Miguel, meanwhile, expects to generate P900 billion in revenues and P100 billion in profits this year. Revenues will be up 24% and operating profits up a hefty 40% over 2020's P725.8 billion and P71.5 billion, respectively.
RSA has realized business must invest in health care, in a big way, because you cannot rely much on the government in the event of a crisis. He is aghast that Health Secretary Francisco Duque tried to stop private companies from procuring their own vaccines for the use of their own workers and employees.
RSA thinks one of every four Metro Manilans carries COVID in some form or another.
Two big hospitals planned
RSA plans to put up two large hospitals, one in south of Manila and another in the north. He will tie up with a large Manila university to build up a teaching force in medicine and nursing to man a school of medicine and a nursing school to support the south hospital.
He wants to tie up with a leading US teaching and research institution, Stanford, to operate the Bulacan hospital and school of medicine adjacent to the P740-billion SMC Aerocity complex in Bulakan town.
The SMC airport is a game changer and it is on schedule. By January 2023, Ang vows to have levelled 1,800 hectares of elevated platform six meters above sea level, and built two runways 2.5-kms apart by 2024 and four runways by 2025. SMC Aerocity's passenger terminal is unique, "new normal design," RSA points out, "I designed it myself. It's beautiful." It has natural air-conditioning, is serviced by an electric train, and will have 86 air bridges to service passengers three times the capacity of NAIA.
A new airline?
Ang sees travel recovering in three years, by 2024, and a boom in 2025. With the current cost of the high-volume workhorse Airbus A-320s half of its pre-COVID price, he is titillated by the idea of an entirely new airline with a fleet of 10 aircraft worth only $300 million with P50 billion in equity capital.
The Bulacan airport will be linked to Manila's Rizal Park by the 22-km North Avenue-San Jose del Monte, Bulacan MRT 7, a combined railway and highway that promises to be the largest MRT railway network in the Philippines with a capacity of 700,000 passengers daily. EDSA MRT does only 500,000 daily.
Expressway to Bicol
Back in the south, SMC will connect Manila to Matnog, Sorsogon, Bicol with a 600-km expressway. The conglomerate is also building the Laguna Lake Expressway to connect the coastal towns of Laguna Lake to the national capital.
"Skyway 3 has cut traffic along EDSA (Metro Manila's main highway)," gushes Ramon Ang with pride. The longest elevated expressway in the Philippines by connecting the South Expressway and the North Expressway, Skyway 3 absorbs 70,000 vehicles daily. Skyway 3 cost SMC P90 billion but the present toll rate approved by the government will cover only the P5 billion a year interest cost of the project. In effect, San Miguel subsidizes traffic improvement at EDSA at P5 billion a year.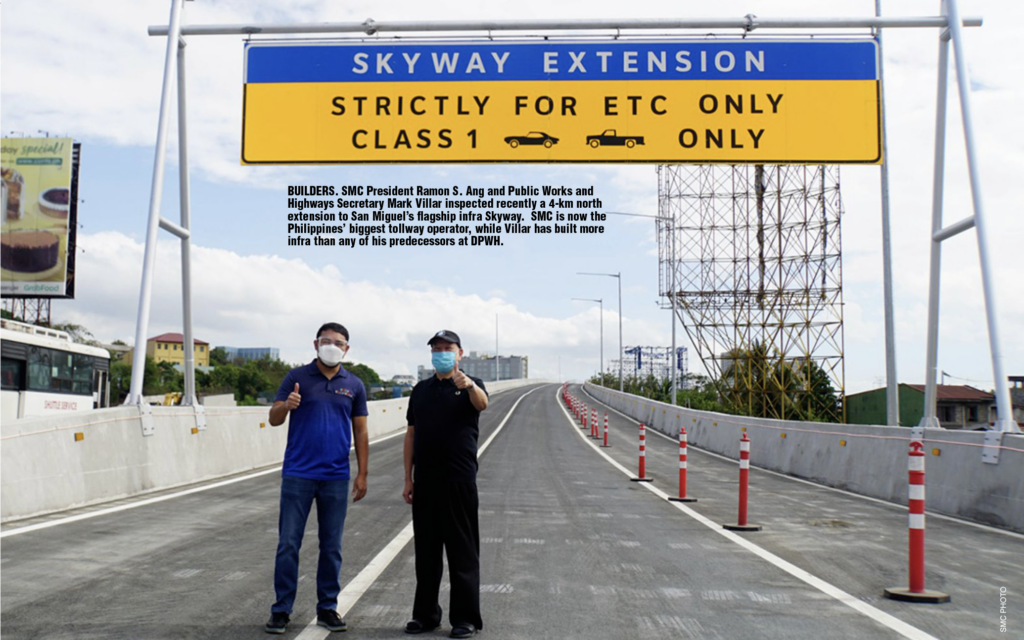 SMC has just completed the 18.8-km Buendia to Balintawak Skyway 3 Expressway which cuts travel time from Makati to Quezon from two hours to 20 minutes.
Food business
In the food business, San Miguel has changed its business model. Instead of running an integrated food operations, it is farming out its piggery, turning up to 100,000 farmers into self-employed entrepreneurs. These farmers now grow the pigs, slaughter them, process them, freeze the parts and sell them to the company.
Ang has lent capital, machinery and equipment, and built a slaughter house for the piggery farmers. Corn farmers, which produce the feeds for the pigs, have joined the enterprise.
Is Ramon Ang running for president? Try to convince him.
READ FULL ARTICLE HERE: